Software
CryptoDredge 0.18.0 – New algorithm (Argon2d) and minor improvements
CryptoDredge is a simple, easy to use and a stable crypto mining software designed for modern NVIDIA GPUs. Not only it is stable but it is a high performing miner and moreover it has got support for multiple crypto mining algorithms. The previous version CryptoDredge 0.17.0 added support for Cuckaroo29 algorithm (Grin) and CuckooCycle algorithm (Aeternity) but they were not compatible with NiceHash pool at that time. Now the developers have come up with a new release CryptoDredge v0.18.0 with support for MTP and Cuckaroo29 on NiceHash. Also this version includes a new algorithm called Argon2d, plus there are some minor improvements to the software. So if you are currently using CryptoDredge 0.17.0 or any other older version then be sure to check this new release especially if you are mining MTP, Cuckaroo29 or CuckooCycle.
CryptoDredge 0.18.0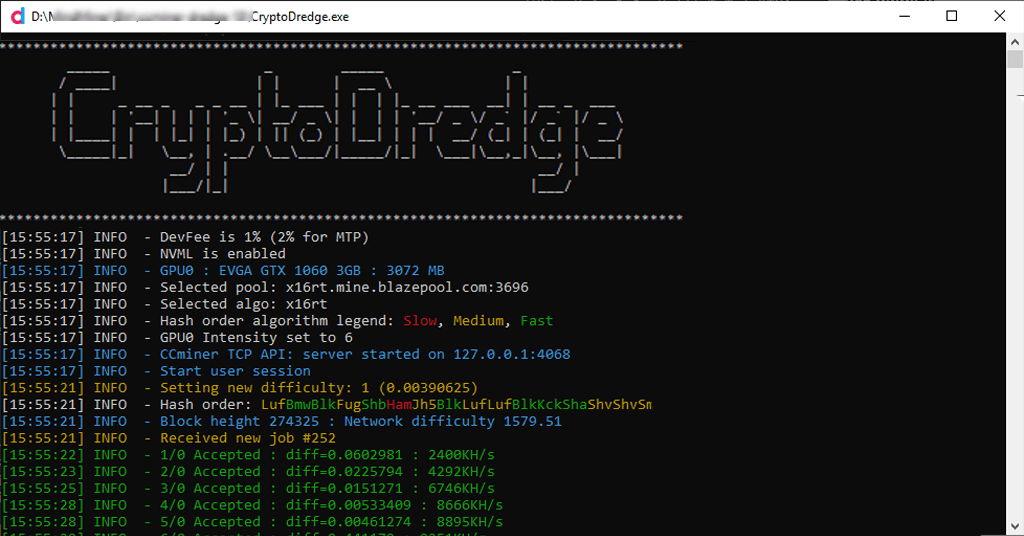 This new release version CryptoDredge 0.18.0 has the following features:
Added new algorithm: Argon2d (argon2d-dyn Dynamic coin – DYN only). The developer have stated that in the upcoming release there will be support for NIM (Nimiq coin).
Support for Cuckaroo29 (Grin) and MTP (Zcoin) algorithm on NiceHash.
Support Aeternity mining on NVIDIA GPUs with 2 GB memory (Only Linux)
Cuckaroo29 mining on GPUs with 4 GB memory (Linux only)
Plus there are few other improvements to the software which you can check in the release notes on the GitHub page.
Supported Algorithms
In each and every new release the developers of CryptoDredge keep adding new algorithms to their software. They've mentioned that in the upcoming release they'll add support for NIM. Also we can soon expect support for vBlake which is a Proof of Work algorithm used by a new project called VeriBlock.
Currently as of version 0.18.0; following are the list of algorithms supported by this miner:
Allium - Allium algorithm
Argon2d
BCD - Bitcoin Diamond
BitCore - TimeTravel
C11 - C11 coins
CryptoLightV7 - Aeon coin
CryptoNightFast
CryptoNightFastV2 - Masari and Stellite
CryptoNightGPU
CryptoNightHaven
CryptoNightHeavy - Loki mining
CryptoNightSaber - Bittube
CryptoNightSuperFast
CryptoNightTurtle
CryptoNightV7
CryptoNightV8 - Monero old
Cuckaroo29 - Grin coin
CuckooCycle - Aeternity
Dedal
HMQ1725 - HMQ1725 coins
Lyra2REv3 -Vertcoin
Lyra2vc0ban
Lyra2z - Lyra2z algorithm
Lyra2zz - LAPO
MTP - Zcoin
NeoScrypt - NeoScrypt coins
PHI1612 - PHI1612 coins
Phi2 - LuxCoin mining
Pipe
Skunkhash - Skunk algorithm
Tribus - Tribus coins
X16R - X16R algorithm | Ravencoin mining
X16RT
X16S - X16S coins
X17 - X17 algorithm coins
X21S - Ritocoin mining
X22i - SUQA mining
Download CryptoDredge 0.18.0
CryptoDredge miner version 0.18.0 supports, CUDA 10, 9.1 and 9.2. Also it is available for Windows as well as Linux. But before you download and use it we'd like to remind you that this miner is a closed source software which contains 1% dev fee (2% for MTP).
Download CryptoDredge v0.18.0: https://github.com/technobyl/CryptoDredge/releases/tag/v0.18.0
---