Wallets
Dogecoin Wallet – Simple, easy to use and lightweight wallets for DOGE
Instead of using the exchange it is better if you use a Dogecoin wallet for storing, sending and receiving DOGE. This way you'll have full control over your coins and it will remain secure. Jump to this section here where we explained how to quickly setup a Dogecoin (DOGE) wallet.
If you are new to cryptocurrency and just starting with Dogecoin then here are few things to know about DOGE.
Dogecoin – A meme cryptocurrency
After 6 years Dogecoin is back on top 10 cryptocurrencies with essentially no technical advancements. So what has changed? Nothing.
Dogecoin is one of the OG cryptocurrency that got released a few years after Bitcoin. The coin is based on the famous internet meme "doge" that features a picture of a Shiba Inu dog as its logo.
https://en.wikipedia.org/wiki/Doge_(meme)
Dogecoin was made as a joke cryptocurrency. This open source cryptocurrency was created by Billy Markus and Jackson Palmer in 2013 by forking Litecoin (LTC). The creators of Dogecoin decided to create a payment system that is fun, free and instant.
DOGE is primarily being used as a tipping currency on Twitter and Reddit. It is one of the original altcoins and since it is based on Doge meme; billionaire Elon Musk posts several tweets promoting Dogecoin.
Now Dogecoin has become a favorite coin for a huge number of Internet users. Its the power of memes that is moving markets. But you need to understand that DOGE should not be considered as a serious investment. Here is why?
Dogecoin supply facts
DOGE total supply is uncapped and it currently has a circulating supply of 128 Billion. Every minute 10000 new Dogecoins are mined which is 14 million coins per day. Now compare this to Bitcoin supply.
Know the difference between total supply, circulating supply and max supply.
In total 5 billion doge coins are released into supply every year. Due to this high inflationary supply many won't consider this coin as a serious investment. It is best considered as a cultural movement rather than a financial asset.
Anyways if you bought enormous amount of DOGE at the bottom then good for you. But if you are still holding it in the exchange then you are doing it wrong. You should move your Doge coins to a wallet where you control your DOGE private keys.
Also don't tell us you bought your Doge coins on Robinhood. If so, then you don't actually own the coins. Robinhood has their own digital wallet and you have to trust the platform to keep the digital wallet safe. And remember that they've been hacked before.
If you are thinking to hold Doge coins long term securely then best thing you can do is buy it on Binance and move it to your own personal wallet.
Here are some Dogecoin wallets that you can quickly setup and use.
Dogecoin Wallet – DOGE wallet in under a minute
By using a Dogecoin wallet you'll have full control over your Doge coins. The wallet allows you to receive, send and safely store Dogecoin.
There are different types of wallets available for Dogecoin. Here we are not going to list them all. We'll be only listing the ones that are quick to setup and easy to use.
The wallets below are basically lightweight and unlike full node you don't have to wait for the blockchain to synchronize. Just setup and use it right away.
Mobile Wallets
Of course when it comes to ease of use mobile wallets are a way to go. They are handy and offers a convenient way of storing Doge coins. There are both official as well as third party mobile wallets for Dogecoin.
Note: Mobile wallets are free, easy to setup and easy to access. But the downside is they are less secure and only have limited options.
Dogecoin Wallet – Android
Dogecoin wallet is the official and the first mobile Dogecoin wallet that is both secure as well as simple to use. However this wallet is only available for Android.
Link: https://play.google.com/store/apps/details?id=de.langerhans.wallet
You can read the complete features of the wallet on the play store page. But before installing do keep the reviews in mind. There are so many negative reviews citing the network synchronization issues.
Try it with small amounts. If you are satisfied then go ahead and use it. This wallet is a good place to start but we do not recommend it for storing large amounts.
Dogecoin Android Wallet
This is another Dogecoin android wallet that you can use to store and exchange Dogecoin.
Link: https://play.google.com/store/apps/details?id=doge.org.freewallet.app
It offers great security features like PIN code lock, 2FA, fingerprint login and email confirmation for transactions. But do note that with this wallet you don't have access to the private keys. So its basically like custodial service.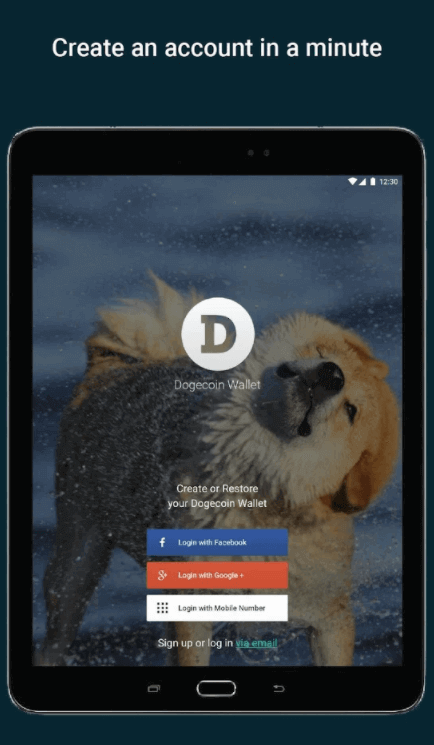 To ensure safekeeping of coins Freewallet (developer) protects user accounts and stores the coins in cold storage.
Again this wallet is good for beginners. But not an ideal solution for storing large amounts.
Trust Wallet
Trust wallet is the official crypto wallet of Binance. It is the most used and the most trustworthy mobile wallet that is available for both Android as well as IOS.
Android: https://play.google.com/store/apps/details?id=com.wallet.crypto.trustapp
IOS: https://apps.apple.com/us/app/trust-crypto-bitcoin-wallet/id1288339409
Just install on your mobile and use it right away. Make sure to backup the seed word.
Here is a complete beginners guide to Trust Wallet.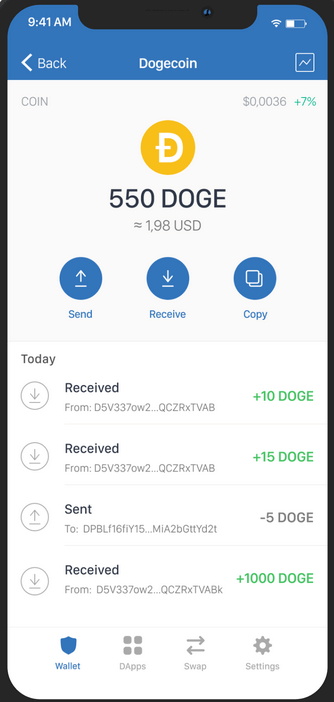 Not only Dogecoin but Trust wallet is a multi currency wallet that allows you to securely store Bitcoin, Ethereum, BNB, Dogecoin and hundreds of other altcoins.
The wallet is not only free but it is also open source and offers complete control over your private keys. Moreover it has the option to buy crypto, stake crypto and swap / exchange crypto instantly right from the app.
Compared to the above 2 Trust wallet is much better and offers more secure storage solution.
For IOS there use to be Dough wallet https://apps.apple.com/app/doughwallet/id951731776. But this seem to be removed now.
Online Wallets
Online browser wallets, just like mobile wallets they offer a quick convenient way of storing and transacting Doge coins but without the need of software / app.
Note: Online wallets are free, easy to setup and easy to access. However they are less secure, have limited options, don't offer proper backup solution and lastly they are prone to scams.
Do note that there are many phishing websites that look same as the real one. So you must take proper precautions before using this wallet type.
Original website Dogechain Wallet (Web Wallet): https://my.dogechain.info/#/overview
If you are planning to use this online wallet then bookmark this website.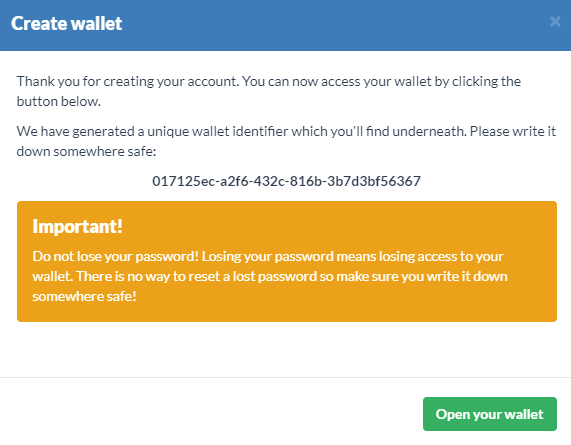 Click create wallet. Then enter your email and set a strong password. The wallet will generate a unique wallet identifier for you. You need to backup both the identifier as well as the password.
If you miss them then you'll lose access to your wallet.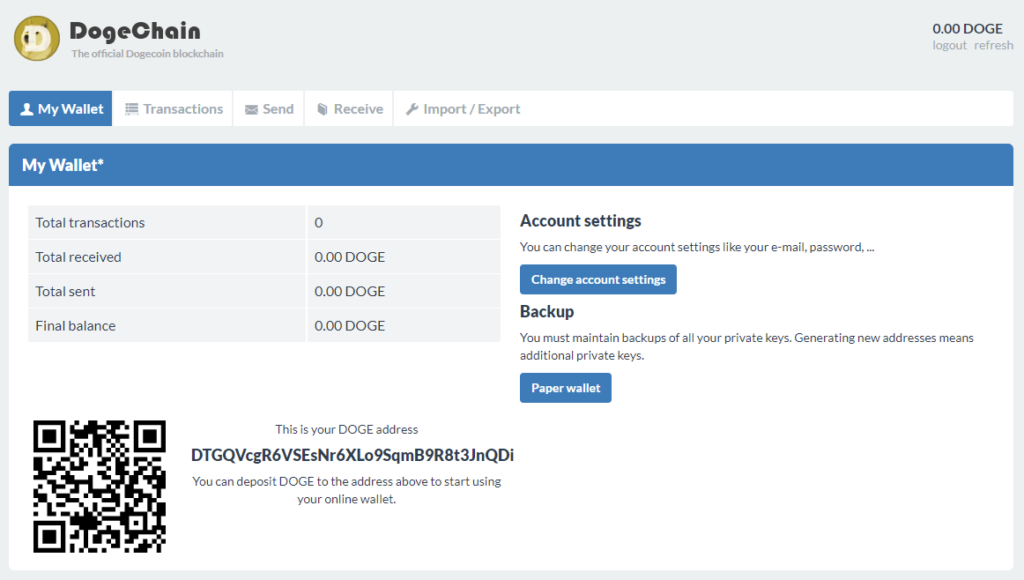 People prefer online wallets for ease of use which can be accessed from any web browser. This wallet is a good place to start but this should not be used for long term storage. It has security issues and you don't get access to your private keys.
But on the good side this wallet encrypts everything. The encrypted files are stored on cloud. Even the Dogechain developers can never access your wallet information.
Paper Wallet – Dogecoin Paper Wallet
Paper wallets are an old school method of safely storing cryptocurrencies. While this is no longer recommended it is still a good choice if security is your main concern. They are good for storing huge amounts for a long period of time.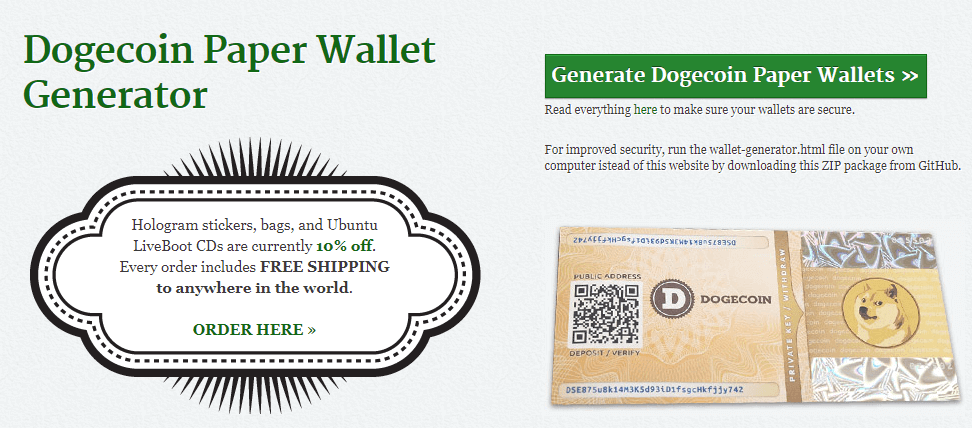 To generate a Dogecoin wallet you can use the following services:
https://www.bitcoinpaperwallet.com/dogecoin-paper-wallet-generator/index.php
https://walletgenerator.net/?currency=Dogecoin
The above services are open source client side wallet generator. You can generate new address / keys on the website or you can download the package locally to your PC and then generate a new wallet.
Once generated you'll get a public address and the private key. Public address is where you send your Doge coins and private keys should be kept confidentially. You should write it and keep the private keys offline.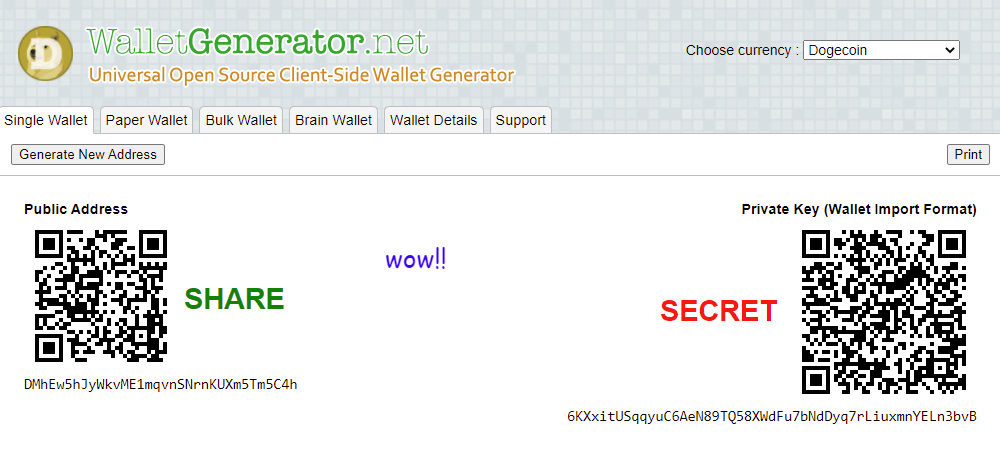 Note: While this wallet offers a secure storage solution to use the coins you'll have to import the private keys into a software wallet.
For this reason many don't prefer this wallet type. Understand the flaws of paper wallet before you use one.
Desktop wallets
For desktop users there are two types of wallets available. 1. Lightweight easy to setup / easy to use wallet and 2. Full Node wallet that is safe and offers full control.
When it comes to lightweight desktop wallet electrum is the most preferred wallet. But we found out that electrum wallet for Dogecoin is no longer being updated. So lightweight multi-currency wallet is the only option currently available.
These are Such Light, Very Security, has Wow features.
Coinomi – Coinomi desktop wallet guide
Jaxx – Jaxx review & tutorial
Exodus – https://www.exodus.com/download/
Atomic Wallet – https://atomicwallet.io/
Full node Dogecoin core wallet:
Core wallet is the official and open source Dogecoin wallet which is available for Windows, OSX and Linux. It is similar to the Bitcoin QT wallet.
While this wallet offers complete control it is hard to setup and it requires huge amounts of bandwidth / disk space.
Wallet Links: https://dogecoin.com/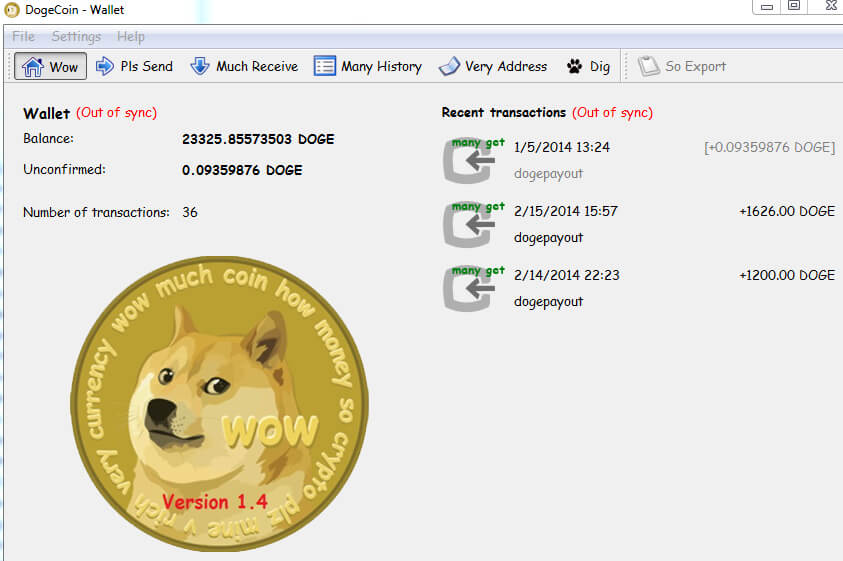 Just download and install. As we said this is a full wallet that needs to sync with the Dogecoin blockchain. Only when it is fully synchronized you can use this wallet.
Wallet sync may seem like it is taking forever. To speed up the wallet synchronization you can use the bootstrap.dat file. Visit Dogecoin Reddit page and ask the community to share the recent bootstrap file. It will make your Doge core wallet sync faster.
Also know what to do if the wallet is stuck syncing.
Hardware wallets
Out of all the wallets mentioned here the most advanced and the most secure wallet is hardware wallet. However they come at a cost and you have two options.
You can either get Ledger Nano S / Nano X or the Trezor Model One / Model T.
If you already have a hardware wallet then you'd don't have to look for any other wallets. Both Ledger and Trezor has support for Dogecoin.
For Trezor you can use Trezor Suite and for Ledger use the Ledger Live app.
Hope it helps.
Here are few other useful links to get you started with Dogecoin:
https://dogecoin.com/
https://www.reddit.com/r/dogecoin/
https://explorer.viawallet.com/doge/stats/richlist
https://coinmarketcap.com/currencies/dogecoin/
The best Dogecoin wallet?
All the wallets mentioned here have their own advantages and disadvantages. Ultimately what Dogecoin wallet you decide to use should really come down to your own personal preferences.
If you are looking for a secure long term storage then consider getting a hardware wallet or use paper wallet. They offer the most secure storage solution.
On the other hand if you are looking for a wallet that is free, offers convenient and quick way to send / receive and store Doge coins then you can consider mobile and multi-currency desktop wallets.
Remember whichever wallet you use make sure to take proper security measures. You should backup your seed word / password / passphrase and be more aware of hackers and phishing sites. Security should be your top concern.
We hope this guide helped you to quickly setup a Dogecoin wallet.
Please note that Coin Guides is not responsible for the usage of these wallets. So kindly do your own research.