Guides
Wallet won't sync – Why your wallet is not syncing and how to fix this
The reason why users choose core wallet is to run a full node, support the network and additionally have full control over their funds as it offers better privacy and security. On the other hand why users won't choose QT wallet is mainly because of wallet sync issues. Before we can use this wallet we need to wait for it to completely synchronize with the network. If it is not synced you'll not be able to send or receive coins and it won't show you the most recent transactions.
One of the most common issue users of core wallet face is "Wallet Out of Sync". Either the wallet synchronization process will be slower or it gets stuck at certain block and it won't sync at all. So why your wallet won't sync or is slow and what to do if it is not syncing / processing the blockchain?
Wallet Synchronization
Bitcoin, Dash, Litecoin and every Altcoins has its own core wallet. While the looks of each and every wallet may vary slightly its functionalities remain the same. Whenever you open your QT wallet the first thing your wallet does is; it starts scanning all the recent blocks on the blockchain and tries to catch up with the network. Whether your wallet is a fresh install or you've been using it for a long time; if it is not up to date then it will start downloading the blockchain.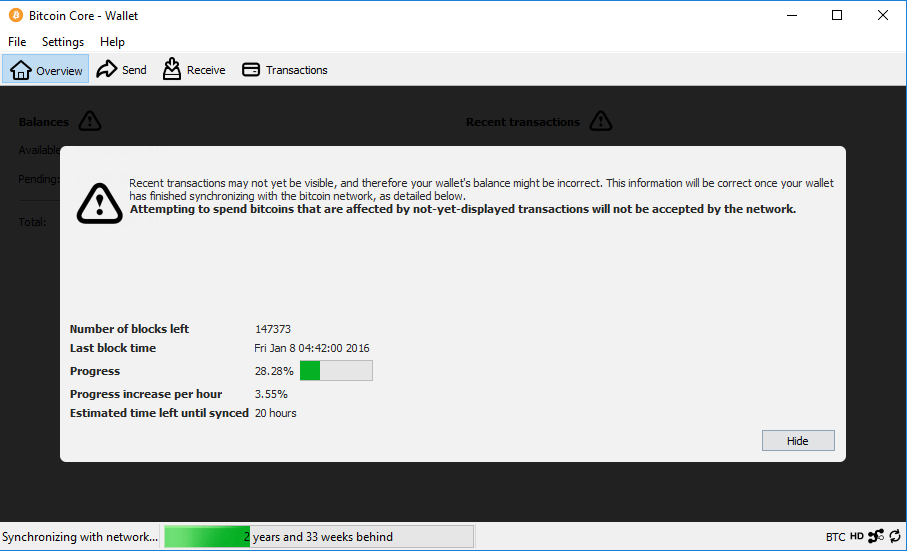 Your wallet downloads and validates blocks by initiating communication with other nodes on the network. Due to this syncing process will be usually slower. During this process your recent transaction may not be visible and therefore your wallet balance might be incorrect. Also attempting to spend coins that are affected by not-yet-displayed transactions will not be accepted by the network. So all you need to do is wait for it to completely sync until it shows the tick symbol at the bottom right corner of your wallet.
Once the synchronization is finished the information displayed on your wallet will be corrected. Now the question is; is your wallet really syncing and if so how long will it take to complete?

Is it actually syncing?
Open your wallet and at the bottom you'll see the green progress bar which will show the sync status. First it shows "Processing blocks on disk" then it will change to "Synchronizing with network" which means it started downloading the blockchain. Depending on when you installed and when you previously opened your wallet the status will either be hours behind or weeks behind. Especially if you've freshly installed Bitcoin core then the status will be years behind.
Now how long it will take to sync depends on the following factors:
Total number of blocks left to be processed
Number of active connections to the Bitcoin network and
Your Internet speed.
If you are looking for a solution to speed up your wallet sync then this post is not for you. For which we suggest you to read this guide on Bitcoin Bootstratp.dat. This post is for users who are facing trouble syncing their wallets.
Before we get in to the troubleshooting guide we need to first figure out if your wallet is actually syncing or it is really stuck?
Hover over the progress bar or click on the refresh icon and it will show the status on processed blocks and last received blocks. Just by looking at the download status of the blockchain you'll come to know if your wallet is actually syncing or is stuck. It shows something like this:
Catching up ...
Downloaded 683912 blocks of transaction history.
Last received block was generated 6 days ago.

If it shows some progress the it is syncing and be patient while it does. But if the number of processed blocks doesn't change for a long period of time then your wallet is stuck. If that is your case then here are few ways to troubleshoot an out of sync qt wallet.
Wallet not syncing – Troubleshooting an out of sync QT wallet
So why your wallet won't sync? Here are some common reasons:
Broadband and Firewall issues
No active connection to the coin network
Your blockchain data might be corrupt and
Your wallet could be old and might be on the wrong chain.
Now before you make any changes the first thing we recommend you to do is take a wallet backup.
Internet connection and Firewall issues
First check if your PC has a healthy network connection. If nothing is wrong with your Internet then check whether if your Firewall or Antivirus is blocking the wallet from running. As we said your wallet needs to connect with other nodes to download the blockchain. So ensure that your firewall or network is not blocking your wallets incoming and outgoing connections. This should usually fix the problem and if doesn't then check your wallet's active connection.
Check wallet connection and add nodes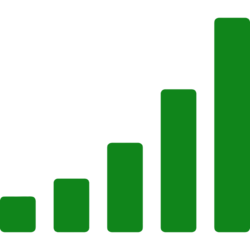 Open your wallet and at the bottom right corner you'll see the signal icon. Hover on the vertical bars and check the total number of active connection to the network. If the connection is strong then proceed to the next step. If there are zero active connections or if it has less than 4 or 5 active connections then you need to add nodes to your wallet.
We've a beginners guide on adding wallet nodes which we suggest you to go through. You can add nodes either from your wallet's console window or by editing the configuration file. Once done restart the wallet. Now the total number of active connections should be more than before and your wallet should start syncing. If it still doesn't then you might have a corrupted blockchain.
Corrupted blockchain
The best way to get your wallet files corrupt is by forcing your wallet to shutdown while its running. There are also many other instances in which your wallet or the downloaded blockchain can get corrupt. This is a rare occasion and if gets corrupt then your wallet won't sync any further. In such case what you need to do is head to the wallet core folder location and except wallet.dat delete all other files and folders. But before you do this close your wallet and again remember to backup your wallet.dat file. Once the files are removed restart the wallet and it should start synchronizing with the network.
Upgrade and reindex your wallet
Another reason why your wallet won't sync is it might be on the wrong fork of the chain. The cryptocurrency which you are using might have undergone a hardfork and you might be not aware of it. As a result your old wallet might be on the wrong chain. So check the GitHub repository for latest release and update wallet first.
Once updated check your wallet's block count and compare it with the current block count in block explorer. If it is way beyond then it is on the wrong chain. To fix this close your wallet and then start it with -reindex command. The process will take some time as it is starting the syncing process from beginning.
Hopefully this will fix your wallet sync issues. Even after following this troubleshooting guide if your wallet fails to sync then please tell us the issue in more detail.