Wallets
Binance coin (BNB) wallet – Setup & Use Binance Smart Chain (BEP20) wallet
Looking for the best Binance coin wallet to store BNB and BEP20 tokens securely? Wondering whether you can use your Binance exchange as a wallet? Are you looking to setup a Binance Smart Chain wallet? If so then you are at the right place.
Here we'll explain the difference between custodial and non custodial wallet. Will list some of the best Binance coin (BNB) wallets to store BNB and BEP20 tokens securely. We'll cover setting up Binance chain wallet and show you how to deposit BNB and other tokens from Binance exchange using wallet direct connect. Also we'll show you how to add new custom tokens to your Binance chain wallet. Transfer tokens to and from Binance chain wallet and how you can use it to interact with the DeFi & Dapps on the BNB Smart Chain.
Now before we setup & use the Binance Smart Chain (BEP20) wallet let's quickly understand what Binance coin (BNB) is and what Binance Smart Chain is.
Binance Coin (BNB)
Binance Coin (BNB) is a cryptocurrency which was created by Binance exchange in 2017. It's a utility token that lets traders get discounts on the binance.com and Binance.us exchanges. To receive trade fee discount BNB can be used to pay for trading fees on the Binance exchange. Other than that you can stake BNB to earn rewards. You can use BNB as collateral for loans and by holding BNB you'll gain exclusive investment opportunities on the Binance exchange through the Binance Launchpad events.
BNB is also the key base asset of the Binance decentralized exchange (DEX). In addition to BNB being used on Binance exchanges it is also used in paying transaction fees on Binance blockchains (both Binance Chain and Binance Smart Chain). BNB is the native token of the Binance chain. Similar to ETH on Ethereum; BNB is the currency used in paying for transaction fees of assets that relies on Binance Smart Chain or BNB Chain.
Binance Smart Chain / BNB Chain
While Ethereum is the first blockchain to introduced the functionalities of programmable smart contracts which supports an ecosystem of decentralized applications (dApps), it is not the only platform Today. There are many other blockchains where one can also develop and deploy decentralized applications.
One of the best example is The Binance Smart Chain aka The BNB Chain. An emerging smart contract blockchain platform for building and deploying dApps and DeFi (Decentralized Finance) Applications.
Binance or BNB Smart Chain (BSC) is a smart contract-enabled blockchain that provides a permissionless platform for decentralized application (DApps). It's a low cost, high-speed alternative to Ethereum that boasts a wide range of DApps and DeFi apps on its chain. Developers who are familiar with building on Ethereum can effortlessly transition their DApps to Smart Chain. Many developers are also deploying their dApps on Binance smart chain mainly because of the advantage of considerably low gas fees and faster transaction times in comparison to Ethereum.
BSC is also compatible with EVM known as the Ethereum Virtual Machine. It simply means any dApps that work with Ethereum can easily migrate over to the Binance Smart Chain. Ethereum tools such as Metamask, Remix and Truffle works with BSC. Not only tools but also infrastructures like Chain Link and Band Protocol are integrated on BSC. Not only dApps and protocols but tokens can also be migrated
Tokens on Binance Smart Chain follows the BEP20 token standard which functions similar to the ERC20 standard on the Ethereum network.
BEP-20 token standard is developer friendly that allows anyone to create and deploy fungible tokens on the BSC network. Other than deploying new tokens one can also port any digital assets from other chain onto BSC in the form of pegged BEP20 tokens. For example using cross chain bridges one can bridge Bitcoin (BTC) for BTCB, ETH for Binance-Peg Ethereum Token (ETH), USDT for Binance-Peg BSC-USD and so on.
Check out the list of Binance pegged tokens here: https://bscscan.com/tokens/label/binance-pegged
The pegged BEP20 can then be deployed and used on DeFi protocols on the Binance Smart Chain.
To interact with the web3 ecosystem and smart contracts on the Binance Smart Chain all you need is a BSC wallet or BNB wallet.
Can I use Binance as a wallet?
No, Binance is an exchange that allows you to trade cryptocurrencies. It supports trading of all major cryptocurrencies. It also provides wallet for traders to deposit and store their crypto. Even though Binance is a reputable exchange and is fully insured it is not advisable and safe to store all of your crypto on Binance. Not just Binance, but don't ever use any exchange as a wallet. To have full control over your assets you need a non-custodial wallet.
Custodial vs. Non-Custodial
Custodial service is a wallet provider that holds your private keys on behalf of you. Binance exchange is a custodial service that holds the private keys of your wallet accounts that are on the exchange. Your exchange account address is a custodial wallet and the exchange holds your assets in custody. With such service there are limitations. You can deposit assets, trade and then withdraw but you won't have full control.
Only by owning private key you'll gain full control of your wallet. Other than just sending and receiving, performing day to day transactions; in order to connect to DApps, use DeFi applications and to use the funds as you wish a non-custodial wallet is a recommended option. They are robust and flexible.
For example Binance is a custodial service. Whereas wallets such as Binance Smart Chain wallet, Trust Wallet and Metamask are examples of non-custodial wallets.
A wallet is a tool that allows you to interact with the blockchain network. Other than just sending and receiving crypto there are many other things you can do. You can explore web3, access and interact with Decentralized Applications (DApps), Decentralized Exchanges and Decentralized Finance (DeFi) applications.
With non-custodial wallet you the holder possess and controls the private keys. This gives you full control over your funds and with full control you'll have the ability to perform variety of actions. Whether you wish to sign transactions or interact with DEX or a DApp like SushiSwap, Pancake Swap, Uniswap and QuickSwap non-custodial wallets are the best option.
Only thing with the non-custodial wallet is that you need to know how to manage and protect your private keys and seed phrases. With such wallets you are fully responsible for keeping your private keys and seed phrase safe.
Which wallet should I use for BNB and BEP20 tokens?
There are many wallets that supports BNB but not BSC. Even though Binance Smart Chain (BSC) is not relatively new, there are still many wallets that currently do not support BEP-20 tokens.
Here are some of the wallets that you can use for Binance Smart Chain (BSC). If you are on desktop use browser extension wallets such as Metamask and Binance Chain wallet. You can also use Math Wallet on desktop.
If you prefer mobile experience try Trust Wallet, MetaMask and Math Wallet. They are available for both iOS and Android.
Except Binance Smart Chain wallet other wallet types are not specific to BSC. For example MetaMask, Trust Wallet, and MathWallet are multi chain non-custodial wallets that supports the most common and popular crypto assets.
Before you dive into the wallet you need to know that there are different blockchain networks hosting different types of cryptocurrencies. There are same tokens running on different blockchains. We can distinguish them based on their token standards. For example BNB is available as BEP20 on BNB Smart Chain and also as ERC20 token on Ethereum Chain. You need to understand this when using EVM based chains.
Here are some of the common token standards that you need to know:
BNB Smart Chain: BEP-20, BEP-721, BEP-1155
Binance Beacon Chain: BEP-2
Ethereum: ERC-20, ERC-721, ERC-1155
Know the difference between BEP-2, BEP=20 and ERCH-20 token standards. It'll help you ensure that the wallet you decide to use supports that particular type of token you wish to store.
Best Binance coin (BNB) Binance chain wallet
This guide is specific to Binance Smart Chain wallet but other than that you can also use the following wallets to store BNB and BEP20 tokens securely. They are some of the best crypto wallets available for Binance Smart Chain (BSC).
All these wallets allows you to store BNB and BSC assets, including NFTs. They are all non-custodial and you have full control over your private keys. You can use them to explore the BNB chain ecosystem. Also using these wallets you can start staking, connect to DApps and manage funds on the BNB chain.
MetaMask
MetaMask is a browser extension and a mobile crypto wallet app that supports multiple blockchains, including Ethereum, Binance Smart Chain, Polygon, and many others. Using Metamask you can store and transact BNB and BEP20 assets. And also interact with smart contracts and DApps on the BNB Smart Chain network. All you have to do is connect Metamask to BSC.
Learn how to setup and use Metamask. Then learn how to connect Metamask to Binance Smart Chain.
Trust Wallet
Binance acquired Trust Wallet. Now it is the official mobile wallet app of Binance and is also a native wallet to Binance DEX. It is an open source decentralized wallet available for IOS and Android. It supports all leading blockchains such as Ethereum, Binance Chain, BSC and more.
Trust Wallet is the best BNB, BSC wallet for smartphone users. This wallet provides full access to your private keys through mnemonic seed phrase. With Trust wallet you can safely store your BNB, use it to trade on Binance DEX and also allows you to securely interact with DApps and DeFi protocols build on smart chain.
It has several built in features to enhance your crypto experience such as: built-in DApp browser that provides easy access to explore the BSC ecosystem. Capabilities for cross-chain transactions which you can use to switch tokens between BEP2 and BEP20 without leaving the wallet. You can stake Binance coin (BNB) and you can also view / list / sell your NFTs
You just have to use your Binance Smart Chain address on Trust wallet. On Trust Wallet search for tokens and enable BNB Smart Chain. Then click Smart Chain >> Receive to grab your BSC address. Tap on the QR code to copy the address or tap share to share your address. Navigate to Collectibles tab to view your NFTs.
Check out this complete beginners guide on Trust Wallet.
Other wallets with BSC support?
DApp interaction, custodianship, usability, and reliability are something to note when choosing a BSC / BNB wallet. You have MathWallet, Exodus SafePal, Ledger and Trezor hardware wallets. Apart from the hardware option all other BSC wallets mentioned here are fully free to use. Using these wallets you can send, receive and securely store BNB. You can interact with DApps and you can also swap BNB for other cryptos. But for enhanced smart chain experience we recommend the Binance Chain wallet.
What is Binance chain wallet? Binance Coin (BNB) Wallet.
BNB Chain Binance wallet is a secure and trusted multi chain wallet. Its an official browser extension and a non-custodial wallet from Binance. And is also the official wallet for the Binance cryptocurrency BNB. You can use BNB wallet to safely store BNB and various other cryptos.
Its a non-custodial wallet, meaning no one has control over your funds. Not even the developers can access your wallet. The wallet is encrypted within your browser and is fully protected by your password.
The wallet currently supports Binance Chain, BSC, and it also supports Ethereum blockchain that enables you to access distributed applications in your browser. You can use it to store and access cryptos and projects on BNB Smart Chain, Binance Chain network and Ethereum blockchain.
This Binance extension wallet is specifically designed for Binance Chain and Binance Smart Chain. You can send and receive funds on both chains and also perform cross-chain transfers between both the Binance's blockchains.
Binance chain extension wallet supports major browsers such as: Firefox, Chrome, Edge and Brave browser. Binance Chain Wallet is one of the most basic wallet that allows you send / receive funds. Swap BNB, stake BNB, yield farm or mint NFTs. Following are some of the features of BNB chain wallet:
Multi chain asset management: Manage your BNB, BTC, ETH, and other tokens on BNB Chain, BNB Smart Chain, or the Ethereum network easily.
Stake BNB: You can stake your BNB which contributes to the security of the BNB chain network. Delegate your BNB to a chosen validator to participate in the consensus and earn daily rewards, with interest rates as high as 30% APR.
DApp browser: Features Web3 browser which you can use to interact with DApps and DeFi applications on BNB Smart Chain and Ethereum blockchain. Connection is seamless, simple and secure.

Unique features of Binance chain wallet
Binance wallet looks similar to other extension-based wallets like for example Metamask. Yes, it is. But there are two unique features that differentiate the BNB chain wallet from the rest.
1. Wallet Direct: If have Binance account and are a regular user of this exchange then you can easily link your Binance wallet and your exchange accounts using the Wallet Direct feature. Wallet Direct offers seamless token transfer such as Binance Coin (BNB), ETH and other tokens between your Binance exchange account and Binance Wallet. It saves the trouble of copy pasting addresses and memos when transferring digital assets.
2. Threshold Key Management: BNB smart chain and Torus labs (open source, non-custodial key management network) have collaborated to provide an open source system for safe and convenient threshold key management. Keeping your private keys and seed phrase is a big responsibility.
TKey (Torus Key) can be helpful in managing your keys. To sign up to Binance wallet you can just use your Gmail / Google account through tKey. If you lose your seed phrase or lose access to your wallet then no problem. You can regain access using your Google login. It does all of this without sacrificing on user experience, while also retaining control and end-user autonomy.
These two features alone make BNB Wallet extremely easy for anyone who are not so familiar with crypto wallets.
Alright! Let's now setup Binance chain BNB wallet.
Setting up Binance Chain Wallet
How To Download Binance Chain Extension Wallet? The BNB Chain Wallet is a browser based extension wallet, available for Google Chrome, Firefox, Brave and Edge browsers on your desktop or laptop. The BNB wallet extension links can be found on the Binance.org homepage.
Install BNB Wallet for your browser
To download Binance Chain wallet go to BNB chain.org / wallet page: https://www.bnbchain.org/en/binance-wallet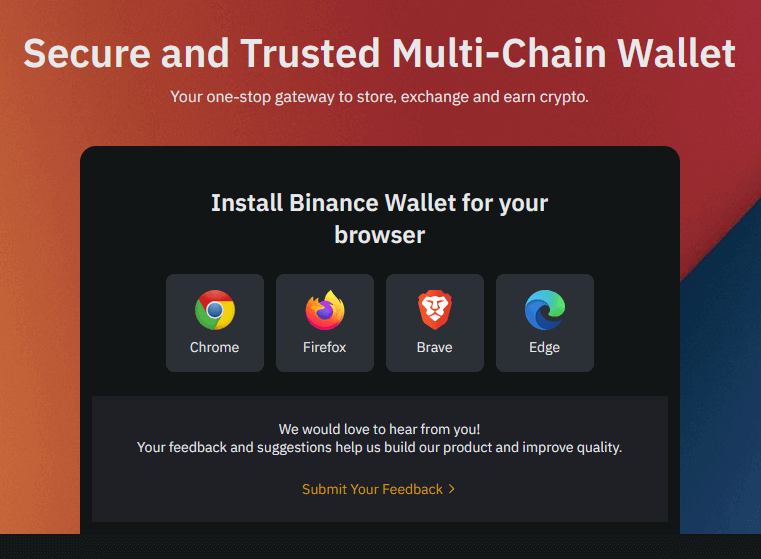 Next simply pick your preferred browser where you want to install the Binance extension to. Here we'll be choosing Chrome as an example.

Choosing chrome will take you to the Chrome web store. Click add to chrome to download and add the extension to your browser.
Once the extension is added you'll see a notification at the top right corner of your browser saying Binance wallet has been added. If you are on Chrome click on the extension icon and PIN the Binance wallet for easy access.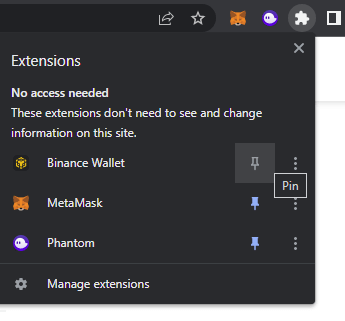 Setup Binance Wallet
Click on the Binance wallet extension icon at the top right corner of your browser and click create wallet since we're setting up a new wallet.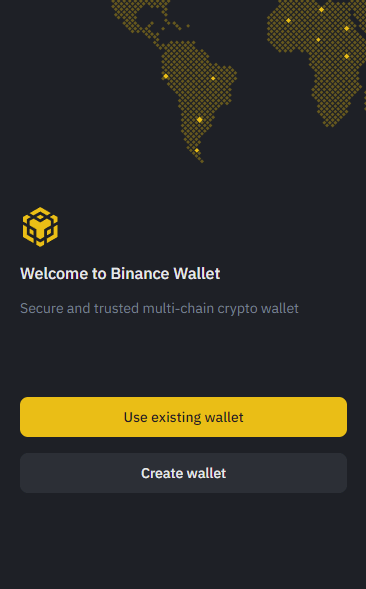 As you can see there are several ways to create a new wallet.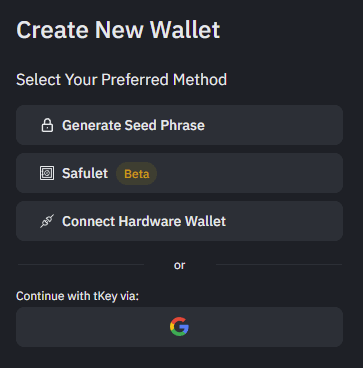 You can generate seed phrase directly,
Use Safulet (Beta) which is a BNB Vault – A new feature on Binance Earn that enables users to earn income from various products on Binance from holding BNB.
You can connect your hardware wallet
You can also create a new wallet with your Gmail account
Note: If you are new then when setting up a new wallet use Google login. On the next screen you'll still be provided with a seed phrase which you need to backup. Anyways if you lose that, forget your password or somehow lost access to your wallet then you can easily gain access back to your accounts using the Gmail login method.
If you are familiar with crypto wallets then choose "Generate Seed Phrase" option and follow the on screen instructions. On the next screen enter a strong password for your wallet, confirm password, check I agree to terms of use and click continue.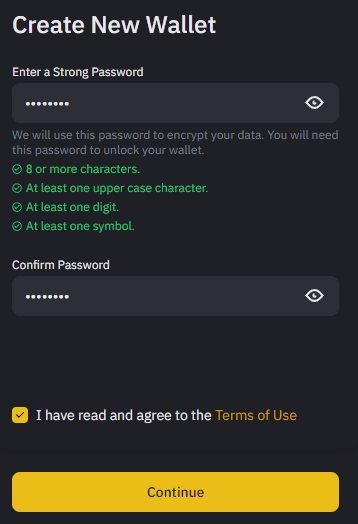 Next backup the 12 word seed phrase shown to you on the next screen.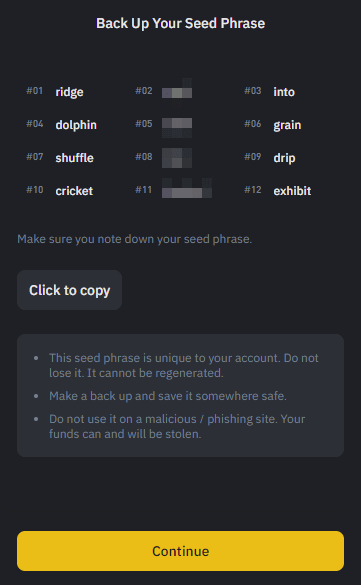 Note: This seed phrase is unique to your account and it gives you access to your wallet. Do not lose it. It cannot be regenerated. Make a back up and save it somewhere safe. Also do not use it on a malicious / phishing site. Your funds can and will be stolen. Note that BNB community or Binance support team will never ask you for your seed phrase. Its confidential so never ever share your seed phrase with anyone else.
Once backed up click continue and confirm your backup phrase on the next step. That's it. Your new wallet is ready.
Google / Gmail Login
Continue with tKey via: G (Google) if you wish to login using your Gmail account. A pop up window will open asking you to continue to Binance chain extension wallet using your Gmail account. Choose your account and continue.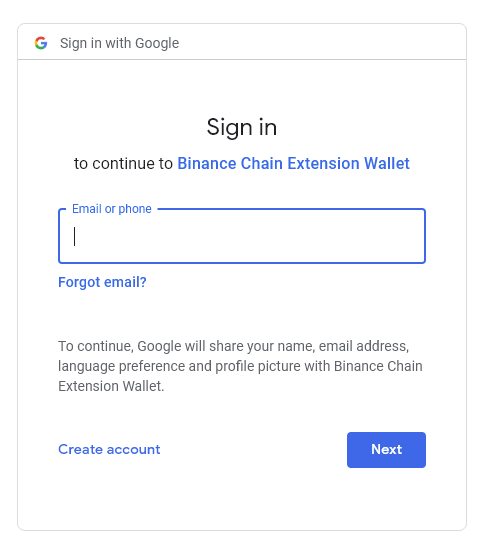 Even if you use tKey Google login method you'll be asked to create a password which acts as a secondary protection layer. You'll also be given a "12 word seed phrase" as well which you need to write it down. It is essential to recover your account. If you lose this then no problem. You can recover your accounts back using your Google account. But never share it with anyone. Once the seed phrase is copied click continue and finalize your Binance chain wallet setup.
That's it! You've successfully setup your Binance Chain BNB wallet. You can now use it to send / receive BNB BSC (BEP-20), Binance Chain, and Ethereum (ERC-20) tokens. You can also start to interact with decentralized applications, decentralized finance protocols and smart contracts on these blockchains.
Binance wallet interface
This wallet is pretty self explanatory. If you've used Metamask then you should find it easy to interact with Binance wallet as well.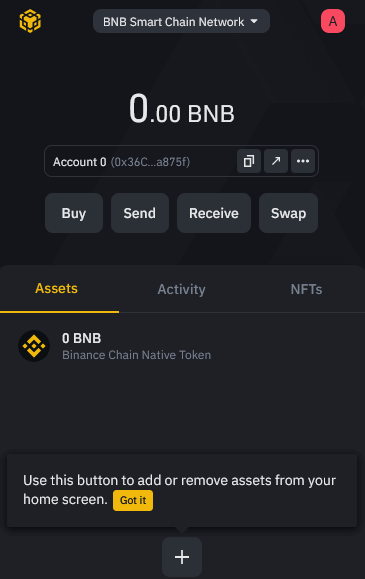 Choose Network:
On the main page at the top center you'll find the option to switch between networks. There is no option to add any custom networks. As of now you can choose between BNB Beacon Chain network, BNB Smart Chain network and Ethereum network.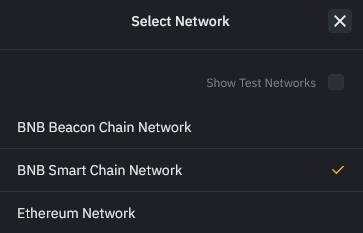 Account address: Send / Receive BNB
On home screen you'll also find your account information such as wallet address and its balance. Just below your address you have the option to buy BNB using MoonPay. Click send to send tokens from your wallet. Receive to scan QR code or copy your address to receive tokens. Swap to swap from one token to another.
Add tokens to Binance wallet
Just below your account you'll find your assets, account activity and NFTs. By default under assets you'll only find Binance Chain native token BNB. If you are on Ethereum network it'll be ETH.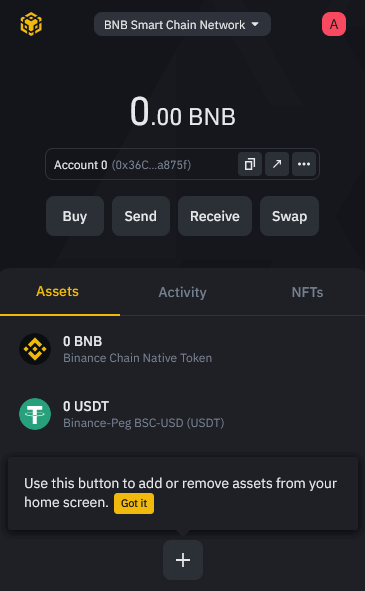 To add a new token to your asset list click the + icon at the bottom center. Next search for the token name.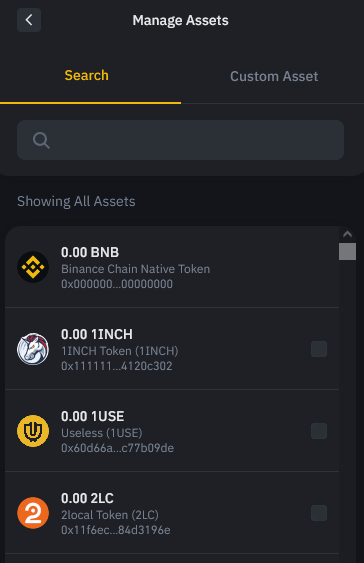 If you can't find your favorite token then you can add custom token using the token's contract address. You can find the BEP-20 token contract address at BSCscan.com explorer. Adding custom tokens on BSC wallet is similar to adding custom tokens on Metamask.
New BNB address
To create a new BNB address click on the account icon at the top right corner which will open settings menu. Click on "Add Account" to create and add a new BNB address. You can also import new accounts, connect your hardware wallet and then you have wallet settings.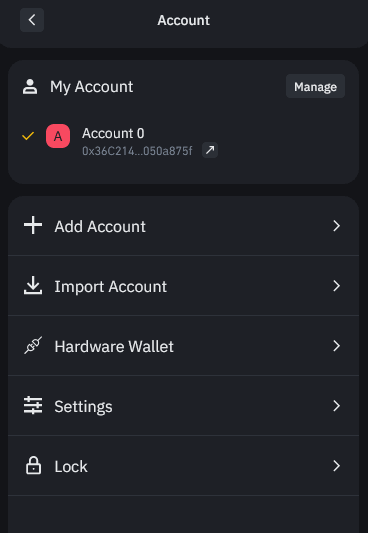 Settings:
Under settings you can change the default currency, wallet language, manage contact, adjust security and privacy settings. If you've failed to backup your seed phrase then go to settings >> view seed phrase and enter your wallet password to view seed.
That's all the basics you need to know. Let's now see how to connect your Binance exchange account and your BNB wallet using wallet direct.
Wallet Direct: Connect Binance and BNB Wallet
To interact with BNB Smart Chain network you need BNB to pay for transaction fees on the network. Just like ETH on Ethereum network you need BNB on Smart Chain network.
If you already have BNB in your Binance spot wallet then you can easily transfer them to your BNB wallet using Wallet Direct feature. For this first you need to connect your Binance account with our Binance Chain wallet using Wallet Direct and here is how it is done.
1. First login to your Binance exchange account using the same browser where you have the Binance wallet installed. Next open Binance wallet. Just right next to your account you'll find three dotted menu (this interface may change in the feature).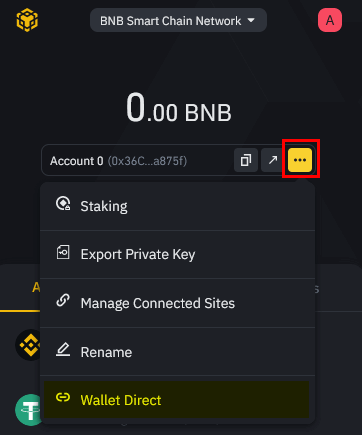 Click on that and click Wallet Direct which will open Binance wallet direct page: https://www.binance.com/en/wallet-direct
2. To transfer coins or tokens between Binance.com account and Binance Chain Wallet all you have to do is verify and connect your Binance address. Click on "Verify and Connect my address" and follow the on screen instructions.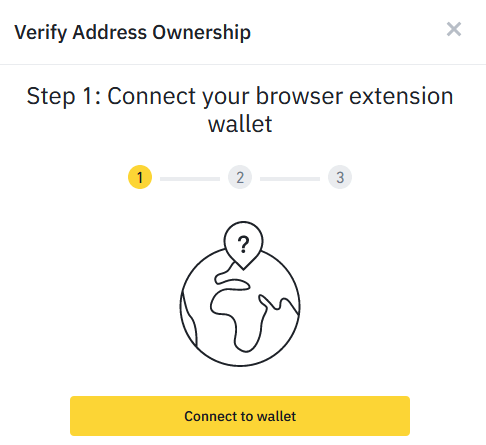 Click connect to wallet which will open Binance extension wallet to approve connection request.
www.binance.com would like to connect to your account.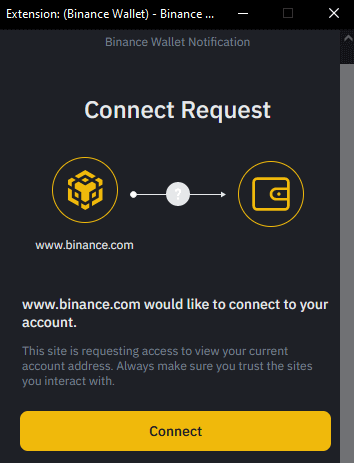 Click connect and verify address ownership. You need to verify that you are the owner /creator of the address. For this you need to sign message via your browser extension wallet.
Click [Sign with wallet] which will again open your Binance extension wallet. Verify the signer address, signing message and click confirm.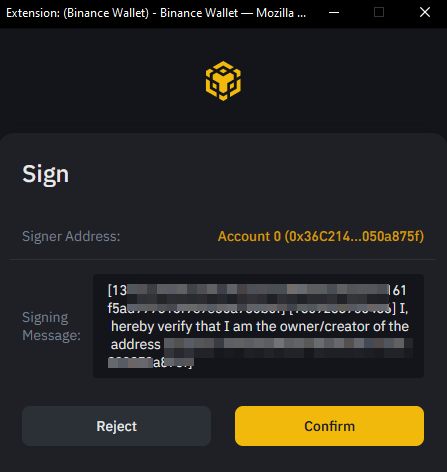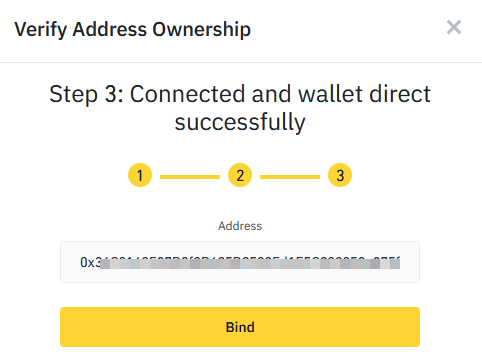 Lastly click Bind and go through the authentication process. This is a security step. Enter your Email verification code and if you have 2fa enabled enter the Authenticator code from your mobile app and click submit.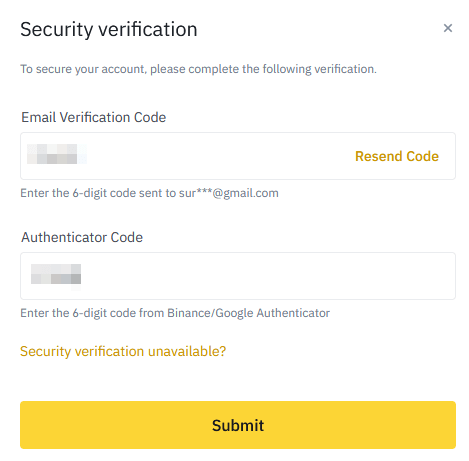 You'll see a message saying Bind successful!
That's it! You've successfully connected your Binance account with your BNB wallet.
You can connect multiple address to your Binance account. This connection between your exchange account and Binance wallet allows you to quickly and easily move funds between your Binance.com and Binance Chain wallet.
Transferring funds via Wallet Direct
Once your Binance account is linked to your wallet open Binance wallet and choose the asset you wish to transfer. Next go to receive and select the receive method as Wallet Direct.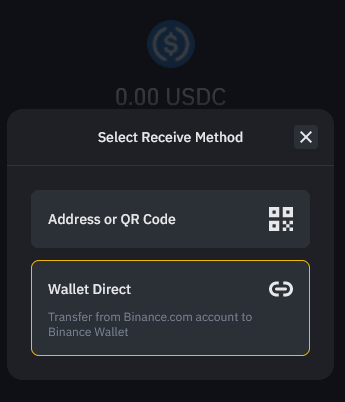 On the next screen you'll be again asked to choose the asset to transfer from Binance exchange. You'll see the list of all your assets along with the balance available on the Binance exchange. Choose the asset, enter the amount to transfer, verify the transaction fee and click next.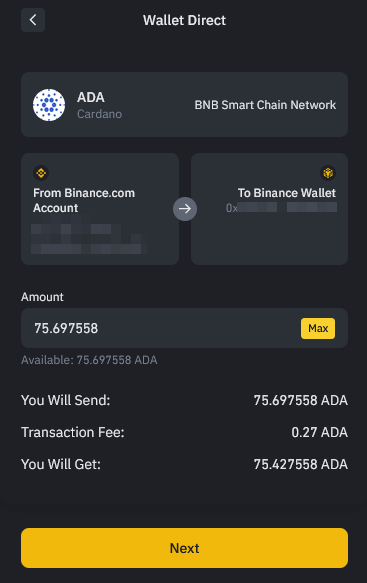 That's it! You've deposited tokens onto your Binance chain wallet. If you use Wallet direct feature then the process is fairly straightforward. However the transfer only works between your Binance.com exchange and your BNB wallet.
To deposit money from another wallet or exchange account you have to click receive and manually copy / paste the address.
Note: When transferring to your BNB wallet understand the token standards and try not to transfer wrong token to wrong network. Both BEP-20 and ERC-20 addresses starts with 0x. Whereas BEP-2 addresses starts with BNB.
Again learn the difference between BEP-2, BEP-20 and ERC-20.
Disconnect Wallet Direct
At some point you might wish to unlink your Binance account and your BNB wallet. If you wish to disconnect the wallet direct feature then go to https://www.binance.com/en/wallet-direct
Here you'll find the list of addresses that is connected to your Binance exchange account. Click disconnect to disconnect wallet direct.

Or Open your BNB wallet go to Address settings >> Wallet Direct and Disconnect.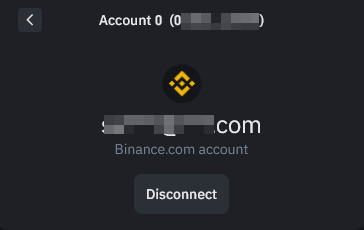 Once disconnected you can always connect to the same address again.
Connect BNB wallet to BSC DApps
Connecting your Binance Chain wallet to any BNB Smart Chain DApps is easy. Once connected you can start to interact with Smart Chain using your Binance Wallet. You can start staking, swapping and perform variety of other DeFi activities.
For Top BNB chain DApps visit: https://dappradar.com/rankings/protocol/binance-smart-chain and https://dappbay.bnbchain.org/
Note: Connecting to a DApp site will give it access to your Binance chain wallet. Always make sure to trust the sites you connect and interact with.
Here is how to connect your Binance wallet with Pancakeswap – The #1 AMM and yield farm DEX protocol on the BNB Smart Chain.

Visit the DApp page and at the top right corner click connect wallet. Choose Binance wallet. A popup window will ask for your permission to connect to the DApp. Read it and allow the site to connect to your Binance wallet. Click connect to confirm connection. Once connected your wallet address will appear at the top right corner of the Dapp.
Note: Connecting is same for almost every DApps as they all have same UI for connecting your wallet. However note that not every DApp supports using Binance Chain Wallet yet.
That's All! We're done with BNB wallet guide.
Except staking BNB we've covered every other aspect of the Binance wallet. In a separate guide we'll show you how to stake BNB.
If you got any doubts on Binance wallet or BNB chain wallet feel free to ask us in the comments below.