Buy / Sell
Binance trading fee discount – Lower fees on Binance Spot & Futures trading
Are you using Binance regularly to buy / sell cryptocurrencies or trading on the Futures platform? Then you might be wondering how to get discount and reduce the trading fees that you are currently paying. Here we'll share some tips to lower the trading fees that you are paying on Binance spot, margin and futures exchange. Along with that we'll also share the Binance fee discount code to get additional discount on trading fees.
The total discount will be 45% for users who sign up using our link or referral ID. You'll get 20% discount from our side (referral kickback discount) and to save additional 25% on fees you need to have some BNB (Binance coin) in your account.
Binance fee discount
Here is the referral code / link and discount details.
Binance referral code / ID : 16101535
Link to Register: Join Binance
Discount / Bonus: 20% cashback referral kickback
BNB Discount: You'll get additional 25% discount when you are using BNB to pay for fees.
Total discount: up to 45% (20% cashback on spot trade + 25% Off with BNB)
Conditions: Only for new users
The 20% discount applies only when you register a new account using our referral ID. If you are an existing customer then you won't get this discount. You can only save on the 25% BNB discount.
Disclosure: This post contains affiliate links, which means we receive a commission when you click our link and register to the exchange. Whenever you make a trade we receive part of your trading fee as a commission. Read about affiliate disclosure here.
Now before we see how to grab the discount and save more on fees here are some interesting facts about Binance.
Why trade on Binance?
Whatever your current experience level in trading is. Whether you are a seasoned trader or just getting started with Cryptocurrencies; Binance is a way to go.
Binance doesn't really need any introduction. It is the number one exchange that is truly leading the way in the cryptocurrency industry. It has exploded in growth in the recent years and is currently the largest cryptocurrency exchange in the world. The reason for its popularity is the amazing offers and the advanced tools that it offers.
Binance provides a wide range of crypto coins on their platform for trading. It can handle over several million transactions per second and has a daily trading volume of over 60 Billion Dollars. Wide range of offers, fastest developments in the industry combined with the lowest fees on the market made Binance the number 1 choice among cryptocurrency traders.
Binance is trying to be much more than just a cryptocurrency exchange. It has an information portal which documents various cryptocurrency projects and the markets. It features Binance academy which is an education portal that educates new users to this space. One can learn more about the various coins and tokens. It allows purchase of crypto products and services using debit / credit card. It has futures platform for leverage trading and much more.
Recently they've also announced that they'll be introducing 4 new trends such as: NFT platform, KYC projects, consumer facing DApps, and on-chain analytics. In short Binance is a one stop solution for crypto enthusiasts.
Best things about Binance exchange
There are a lot of benefits of using Binance exchange. Here are our top 3 reasons to trade on Binance.
Low trading fees. It has some of the lowest fees on the market. Starts with a trading fee of 0.1% and goes as low as 0.6% per trade with our discounted link.
High liquidity compared to other exchanges. Binance holds the largest transactions in the market today. So whatever the size of your order is, it'll most likely get filled.
There is an extensive amount of cryptocurrencies available for trading. As of now there are more than 200+ altcoins and over ten stable coins to trade.
Alright! Its time we explain how to get the discount and save on fees.
Binance Deposit and Withdrawal Fees
On Binance there is no fee for deposits. Deposits are entirely free. Likewise they won't charge you any withdrawal fee. The withdrawal fee is determined based on the blockchain network and Binance provides different transfer network options for you to save on fees. To learn more check this post on BEP2, BEP20 and ERC20.
Anyways this post is not about deposits and withdrawals but about saving on trading fees.
Binance Trading fees
First of all do you know how much trading fees you are currently paying?
Binance is one of the few exchanges where users can enjoy very low trading fees. They follow a maker / taker model and the fee rate is divided into ten levels according to your 30 day trading volume and or BNB balance. Hence the fee you pay depends on your VIP level.
The below fee rate is for spot trading.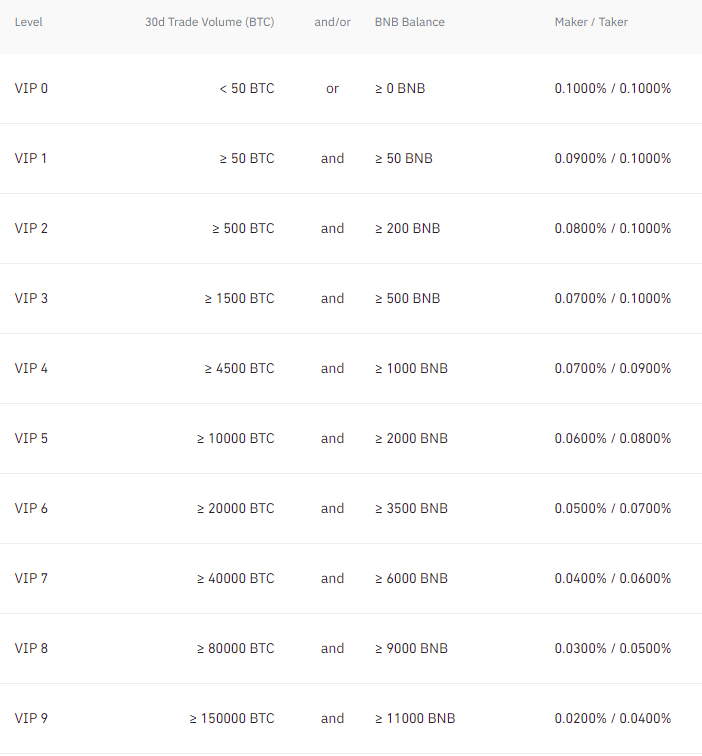 Other than spot Binance also has USDT margined futures and Coin Margined futures where you can trade perpetually and quarterly with a leverage up to 125x.
Again the trading fees on these platform depends on your 30 day trade volume and or BNB balance as you can see in the table below.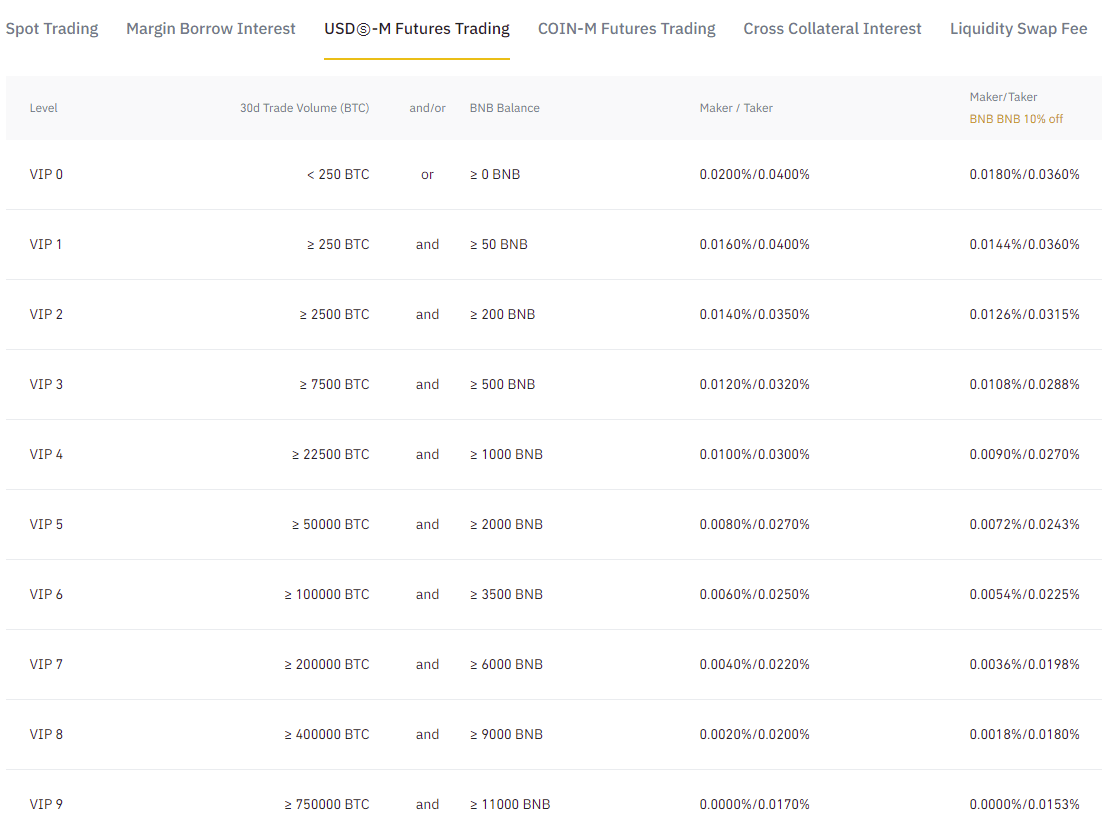 By default your VIP level will be 0 and depending on how much your 30 day trading volume is and your BNB balance is your VIP level increases. You can check the trade fee rate for all the platforms here: https://www.binance.com/en/fee/trading
How to reduce fees on Binance?
Binance offers the lowest possible trading fees in the market. Even though their fees are low if you regularly trade on Binance then in the long run you'll end up paying a significant amount of money on fees. Follow the steps below to further reduce your trading fees and avoid paying large sums of fee. On top of the regular maker taker fees you can save additional 45% fees on spot trading and 10% on your futures trades.
Here is how to get the discount and reduce fees?
1. Open Binance account with discounted link
To get Extra 20% off on Binance fees register to binance through our link. If you already have a Binance account, then you'll not be able to receive this discount. You'll have to create a new account using our discounted link. The referral link below contains the referral codes so you don't have to enter the discounts manually.
Binance referral code / ID : 16101535
20% fee discount on spot trades – This will open your Binance account with a 20% fee discount.
10% fee discount on futures – With this link you can enjoy 10% commission discount for the first month.
Using the links above you are getting additional discount on fees while registering on Binance. The 20% discount is only for spot trades. On each and every trades you'll receive a commission kickback rate of 20% and is forever until Binance changes their terms and conditions.
The second 10% trade fee discount is for the futures account and is only valid for the first month.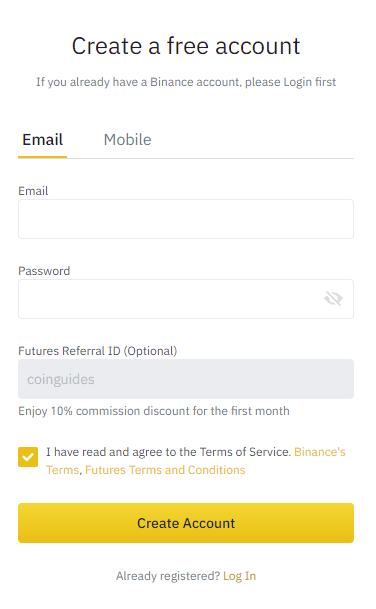 Registering an account on Binance is very simple. Click on the discounted registration link above which will redirect you to the registration page. You can also scan this QR code which will apply the discounts automatically.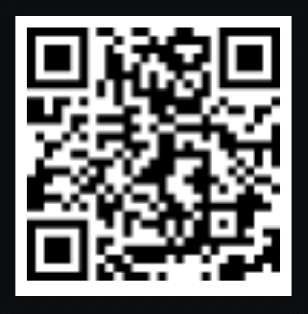 Now all you need to do is enter is your email address and password. After filling in all the details create a new account. You'll then receive a confirmation email to your registered email. Click on the confirmation link to finalize your account creation process.
Your binance account is successfully created and you can now start trading in the markets. From now on you'll get 20% discount on all your spot trades. That is you'll be paying 20% less fees on every transaction that you do on Binance. This will be credited as a cashback after each trade. Similarly on futures you'll save 10% on fees.
On top of this 20% discount you can save extra 25% fee reduction just by holding BNB in your account.
2. Pay trading fees in BNB
BNB (Binance Coin) is the utility coin and is the native token of the Binance exchange. If you pay all your trading fees in BNB then you can save additional 25% on fees.
By default when you create a Binance account the option to pay fees in BNB will be enabled. Anyways check your account dashboard to ensure the setting is enabled.

Go to your account dashboard and scroll to the bottom where you'll find the section called "Your trading fee level". There you'll find the option to enable BNB discount. Make sure "using BNB to pay for fees (25% discount)" option is checked.
Once this option is checked you'll get additional 25% fee discount. But to receive this discount you need to hold some BNB in your Binance account so that you can pay all your trading fees in BNB. There is no minimum amount required. But if you run out of BNB balance then the trade fee will be automatically deducted from the coin that you trade and as a result you'll not receive the 25% bonus.
So now the total discount is 20% (referral bonus) + 25% (BNB discount) = 45%
Let's say your 30 day trade volume is less than 50 BTC and you hold less than 50 BNB in your account. Your are at VIP level 0 and your standard trading fee will be 0.10% for both maker and taker orders. If you use BNB to pay fees then you'll receive 25% discount hence the fee rate will be 0.75% per trade. With additional 20% referral discount your final trading fees will be 0.6%.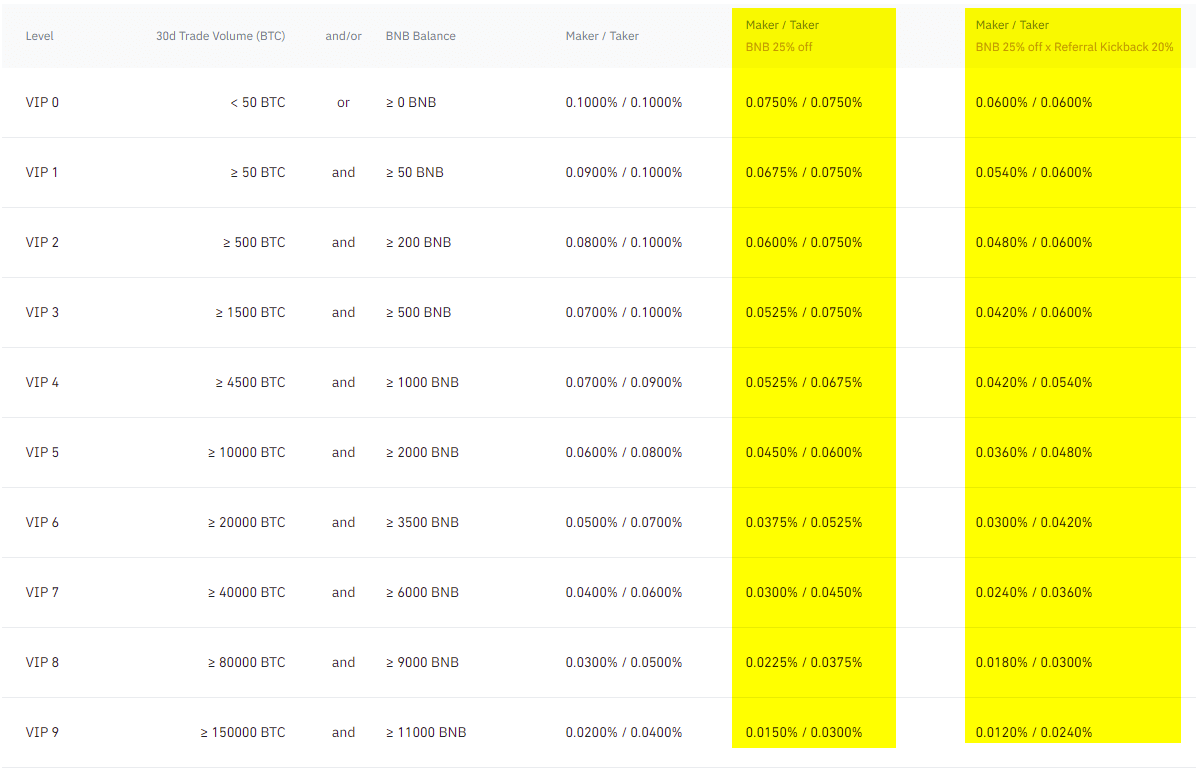 For example when you trade 1000 USD you'll pay 1 USD in fee. With this 45% discount you'll be only paying 0.60 USD as fee instead of 1 USD.
3. Increase your Binance VIP level
On top of the 45% discount you can save even more on trading fees by leveling up your VIP level. To increase your VIP level you'll either have to increase your trade volume or increase your BNB account balance.
For example if you trade volume is more than 50 BTC or if you have a BNB balance of 50 BNB in your account then your level rises to VIP 1 where you'll receive further discount on maker fees. There are total 9 levels and with every VIP level increment you'll be paying lesser and lesser on trading fees.
To know more refer to the Binance VIP schedule fee table listed here: https://www.binance.com/en/fee/trading
Notice how the more you trade or the more you hold BNB the more additional discount you receive. Anyways increasing your VIP level is not that easy. As you can see it is only suitable for heavy traders and whales who are only capable of accumulating such large amounts of BNB token.
Alright, That's it!
Even though Binance by default offers competitive rates with these 3 strategies you save a significant amount of money on your trading fees. We hope you've used our Binance fee discount strategies effectively to lower down your trading fees on Binance. Enjoy amazing discount and much lowest trading fees in the market.
You can now buy / sell Bitcoin, Ethereum and start trading a wide range of cryptocurrencies with discounted fee. All that money saved on fees is money earned.
Disclaimer: This is just an informative post on how to reduce fees on binance. It does not constitute any financial advice. Kindly note that trading and investments in cryptocurrencies carry inherent risks. Please always do your own research before you invest or trade. Stay safe out there.
Are you trading on Bybit? Get up to $620 Bonus and 30% fee discount.