Buy / Sell
BitMEX Alternatives – Top 10 crypto trading platforms similar to BitMEX
BitMEX is the oldest and the most popular crypto derivatives trading platform. Not only it is popular but it is the most advanced Bitcoin exchange that offers robust trading tools and powerful API. Moreover it has impressive liquidity. This exchange handles over $2 billion in daily trading volume.
It use to be the largest and most widely used cryptocurrency trade exchange. But in the recent years a number of exchanges have emerged as a best suitable alternative to BitMEX. They not only compete with BitMEX trading volume. But they also do offer several unique features that provides an enhanced trading experience.
On this page you'll find an overview of BitMEX alternatives. A list of promising, most advanced and highly capable cryptocurrency derivatives and futures trading platforms. They offer similar trading instruments and features to that of BitMEX.
If you don't want to read the complete post then here is the quick list of 10 best alternatives for BitMEX.
Top 10 BitMEX Alternatives

Bybit

Up to 100x leverage
No ID verification
Claim up to $90 in bonus

Fees: Taker: 0.075% | Maker: -0.025%
Deposit Method: Crypto
Try Bybit

FTX

101x leverage
Get 5% off fees

Fees: Taker: 0.07% | Maker: 0.02%
Deposit Method: Crypto
Try FTX

PrimeXBT

100x leverage
No KYC /withdrawal limit
Get $50 bonus

Fees: 0.05%
Deposit Method: Crypto | Credit
Try Prime XBT

Binance Futures

Up to 125x leverage
Get 10% discount

Fees: Taker: 0.04% | Maker: 0.02%
Deposit Method: Crypto | Credit
Try Binance Futures

Phemex

Up to 100x leverage
No ID verification
Claim $80 bonus

Fees: Taker: 0.075% | Maker: -0.025%
Deposit Method: Crypto | Credit
Try Phemex

Poloniex

Up to 100x leverage
Features spot and margin trading

Fees: Taker: 0.075% | Maker: -0.026%
Deposit Method: Crypto | Credit (fiat)
Try Poloniex

OKEX

Up to 125x leverage
Features options trading
Get up to $10 in free BTC!

Fees: Taker: 0.050% | Maker: 0.020%
Deposit Method: Credit | Crypto
Try OKEX

KuCoin

100x leverage
Altcoin perpetual contracts

Fees: Taker: 0.06% | Maker: 0.02%
Deposit Method: Crypto
Try KuCoin

Bitfinex

100x leverage
Features commodities perpetual swaps

Fees: Taker: 0.075% | Maker: -0.02%
Deposit Method: Crypto | Credit
Try Bitfinex

Deribit

100x leverage
BTC / ETH perpetual swaps

Fees: Taker: 0.05% | Maker: 0.00%
Deposit Method: Only Bitcoin
Try Deribit
Read More: What are maker and taker fees?
Now before we analyze these platforms let us quickly look at an overview of BitMEX and its pros and cons. It helps you understand why many traders stopped using BitMEX and moved on to these alternatives.
BitMEX overview
Founded in 2014, BitMEX (Bitcoin Mercantile Exchange) remains the oldest and well established Bitcoin derivatives exchange.
It is the number 1 market place for Bitcoin traders. The main reasons for its success are its contract variety, highest leverage, unique order options, ultra fast trade matching engine and its deep liquidity.
Besides that this exchange is known for its robust security and excellent customer support. Over the years BitMEX has seen numerous crypto market cycles. Also it has been tested with diverse market conditions and volatility spikes. After all these years it still remains the most favorite exchange for many traders.
Bitcoin traders mainly prefer BitMEX for the following reasons.
The Pros:
Very high leverage (100:1)
Advanced order types.
Numerous cryptocurrency pairs to trade with.
Unrestricted access to traders from all over the world.
Robust tools and API for traders.
Most secure platform and knowledgeable customer care.
Very low fees (pays maker rebates for all traders), unlimited withdrawals and
Finally no KYC. Anybody can open anonymous accounts.
BitMEX in overall is a technically advanced derivatives exchange. However there are some flaws and it has gone through some serious trouble in the recent times.
Why traders looking for alternative trade platforms?
BitMEX recently had some legal problems in the U.S and it was hit with a major lawsuit. The U.S authorities bought criminal charges against the owners of BitMEX for violating CFTC regulations. They've been charged for operating an unregistered trading platform illegally in the US and failing to implement basic AML and KYC procedures.
Due to this BitMEX announced mandatory KYC procedure to all of its traders. This is to avoid potential problem in the future. Users must now fully verified to continue trading on the platform.
KYC is one main reason that made many traders to withdraw funds from BitMEX and move on to other alternatives.
Note: Some of the BitMEX alternatives listed here also requires KYC. If you are looking for non-kyc specific exchanges then check this list of non kyc Bitcoin exchange.
Aside from that here are few other cons of Bitmex that made users to look for alternatives.
Users can only deposit and trade with Bitcoin. Whereas other futures platform allows user to deposit and trade with altcoins and stablecoins.
During volatile price moments BitMEX has issues with system overloads and downtimes. During such times users can't submit orders or stop losses (order submission error). In worst case their position might even get liquidated.
Lastly users are concerned about the security breach that resulted in emails being leaked. The email database leak made many question the security of BitMEX.
If you are a BitMEX user and are looking for BitMEX alternatives to try in 2020 and 2021 then here goes the list.
Bitcoin / cryptocurrency exchanges like BitMEX
The best BitMEX alternatives are Bybit, FTX, Prime XBT, Binance Futures, Bitfinex and Poloniex. This is where most people trade Bitcoin and other crypto currencies with leverage.
Apart from this list there are many other competitors to BitMEX. But they don't compare with these popular alternatives. Especially in terms of volume and liquidity.
Also the below list may seem quite overwhelming and you might be confused on which platform to consider. Not to worry. We've done an extensive research looking for alternatives to BitMEX. These exchanges have the potential to match up with BitMEX. They are comparable in terms of assets availability, trading fees, liquidity, leverage and overall trading experience.
Below we've highlighted the key features of these exchanges. We've considered their differences, similarities and weighed up the pros and cons of each exchange. It will help you decide the right BitMEX alternative that best suits your needs.
Note: To know the fees and deposit method of each exchanges please refer to the table above.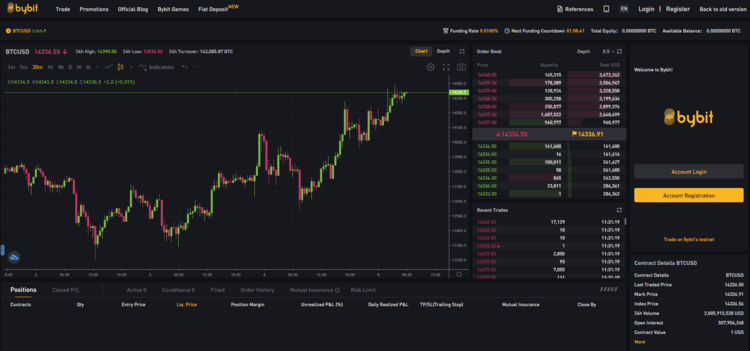 Bybit is a Singapore based cryptocurrency derivatives exchange launched in 2018. It is considered to be the most popular BitMEX alternative due to its impressive liquidity and security standards. This exchange is not only safe but it is also fast and is more suitable for both beginners and advanced traders.
The exchange offers both inverse perpetual and USDT perpetual contracts that allows you to trade with up to 100x leverage. Moreover unlike BitMEX; Bybit fully supports anonymous trading that is it requires no identity verification.
Currently Bybit has the following contract options:
Inverse perpetual: BTC/USD, ETH/USD, EOS/USD and XRP/USD
USDT perpetual: BTC/USDT, ETH/USDT, LTC/USDT, LINK/USDT and XTZ/USDT
Here are few advantages of Bybit that will make you to switch over from BitMEX.
Why Trade with Bybit?
Unlike BitMEX you can deposit and trade with BTC, ETH, XRP, EOS and USDT.
Uses cold storage for asset security. Only manual withdrawals which is processed three times a day.
Has inbuilt Trading View charts and offers robust trading tools / API.
Similar to BitMEX; ByBit also offers makers rebate of 0.025%.
Offers one click Stop Loss / Take Profits before entering a position.
You can drag and drop stop loss / take profit prices directly on the chart.
Liquidity and trading volume comparable to BitMEX.
No system overloads or downtimes and has 24×7 customer support.
Allows trading of crypto derivatives from Bybit mobile app.
Often conducts trading competitions with huge prize rewards.
No KYC required.
As a welcome bonus you'll get up to $90 in rewards which you can use towards your trading.
Trade on Bybit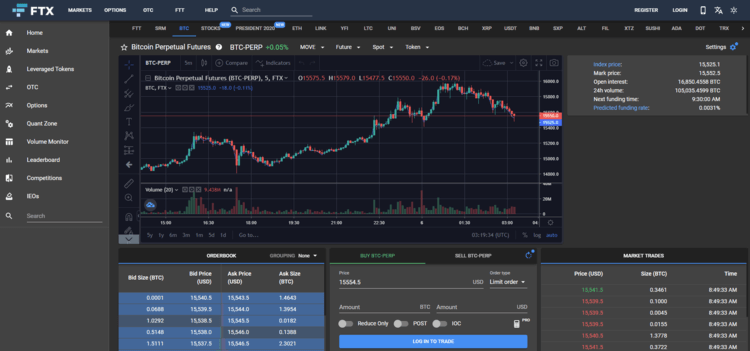 FTX is a new futures trading platform and is much younger than Bybit. However it has quickly became a top-tier leverage exchange due to the wide range of derivatives, index futures and leverage tokens that it offers.
While the trading volume is not up to its competitors the platform offers several unique ways to trade and speculate with cryptocurrencies. Due to its wide range of trading products and its competitive fees many traders are making a move over to FTX.
Why trade with FTX?
FTX is a both spot trading platform and a derivatives exchange.
Extremely wide range of trading instruments.
It includes over 60 futures contracts, 50 plus leverage tokens and a wide range of assets and altcoin indices to choose from.
Also features Bitcoin options.
Offers up to 101x leverage
TradingView powered charting interface.
Highly configurable user interface.
Stores users funds in multi-signature cold storage wallets.
No KYC required initially. But requires KYC if you withdraw more than $9000/day.
Has tired fee structure depending on your trade volume. Maker fee ranges between 0.01% to 0.2% and taker fee range between 0.04% to 0.07%.
Also you get more discount for holding FTT token.
Plus sign up using our link and get 5% discount off on all your trades.
Trade on FTX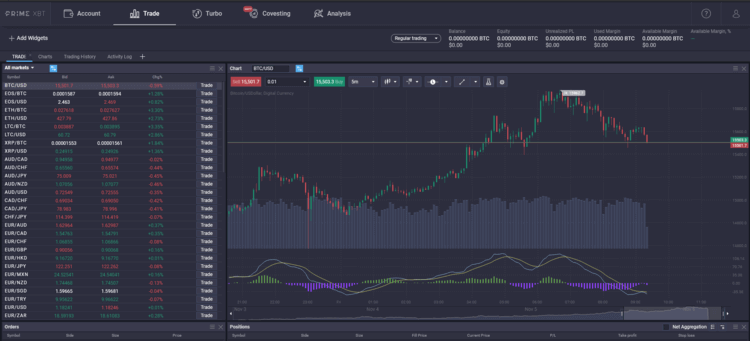 PrimeXBT is another new margin trading platform that is registered in Seychelles and is launched in 2018. Similar to Bybit; PrimeXBT also supports leverage trading in five different cryptocurrencies such as: BTC, ETH, XRP, LTC and EOS. However do note that as of now it only supports Bitcoin deposits.
Other than cryptocurrencies, it also features traditional financial instruments like forex currencies, commodities and stock indices. You can trade all these using Bitcoin as a collateral.
Its high leverage (100x) availability for Bitcoin and altcoin derivative contracts along with its beautiful UI makes it an excellent alternative to BitMEX.
Why trade with PrimeXBT?
You can earn Bitcoin by trading traditional financial instruments such as Forex (FX), commodities and indices.
More than 5 different crypto to crypto and crypto to fiat trading pairs.
Offers a maximum leverage of 100:1 for Bitcoin as well as altcoins.
PrimeXBT is fast, responsive and has a relatively high trading volume.
Features wide range of order types such as limit order, market order, stop limit, stop market, protection order and OCO order (one-cancels-the-other).
Fast order execution and seamless trading experience.
Features quad chart display function to view multiple charts at the same time.
Fixed low trading fee of 0.05% which makes it attractive for day traders and scalpers.
No Troll box or chat room which is good.
Assets stored in cold storage.
Ability to open anonymous accounts. No KYC needed and no withdrawal limits.
You get $50 sign up bonus if you use the link below.
Trade on PrimeXBT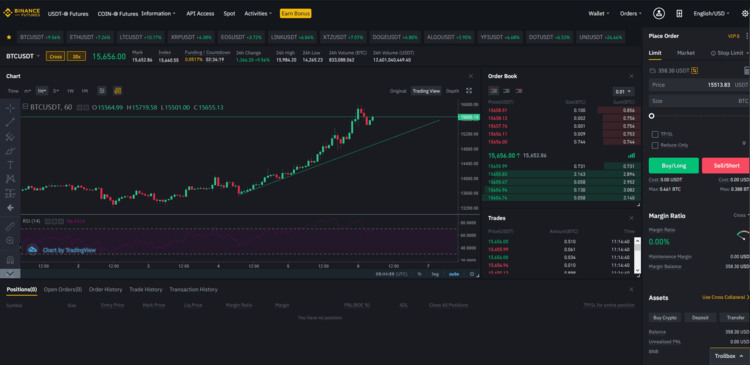 Binance Futures is the futures trading platform of Binance – The number 1 crypto currency exchange by volume. Within few months of its launch Binance Futures established itself as a major player in derivatives market.
It is now the largest Bitcoin and Altcoin perpetual futures exchange. It has by far the largest BTC futures trading volume and is one of the best alternative to BitMEX. However do note that Binance Futures also requires KYC verification in order to trade on the platform.
Binance Futures only offers USDT perpetual swaps with leverage up to 125x and up to 75x on eth and other altcoin futures contracts.
Why trade with Binance Futures?
Trade with up to 125x leverage on BTC futures
Excellent trade matching engine that can handle over 100,000 TPS.
Offers perpetual contracts and quarterly futures for wide range of cryptocurrencies.
Very high liquidity. No matter the size of the order. It will get filled.
Features Trading View chart and advanced charting tools.
Competitive tiered trading fee structure. It is divided into ten levels starting with a maker and taker fee of 0.02% and 0.04%.
Trade on Binance Futures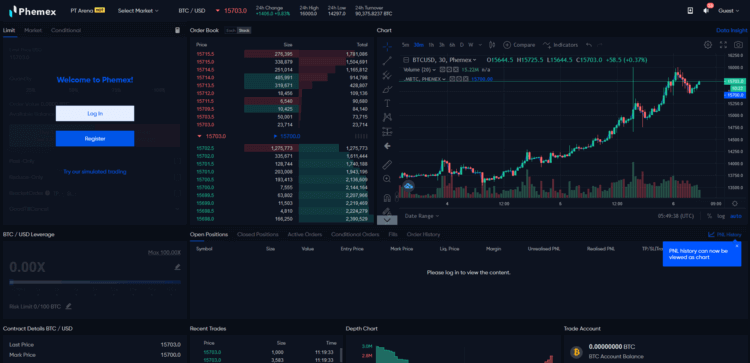 Phemex is a new entry to the leverage trading platform and is another popular BitMEX alternative. Similar to Bybit; Phemex also offers 100x leverage and it requires no KYC to trade on the platform.
Founded by ex-Morgan Stanley executives Phemex have attracted many cryptocurrency traders worldwide in the recent times. It can process over 300,000 TPS and it claims to be the fastest exchange.
It supports both BTC and USD contracts and it currently includes the following cryptocurrency: BTC, ETH, XRP, LTC, LINK and XTZ.
Why trade with Phemex?
BTC and USD settled contracts.
Offers 100x leverage on popular cryptocurrencies including Bitcoin, Ethereum, XRP, Chainlink, Litecoin and Tezos.
Also offers leverage trading on Gold which you can trade using Bitcoin.
Advanced trading platform with advanced UI/UX suitable for both beginners and professionals.
Does not experience any order delays, server overloads or lags.
No KYC or identity checks needed to trade.
Just like BitMEX, Phemex also offers maker rebates of 0.025%. Taker fee is 0.075%.
Plans to provide l3 market data and launch trading of traditional financial instruments soon.
Conclusion: Alternatives to BitMEX
The top 5 listed above are the best alternatives to BitMEX. Other than those 5 Poloniex, Okex, Kucoin, Bitfinex and Deribit are also a good alternative to BitMEX.
These exchanges offers both spot and futures trading. Deribit for example allows options trading as well. On the other hand exchanges like Poloniex along with margin trading it also features lending and staking. Plus it allows users to trade on web, Android, IOS, Web socket and HTTP APIs.
All these exchanges use secure cold storage method to protect users funds. However liquidity can be a minor issue.
Also Bitfinex – While it is one of the oldest exchange it has experienced several hacks in the past. Do keep that in mind.
With that said all exchanges listed here are highly capable leverage trading platform that just works like BitMEX. There is no harm in signing up. Sign up, start trading and stick to the best exchange that suits your trading needs.
Our personal choice is Bybit which offers superior trading experience and has the standard of BitMEX. PrimeXBT is another great choice. If you are an altcoin trader then try FTX and Binance Futures. Both are most liquid exchange that offer unique trading products.
Final Note:
Most of the exchanges listed on this page does not allow customers from the US. In addition to that it restricts many other countries as well. If your region is on the list then not a problem. You can still use VPN and signup to these exchanges especially to the ones that don't require any KYC / AML.
Remember that cryptocurrencies are a highly volatile asset class. Also leverage trading is only for professionals. Before you margin trade you must understand the risks. We'd like to remind you that this post is not a financial or trade advise.
Trade safe!
Hope you find this post useful and we hope you've found the best exchange to trade with.
We'll update this list if we come across any other better BitMEX alternatives.
Are you currently trading on any of these exchanges, if so then how is your trading experience? Also do you know any other favorite BitMEX alternatives. Share it in the comments below. It really helps others.