Buy / Sell
BitMEX referral code / affiliate program – 10% fee discount + commissions
BitMEX referral code is a code that you can use to sign up to BitMEX exchange. The referral code is fMRfzN and here is the link https://www.bitmex.com/register/fMRfzN. Upon signing up using this referral code you'll get a discount of 10% off on trading fees for 6 months.
If you are a follower of Coin Guides then you actually know that we once made a post on Binance referral program. It is to educate beginners that they can earn crypto just by referring friends and family. After reading that guide one of our users asked us "Does Binance has the best referral program out there?". Well, there are many cryptocurrency exchanges that has affiliate program and all of the exchanges offers decent referral commission.
Here in this post we'll see about BitMEX affiliate program where you can refer and earn 10% commissions from your referrals. We'll not explain how to use the exchange or start trading but will show you how to grab your BitMEX referral code and start earning referral commission.
BitMEX Referral Code
To grab your BitMEX referral code and start earning through this affiliate program you first need a BitMEX account.
To Signup you can use our BitMEX referral code: fMRfzN or this referral link: https://www.bitmex.com/register/fMRfzN.
By using our referral code or link you'll be getting 10% fee discount on your trading orders for next 6 months.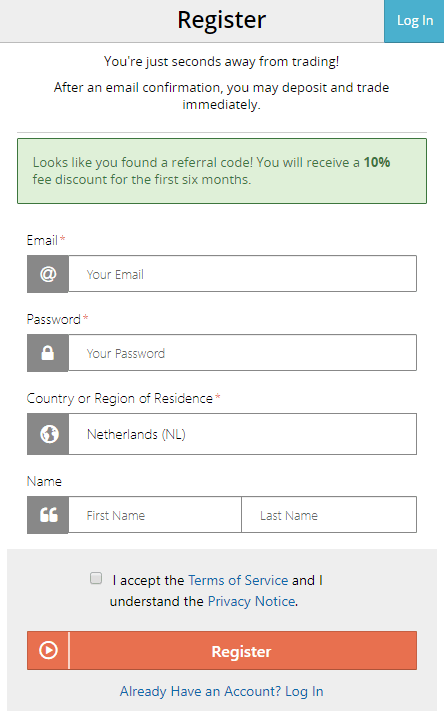 Now before we show you where to find or how to use the referral code here is something that you need to know about BitMEX.
BitMEX
BitMEX stands for Bitcoin Mercantile Exchange. It is a peer to peer cryptocurrency derivatives trading platform that offers leveraged contracts that are bought and sold in Bitcoin. It's a one stop leverage trading platform where you can trade with up to 100x leverage. Leverage trading has become very popular and day traders often use it to maximize their profits. However this is something that is not recommended for everyone; especially beginners. If you are not sure what you are doing then you'll end up losing everything.
BitMEX is quite different than regular cryptocurrency exchanges like Binance, Bitfinix, Bitrex or Kucoin. This is not an exchange where you buy sell Bitcoin / Altcoins for fiat currency. In fact you are not even buying or selling but betting on Bitcoin and it's like gambling. Trading on BitMEX is highly risky and you could end up losing all of your holdings. If you are not sure how to margin trade cryptocurrencies then BitMEX is not for you.
With all that said let's now take a look at the key aspects of BitMEX exchange and get straight into its affiliate program.
Features:
BitMEX is safe, secure and is one of the leading cryptocurrency exchange for margin trading. It's the first exchange to provide up to 100x leverage. Both the security and support is top notch and is one of the highest volume exchange out there. Some of the other features includes: trading without expiry dates and dynamic fee structure.
BitMEX offers two different fee structure for makers and takers. The taker fee is 0.075% whereas the maker fee is -0.025%. In addition to earning commissions through referrals you can also earn a small rebate for proving liquidity to the order book.
Note: In BitMEX; Bitcoin is denoted as XBT and not BTC. You need to complete user verification and the signup process is quite simple. However do note that BitMEX does not serve US customers.
BitMEX affiliate program
BitMEX offers complete affiliate program and the program has 2 benefits.
You as an affiliate will earn percentage of commissions from your referrals.
In addition to the above the referrals will also receive 10% fee discount for a limited term.
Currently the 10% trading discount is valid only first 6 months. If you don't have a BitMEX account yet then you can use our referral link: https://www.bitmex.com/register/fMRfzN. It will get you 10% fee discount which will be applied to all your trades for next 6 months. Now you can offer the same for users who sign up using your BitMEX referral code.
Also earlier the BitMEX affiliate commission was only valid for 6 months but now it has been extended to lifetime. So each user you refer to BitMEX will generate affiliate commissions for lifetime. So what are you waiting for? Refer your friends and start earning passive income.
Grab your BitMEX referral code
To grab your referral code, first create a new account in BitMEX
Then complete the email verification.
Also make sure to complete the user verification (KYC).
Once it is done click on Account from the top menu bar and click affiliate status menu.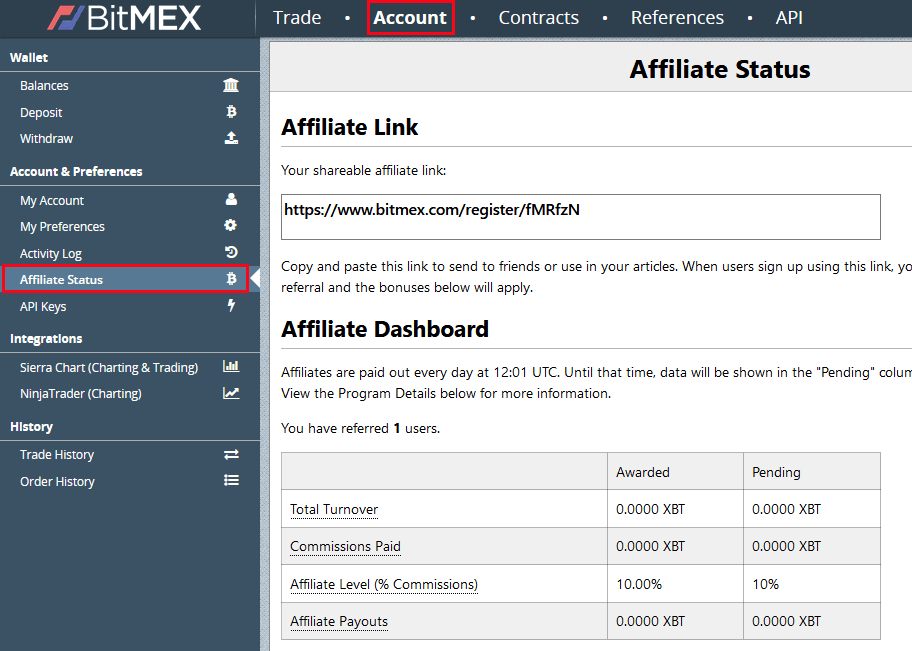 Now under affiliate status menu you'll now find your BitMEX referral code. Grab your referral link and share it on social media or your website.
Users who sign up using your referral link will earn you commissions based on their trading activity. On the same page under Affiliate dashboard section you'll find how much earnings you've made and the total commissions paid. Now as an affiliate here are some terms and conditions that you must note.
BitMEX referral program details
1. Referred users must complete registration within 7 days of clicking your link. Your affiliate link will expire if it is more than 7 days and sign ups after that won't be counted as successful referral.
2. The affiliate commission is not limited to 10%. You can earn up to 20% in commissions and the percentage of commission depends on Bitcoin turnover of the account's referrals.

3. Affiliate payouts are made daily at 12:01 UTC.
4. There is no limit on number of referrals. You can refer and earn as much you can from this program.
5. Users whom you referred will get a bonus of 10% discount on trading fees which is only valid for first 6 months.
6. In future the fee structure and commission percent may vary. Also BitMEX holds all rights to remove or change the affiliate program without any prior notice.
7. You'll receive affiliate payouts only from referred users who have successfully verified their account.
You can read more terms and details in the affiliate status page.
FAQ
1. How long does referral code bonus last?
The fee discount which you get by using the referral code is only valid for first 6 months.
2. Does BitMEX require KYC?
Yes
Update: On August 2020 BitMEX introduced user verification program. Also recently they made another update. In order to continue trading on the platform and to withdraw funds from BitMEX users need to complete verification before 5 Nov 2020.
Read more: https://blog.bitmex.com/accelerating-the-bitmex-user-verification-programme/
If you are looking for non KYC exchanges where you can leverage trade Bitcoin then check this list of derivatives exchange that don't require KYC.
Similar Exchange Promotion:
For more offers check out our deals page.
BitMEX affiliate is a decent program to earn passive income in crypto. If you are part of the trading community or if you have a lots of followers in Twitter account then you can share your referral link and start earning commissions. But as we said earlier, BitMEX is somewhat different than other cryptocurrency exchanges. If you are new then it is highly recommended that you read some BitMEX trading guides before you start with this exchange.
Good luck and happy trading!