Exchanges
FTX Referral Code – Get 5% fee discount on all your trades
BitMEX recently made an announcement stating that users of BitMEX have to do KYC verification in order to continue trading on their platform. They will be launching this program by end of August 2020 and users got 6 months to complete the ID checks.
If you don't like KYC verification then we recommend you to try Bybit. As of now Bybit requires no KYC, got no withdrawal limits and has huge liquidity. Sign up using our Bybit referral code to get up to $90 bonus. If you already have a Bybit account and are looking to try out some other leverage trading platforms then check out FTX cryptocurrency exchange.
While BitMEX and Bybit are best for trading Bitcoin, FTX is best for leverage trading altcoins. It has become the popular choice for traders recently. But note that FTX also requires KYC.
Sign up using our FTX referral code and get 5% discount off on your trading fees.
Register on FTX using this link: https://ftx.com/#a=coinguides (5% fee discount for lifetime)
Now before we check out the exchange features let's find out the benefits of using FTX referral code.
FTX referral code
Unlike BitMEX or Bybit there are no rebates for makers on FTX. There is a trading fee applied for both makers and takers and the fee % depends on your 30 day traded volume. They offer tiered fees structure for both futures and spot markets. You can check out the complete trading fee details here.

Now by registering using FTX referral code (4541198) you can save additional 5% off from your trading fees.
To get this discount; register on FTX using this link. The referral code discount will be applied automatically and you should be able to verify that in the sign up form.
Additional discount for FTT token holders
As a new user you'll get 5% trading fee discount by default if you use our referral code. In addition to that you can also save more on fees if you hold FTT tokens in your account.
FTT is nothing but an utility token used by FTX exchange. It is one of the top exchange tokens according to CoinMarketCap. Holders of FTT tokens will receive the following benefits:
Lower FTX trading fees
Can be used as a collateral for futures trading
OTC (Over The Counter) rebates
Weekly buying and burning of fees &
Socialized gains from the insurance funds.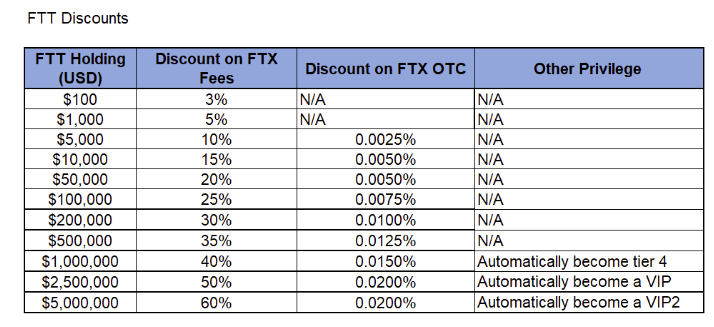 Alright! Let's now check out the features of FTX trading platform.
About FTX
FTX (FTX.com) is a new cryptocurrency derivatives exchange which claims to be build by traders, for traders. This exchange is owned by "FTX Trading Ltd", a company that is incorporated in Antigua and Barbuda.
FTX offers wide range of innovative products such as derivatives, options, leveraged token and volatility products. This platform is not only easy to use but also offers fairer and faster trading environment. There are no overloads or downtime. Also they provide 24 x 7 support to ensure best trading experience.
Here you can buy (long) / sell (short) BTC, ETH, USDT, LINK, BNB, XTZ, EOS futures and index futures with up to 101x leverage. Not only they have perpetual futures contracts for top coins but you can also trade most of the popular DeFi tokens on this platform.
Moreover FTX is also available as an app for Android and IOS.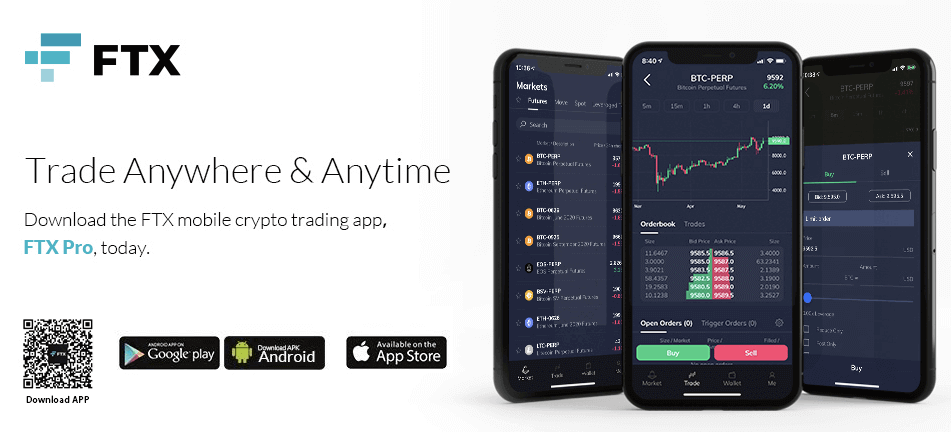 Due to wide range of features and cryptocurrency products FTX has become a popular choice for many traders recently.
Note: Currently FTX does not allow users from the United States due to strict financial laws. Also as we said FTX requires KYC especially if your daily withdrawal is more than 1000 USD.
Verification on FTX
FTX has 3 levels of identity verification. Go to your account settings and click on "Increase withdrawal limits" to submit your identity verification.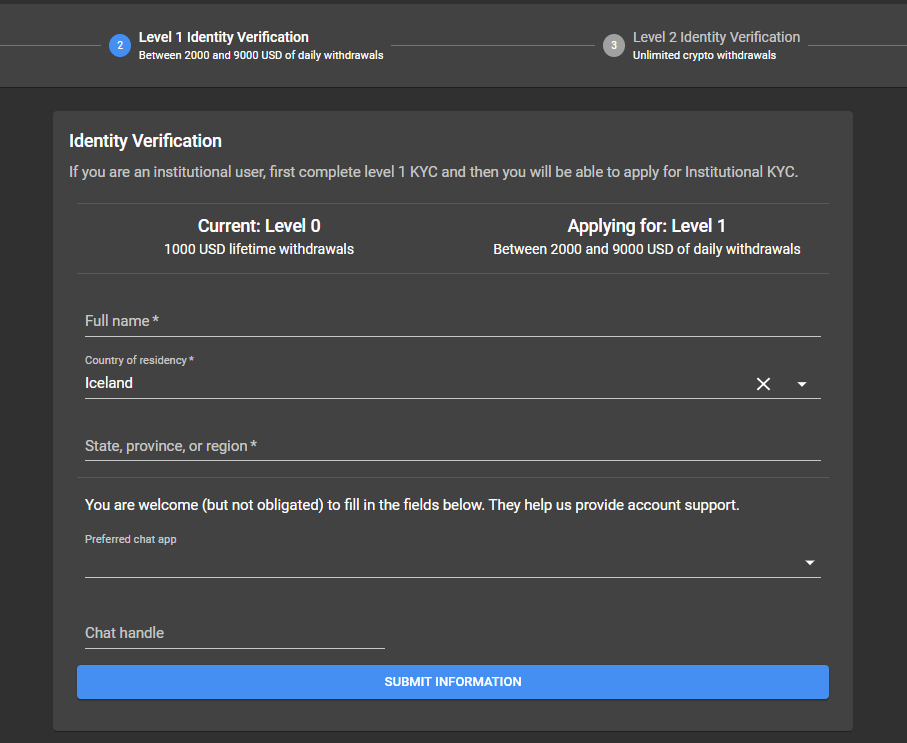 To complete level 1 identity verification you don't have to submit any proof. Just enter your full name, country of residence and state. You'll complete the level 1 KYC where you'll have withdrawal limits up to $9000 USD per day. If you prefer unlimited Fiat and crypto withdrawals then you'll need to submit your ID proof.
Now the question that comes to most mind is; "Is FTX safe?"
Is it safe?
First of all the safety of your account depends on your account security. Once you have completed your account registration make sure to enable 2fa for your FTX account which you can find under account security.
FTX is safe, legit and is one of the highest liquidity exchanges in the industry right now. They've partnered and collaborated with industries leading cryptocurrency firms. Also since the launch they've expanded their platform and established an unique identity in the market. When it comes to security; so far FTX has an excellent record.
With that said remember that exchanges are basically vulnerable to attacks. So it is very important to diversify your trading platforms. Along with FTX, you can also trade on BitMEX, Bybit and Binance Futures.
Earn through FTX referral program
In addition to trading you can also earn incentives by sharing your FTX referral code. Any users who registers using your referral link will be granted with 5% fee discount for lifetime. Plus you'll receive 30% bonus from their trading fees. So what are you waiting for? Join FTX and grab your unique affiliate code.

To grab your referral code, drop down your account and go to referrals section. You can either use the link provided or you can create your own custom link. Share the link with your friends and family to start earning. The rebates earned will show up under your account.
Hope this helps.
Disclaimer: This post does not supply any financial or trade advise. Remember that leverage trading can be risky and is only recommended for professionals. In the event of liquidation you may lose your entire account balance. If you do not know what you are doing then we do not recommend using this site.
Soon we'll make a complete beginners guide and review on FTX cryptocurrency exchange. Until then, trade safe.