Exchanges
Binance Referral Program – 40% Referral Bonus / Commission | 50% discount
Its Sunday; so instead of posting another wallet tutorial or mining guide we decided to shill our Binance referral ID (Referral ID: 16101535 ). Just kidding, our main intention is to build Coin Guides as one of the top resource website for Cryptocurrency and Blockchain. We are not here to just shill anything and earn referral credits. We are here to help people understand this technology and to help earn a living through this economy. The point of this post is to let users know that they can refer and earn through a program. Here we'll explain what Binance referral program is all about and how it works. We believe that this information will help out beginners to get started with Binance referral program.
Binance
A year ago when Binance came into picture they announced their referral program as 50% of trading fees as commission. So many users took advantage of this program and believe it or not there are users who made 100s of Bitcoins just from referral commissions. So why don't you make an extra money by referring your friends, family and acquaintance?

Binance is safe, secure, reliable and moreover it is one of the largest cryptocurrency exchange at the moment. Compared to other exchanges Binance has low trading fees and also they list new coins to their market very often. In recent months Binance has grown exponentially and it stays as a favorite cryptocurrency exchange for many users. As it became more popular Binance reduced their referral commission from 50% to 20% and now it is 40% (Update below: double referral). 20% trading fees is still decent and before they reduce this value make use of this opportunity.
How to join Binance referral program?

The process is very simple. Create a Binance account, grab your referral ID, invite your friends using your referral Id and earn 20% of their trading fees as commission. If you already have a Binance account then jump to "where to find Binance referral ID" section. If you are new user then would you mind help us earn a little commission through our referral link? Here is our referral link.
https://www.binance.com/?ref=16101535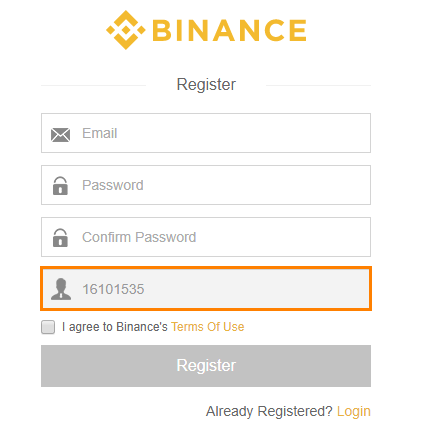 Go to Binance.com register page, enter your email, password and create a new account (Soon we'll make a beginners guide on Binance). Once done confirm your registration by verifying email and make sure to enable Google 2 Factor Authenticator which enhances security to your account.
Note: At times when you create a new account you may get this message:
Fellow Binancians,
Due to the overwhelming surge in popularity, Binance will have to temporarily disable new user registrations to allow for an infrastructure upgrade. We apologize for any inconvenience caused.
Thank you for your support!
If you see such message then we suggest you to try back later. Once you've created Binance account it's time for you to join the referral program and earn bonus.
Where to find the Binance Referral ID?
You can find your Binance referral ID and referral links at invites page. Go to https://www.binance.com/invite.html page and the first thing you notice is the referral banner that says " Binance Referral Program. It pays to have friends". Just scroll down a bit and you should find your referral information. They'll provide you with the referral id, referral link and a QR code. As per your convenience you can use any to refer people to Binance.

OK, I've referred few friends, where do I check my commissions and referral history?
On the same invites page next to your referral ID and link you should find the referral and commission details. It displays the number of friends you referred, estimated commission value and the commission history. OK, so how it works?
How it works? Referral program explained
First of all this program is not paying you for referring people, it is only paying you a part of trading fees from the user whom you referred. Let's say you shared your invite link and a person (he/she) has joined Binance using your link and started trading. You'll earn 20% of this users trading fees as a commission (Now its 40% with double referral update). To evaluate this you must first understand Binance fee structure.
Binance trading fees:
Default trading fees is 0.1% (this is current fee structure which may change).
If you have BNB (Binance coin), you can choose BNB to deduct 50% trading fee (50% discount). For this you'll need BNB coin (Binance coin) which you can buy from Binance by trading BTC or other coins.

This 50% trading fees discount feature can be enabled from your account settings.
Let's assume the user whom you've referred has not enabled it or don't have any BNB coins so his/her trading fees will be default 0.1%.
For example if the user whom you referred trades 1000 BTC then the trading fee will be 1 BTC which is 0.1%. The 20% of this trading fees (1BTC) is what you'll earn as a commission which is 0.2 BTC or 20000000 Satoshi. Hope that explains.
Binance referral program – Terms and Conditions
1. The current commission rate is set at 40% (Double referral update) which Binance has all rights to change depending on the situation.
2. For you to earn referral bonus the referee must be signed up using your referral ID or link.
3. Binance will pay your commission instantly in real time for each trading that your referee completes.
4. Duplicate, fake and shared referrals will be disqualified and won't earn any bonus.
5. There is no limit when it comes to referring people. Also there is no limit in earning commission. You can refer as much and earn as much.
6. Binance has all rights to change the program policies or end the program completely.
Before they stop the program utilize it to its fullest. We wish you'll greatly benefit from this prgroam; especially if you have a lot of friends and acquaintance.
---
Update: Binance double referral rewards
Now Binance has increased the commission rate up to 40% and that is if you hold more than 500 BNB tokens. If anything less than that then you'll get the normal 20% commission rate which is still decent.
---