Exchanges
Bybit Referral Code – Up to $90 Bonus + get $10 from referral program
Just came for the Bybit referral code / link: https://www.bybit.com/app/register?ref=my4BG
Bybit is a new and an emerging cryptocurrency derivatives trading platform. Similar to Bitmex, Bybit also offers up to 100x leverage and it currently has the following products: BTC/USD, ETH/USD, EOS/USD and XRP/USD perpetual contracts. Also recently they've launched (tether) USDT perpetual contracts in an attempt to replicate spot market but with increased leverage.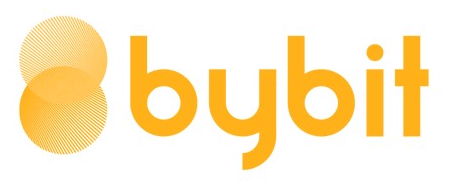 Bybit have users from all over the world and is second to Bitmex in liquidity. This exchange has recently gained popularity among the cryptocurrency trading community. It is safe, fast, most transparent and offers user friendly trading platform. If you are looking to diversify your leverage trading platforms then try Bybit. It requires no KYC and is open to traders all over the world.
Sign up using our referral code or the link below and grab up to $90 in rewards.
Claim Bybit Referral Code
Referral code: my4BG
Referral link: https://www.bybit.com/app/register?ref=my4BG
Referral bonus:  up to $90 in bonus & coupons (details below)
Target market: Global
Supported cryptocurrencies: Bitcoin, Ethereum, XRP, EOS and USDT
Leverage: up to 100x
Trading fees: Maker fee (rebate): – 0.025%, Taker fee: 0.075%
Learn more: Maker & taker fees explained
About Bybit
Bybit is a Singapore based cryptocurrency derivatives platform established in march 2018. The founding team at Bybit is made of professionals from various fintech sector and is truly has an excellent support. This exchange is similar to Bitmex but with notable differences. If you are currently on Bitmex and decided to trade on Bybit then here are few features to take note on.
Features:
Unlike Bitmex which offers only Bitcoin deposits, Bybit allows you to deposit and trade with USDT, BTC, ETH, XRP and EOS.
Bybit has 24/7 multi-language customer service supporting both email and chat.
Liquidity is next to Bitmex. $1 billion USD + in daily BTC volume.
Bybit is scalpers paradise. Offers one click Stop Loss / Take Profits when entering a position.
Up to $90 in welcome bonus. In addition to that from time to time Bybit organizes airdrop events and conducts special promotion where you can win Bitcoin.
No execution lag and No KYC. Just register using email or mobile phone number and start trading right away.
How to register on Bybit using referral code
Opening an account on Bybit is very simple. We highly appreciate if you sign up using our referral link below. By using this code you are helping support this website + you can claim up to $90 bonus in BTC.
Referral code: my4BG
Link: bybit.com/app/register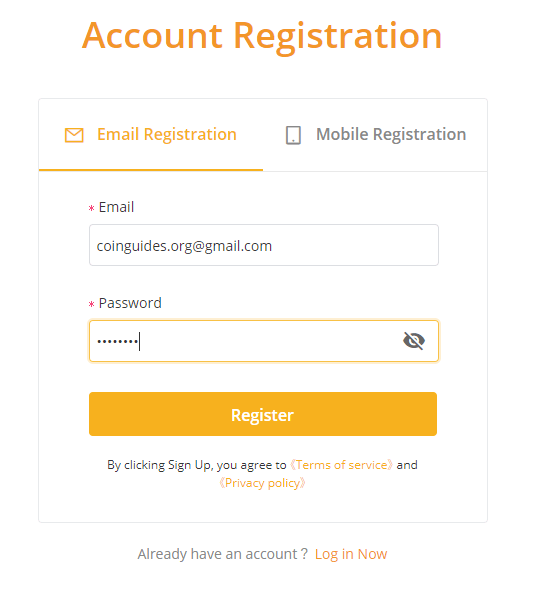 To sign up all you need is a registered email address or a valid phone number. You can choose whichever method is convenient for you.
Once you've registered make sure to verify your account. If you've registered using email you'll receive verification code to your email address. If you registered using mobile you'll get an OTP to your registered mobile number. Once this verification is complete you are good to start trading.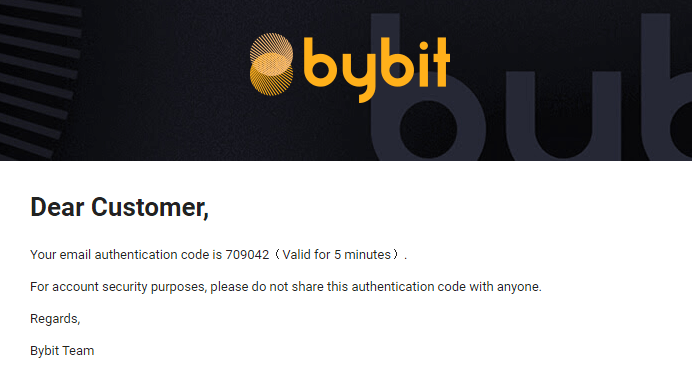 Do not worry about entering code on registration page. Using the above link will include the discount automatically.

Great! Now that you've successfully signed up using our referral code let's see how to claim the reward.
Claiming $90 referral bonus
You'll get free $10 in trading capital for just registering on Bybit. After which to claim another $50 make a valid deposit of 0.5 BTC or equivalent amount in ETH. It will be automatically rewarded to your account.
You'll be awarded additional $20 in coupon if you deposit more than 1 BTC and start trading. However note that coupon discount cannot be withdrawn and is only usable as transaction fees.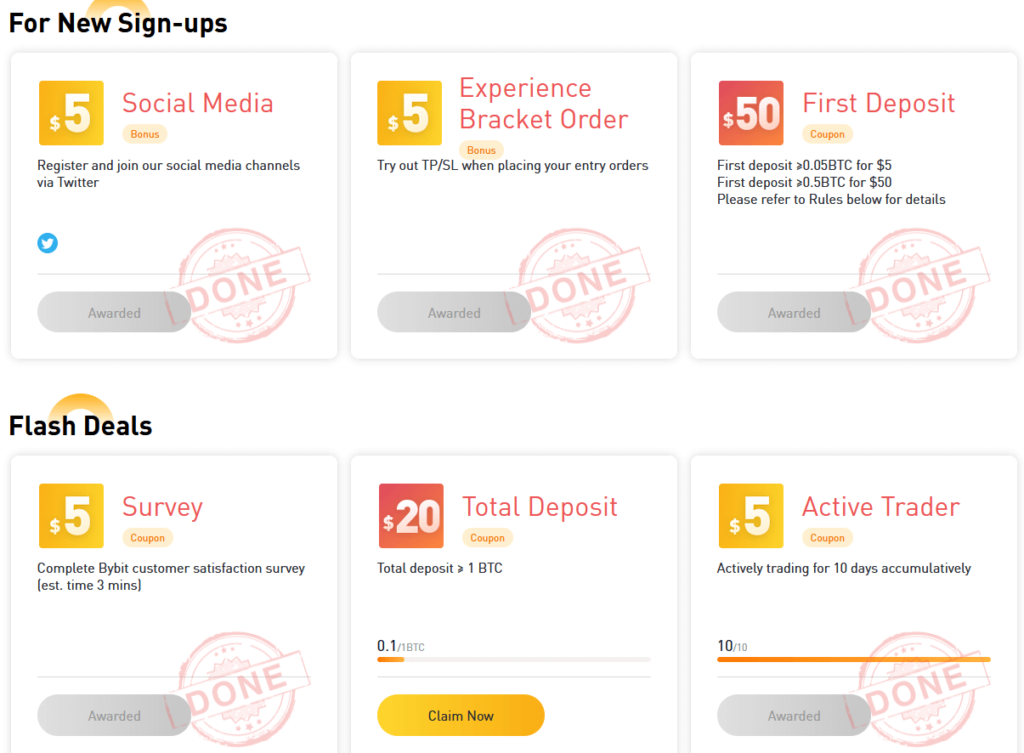 Drop down your account at the top right corner and click on rewards hub to learn more about the rules and FAQ.
Are there any fee deduction upon using the referral code?
When using Bitmex referral code you'll get a 10% discount on trading fee. Currently there are no such offers applicable on Bybit. However you can earn additional $10 through their referral program.
Get your own referral code & Earn $10
Anyone who registers on Bybit will get their own referral code. Drop down your account at the top right corner and click on referral program. Now grab the link or the referral code and share it with your friends and family.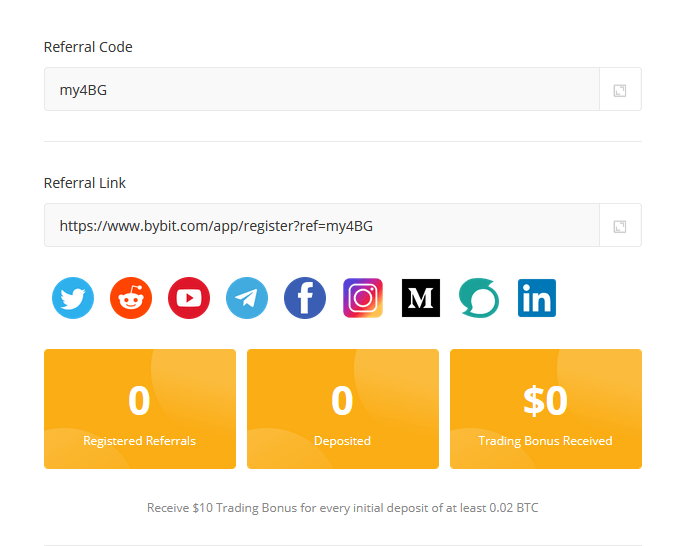 You'll earn $10 when your referral successfully registers on Bybit and make an initial deposit of 0.02 BTC. There is no limit on number of referrals.
Bottom line
Bybit is highly focused on providing quality experience to its traders. It has enough liquidity. It is safe (your funds are in cold storage) and has extremely knowledgeable and prompt support.
After the rumors of Bitmex KYC implementation, Bybit has emerged as an number one alternative. Bitmex adding KYC may or may not happen in the future. Anyways keeping all your trading collateral on a single exchange is not a good move so Bybit is a decent addition to your trading journey.
Note to new traders:
With all that said remember that if you are a beginner then you should stay away from leverage trading. It requires skill and we only recommend it for experienced traders who understands Bitcoin trends and volatility. Nothing in this post is financial or trade advice. kindly DYOR and trade safe.
Like this post? Check out our deals page for more referral codes, promos, discounts and bonus.
As always if you have any questions regarding Bybit or its referral program then leave it in the comments below.