Guides
How to connect MetaMask wallet to Binance smart chain (BSC) mainnet & testnet
Well you know what's everyone in the crypto space is talking about; its DeFi and you know what's a hot trend in DeFi? It's Yield Farming!
Simply put, Yield farming is a strategy where users put their crypto assets to work and generate the most possible returns on those assets. Sounds like a nice strategy right. But the problem is Ethereum's current gas fees.
With the outbreak of DeFi (Decentralized Finance) economy the Ethereum network is getting congested and the cost of a transaction on Uniswap is only getting higher. With tens and at times even hundreds of dollars in fees it becomes impossible for an ordinary user to participate in these DeFi applications.
Now this is where Binance smart chain comes in. BSC is the Binance's DeFi ecosystem. It's an Ethereum Virtual Machine compatible delegated-PoS blockchain. It has fast block times (3 sec), sufficient decentralized and low transaction costs.
Binance smart chain mainnet went live recently and many DeFi projects already started building on it. Users can now trade, stake, farm and vote faster and cheaper. Making DeFi accessible for everyone. All the DeFi elements such as automated market makers, yield farming and liquidity mining is coming to BSC.
Instead of Uniswap you have Bakery swap and instead of SUSHI you get Burgers.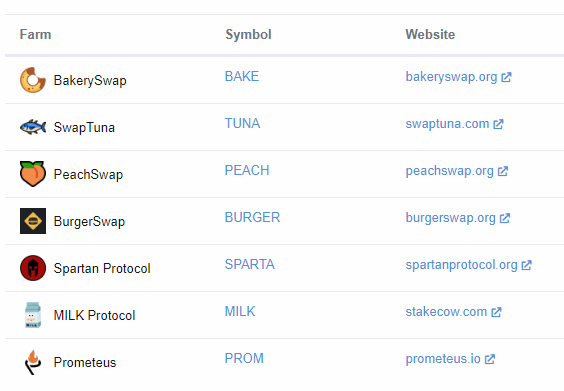 To access these DeFi applications and to store your BEP20 assets you need a wallet for Binance smart chain. Here in this beginners guide we'll show you how to use MetaMask for Binance smart chain.
Risk waning:
Please beware: DeFi is still in an experimental stage and is a riskier place to park your money. There are so many projects popping out every day. All these projects are in beta and most of them are unaudited and may fail.
Even if the projects states that their contract is audited by a specialized team you should still DYOR. Audits are not a seal of approval and they don't eliminate risks completely. So please do not use your life savings or assets that you simply can't afford to lose.
Understand the risks and stay safe out there.
This post is not an investment or trade advise. It is just a guide to show you how to connect your MetaMask wallet to Binance chain.
How to connect MetaMask to Binance smart chain?
Here we'll show you how to connect your MetaMask with Binance smart chain mainnet as well as testnet.
We are assuming that you already have MetaMask installed on your browser. If you are new then use this MetaMask tutorial. It explains how to setup and use MetaMask wallet.
Once your MetaMask wallet is ready follow the steps below to enable Binance smart chain on MetaMask.
Connecting MetaMask to BSC Mainnet
1. On your MetaMask wallet drop down your accounts and go to settings page.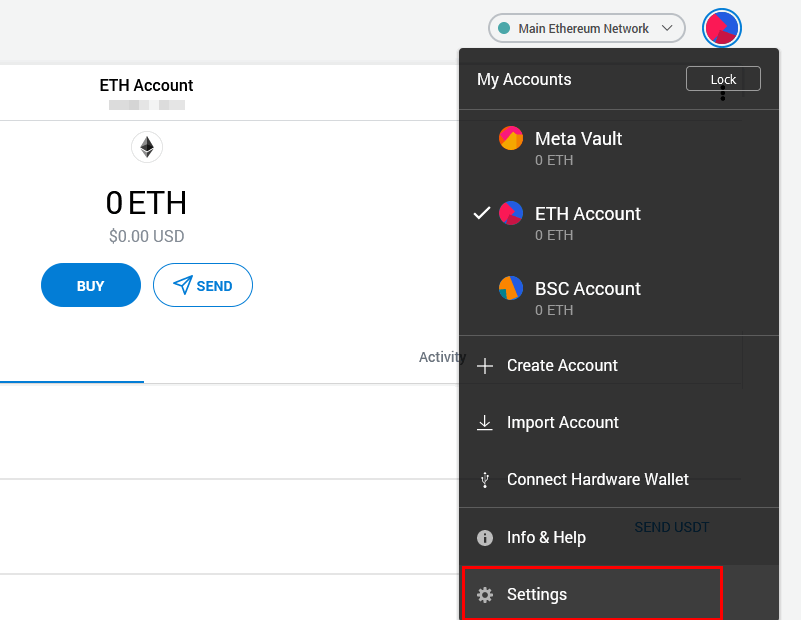 2. Choose network from the menu and click add new network.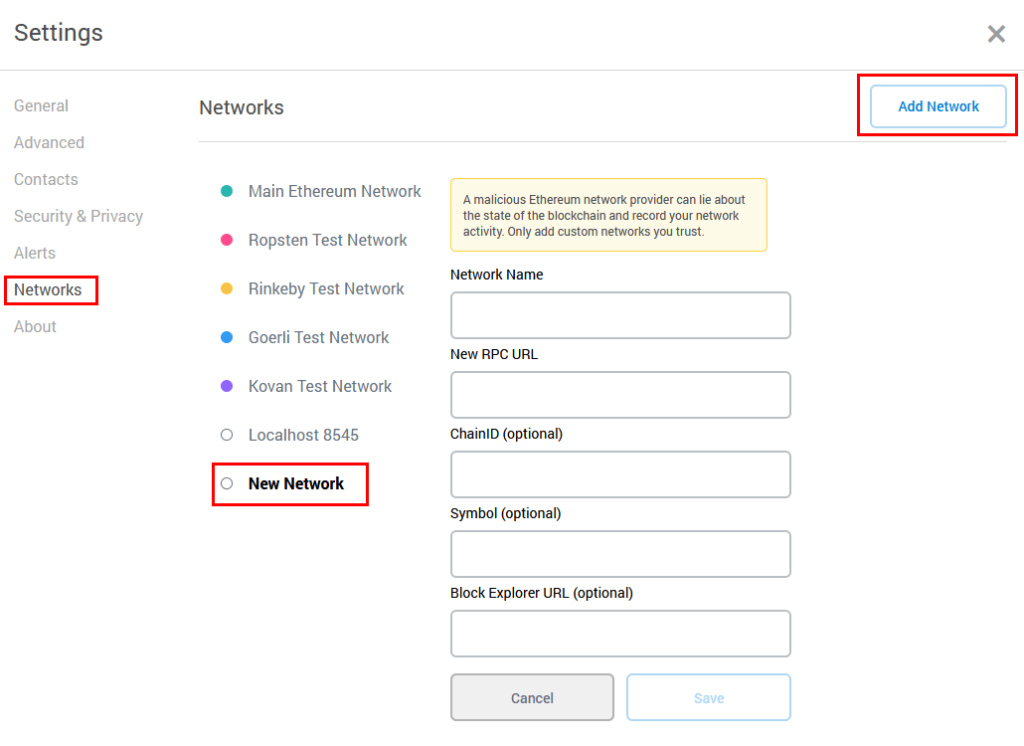 3. Now enter the details as follows.
Network Name: BSC Mainnet
New RPC URL: https://bsc-dataseed1.binance.org/
ChainID: 56
Symbol: BNB
Block Explorer URL: https://bscscan.com/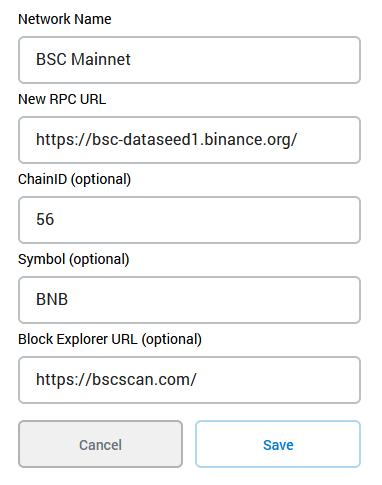 Once done click save to add BSC Mainnet to your MetaMask wallet.
Connecting MetaMask to BSC Testnet
To add testnet Binance smart chain network follow the steps. It is same as above except you have to change the RPC URL and ChainID.
Full list of RPC endpoints and ChainID for both Mainnet and Testnet can be found here: https://docs.binance.org/smart-chain/developer/rpc.html
Network Name: BSC Testnet
New RPC URL: https://data-seed-prebsc-1-s1.binance.org:8545/
ChainID: 97
Symbol: BNB
Block Explorer: https://explorer.binance.org/smart-testnet
That's it! Click save to add Binance smart chain testnet.
Using BSC and storing BEP20 tokens
Congrats! You now have a BSC configured MetaMask wallet. You can now store your BEP20 tokens and connect your MetaMask wallet to DApps on the Binance chain.
1. Drop down networks and choose BSC Mainnet.
2. (Optional) For your own convenience you can create a new wallet just for BSC. You can add and manage all BEP20 tokens from this account.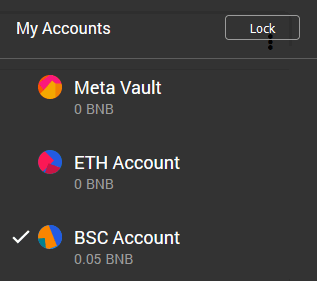 By default you'll only have BNB added to your account. To add a new token follow the steps below.
Note: You are on BSC network and you can only add BEP20 tokens and not ERC20.
To add a BEP20 token click on add token >> choose custom token and then enter the token contract address.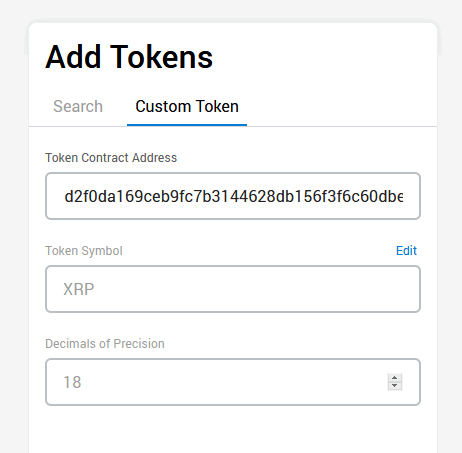 You can find the full list of BEP20 tokens and their contract details on https://bscscan.com/tokens
Now from your Binance exchange account you can withdraw coins and tokens as BEP20 to your MetaMask wallet.
Note: Since all these tokens are build on Binance smart chain you'll need BNB to cover fees. It's just like how you need ETH to transfer ERC20 tokens. Instead of ETH you'll have to use BNB as Gas fees.
Here you can find the current gas price and gas limit that is being used on BSC: https://bscscan.com/charts.
If you are quite hesitant then switch to Binance test net and  try the platform before you do any activity on the mainnet.
Here is the testnet faucet page: https://testnet.binance.org/faucet-smart
Input your wallet address to get free BNB and pegged tokens.
Other than using MetaMask for Binance smart chain you can use Trust wallet to store BEP20 tokens. Also there is a Binance chain official wallet which is similar to MetaMask and is available for Chrome, Brave browser as well as Firefox.
You can find more about it here: https://www.binance.org/en/smartChain
Hope it helps you to get started with Binance smart chain.
Now what do you think about BSC platform and yield farming in general? Feel free to leave your comments below.