Wallets
Nano wallet beginners guide – How to safely store and use Nano coin
Are you currently fed up using Bitcoin? You are not alone. Well, crypto bull run have started and Bitcoin is over $8000. Its great! But do you know what's next and what it means. It means Bitcoin network congestion is coming again. As more and more people start to use Bitcoin the transaction volume increases and the mempool gets filled more often. You know what? The current BTC transaction fee is over $4 (source: https://bitcoinfees.info/). This fee is to get your transaction mined within the next 3 blocks and from there you have to wait for another 6 block confirmations.

So basically one need to wait for more than a hour to get their transaction fully confirmed and that too paying a high enough fee. Do you think beginners will like it? If you don't like the way Bitcoin works then let us introduce you to Nano. Do yourself a favor and download the Nano wallet and send a small transaction to your wallet. You'll be amazed by its speed and the way it works. Before you blink your eye you'll get your transaction fully confirmed. Furthermore the transactions are literally free meaning you don't have to pay any fees to conduct transactions on the Nano network. Exciting right!?
To start using Nano and to find out how it works you first need a Nano wallet. Here in this quick beginners guide we'll show you how to create a simple wallet and how to use the wallet to store, and use Nano coin. But before that here is a quick overview of Nano cryptocurrency.
Nano Cryptocurrency
Nano (previously RaiBlocks) is an open source peer to peer, sustainable and a secure cryptocurrency. It is build on open scalable DAG blockchain. Its unique block-lattice structure enables fee-less and instant transactions over a decentralized, secure network. Yes, you heard it right. This coin is super fast, offers fee-less transactions and moreover it is infinitely scalable.
As a cryptocurrency; transfer of value is by far the biggest use case and Nano does it best. In terms of payment solutions there is really no better coins out there compared to Nano. Can you believe that it can handle up to 7000 transactions per second? It is ultra fast, fee-less, fully decentralized and is fully functioning. Apart from all of that advantages Nano is also Eco-friendly. Its user experience is mind blowing and it excites anyone who tries it. So what are you waiting for?
Let's setup the Nano wallet and get started. In this quick beginners guide we'll walk you through the steps in setting up a wallet and using Nano.
Nano wallet
Setting up a Nano wallet and using it is relatively straightforward. You don't need any guide. Anyways we decided to post this just because users in our forum are asking which is the safest wallet and where to store Nano?
Hardware wallet:
If you are seriously looking for the most secure wallet to hold your Nano coins then Ledger Nano S is the ultimate best option. It is by far the most secure place to store your cryptocurrencies.
Mobile wallet:
If you are looking for mobile wallet then try Natrium. It's an open source mobile wallet designed specifically for Nano cryptocurrency. It is easy to use, fast, secure, robust and is available for both Android and IOS.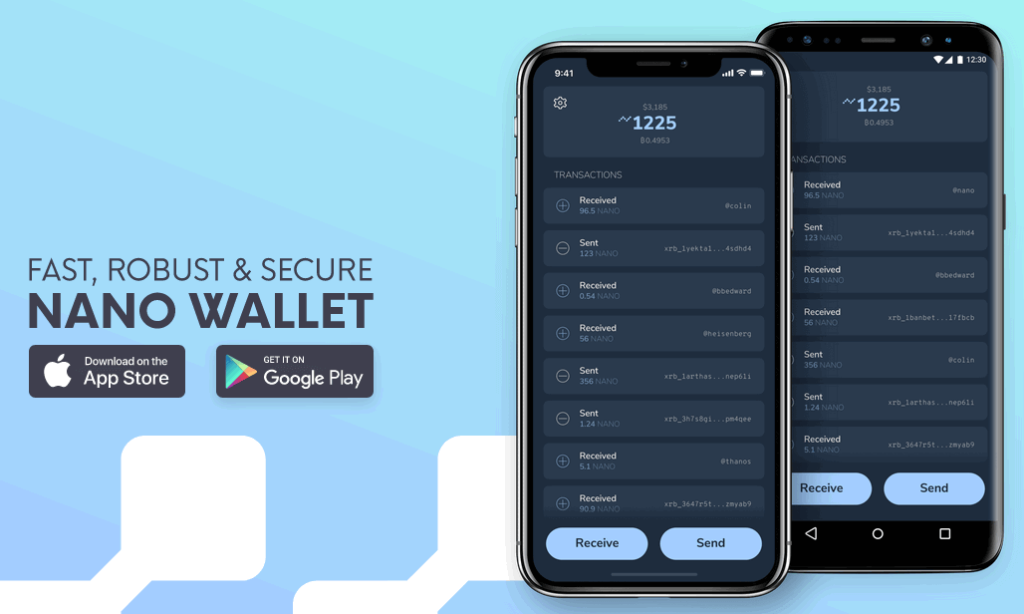 You don't need any explanation to use Natrium. Just download the app to your mobile and follow the on screen instructions to complete the wallet setup. Once it is setup you can start sending and receiving Nano from anywhere around the world. The wallet is self explanatory and is super user friendly.
Another wallet that we highly recommend is Canoe. It is also an open source wallet and is available for both Android and IOS.
Download Canoe: https://getcanoe.io/download/
Online & Desktop wallet
Apart from hardware and mobile wallets there are also few online wallets that provides you full control of your funds without having to download the ledger.
Also if you like the idea of managing your Nano locally then there are several desktop wallets available.
You can find the complete list of Nano wallets here: https://nano.org/en/wallet/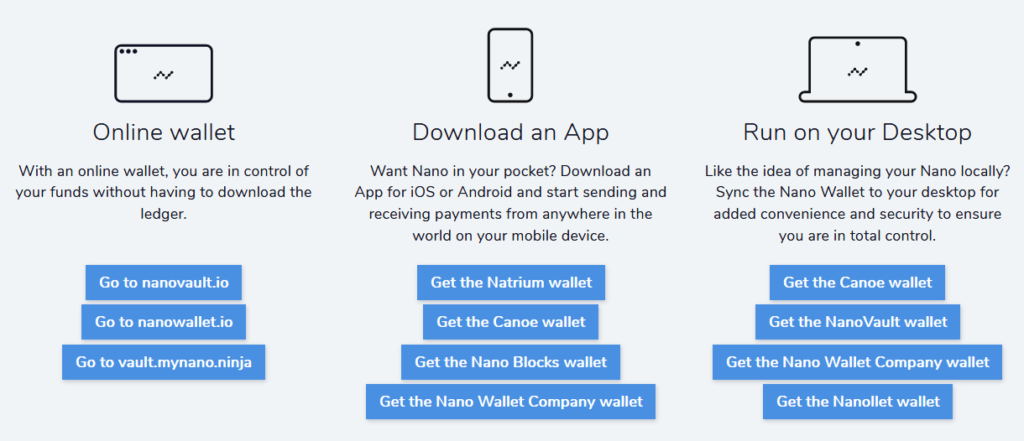 All the desktop wallets are open source, offers high level of security and also ensures that you are in total control.
Here now let's see how to setup and use Nano desktop wallet.
Nano desktop wallet
Since this guide is focused on beginners here we'll be using the Nano Vault wallet. So why NanoVault?
NanoVault is an open source wallet for Nano cryptocurrency. It is simple to use and a fully client side signing wallet for sending and receiving Nano. It is available for Windows, Mac and Linux operating systems.
Unlike "Nano wallet company" which is a full node wallet NanoVault is a light wallet. Meaning you don't have to wait for the wallet to sync and download the ledger to check balance or make transactions.
For beginners NanoVault is the perfect place to start. It is very simple, secure, offers a convenient storage and moreover keeps you in control of your private keys.
The NanoVault wallet download links can be found on GitHub.
https://github.com/cronoh/nanovault/releases
Download the latest release and run the wallet setup. In case if your Windows defender or Antivirus program blocks the software then add it to exception list. This wallet is most trusted and the alert which you are seeing is a false positive.
After the installation is complete you need to configure the wallet.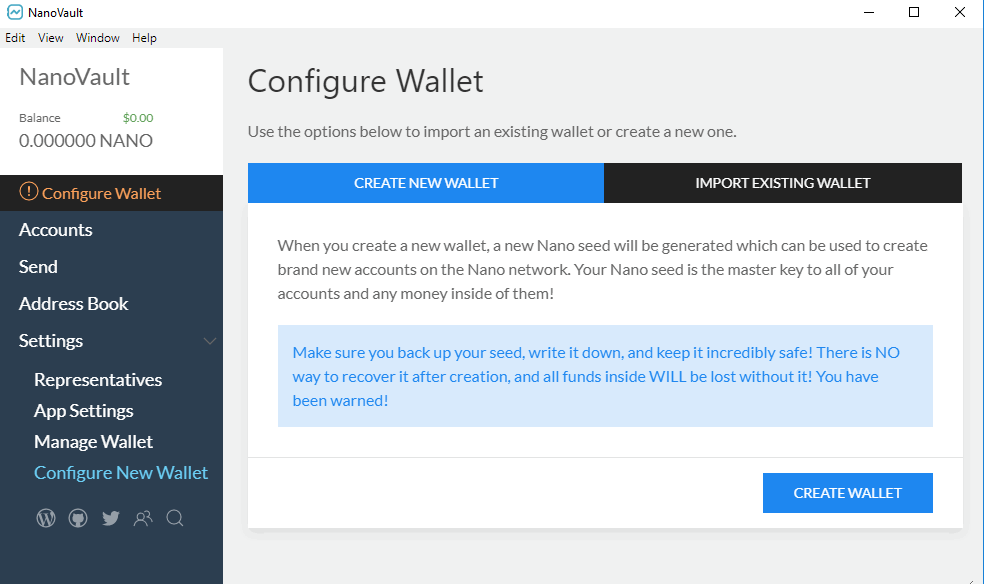 Nano wallet configuration
On the home screen of the wallet click on Configure wallet. You'll find two options such as "Create New Wallet" and "Import Existing Wallet". Since it is a new setup click on create new wallet.
Note: When you create a new wallet, a new Nano seed will be generated which can be used to create brand new accounts (wallet address) on the Nano network. Your Nano seed is the master key to all of your accounts and any money inside of them!
Make sure you back up your seed, write it down, and keep it incredibly safe! There is NO way to recover it after creation, and all funds inside WILL be lost without it! You have been warned!
After you click create wallet; your Nano wallet will be created and you'll be provided the seed and mnemonic phrase for your wallet. Make sure you write down both the information safely and never ever reveal it to anyone. It is the master key and if you lose it then you'll lose all of your Nano coins from your wallet.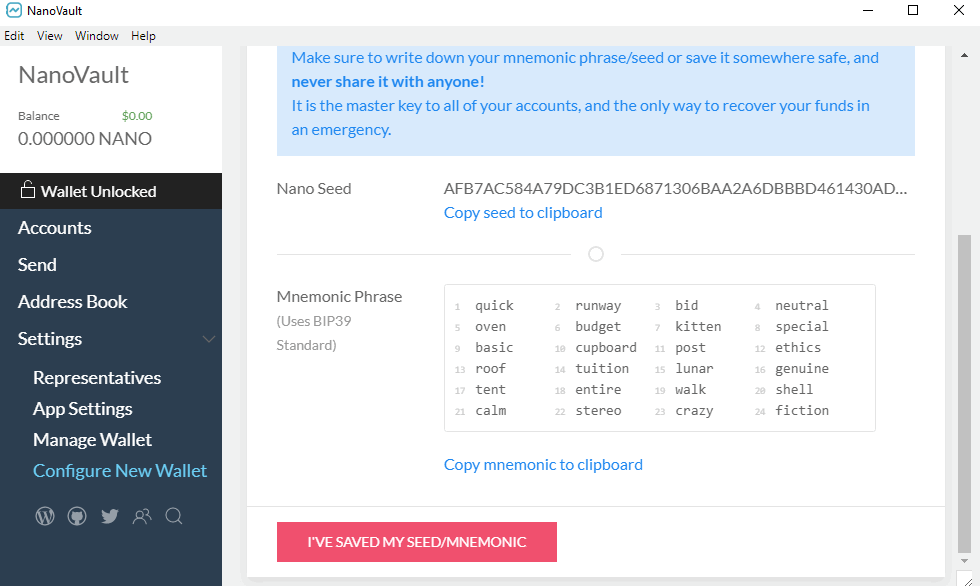 Alright! Once you have this information stored safely; click on "I've saved my seed/mnemonic".
Then on next screen set a strong wallet password which is mandatory and is used to encrypt your wallet.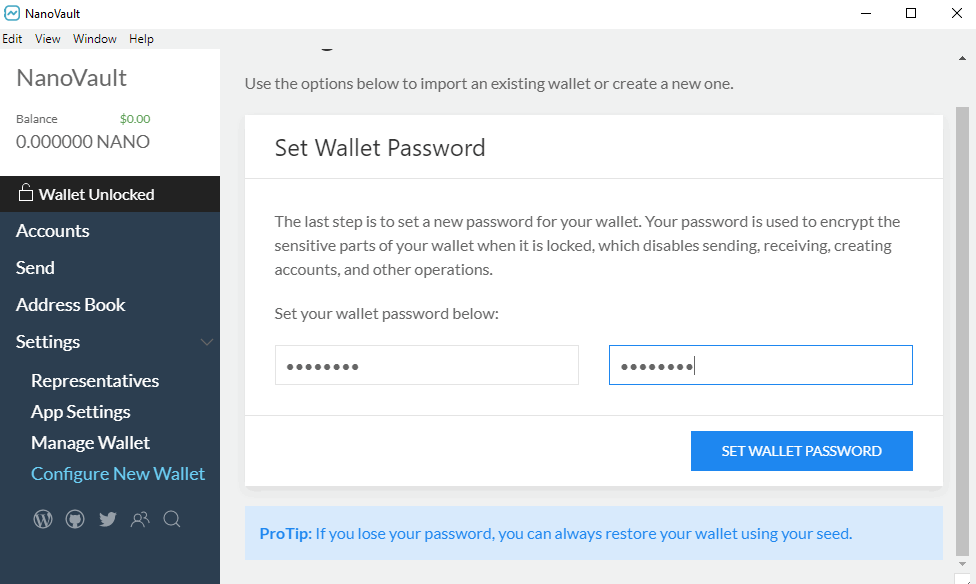 ProTip: Even if you lose your password, you can always restore your wallet from seed.
That's it! Your wallet has been successfully configured. You are now ready to send and receive NANO.
Using Nano wallet
Now that you have configured the wallet let's see how to use the wallet. NanoVault is fairly simple to use. As you can see the wallet looks minimal and there are only 4 main menu options such as:
Accounts, Send, Address Book and Settings.
This is something that you see in every cryptocurrency QT wallet as well so we hope you can understand this better without any explanation.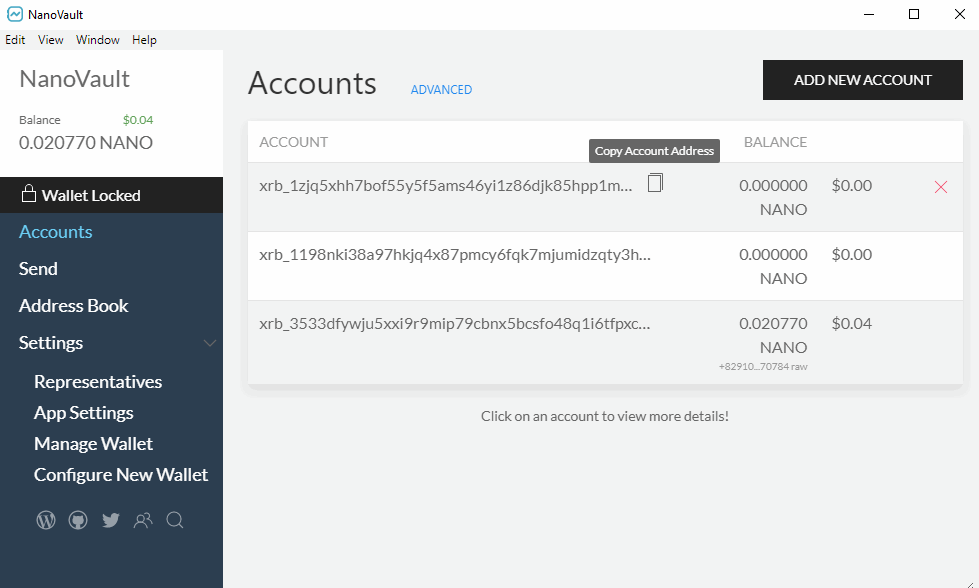 Now to grab your XRB / Nano account address head to accounts tab and click on "Copy Account Address". If you don't find any then click on add new account to create a new receiving address.
Each new account is a new address on the Nano network. Also unlike Bitcoin and other cryptocurrencies Nano address looks somewhat different. The address usually begins with XRB_ or NANO_.
Example:
xrb_1zjq5xhh7bof55y5f5ams46yi1z86djk85hpp1m6mb6pfnhdzcuaofeottyg
NANO_1198nki38a97hkjq4x87pmcy6fqk7mjumidzqty3hjgbyhjuuh4n73q579gi
Now as you've got your Nano account address lets see its transaction speed in action.
Sending and Receiving Nano
You can Buy Nano from Binance. However to get started and to see how it all works you don't actually need to buy from an exchange. Instead there are several online Nano faucets that sends you a small amount of Nano for Free.
You can use https://nano-faucet.org/ or https://www.freenanofaucet.com/.
Head to any one of the above links and input your Nano address. Now before your click "send Nano" make sure you keep your wallet open to see the speed in action. Now hit send and witness how the payments are finalized in less than a second. Impressive right!
Well, we are not done yet. Nano is not only fast but it is also fee-less. You can send any amount of Nano worldwide at zero fees. You pay no fees. Ever. You don't believe, right?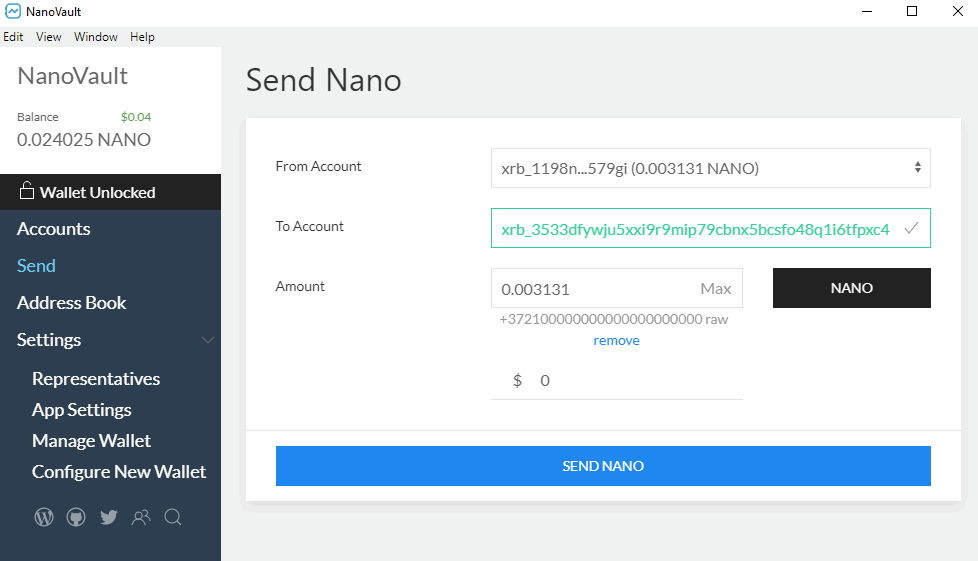 Just open your wallet, navigate to send tab and choose the "From account" in which you have Nano. Now copy another account address that you own from the accounts tab and enter it in "To Account" field. Then enter the amount to send and click Send Nano. You did receive the exact amount right?
Well, that is all about Nano. We hope you found this guide helpful in getting started with Nano wallet.
If you like this guide then please do share it and also follow us on Twitter to learn more.