Wallets
How to stake Solaris (XLR)? Masternodes and wallet staking guide
On 18th of April, Solaris Coin have said Goodbye to Miners. If you were mining Solaris coin then you might be aware about this update. Solaris (XLR) has implemented Zerocoin protocol and fully switched to Proof-of-Stake at block 259300. There are no more miners anymore, its only stakers and masternode holders supporting the network. If you have pretty decent sum of Solaris coin then you can start staking and earn some rewards. Here in this guide we'll show you how to stake Solaris coin in your wallet.
Before getting into staking guide we'd like to point out few things about Masternodes vs staking and the how the rewards are split between them. Solaris coin uses Seesaw algorithm which ensures the reward is balanced equally between masternodes and stake holders. Here are few pros and cons of running masternodes and staking from your wallet.
Solaris Masternodes vs Staking: Pros and Cons
To setup masternode you'll require exactly 1000 XLR, however to start staking there is no specific or minimum amount. Even with less than 10 XLR you can start staking right away.
Staking is easy to setup (See guide below), whereas to run masternodes you'll need higher resource requirement + some technical skills.
One advantage with masternodes is that you can predict the profitability and payout more easily. While with staking it's hard to guess. It all depends on the age of your coins and the network weight.
With masternodes you can expect better rewards and due to higher competition and lower block reward you'll get very less payout from staking.
Overall if you have more than 1000 XLR then it's better to run masternodes. If you have less than that then get your wallets ready to start staking.
How to setup Solaris masternodes
Rather than we making another guide on setting up masternodes there is already a video by Solaris that explains how to setup masternodes on VPS. If you have 1000+ XLR coins then use the video below and setup your own masternodes. You can really expect better rewards.
(XLR) Solaris staking guide – Start staking in 3 simple steps
Staking is not possible with web wallet. If you either have XLR in web wallet or exchange then use this Solaris wallet guide and move all your funds to local wallet.
1. Solaris wallet encryption
We are assuming that you have moved your XLR coins to your local wallet. First thing is we suggest you to encrypt your wallet for security reasons. If you've already encrypted then move on to step no 2. To encrypt wallet go to Settings > Encrypt wallet and make sure to remember the password. If you lose your passphrase you will lose all of your XLR.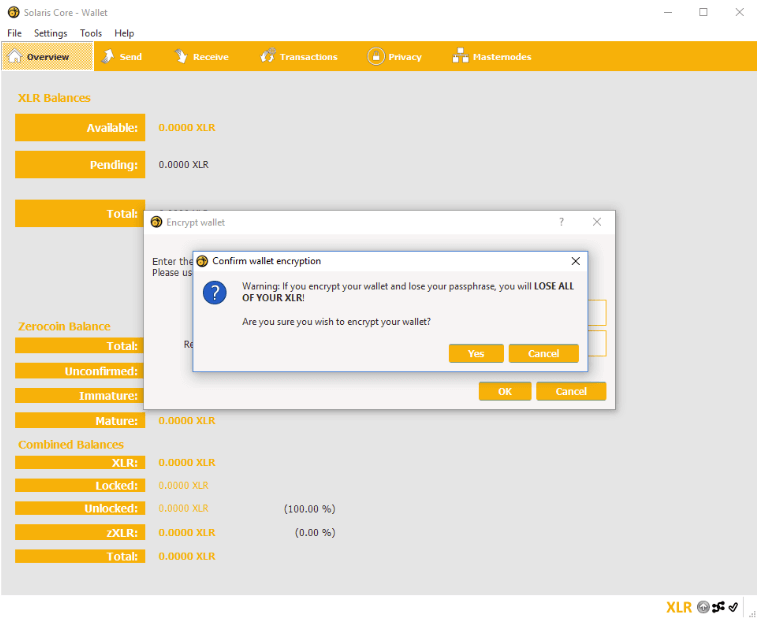 Once this is done, restart your wallet.
2. Editing configuration file:
In order to stake you'll need to add the following code in your wallet config file.
staking=1
You can find the config file in C:\Users\username\AppData\Roaming\solaris.  Or-else in your wallet go to Tools >> and click on open wallet configuration file. Open the config file using notepad or notepad++ and then add staking=1.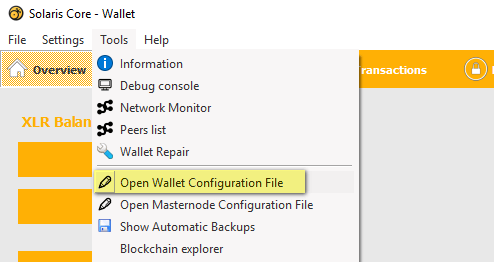 Once this is done; restart your wallet again.
3. Unlock wallet and start staking
All is done. Now in your wallet go to Settings > unlock wallet which will present you with a prompt. Enter your wallet passphrase and make sure to check the box that labeled as "For anonymization and staking only".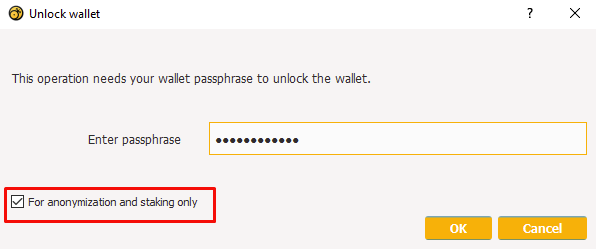 That's it! Now at the bottom right corner of your wallet you should see the staking sign turning from grey to green which means staking is active.

In wallet command window you can type "getstakingstatus" to know your staking status and type "getstakesplitthreshold" to view your threshold limit.
Staking
When it comes to staking there is something called network weight and coin weight. Coin weight is simply the amount of coins + maturity time (coin age) that you have been actively staking on the XLR network. The longer you have coins in your wallet, the weight gets bigger thus allowing a better chance of staking. On the other hand network weight is the amount of coins that is staking throughout the Solaris network.
For example: If the network weight is 9000 and the weight of your coins is 3000 then you have a good chance of minting some new coins. Okay, so how do I check the network weight and the weight of my coins in the wallet? In most wallet if you mouse over at the staking icon it will show the coin age, your weight, network weight and the expected time to earn reward. Looks like this feature is currently missing in Solaris wallet. Hope the developers add this soon so stakers will find it easy to predict.
Note on XLR staking:
Staking is 0.20 XLR or 0.19 XLR. Masternodes get 0.80 XLR. With about 100 XLR staked, you get minted XLR about twice a day which is close to $3 a day. With about 500 XLR staked, you get minted XLR about 6 to 7 times a day. This is just an rough estimate which gets lower as difficulty gets higher (when more people start staking). The frequency in number is determined by how many masternodes there are and how many are staking. Currently there are 700+ masternodes securing the network.
Also from time to time you'll see "not accepted results". If you get "Staked but not accepted" then it just means that someone else was a little bit faster than you. This is nothing to worry about because you don't lose any of your coin weight-age.
Hope this guide will get you started with staking Solaris coins. Happy staking! If you have any questions regarding XLR staking then please feel free to comment.