Wallets
Quick Ravencoin wallet setup – Electrum & 3rd party wallets for RVN
Ravencoin (RVN) was launched in Jan 2018. It is an open source decentralized blockchain that is designed for facilitating asset transfers. Anybody can create, manage and transfer assets on a peer-to-peer network. Not just digital assets but Ravencoin allows users to create / trade any real world assets (eg: commodities) on its network.
Ravencoin is a Proof of Work coin and is one of the most popular altcoin that GPU miners can mine Today. At the time of writing this article RVN is being traded at $0.17 per coin and is among the top 50 coin in terms of market cap. You can buy / trade RVN on Binance.
Whether you wish to mine Raven or buy RVN you'll need a wallet to manage your coins. Do not mine directly to your exchange account. Send coins to your wallet first and from there transfer it to your exchange account.
Here in this beginners guide we'll show you how to quickly setup a Ravencoin wallet.
Ravencoin wallets
The official and the recommended wallet for Ravencoin is Raven core wallet. It is an open source wallet that is available for Windows, Mac and Linux. Raven core qt wallet is similar to the Bitcoin core wallet except RVN wallet has some additional functionalities like create / transfer and manage assets.
Download Ravencoin core wallet here: https://github.com/RavenProject/Ravencoin/releases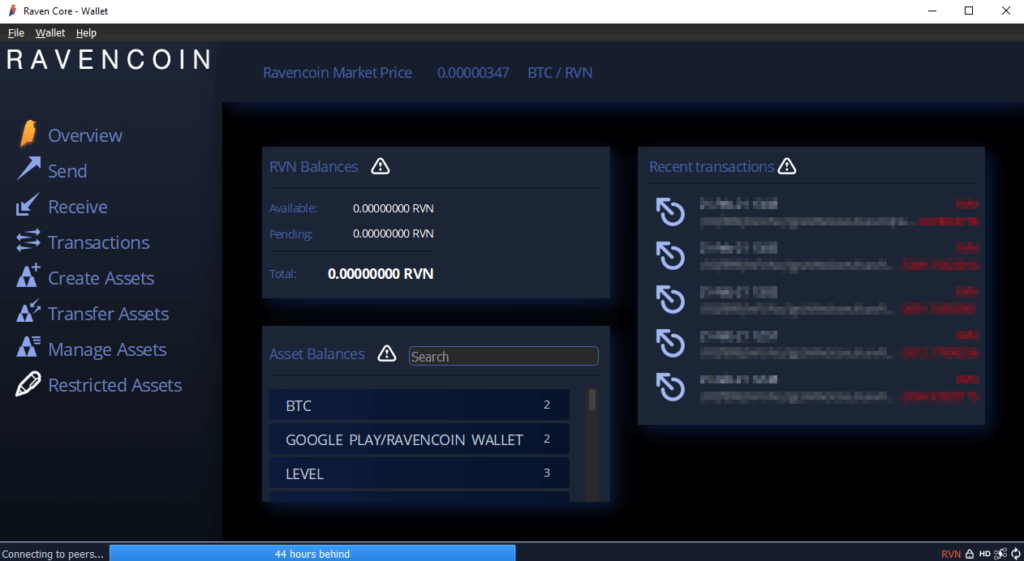 Download the wallet, unzip the pack, open bin folder and run raven-qt.exe. Its simple.
However the problem with this wallet is that new users cannot download and use it right away. The wallet requires you to download the complete blockchain to your PC.
Currently you'll need over 16 GB of disk space to run core wallet. Even with enough bandwidth and disk space you'll have to wait nearly a day for the wallet to completely synchronize.
Recently many users have reported that they are having trouble syncing their wallet and finding peers. If that is the case then add nodes to your wallet.
You can find the complete node list here: https://www.ravennodes.com/nodes/
This old guide here explains how to setup, encrypt and use Ravencoin core wallet.
Also visit the Ravencoin community at Discord if you have trouble connecting your core wallet to the network or have issues with syncing. There you can request for bootstrap file which helps you to speed up the wallet synchronization.
If you are going to use core wallet then make sure to backup your wallet.
Anyways you'll only need core wallet if you want to tokenize assets and use Ravencoin to its full potential. Other than that if your purpose is to just mine or accumulate RVN coins then you can use lite wallets like electrum.
Ravencoin electrum wallet
Electrum-RVN is a simple open source header-only lite wallet that allows users to send, receive and manage RVN coins without having to sync with the Ravencoin blockchain.
You can download electrum and use it right away. Also if you were using core wallet previously and want to switch to electrum then here is a guide for you. Learn how you can import your core / paper wallet private keys into electrum and retrieve your coins.
Here now let's see how to download and setup Raven electrum wallet.
1. Download and install latest version Electrum-raven from here:
https://github.com/standard-error/electrum-raven/releases/
It is available for Windows, Mac and Linux. For Windows you can either use the installer or portable version.
2. Once downloaded, unzip and run electrum-rvn-3.3.8-rvn3-portable.exe. Or install electrum-raven setup.exe and open Electrum-RVN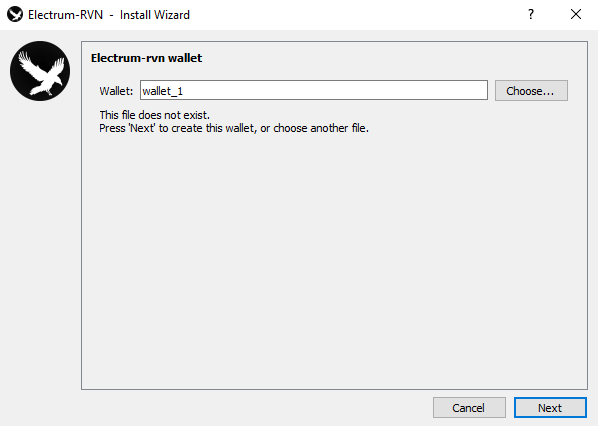 3. You'll now see electrum raven installation wizard. Enter the wallet name >> choose standard wallet >> choose create a new seed and save the 12 word mnemonic seed shown to you on the next screen.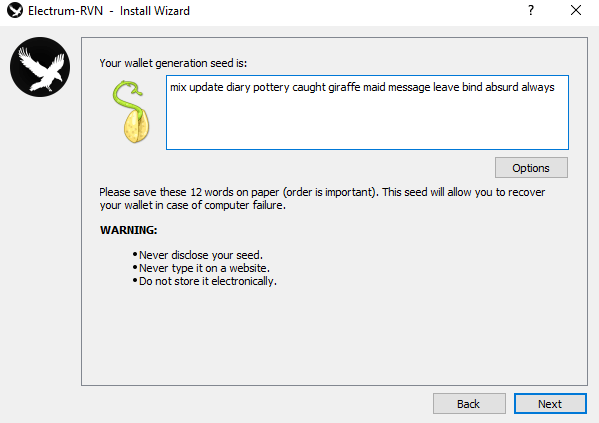 This is the only way to backup your raven electrum wallet. Learn more about electrum wallet backup and the importance of electrum seed.
4. On the next screen confirm your backup by entering the mnemonic seed in order. Once you get the order right click next.
5. Encrypt your wallet on the final screen and click next.
That's it! Your Raven electrum wallet should now start synchronizing with the electrum server which should take less than a minute.
Optional: If you can't connect then drop down tools menu >> choose network >> navigate to server and click "select server automatically".
Once it is synced you'll see the green light indicator at the bottom right corner. It means your wallet is ready.
On your RVN electrum wallet main menu click view and enable show address / coins / contacts and console.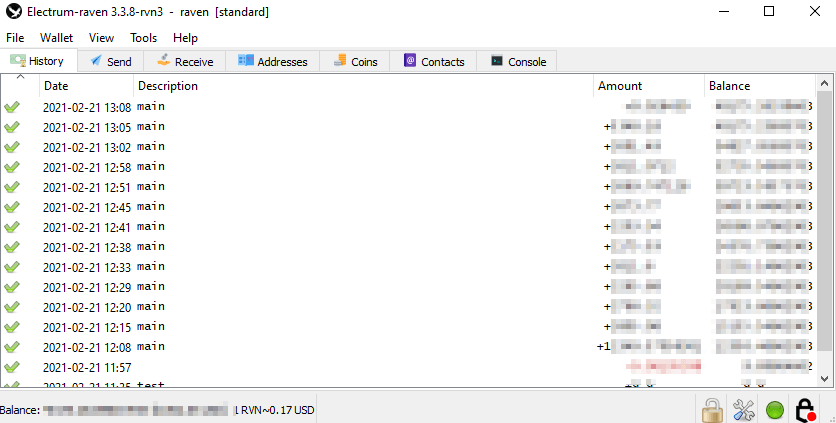 Now navigate to address tab and copy the address for mining and to receive RVN coins to your wallet.
You can now send / receive / manage RVN coins using your electrum wallet. This wallet is similar to the Bitcoin electrum wallet. So if you want to learn more then check out this page: https://electrum.readthedocs.io/en/latest/
Connecting Ledger & Trezor to Raven electrum
If you have hardware wallet such as Ledger or Trezor then instead of setting electrum on your PC you can connect hardware wallet to electrum.
Here is a comprehensive guide that explains how to setup and use Ledger Nano S and Ledger Nano X with Ravencoin electrum wallet.
Make use of this guide if you can't get your Ledger device to detect on electrum.
Also here is a guide for Trezor users that explains how to connect & use Trezor wallet with electrum Raven.
Third party Ravencoin wallets
If you don't wish to use electrum or any other wallets on your PC then you can use mobile wallets. There are several 3rd party trust worthy multi coin wallets available for both android and IOS.
For example you can use Trust Wallet, JAXX, Coinomi, Exodus, Atomic Wallet etc.
Here on this Ravencoin Wiki page you'll find the complete list of Desktop, Mobile, Web and Multi-coin wallets: https://raven.wiki/w/Wallets
Hope this guide helped you to quickly setup a Raven wallet for mining or whatever.