Wallets
What is Energi (NRG) crypto? Coin features, specifications & wallet setup
Cryptocurrency market is slowly recovering. At least the price of Bitcoin, Ethereum and many other altcoins looks much better than it did 2 months ago. While this is the scenario of most cryptocurrencies there are some coins that have hit its all time high price recently. Is this the start of Alt season? Well, whatever. keep in mind that it's never a good idea to invest when a coin is at its all time high. Also do your own research and do not ever consider our coin guides as investment advice.
The reason why we are stating it is because here in this beginners guide we are going to bring a new coin to your attention and that is Energi coin (NRG). It's not actually new, but this project is not well known as many other popular small cap altcoins out there. Moreover the price and volume of Energi are at its peak so we are just putting it on your radar. So what is Energi cryptocurrency and what are its features and specifications. Along with that we'll also see how to mine Energi and how to setup Energi coin wallet for staking.
Energi cryptocurrency – NRG (PoW, PoS, Masternodes)
Energi coin is a fork of Dash which was launched in April 2018. It is a Proof of Work, Masternode coin which uses a unique hashing algorithm called Energi hash which is a modified version of dagger-hashimoto. This algorithm is ASIC resistant and is similar to Ethereum's Ethash. There was no ICO and no premine. Mainnet launch was announced (not on Bitcoin Talk) and mining began fairly. Moreover to bring mass adoption the team airdrops NRG coins from time to time to participants who joins their community.
Okay, since you say Energi hash is ASIC resistant; is it possible to mine Energi coin using my GPUs? Energi was forked from Dash and it was a Proof of Work blockchain. But recently they've switched from PoW to PoS completely so you can no longer mine Energi coin. Its currently a Proof of Stake coin with masternode capabilities. Alright! But what is this coin all about?
What is Energy coin?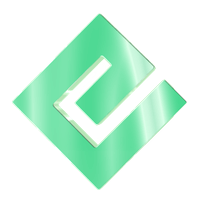 Energi is a digital currency for world adoption. Its mission is to bring cryptocurrency to the masses and to be the world's leading cryptocurrency platform. They intent to achieve this by creating a strong foundation; plus fostering a self-funding and a decentralized governance system.
This project significantly enhances the self funded governance concept found in coins like Dash, PIVX, Smart Cash and other cryptocurrencies. It has the largest treasury system currently and this system will act as a primary funding mechanism that fuels the projects growth. 40% of the block reward has been allocated to the treasury system and these coins from the treasury will be used to pay the developers. Not only the developers but anyone who contributes to the project. More developers and more contributors naturally leads to more collaboration and rapid growth.
Alright! Other than having a strong treasury / funding mechanism what other crucial aspects Energi coin has? Well, it tries to remove the common barriers to entry that is found in cryptocurrency space. It aims to be the most user-friendly cryptocurrency, secure and a trusted platform.
In addition to all of that Energi is planning to move to Ethereum based code-base soon which will adopt Ethereum's capabilities on Energi blockchain like for example smart contracts. It aims to become a dominant smart contract platform similar to Ethereum but is not there yet.
According to their roadmap smart contract capabilities is planned to be activated on Q3 of 2019. So currently other than having a strong treasury and masternodes incentive system this coin has no notable features.
Energi features
The whitepaper of Energi coin states DApps (decentralized application) and smart contracts which are the main selling aspects. But do note that these features has not been implemented yet. So currently Energi is just another Proof of Stake, masternode coin.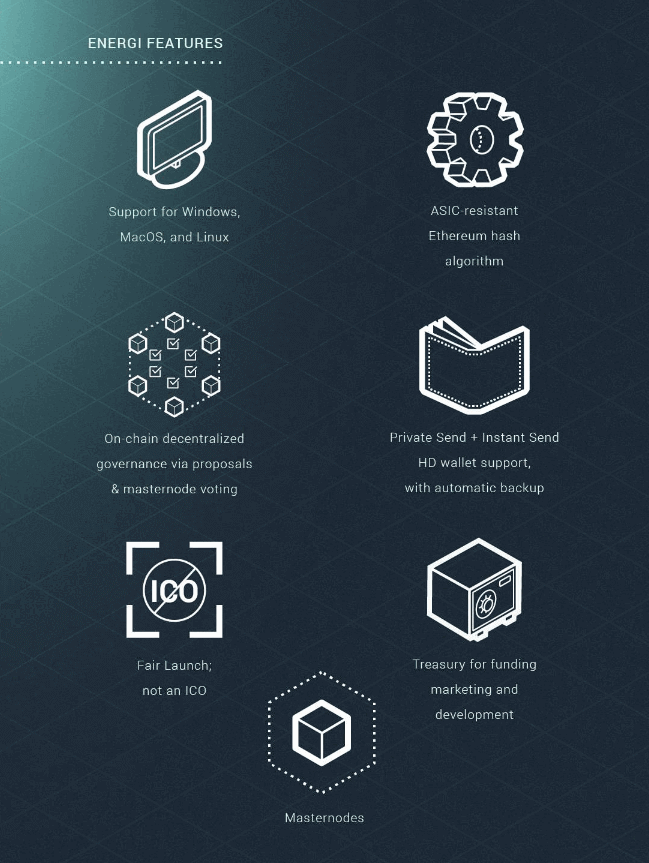 Okay, now let's see if there any features that are really unique / founded by Energi.
The Bitcoin talk announcement page of Energi coin states the following features:
Masternode: Originally invented by Dash which provides security and additional functionalities to the network.
Treasuring for funding marketing and development which is not something new. It can be found in most cryptocurrencies.
On chain decentralized governance via proposals & masternodes voting which is another feature that you can find in most coins.
Private Send and Instant send: A basic feature that can be found on all masternode coins.
ASIC resistant Ethereum hash algorithm: Not a feature anymore as they've switched to PoS.
HD wallet with automatic backup support for Windows, Mac and Linux: This is nothing but a core wallet which every other cryptocurrency out there offers.
Energi Specifications:
Ticker: NRG
Max Supply: Infinite
Block Time: 1 Minute
Hashing Algorithm: Dagger-Hashimoto
Masternode requirements: 10000 NRG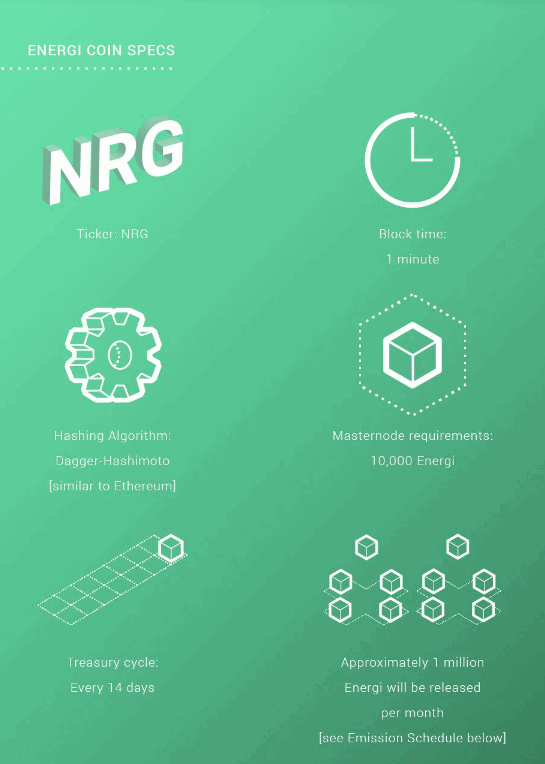 Energi has no max supply and it has a fixed amount of 1,000,000 coins created every month. The allocation is set to a model of 10/10/40/40.
Out of 1,000,000 40% of the coin has been allocated to treasury and 40% to NRG masternodes. 10% to PoS holders and another 10% to backbone which is nothing but founders rewards. As you can see; total 50% of the coin's emission (500,000 coins per month) goes to coin founder and its team members. These funds as we said early on; will be used for development and marketing.
Energi Earn drop / Air drop / Bounty
Not sure whether the treasury funds are being used for the coin development. But currently it looks like a large portion of these funds are being used in Earn drop which is nothing but a Bounty. The team says they have a long term vision and they are doing rounds of earn drops to their community members. "This is to bring in adoption and is a way for us to widely distribute coins to the participants who joins our community" – says the developer.
Energi coin earn drops 100 NRG coins to its user. To earn this users must complete KYC and are asked to complete certain social tasks like following their social accounts and shilling Energi coins on social media.
Whatever; is this coin really worth considering? Before we see that lets get in to wallet setup and staking.
Energi coin wallet setup / staking
Energi cryptocurrency currently offers core wallet which is available for Windows, Mac and Linux. You can find the wallet download links in their GitHub page.
Download wallet: https://github.com/energicryptocurrency/energi/releases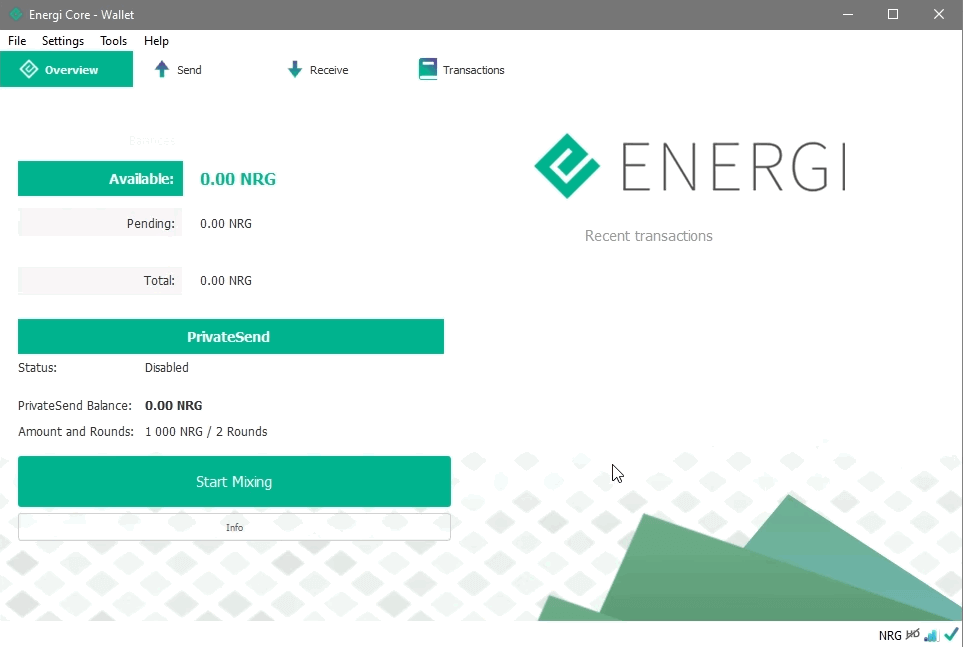 Download the wallet and complete the setup. As you can see there is nothing new about this wallet. It is just a regular QT wallet which is similar to Dash and most other masternode coin wallets. To know how to setup and use we suggest you to read this core wallet beginners guide.
Staking: As of February 26th, 2019 at block height 437600; Energi coin fully transitioned from Proof of Work to Proof of Stake. Now participants can start staking Energi coins from Energi core wallet. To start staking first ensure that your wallet has been fully synced. Then go to settings and click on start staking. Now enter your wallet passphrase to unlock your wallet. Once it is unlocked you should notice the arrow at the bottom right hand corner turns green. It means staking is enabled. Now all you need to do is leave your wallet open 24 x 7 and stay connected to the Energi coin blockchain network.
But wait!? To start staking you actually need a minimum of 1 NRG coin. Now before you go ahead and buy Energi coins for staking here are our two cents.
Final thoughts on Energi coin:
According to CoinMarketCap Energi is ranked at 207 and its been listed on several exchanges including some popular exchanges like Kucoin and DigiFinex. At the time of writing this article Energi (NRG) is priced at $1.24. Its market cap is $19,043,493 USD and has a total volume of $100,153. So should I Buy Energi (NRG)?
Whether you wish to buy it or mine it make your own decision, and do so at your own risk! We do not advise on investments and as we said never take anyone's advise when it comes to investing in cryptocurrency. Always do your own research and make your own investment decisions.
Anyways here is something that you need to note if you are really interested in Energi coin.
Energi project states as fair launch but there was no public announcement during the launch and when they actually made an announcement the actual block height was 171897. They did no ICO nor a premine but Energi is clearly not a fair launch. Now coming to its technical aspects.
Energi coin has masternodes which provides security, enables instant and private transactions to the network. This is what enables treasury as well that provides funding for development, marketing and other services. But this is not a unique feature of Energi but an invention of Dash.
Masternode requires 10000 NRG coins and at current price the value of Masternode is $12,460 and do note that it has a high ROI of 91.27%. Plus the Energi team retains 50% of the coins supply every month. With high ROI there is a chance that coin value drops in future as more and more investors buy and setup masternodes. This is particularly the case with coins that lacks technical features. But what about Energi?
Energi aims to be the world's leading cryptocurrency. Well, that is the motto of every crypto currency but what makes Energi unique?  Nothing as of now. As we said it is just another PoS, Masternode coin.
As mentioned in their Whitepaper; DApps and introduction of smart contracts to the chain will bring more possibilities. But the question is whether will they implement it? As stated in their roadmap we need to wait until Q3 of 2019.
If you do like this article then kindly do share it. Also do subscribe to receive latest posts from us.