Wallets
What is Motion (XMN) – Motion coin features, specifications & wallet setup
Followed by the success of Ravencoin several new coins have emerged into cryptosphere lately. First came Pigeoncoin which introduced X16S algorithm – An improved version of X16R. Then came Reden, Gravium, Crypto Rescue, Proton coin, Stone coin, ReefCoin, and many others. Technically all these coins have one thing in common and that is PoW hashing algorithm. In addition to PoW mining some of these coins have included Masternodes technology to help secure the network and to provide some added benefits. Along with this technology a coin called Motion (XMN) is planning to develop smart contract platform to help fuel the project further. Here in this beginners guide we'll discuss what's Motion coin (XMN), its features and technical specifications. Along with that we've made a quick guide on setting up Motion coin wallet.
Motion (XMN)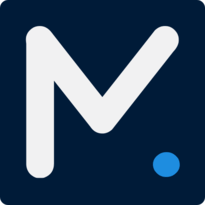 Motion (XMN) coin is an open source, decentralized and community based digital currency. This coin aims to be an asset for crowd funding – A platform that will be built using the power of smart contracts and blockchain technology. This platform provides corporations and investors an easy way of transferring assets from one party to another without any middleman. This is similar to what Ravencoin is working on currently except Raven doesn't have Masternodes. But the thing is Motion is new and is working on getting its foundation strong while Raven already has a strong community and is ready to roll out the asset layer. Alright, let's now see what key features it holds currently and what new it is planning to bring in the future.
Motion coin features:
To ensure the network is fast and secure Motion uses two consensus mechanism namely Proof of Work (X16R algorithm) and Masternodes.
Mining: Motion uses X16R as a Proof of work algorithm which is ASIC resistant and that supports both CPU and GPU mining. Along with that it uses LMWA (Linearly Weighted Moving Average) difficulty algorithm which retargets every block and ensures the network remains stable. Also to make the mining process simpler they have included a feature called one click miner which we'll discuss about it in our mining guide.
Masternodes: Masternodes are full nodes that maintains a copy of entire blockchain. To operate a Masternode one need an amount of 1000 Motion coins (XMN) to be held in the wallet. So what is the use of this feature? It has benefits for both Masternode operators and the network. Every individual masternodes on the network will be rewarded in XMN for providing this service. In addition to rewarding its owners; Masternodes brings in essential feature to the network such as InstantSend (faster transactions), PrivateSend (untraceable and private transactions) and a voting system.
For operating the Motion coin network both miners and masternode owners will be rewarded. The block time is 2 minutes and the block reward is 20 XMN coins. 60% of the block rewards that is 12 XMN goes to Masternode operators and 40% (8 XMN) of the reward goes to miners.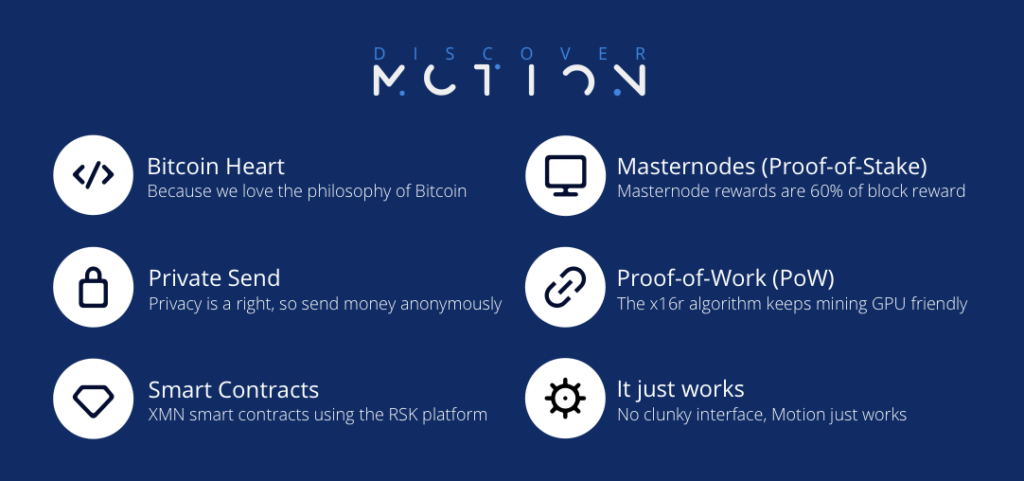 Upcoming features:
One of the main feature of Motion project is smart contracts – A platform for businesses, individuals and organizations to crowd fund their ideas and projects while investors have voting rights in the funding. Motion coin is planning to build this smart contract platform using RSK which is an open source smart contracts platform. According to their road map this platform will be developed on Q1 2019.
Aside from smart contracts some other features that they will be working on are atomic swaps, easy masternode installer (just like GINcoin), tired masternodes, mobile wallets (IOS and Android), E-commerce plugins and merchant integration.
Now as we've covered most of its features let's see its technical specifications and get straight into wallet setup guide.
Motion technical specifications
Coin Name: Motion
Ticker: XMN
Coin Type: PoW / Masternodes
Algorithm: X16R
Total Supply: 22,075,000
Block Time: 2 Minutes
Block Reward: 20 XMN per block
Reward Distribution: 60% Masternode and 40% Miners
Masternode Collateral: 1000 XMN
Pre-mine: 4.8%
Announcement: https://bitcointalk.org/index.php?topic=3548537.0
Website: https://motionproject.org/
Whitepaper: https://firebasestorage.googleapis.com/v0/b/motion-website.appspot.com/o/MotionWhitepaper_2.pdf?alt=media&token=6cb4feed-082f-4f99-a07e-d3cc7ab30eb8
Block Explorer: https://explorer.motionproject.org/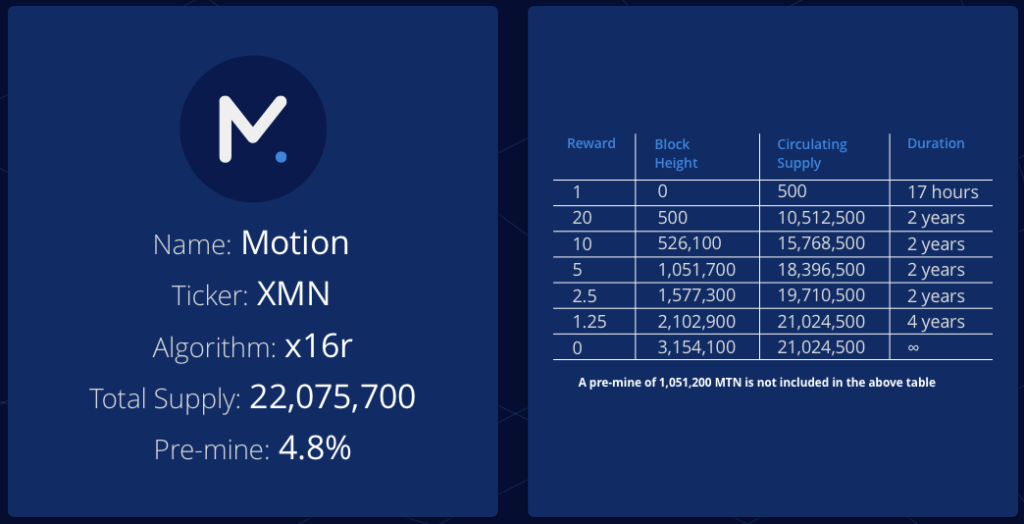 Motion wallet – Desktop, Mobile and Paper wallet
Motion project offers three types of wallet: Desktop wallet, Mobile wallet and Web wallet. Since web and mobile wallet are under development you can currently choose Desktop wallet. This is the most preferred wallet and it is available for Windows, Linux as well as Mac.
Setting up Desktop wallet client is very simple. Just head to Motion GitHub page, choose your operating system and download the latest released wallet. Once downloaded move the zip file to desired location and extract the files. Now within the extracted folder you'll find motion-qt.exe. Just open it, choose a data directory to store blockchain files, allow access and wait for the wallet to synchronize completely.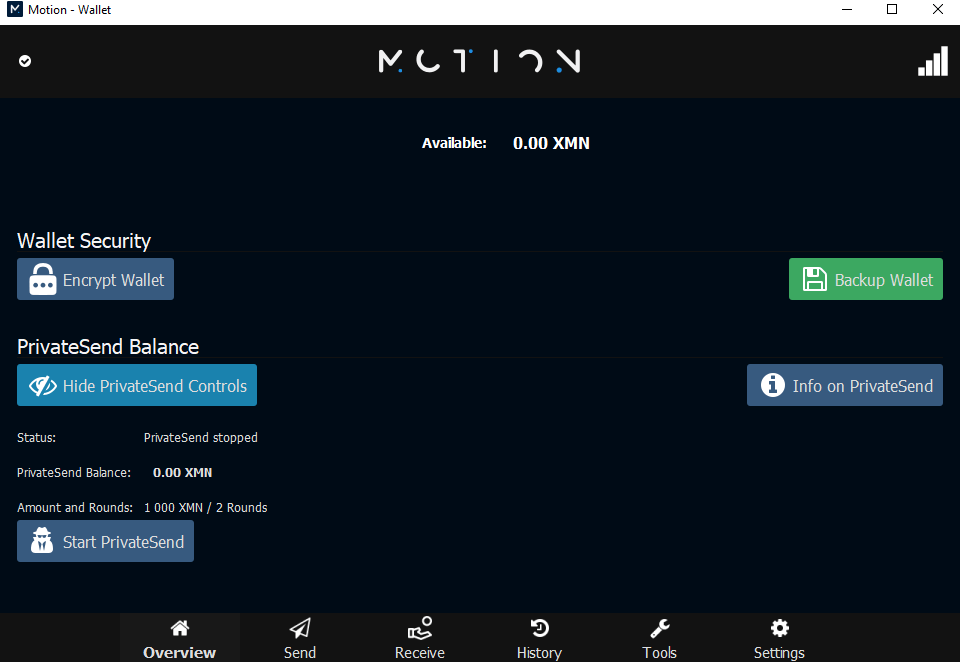 Once it is done your wallet should be ready! The wallet interface looks somewhat different compared to normal QT wallets but most of its features can also be found on Bitcoin QT wallet. So there is not much explanation needed to be given. Anyways if you have any questions or if we've missed out any core features of Motion coin then please let us know in comments area.
Market – Buy / Sell Motion
This coin is new and so it is not yet listed on CoinMarketCap or any other cryptocurrency data sites. But Motion is listed on CryptoBridge – A well known decentralized exchange platform. Since its launch this coin has gone through huge variations in price and is currently being traded at 2500 satoshi a coin. According to block explorer the current circulating supply is 1,273,309 XMN so the rough estimation of market cap would be more or less $260,000.
Final thoughts:
A platform for startups, companies and non profits to create projects and fund them on Motion Platform in a trust less system seems promising. But this platform development will only commence on 2019. So we can't tell what will happen in the coming days. As of now it is just another masternode coin. Also the price of this coin has dropped immensely from the launch and then there is a premine of 4.8%. So before mining or investing kindly do your research.
The reason for the success of Ravencoin is that it had no ICO, no premine and no presale. Even with such premine amount Motion could succeed in the future but first they need to work on building a strong foundation. If they implement all those features which is mentioned in their whitepaper then Motion will become the Litecoin of Raven. If not then it might end up as another ReefCoin.