Crypto Mining
[PGN] Pigeoncoin? A new bird with a new X16S (shuffle) mining algorithm
We know that Ravencoin is so hot right now among the miners. If you are one of them then you should have heard about Pigeoncoin. What; Another bird coin? At first we thought it was a Joke. Later we realized that they actually made a announcement  on Bitcoin Talk with this bird name and guess what; the net hash has almost reached 100 GH/s in just a week. Maybe it's time for all the birds to hit the crypto market. Apart from being just another bird what relationship does Pigeon have with Raven and how it's different.  Let's see. Here in this guide we'll cover about Pigeoncoin wallet and Pigeoncoin mining.
Pigeoncoin – PGN
First of all we'll see what's Pigeoncoin and what new does it offers? It's so obvious that Pigeoncoin is greatly inspired by Ravencoin. Not just by its name but also by the algorithm X16R that it introduced.

Pigeoncoin was publicly announced on March 27th but it looks like the Genesis block was launched quietly on March 21st and its clearly been pre-mined. The dev has only invited quite a few CPU miners initially and who knows that's may be to test the network or to keep the difficulty low for a while. You can read the whole story and discussion in Bitcointalk announcement thread. Whatever; in spite of such a launch this coin has picked up so well among the miners and that's mainly because of the word that spread through Ravencoin community and the similarity in algorithm.
There is no roadmap or whitepaper yet for this coin. Also compared to Raven there is nothing new in Pigeoncoin except in fact it utilizes a new variant of X16R algorithm known as X16S (shuffle).
X16S (shuffle) Algorithm
Well we've not mined X16S or Pigeoncoin yet and so we can't share our opinion on mining X16S. However this is what the dev has to say about their new X16S (shuffle) algorithm for Pigeoncoin.
X16R is known for its pseudo randomness in algorithm and it is proven to be ASIC resistant. x16r uses the last sixteen digits of the previous block hash to call its sixteen sub-algo's which happens to fluctuate the hashrates very often. Also this hashcycle composition causes power spikes as each algo uses different amounts of power. Yes, that's true; early Raven miners have experienced huge power spikes mining x16r but that's not the case anymore with new optimized miners like enemy and nevermore miner.
Just like X16R; X16S also has the same 16 sub algorithms. Instead of randomizing the algorithm X16S shuffles the list to call the sixteen sub-algorithms. This by preserving the randomness it provides consistency in hashrates and power consumption.

The above graph by Pigeoncoin developers illustrates the hashrate comparison between x16r vs x16s. The hashrate of x16s looks so stable. The whitepaper for x16s can be found here.
Pigeoncoin Specifications
The specifications of Pigeoncoin is similar to Ravencoin. The only difference is its Algorithm.
Total Pigeon Supply: 21 Billion
Block Time: 1 Minute
Block Reward: 5000 PGN
Difficulty Retarget: Every 2016 Blocks
Algorithm: X16S
Explorer: http://explorer.pigeoncoin.org/
Pigeoncoin is new and it was only mined using CPU initially but that's only until the release of GPU mining software. Now CPU mining is not possible or profitable as the net hashrate is high. If you want your GPU to give a try mining this new algorithm x16s or Pigeoncoin then there are several pools available for you to join. Also miner is available for both NVIDIA as well as AMD GPUs.
To get started with mining Pigeoncoin (x16s) you'll first need a wallet and then a miner. Here we'll provide a step by step instructions on Pigeoncoin wallet setup and mining PGN.
[PGN] Pigeoncoin wallet setup:
Pigeoncoin offers QT wallet and it is available for Windows, Linux and MacOS.
1: Go to Pigeoncoin Github page and download the core wallet.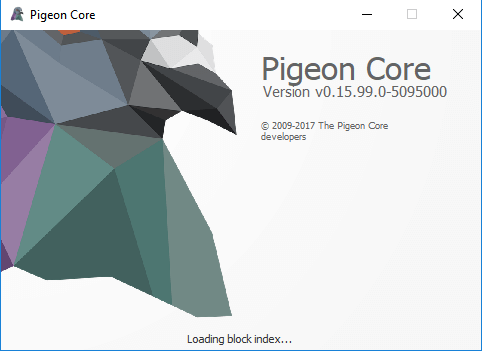 2: Once done unzip the folder and put it in a location where you wish to keep the core wallet.
3: Pigeoncoin wallet is similar to Ravencoin wallet and you can use this QT wallet beginners guide to complete the wallet setup.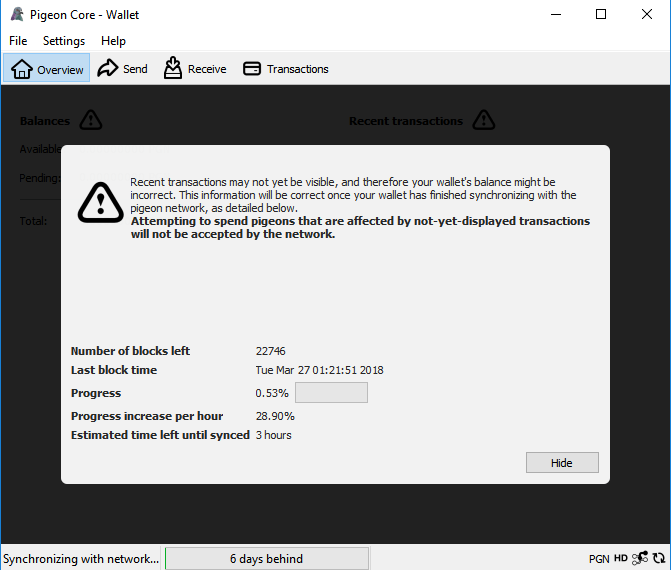 If your wallet is not syncing or is taking too much time to connect  to the network then try adding nodes.
The wallet is self explanatory and it is easy to use. Just create a new PGN address so you can get started with mining Pigeoncoin.
How to mine Pigeoncoin – Mining X16S
We hope you got your GPUs and PGN address ready. NVIDIA miners can download the latest nevermore x16s miner from here. AMD miners can download the latest x16s AMD miner from here. Download the miners, extract it and in case if your miners get blocked by Anti-virus it is false positive so just add exception to it.
List of available pools for Pigeoncoin:
http://slinging.io/ 
https://pign.suprnova.cc/ (Registration Required)
https://blockcruncher.com/
http://bsod.pw
http://alttank.ca
http://kwchmining.com/
https://robocop.online/
http://rushhourmining.com/
PGN Miner configuration:
You can choose any one of the above pools and start mining. Here in this guide we'll use https://blockcruncher.com/ as an example to configure your miner.
Nvidia Miner configuration:
Inside Nevermore miner folder create a .bat file or you should find one already. Just edit it and replace it with your wallet address. Or create a new txt file, copy the below code, put it in, change the address and save it as .bat file. Once done open the bat file which should start mining Pigeon.
ccminer -a x16s -o stratum+tcp://blockcruncher.com:3636 -u PXFJzuCBochTA3q3WMLvXWrrETJn61492A -p PGN
pause
AMD Miner configuration
For AMD sgminer use the configuration below or just edit the example.bat that you find in the AMD miner.
set GPU_FORCE_64BIT_PTR=0
set GPU_USE_SYNC_OBJECTS=1
set GPU_MAX_ALLOC_PERCENT=100
set GPU_SINGLE_ALLOC_PERCENT=100
set GPU_MAX_HEAP_SIZE=100
sgminer.exe -k x16s -o stratum+tcp://blockcruncher.com:3636 -u PXFJzuCBochTA3q3WMLvXWrrETJn61492A -p PGN
pause
The above configuration is just a sample for you to get started with mining PGN. Make sure to change your wallet address. Also you can replace the -o, -u, and -p arguments with your own pool, user (wallet address), and password.
There is no exchange for Pigeoncoin yet which we can expect soon. Currently the price of Pigeoncoin is at 40 to 50 Satoshi and the trading is happening with the help of escrows in official discord channel.
Conclusion:
We don't know what other bird coins are yet to come and we don't know what plans or future this Pigeoncoin has.  Pigeoncoin has almost mirrored everything from Raven and apart from X16S proof of concept there is nothing new. Initially we assumed that it was a Joke, but it looks like so many miners have joined the club already. People are trading Raven for Pigeon at 1:10 ratio. Also there are so many discussions going on in forums comparing Ravencoin VS Pigeoncoin. Whatever; our opinion is that Ravencoin has strong community and ultimate development team behind it. Ravencoin is designed to have a purpose whereas Pigeoncoin just looks like another meme coin like Garlicoin and Dogecoin.
Can we conclude the success of Raven has already given birth to its first meme coin – Pigeoncoin? What are your thoughts on Pigeoncoin? Are you mining it, hodling it? Feel free to share it in comments section.