Crypto Mining
How to mine Garlicoin (GRLC) – Mining Allium with NVIDIA and AMD
Garlicoin is a new experimental and decentralized digital currency. Currently it is priced at $0.1 a coin and its market cap is $459,804 USD. This coin has nothing new but meme potential. The entire market is down so you know mining any popular currencies won't be much profitable at the moment. This is one main reason to get started with mining some fresh new currencies. If you are looking to mine some new coin with your GPU then you should check out Garlicoin.
It's been so many days since we posted Garlicoin wallet setup guide and we haven't posted a guide on mining Garlicoin so here it is. You may think this guide is too late, yes it is late only if you consider solo mining with CPU. However if you are considering to mine Garlicoin with GPU then it's never too late. The network hashrate and difficulty is decent so it's the right time to mine some handful of Garlic coins. Moreover Garlicoin has switched its algorithm from Scrypt Adaptive-N to Allium – a unique algorithm designed for Garlicoin and it is said to be ASIC resistant. So what are you waiting for? Let's see how to mine Garlicoin.
Allium
Recently Garlicoin has hard forked its algorithm from Scrypt Adaptive-N to Allium. Why Garlicoin did this? They found out that there were several ASIC machines in the network mining Garlicoin. To resist that Garlicoin have decided to hard fork and implement Allium which happened at block height 58,670. Allium is an algorithm specifically designed for Garlicoin. You can find more information about the Garlicoin hardfork here.
Solo or Pool mining
Should I solo mine or pool mine? This is one of the common questions most miners have, especially with the newly launched coins as their difficulty will be low. This is not the case with Garlicoin. Currently if you look at Garlicoin block explorer the network hashrate is 20GH/s which is very high for CPU or solo mining until unless you own a huge mining farm. If you are still looking to solo mine Garlicoin then we suggest you to check this article where you can find information on solo mining. Considering the difficulty we recommend you to join  a pool and start mining Garlicoin. Also by pool mining you'll have high success rate of hitting a block and so the rewards will be paid very often based on your share.
How to mine Garlicoin (GRLC)
Before getting started with mining we'll need three things as usual.
A wallet to hold and receive funds. Hope you have Garlicoin address ready. If not then go through this article and get yourself a Garlic wallet.
A pool to point your miners. These are the pools which we tried and it works out well.
http://grlc-bakery.fun/ with 1% fee
https://pool.garlicsoup.xyz with 1% fee
https://garlicpool.org with 1% fee
http://garlicmine.com with .42% fee
You can find the list of all available Garlicoin pools here. Also always remember that pool diversity is very important so make sure to spread your hash. The reason behind this is if any of the pool dominates that is if it owns 51% of the network hashrate then it will have the power to control the blockchain. Hence they have high chance of modifying the value and cheating the system.
Miner program to start your GPUs to mine. To mine Allium there are separate miners for both NVIDIA and AMD.
If you have NVIDIA GPU then download Allium CCminer
If you have AMD GPU then you'll have to download SGminer Allium
Download the latest version that you find there. These miners are available for both Windows as well as Linux so download the appropriate one.
Alright, wallet address is ready, pool has been decided and the miner program is also ready. Now it's time to configure the miner and start mining Garlicoins.
On each and every pool you'll find getting started guide where you can find information on connecting your miner. Here in this tutorial we'll use garlicmine.com and garlicpool.org as an example to configure the miners.
NVIDIA mining – Windows – garlimine.com
First of all we'll need to create a bat file (Windows Batch file). In your ccminer folder create a new text document and paste the following config which is for garlicmine.com.
ccminer-x64 –algo=allium -o stratum+tcp://garlicmine.com:3333 -u walletaddress –max-temp=75
pause

Make sure to enter your wallet address, once done go to file >> save as and save the file as garlicmine.bat (make sure your file ends with .bat). That's it done. Now open the bat file and start mining. For safe GPU temperature that is to prevent GPU from overheating we've added  –max-temp=75 which you can remove or modify it as per your wish.

To track your mining progress go to garlimine.com and in workers field enter your wallet address. It should show the total number of accepted shares along with your efficiency and hashrate. You'll start getting payments to your wallet after a block has 100 confirmations which usually takes a hour.
AMD mining – Windows – garlicpool.org
For AMD mining we'll take garlicpool.org as an example. Hope you have SGminer ready for your AMD GPUs. To get started mining with garlicpool.org you'll have to register first which just takes a few seconds.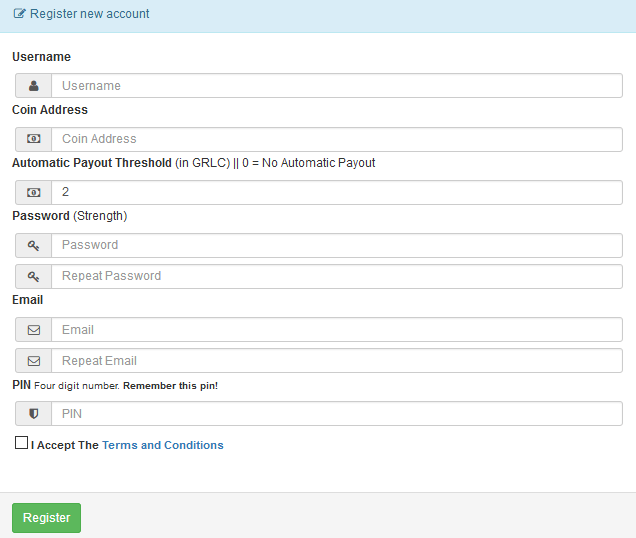 Go to garlicpool.org register page. Now set a username, enter your Garlicoin address, set payment threshold, password, email and PIN. Make sure to remember the PIN which is needed in case of withdrawal or change of wallet address. Hope you have your account ready at garlicpool.org. Let's point out your miners.

Before that you'll have to create a worker. Go to my account, my worker and create a new worker name. On the same page towards the right side you'll see the worker configuration details which is what you'll need to start mining. You can create a separate worker for each and every mining rigs.
In your SGminer folder create a bat file and add this following configuration.
sgminer –algorithm allium -o stratum+tcp://eu.stratum.garlicpool.org:3333 -u UserName.WorkerName -p x -I 14
For US you can use -o stratum+tcp://us.stratum.garlicpool.org
Make sure to change the username.workername. Garlicpool.org is self explanatory and it's easy to use. To track your mining progress go to your dashboard where you'll find your rig's hashrate. To know your earnings and payout reports go to account page. That's it! You're done setting up your miners. Now run the bat file and start mining Garlicoin using your NVIDIA and AMD GPU.
Garlicoin mining Allium hashrate report:
Nvidia GTX 1070: 3.6 – 3.7 Mh/s or 3500 to 3700 Kh/s
Nvidia GTX 970: 1.9 – 2.1 Mh/s or 1900 to 2100 Kh/s
GTX 1080ti: 6800 kh/s or 6.5 Mh/s
AMD RX 580: 8 GB: 350 to 450 kh/s
As of now AMD is not that powerful compared to NVIDIA when it comes to mining GRLC.
Do you smell Garlic from your GPUs? We hope so, share your hashrate and thoughts on mining garlic coins in the comments section.