A glossary of all Cryptocurrency and Bitcoin terms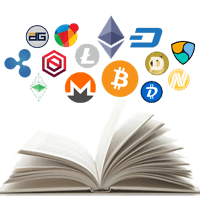 Are you new to this space and don't understand the cryptocurrency terms and acronyms. If you are looking for Bitcoin, Blockchain and Cryptocurrency dictionary then you are at the right place. This guide will clear most of your doubts that are related to Bitcon, Ethereum, Altcoins, Blockchain and Cryptocurrency in general. Also this will clear meme related terms such as HODL, MOON, DYOR etc.
We've parted this glossary into three separate topics such as General Cryptocurrency and Blockchain terms, trading and promotional related terms and Meme slangs. This is the best place for beginners to get familiarize with most commonly used terms in the crypto world. If you would like to add a new term which is not listed here or if you would like to make a correction, then kindly contact us.
General Cryptocurrency and Blockchain Terms
Currency trading and promotional terms
Bitcoin and Crypto Meme slangs – Part 1
---
---
---
---
---
---
---
---
---
---
---
---
---
---
---
---
---
---
Trezor
---
---
---