Knowledge Base
What are Bounties? Why & how to get involved in crypto bounty programs?
Have you just joined a cryptocurrency trading chat room or you are following a number of crypto twitter accounts. Whichever crypto community you are in; you often see people promoting new coins and tokens. Some do it for the sake of giving awareness about the project to the community and some promote these coins just for bounties. Here we'll see what are bounties and why they are so popular with ICOs? Then we'll cover the types of bounty campaigns and how you too can get involved and earn bounties.
What are Bounties?
Bounty simply means reward. A bounty is a payment offered by a group to someone as an incentive for accomplishing certain tasks.
The term bounty is largely used by gaming communities and is designed to reward users for either reporting a bug or participating in the game development. The incentives are usually in the form of cash or in game tokens. Essentially it is a reward mechanism offered by the company to the individuals in exchange for completing some tasks for the company. So what it has to do with blockchain and cryptocurrencies?
Have you not come across notices issued by the government stating "reward for capturing this individual". These are bounties and the one who captures these individuals are called bounty hunters. Similarly in blockchain applications and cryptocurrencies; bounties emerged mainly as a mechanism to protect cyber crimes. Websites like Bitcoin bounty hunter used to reward users in BTC for locating the hackers or recovering a hacked account.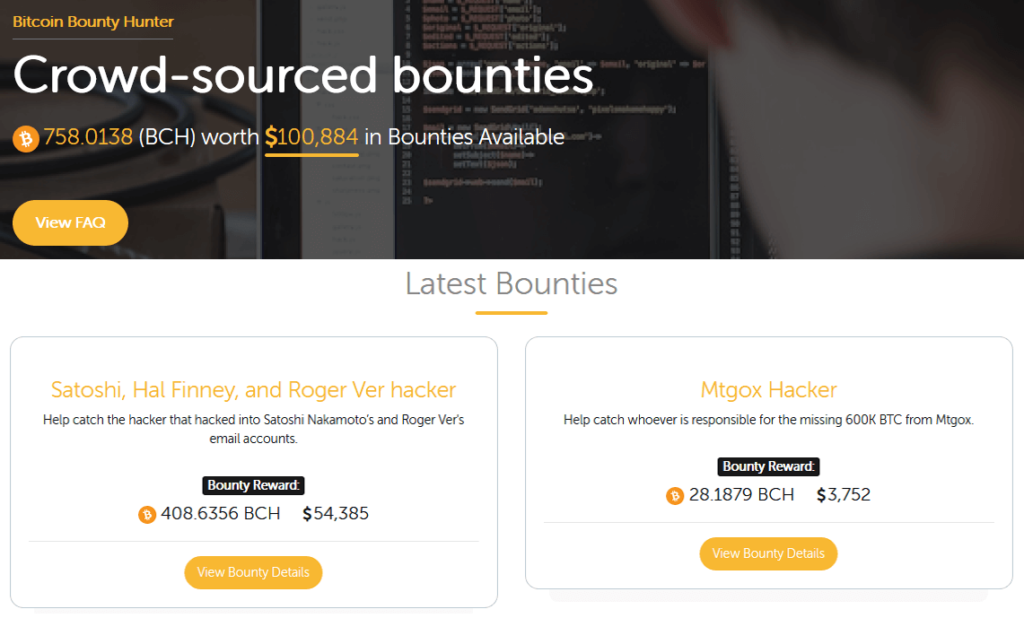 Crypto projects these days largely run bounty programs for marketing and promotional purposes. Not just that but there are also bounties for reporting a bug and improving the software. These bounty programs are proven to be a successful strategy as it benefits both the participants and the cryptocurrency start-ups. Users promote and enrich the project. In return they are paid in Bitcoins or usually in native tokens which later can be exchanged to Bitcoin or fiat on a trading platform.
Bounty programs in ICO
You can see a large number of blockchain start-ups running bounty programs which is part of their ICO campaign. Before an ICO occurs a certain amount of coins or tokens are allocated to incentivize participants of various activities. It can be allocated for promoters, developers and even investors. For example to motivate users to participate in the ICO; the first few investors may be offered an additional percent.
ICOs mainly incorporate bounty programs as it is a proven marketing strategy. It creates greater exposure for their project by spreading the word throughout the community. Also it fuels with all kinds of resources that a project needs for a successful launch and rapid growth.
Types of bounty campaigns
There are two types of bounty programs ICOs incorporate. Pre-ICO bounty and Post-ICO bounty program. Pre-ICO bounty is carried out before the actual launch of the project  and is focused on prospective investors. Whereas the post-ICO bounty is aimed at fine tuning the released project and improving the community.
Some of the common bounty programs that falls under pre-ICO stage are social media camping bounty and Bitcointalk signature bounty. Whereas during the post-ICO stage; translation bounty, bug reporting bounty and development bounties are carried out.
Getting involved in bounties
Bounties are a easy way of earning few Bitcoins without investing anything but your time. Whether you are a social media influencer, YouTuber, blogger or a senior member at Bitcointalk forum. You can always find bounties.
For example if you are a social media investor then you can promote the ICO or the project on your Twitter or FB handle. The social media bounty rewards depends on the reach and engagement level of your posts. If you are a content creator then you can write article or publish a video about the ICO on your channel. Here the reward depends on the quality of your content and the popularity of your channel or blog. Then there is Bitcointalk signature bounties which is one of the popular bounty programs. It is open to all the member of Bitcointalk and here the ICO will provide you with the code. All you have to do is use the signature in your Bitcointalk profile. Translation bounty involves translating of project documents such as whitepaper, announcement and other marketing materials. In addition to these if you are a skilled developer or programmer then you can earn bounties by reporting security loopholes in the software or by participate in coding of the project.
As you can see these bounties doesn't sound complicated at all. However these are the ones that are most essential for the growth and success of the project. One of the biggest challenges for any blockchain project is to attract investors and promote the brand. This is something the project team cannot accomplish as they need to have a high amount of budget to cover marketing and promotional costs. Also the team usually have time only to focus on the development of the project. Therefore they achieve the necessary marketing and promotion for their project with the aid of bounty programs.
Finding cryptocurrency bounty programs
You'll often find bounties on forums such as BitcoinTalk.org. Here is the link to bounty thread: https://bitcointalk.org/index.php?board=238.0.  Find the one that suits you, read and understand the rules, complete the job and receive the reward. Simple right, easy way to earn crypto assets.
But do note that in most of the bounty programs you'll only get your rewards at the end of the ICO event and only in their own tokens. So only if the ICO becomes successful the token which you received becomes exchangeable. But in most cases the ICOs turn out to be a scam so either you won't receive any rewards or the token which you received becomes useless. Then there are few projects which pay you after several weeks or even months.
Bounties in cryptocurrencies are an easy way of earning little crypto during your spare time. There are some genuine bounty programs which can earn you a lot. Then there are scams which earn you nothing. So before you put in your efforts, analyze thoroughly and be very careful in choosing a bounty to participate.