Crypto to Fiat Converter – Calculate exchange rates between Fiat & Crypto
Crypto to Fiat and Fiat to Crypto Conversion: Convert and compare the value of any cryptocurrency to global currencies and vice versa. With this tool you can instantly check the fiat rates for all coins and tokens.
Last Updated on Sep 23, 2023 at 8:15 AM UTC
Crypto <> Fiat currency calculator
Simple and effective calculator to check crypto prices against all global currencies. Use the tool to determine the current exchange rates between major world currencies and cryptocurrencies, including BTC, ETH, BNB, XRP and 1000s of coins / tokens to USD, EUR, JPY, GBP, INR etc. Basically you can check the prices of cryptocurrencies against all global currencies.
To convert your favorite cryptocurrency into any world currency, select the cryptocurrency and fiat currency from the dropdown menus, then enter either the number of coin units or the dollar amount you wish to convert. You'll get an immediate conversion between the two currencies.
Using the tools dropdown menu, you can explore latest exchange rates for thousands of crypto and fiat pairings. Additionally the most popular trading pairs are listed below for your convenience. Use the links to quickly convert top 10 cryptocurrencies against the largest global fiat currencies.
Popular Crypto to Fiat Conversions
Crypto to Fiat Converter Features: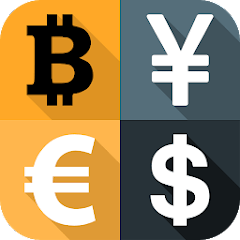 Learn how coins and crypto tokens are valued against world currencies and how they can enhance your investment portfolio.
Instant Conversion: Simply select the currency/coin and enter the amount you want to convert to get immediate results.
Efficient: Our calculation is fast, reliable, and provides you with up-to-date crypto-fiat rates.
Diverse Assets: We support almost every major crypto and fiat currency, not just the dominant ones with the largest market capitalization in the crypto market.
What is crypto fiat conversion?
"Fiat to Crypto" means you're buying cryptocurrency with fiat money. For example buying Bitcoin (BTC) with USD.
"Crypto to Fiat" means you're selling cryptocurrency to fiat money. For example selling Bitcoin (BTC) for USD.
US Dollar currently holds the largest market share making it the most widely used fiat money for Bitcoin trading, followed by Euro, Japanese Yen, Pound Sterling, Indian Rupee, Singapore Dollars and Australian Dollars.
Converting Fiat to Crypto
Whether you looking to buy Bitcoin for the first time or cash out your crypto for fiat money such as USD, EUR or to your native country currency your go to place should be cryptocurrency exchanges.
Cryptocurrency exchanges have a built in conversion feature that displays how much you get for the selected pair. If you are looking to sell it'll show the amount of fiat money that you'll receive for the amount of crypto you own. Likewise it'll also show you the amount of crypto you get for the amount you're investing in.
Similar to banking portals and e-commerce websites, crypto exchanges also offer clean user interfaces for easy conversion of one coin to another, crypto to fiat and fiat to crypto.
There are many exchanges that makes crypto to crypto and crypto to fiat conversion easier. Some of the popular and the most reputable exchanges to convert your crypto to fiat or fiat to crypto are are Coinbase, Binance, Kraken, Gemini and BitStamp.
All these platform offer a streamlined process making it easier for you to buy, sell, send, receive and convert cryptocurrencies. However before you use one we highly recommend you to do your own research and find a secure exchange that you can fully trust. Make sure they accept your local fiat currency, has no withdrawal restrictions and comes with reasonable fees.
Top Crypto / Fiat pairs
Top 10 cryptocurrencies and their top 10 fiat trading pairs.
| Asset | Trade Pairs |
| --- | --- |
| Bitcoin | BTC/USD, BTC/CAD, BTC/EUR, BTC/GBP, BTC/JPY, BTC/INR, BTC/BRL, BTC/CHF, BTC/KRW, BTC/AUD |
| Ethereum | ETH/USD, ETH/CAD, ETH/GBP, ETH/JPY, ETH/INR, ETH/BRL, ETH/EUR, ETH/CHF, ETH/KRW, ETH/AUD |
| Tether | USDT/USD, USDT/CAD, USDT/GBP, USDT/JPY, USDT/INR, USDT/BRL, USDT/EUR, USDT/CHF, USDT/KRW, USDT/AUD |
| BNB | BNB/USD, BNB/CAD, BNB/GBP, BNB/JPY, BNB/INR, BNB/BRL, BNB/EUR, BNB/CHF, BNB/KRW, BNB/AUD |
| Cardano | ADA/USD, ADA/CAD, ADA/GBP, ADA/JPY, ADA/INR, ADA/BRL, ADA/EUR, ADA/CHF, ADA/KRW, ADA/AUD |
| XRP | XRP/USD, XRP/CAD, XRP/GBP, XRP/JPY, XRP/INR, XRP/BRL, XRP/EUR, XRP/CHF, XRP/KRW, XRP/AUD |
| USD Coin | USDC/USD, USDC/CAD, USDC/GBP, USDC/JPY, USDC/INR, USDC/BRL, USDC/EUR, USDC/CHF, USDC/KRW, USDC/AUD |
| MATIC | MATIC/USD, MATIC/CAD, MATIC/GBP, MATIC/JPY, MATIC/INR, MATIC/BRL, MATIC/EUR, MATIC/CHF, MATIC/KRW, MATIC/AUD |
| Solana | SOL/USD, SOL/CAD, SOL/GBP, SOL/JPY, SOL/INR, SOL/BRL, SOL/EUR, SOL/CHF, SOL/KRW, SOL/AUD |
| Polkadot | DOT/USD, DOT/CAD, DOT/GBP, DOT/JPY, DOT/INR, DOT/BRL, DOT/EUR, DOT/CHF, DOT/KRW, DOT/AUD |
---
Similar Tools:
---
Note: Price data is fetched from various market data platform and cryptocurrency exchanges. The prices shown here are subject to fluctuations and variations. Also note that The tool and content being provided to you here is only for informational purpose. It does not constitute financial, investment, trading or any other sort of advice. We are not liable for any errors or for any actions taken based on this content.