Wallets
Phantom wallet tutorial – How to setup & use Phantom Solana web3 wallet
Phantom wallet beginners guide – Easiest guide to using the Solana web3 wallet. Here in this tutorial we'll show you how to setup Phantom wallet and how you can use it to send, receive, stake and swap tokens on the Solana blockchain. Additionally we'll also show you how to connect the Phantom wallet to Solana Dapps and explain how you can connect your Ledger hardware wallet to Phantom.
Now before we get into the guide here is a little bit information about Solana and the Phantom wallet in case you are new.
Solana ecosystem
Solana is one of the fastest growing ecosystem in the crypto space. Similar to Ethereum; Solana also offers a vast array of DApps and DeFi (Decentralized Finance) solutions. You have Solana Name Service similar to ENS (Ethereum Name Service), DeFi exchanges, Dapps and NFT marketplace such as Solana Art where you can buy or mint your own NFTs. There are even many play-to-earn Metaverse games on the Solana ecosystem.
To name some here are some of the popular projects on the Solana network.
Raydium, NFT Rarity, Serum, Solape swap, Solanart, Star Atlas, Ninja game, Aurory project and Solana Monkey Business.
So many companies, developers, gamers and artists are using the Solana ecosystem at the moment to build their projects. The reason is mainly because Solana is a highly scalable, fast and an efficient blockchain.
Now to access the Solana platform and to get involved with projects on the Solana ecosystem you need a Solana wallet. Solana has many popular wallets like Solflare, Sollet, Solong, Slope and Phantom. But the best one is the Phantom wallet. Not only its the best Solana wallet but it is one of the best crypto wallets out there.
Previously we've made a guide on the Solana SPL token wallet called Sollet. It is an open source web wallet for advanced users and developers. For the best Solana user experience and support, it is recommended to use Phantom wallet.
If you've traded on Ethereum or used the Binance Smart Chain then you'll be familiar with Metamask – A simple, nice and clean browser extension. Now Phantom wallet is similar to Metamask except it has some extra built in features like for example: it has a separate tab where you can view and mange all your Non Fungible Tokens (NFTs). You can even view and inspect the 3 dimensional assets such as in game collectibles right from your wallet. The wallet fully renders both JPEGs and 3d in game assets. How cool is that?
Phantom wallet
Phantom is a non custodial crypto wallet of the Solana blockchain. This wallet allows you to manage digital assets and lets you access the world of decentralized applications on the Solana network. Using Phantom wallet you can store, send, receive, stake, swap tokens on the Solana blockchain. Also you can interact with decentralized finance (DeFi) apps, exchanges, Non-fungible token (NFT) platforms, and games on the Solana blockchain.
This wallet is readily available as a browser extension which you can install it on Firefox, Microsoft Edge, Google Chrome and Brave browsers. It has a smooth and modern user interface that is very similar to the alternative web3 wallet metamask. You can turn any of your favorite browser into a Web3 enabled crypto wallet.
Phantom was only available as a browser extension initially. But now it is also available for the iPhone which you can download it from the App store. Everything you can do on desktop, you can now do it in your pocket.
Install the Phantom wallet on your iPhone to store assets and access dApps on the Solana blockchain. Using your mobile wallet application you can deposit, transfer, stake, and swap assets on Solana easily. Not only Solana but in the near future it'll even have support for other blockchains.
Here are few reasons to consider the Phantom wallet.
Phantom features
Phantom makes it safe & easy for users to store, send, receive, stake, and swap tokens on the Solana blockchain. It unlocks a simple and secure way to interact with blockchain-based decentralized applications directly from your web browser.
Here are some of the notable feature of the Phantom wallet – A non custodial wallet that allows you to send, receive, collect NFTs and swap tokens.
Web3 Support – Just like now metamask is for Ethereum; Phantom is for Solana. You can explore the world of decentralized blockchain applications built on Solana.
NFTs and Collectibles – Phantom wallet has a special tab that lets you take care of your NFTs.
Token Swaps – Has its own built-in DEX (Decentralized Exchange) so you can safely swap tokens at the best prices, instantly.
SOL Staking – You can earn rewards by staking SOL (Solana) directly inside your wallet.
Ledger Support – To enhance the security you can also connect your Phantom wallet to your hardware wallet such as Ledger.
Phantom currently only supports the Solana ecosystem. But in the near future you can expect it to work with Ethereum and other blockchains. The developers are working on making the Phantom Wallet a multi-chain wallet.
Alright! Let's now see how to create Phantom wallet and use it to store and mange Solana tokens and NFTs.
How to setup Phantom
Creating Phantom Wallet: A step by step guide. Follow the guide below to install and use the Phantom wallet.
Note: Phantom is a free application which is available as browser extension on desktop and for iPhone. However the following guide is only for desktop users which shows you how to install the Phantom extension on your browser and turn it into a web3 crypto wallet.
Phantom is similar to metamask in terms of functionality and usability. Also it is super simple to setup and use. Let's get started by installing the extension.
Note: Always download applications only from the official website.
Download Phantom
Visit https://phantom.app/download and you'll find the links for browser add-on and the link for iOS app store.
Phantom Solana wallet app for iPhone: https://apps.apple.com/us/app/phantom-solana-wallet/1598432977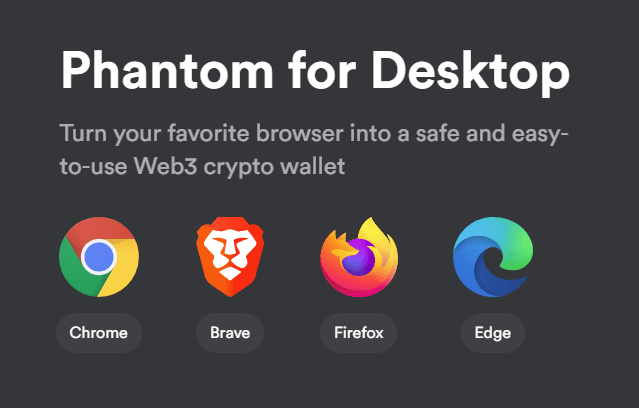 Select your browser type and it will take you to the web store. Here we'll be using Google Chrome as an example.

Click on add to chrome and add the extension. The steps are same for other browsers as well. After clicking add extension It will download the add-on to your PC and install it on your browser. In this case its Chrome.
After the Phantom extension is installed on your browser it will auto open. Now before we create a new wallet here is how you can access Phantom on your browser.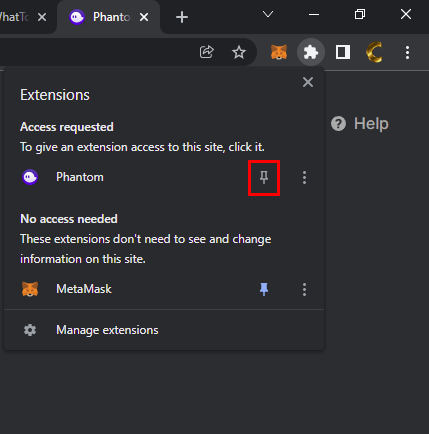 On most popular browsers you'll see the extension / add-on at the top right corner. Also you can look into your browsers tool bar and add-on section. On Chrome at the top right corner you'll see a puzzle icon. Click on it and you'll see the list of installed extensions. Find the Phantom extension and click on the "pin icon". It'll pin the extension at the top and this should make it easier for you to find and access Phantom in the future.
Now click on the Phantom icon and start the wallet setup.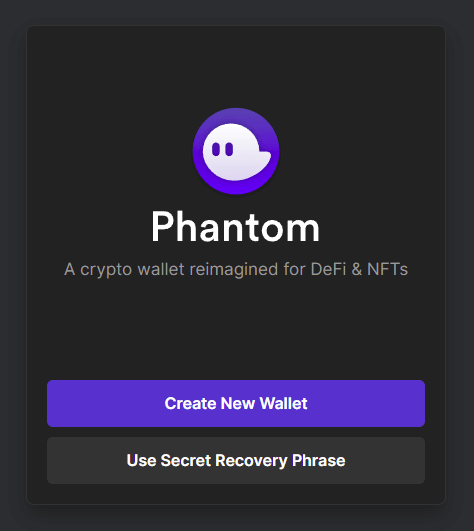 Create new wallet
Phantom app will start up in a new tab and you'll find two options. 1. Create new wallet and 2. Use secret recovery phrase.
Since we are setting up a brand new wallet choose "create new wallet". If you are an existing Solana user and were previously using wallets like Sollet or Solflare then you can use your secret recovery phrase to import your existing wallet to Phantom – A crypto wallet reimagined for DeFi & NFTs.
Import existing wallet
To import wallet first find your secret recovery phrase from your existing wallet. The secret recovery phrase can either be 12 or 24 words depending on your current wallet. Here in this guide you can find how to export private key, mnemonic from Sollet. Once you have your 12 or 24 word "mnemonic" or "Secret Recovery Phrase" click use secret recovery phrase option to import your current wallet. Next enter your mnemonic secret recovery phrase and click continue.
That's it! After this step is successful you should see the Phantom wallet displaying all your previous addresses and its assets which it derived from your recovery phrase.
New wallet setup
Click create new wallet and on the next screen the wallet will generate and display the 12 word secret recovery phrase for you.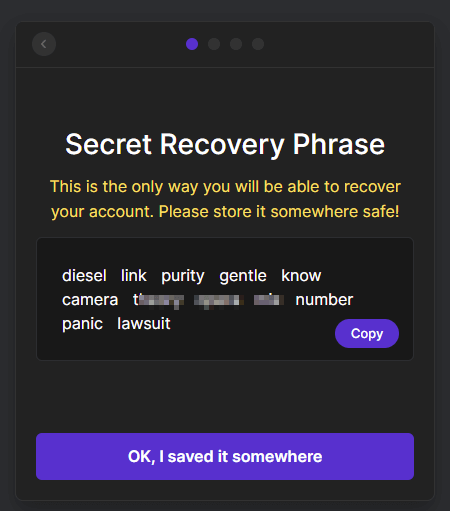 Now this part is crucial. The secret recover phrase is your wallet backup. Write it in a piece of paper (order is important) and keep it in a safe and secure location offline. Never take screen shot and never save it online. To restore your Phantom wallet in the future you'll need this recovery phrase. In case if someone gets access to this or if you lose this then you'll potentially lose all your funds you have in your Phantom.
Okay, now once you have the seed words secured click "OK, I saved it somewhere".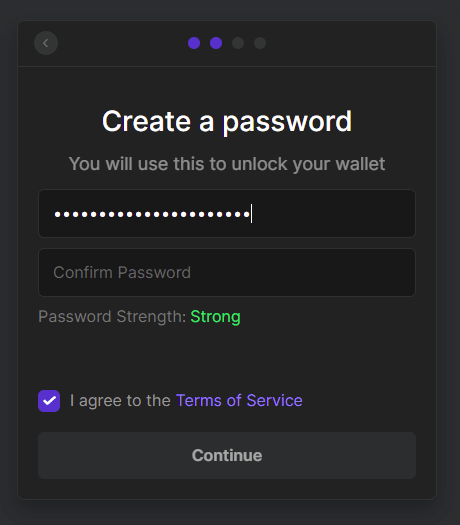 On the next screen you'll be asked to create a password which will be used to lock and unlock your wallet. Set a strong password. Next read and choose I agree to the the Terms of Service and then click continue.
You're all done! Your Phantom wallet is ready to use. Click Finish to complete the wallet setup.
Optional: For latest news and product updates you can follow Phantom on Twitter.
Twitter: https://twitter.com/phantom
Official website: https://phantom.app/
Note: Beware of the scam and phishing bots on Twitter, YouTube and other social media sites. Remember at no point the developers or the support team of Phantom will ask you for your recovery phrase. Hackers main target is your seed phrase. Whoever has access to the phrase can access your funds. So keep it safe and secure.
Alright! Now that we've completed the Phantom wallet setup let's see how to how to send receive tokens and NFTs? How to connect to DApps and how to interact with the Solana ecosystem?
How to use Phantom Wallet
After completing the wallet setup this is how the wallet looks.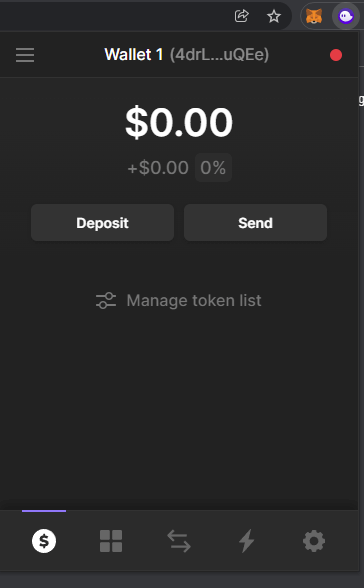 Deposit SOL & tokens
First of all to start using the wallet you need some funds. Before you send any Solana (SPL) tokens to your Phantom wallet, send SOL – the native asset of the Solana blockchain. Because to perform any transactions on the Solana blockchain you you will need some SOL to pay for transactions fees. This is similar to ETH being used as gas fee on Ethereum and BNB being used as gas fee on the Binance Smart Chain network.
Now to deposit SOL to you wallet you need to get your SOL address. At the top of the Phantom wallet you'll find your wallet address. Click on it to copy it to the clipboard. If you need a QR code then click deposit and search for Solana. The wallet will display the address along with the QR code.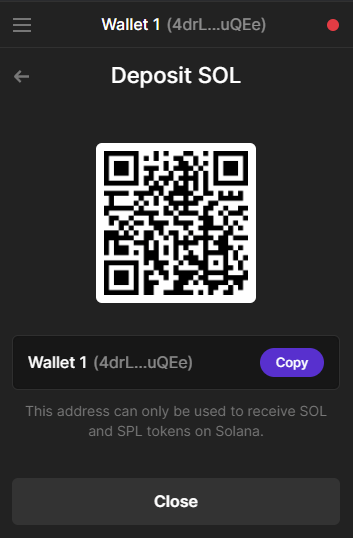 Note: The address you see in your Phantom wallet is same for Solana and all other SPL tokens. So you can use the same address to receive SOL and SPL tokens to your Phantom wallet.
Now Solana is available on a number of exchanges including; FTX, Binance and Coinbase. You can use any of these exchanges to buy SOL. But our recommendation is FTX. Why? Because by staking FTT on FTX you'll get free withdrawals on coins and tokens.
Okay, Once you acquire SOL from your favorite exchange go to withdrawal section, select withdraw SOL and paste your Phantom wallet's Solana address which you just copied. Most exchanges auto detects the network. When transferring to your Phantom wallet just make sure you are transferring via the Solana network. Avoid sending tokens to the wrong network.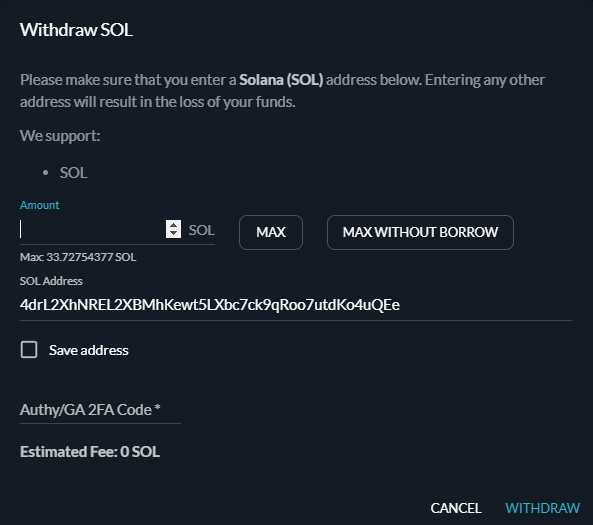 After entering your wallet address, enter how much SOL you'd like to withdraw and click withdraw. After a while you'll receive SOL to your Phantom wallet address.
Additionally the wallet also provides you an option to Buy SOL with MoonPay. You can easily buy SOL with debit, credit card or bank transfer directly from your wallet. Or you can transfer SOL and SPL tokens directly from your FTX.us account. This option will connect your wallet to FTX exchange for easy transfers.
Other than CEX you also use cross chain DeFi bridges to transfer tokens from one chain to another. For example you have Solana Wormhole, one of the most popular bridges connecting Ethereum and Solana blockchains. But be cautions and do your research when using bridges. Wormhole recently reported to be lost about $320 million of ETH in an apparent hack.
Learn how to transfer / convert ERC20 tokens to Solana SPL tokens.
You can use the following Solana explorers to track your transaction.
After transferring SOL to your Phantom wallet you can use the same method to transfer any SPL tokens. You can even transfer pegged stable coins like USDC and USDT.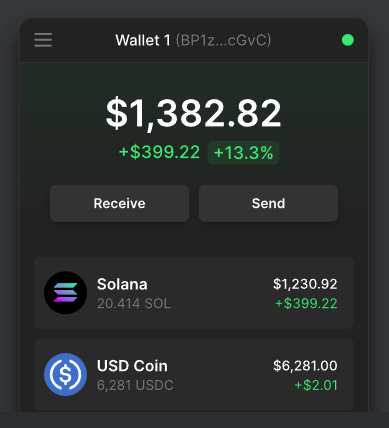 Just before transferring make sure to enable the token in your Phantom wallet. Here is how to manage the token list.
Manage tokens
On the wallet main screen click on deposit or select manage token list to manage Solana tokens.
Here you'll find the list of tokens that you can add to your Phantom wallet. Not only SPL tokens but you'll also find other blockchain pegged tokens which you can mange it using your Phantom wallet.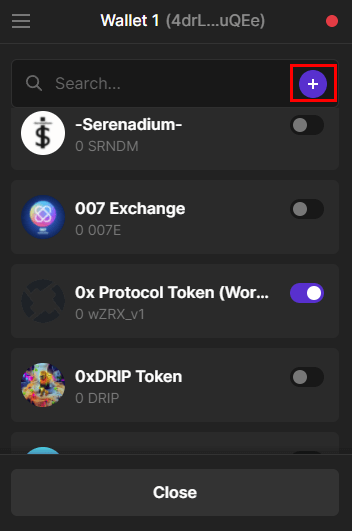 Just search for the token name or find your favorite token by copy pasting the token contract address in the search bar and enable it. If you can't find your favorite token in the search list then you'll have to manually the add custom tokens.
Adding custom tokens
Click on the + icon in the search field to add custom Solana tokens to your Phantom wallet. Its just same as how you add custom tokens in metamask and added custom tokens in sollet. All you have to do is find and add the token mint address which is the contract address, its name and the symbol.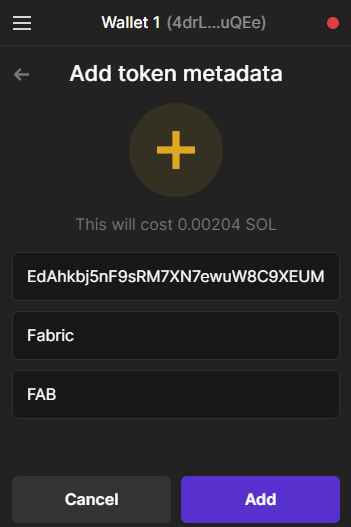 To find the token address use the Solana block explorers or the official token website. Beware of fake tokens. We suggest you to read this metamask security tips which also applies to Phantom wallet.
Now to add token metadata that is the custom tokens to your Phantom wallet it will cost you 0.00204 SOL currently and this is one time fee. After adding; the token will be permanently displayed under your account.
That's it! You can now start depositing any Solana based tokens to your Phantom wallet address.
Create new Phantom wallet address / account
After setting up Phantom, the wallet displays your address at the top. You can use it to receive SOL, SPL tokens and even NFTs.
Instead of using one address for storing all your tokens you can use separate accounts / addresses to manage your tokens and NFTs.
Here is how you can create a new address in your Phantom wallet.
Click on the burger menu icon at the top left side of your Phantom extension. It'll display your default account / address. Just below that you'll find the option to add / connect wallet.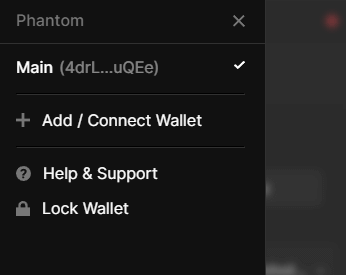 Click Add / Connect wallet and on the next screen choose "Create a new wallet" to instantly generate a new wallet address. The wallet address which you just created is associated with your main seed phrase.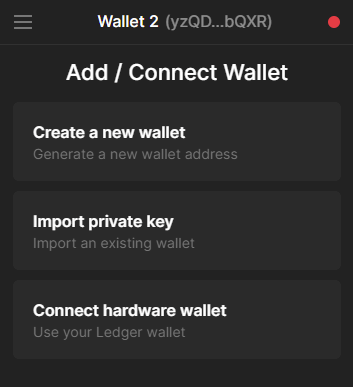 Other than creating a new wallet you can also import an existing wallet by importing private key or you can also connect your hardware wallet.
Note: We do not recommend import private key method because the private key that you import won't be associated with your wallet seed. Either create a new wallet or if you have a ledger then connect your hardware wallet. Hardware wallet adds a level of security.
Here let's see how to connect your Ledger hardware wallet to Phantom.
Connect hardware wallet (Ledger)
Like Metamask; Phantom also supports hardware wallet. But as of now it only supports Ledger. If you got a Ledger Nano device then you can store tokens and even NFTs on your Ledger Solana address. To send and manage the Solana assets you have to connect your Ledger to Phantom which will act as your hardware wallet interface.
Connecting Ledger to Phantom is same as connecting Ledger to Metamask.
We hope you have your Ledger device ready and its seed phrase secured. When using Ledger the recovery phrase generated by Ledger matters and not the one generated by Phantom. Anyways for safety reasons store both the secret recovery phrases safely.
To manage your Ledger wallet you'll need Ledger Live. Connect your device to PC and then using Ledger Live first install the Solana app on your device. Then keep the Solana app opened on your device.
Next open Phantom, go to add / connect wallet and choose connect hardware wallet. Phantom will then start searching for your hardware device.
Note: To successfully connect Ledger and Phantom you need to keep the Solana app open before connecting it to phantom wallet. Next on your Solana app allow blind sign and set it to yes. Also make sure your device isn't already connected to other software wallets like Ledger Live, Metamask or Terra Station. Also Ledger with Phantom won't work on Firefox currently. It only supports Chrome and Brave browser.
Follow the on screen instructions to pair Ledger Nano and Phantom. Once the connection is successful your Ledger wallet Solana address will be imported to Phantom. Use that address to store / manage tokens and NFTs on Solana. Also you can now interact with Solana DApps using your Ledger hardware wallet.
Managing address / accounts
Both your Ledger wallet address and the address generated by Phantom will be displayed alongside. Click on the burger menu icon at the top left to view all the addresses. By default Phantom displays all your addresses as Wallet 1, Wallet 2, Wallet 3 and so on. You can rename them for better identification.
To rename address click on the gear settings icon at the bottom right corner and there you have the option to rename account / address.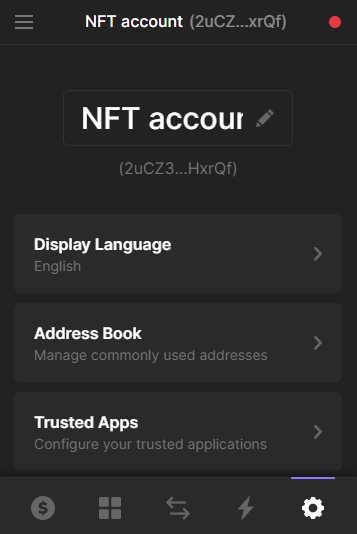 For example you can create and use a separate account / address like one for storing tokens, one for staking, have one for connecting to dapps, another one specifically for managing NFTs and swapping tokens.
Now let's explore other features of the Phantom wallet.
NFT collectibles
One of the best feature of Phantom wallet is that it allows you to store and manage NFTs and digital collectibles. Use your Phantom wallet address to deposit NFTs and the wallet will display all your collectibles. Go to NFT tab to view all of your collectibles.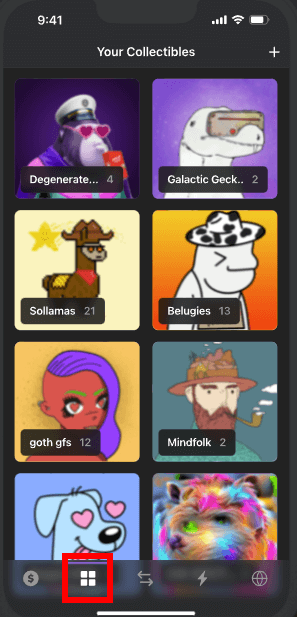 Sending Tokens and NFTs
Firstly note that for any transactions on the Solana blockchain whether it is a token transfer or an NFT mint you need to pay the transaction cost or gas fees in SOL which is the native coin of the Solana ecosystem. So make sure you have SOL in your wallet first.
To send; select the address / account and then select the token to send. Then enter your exchange address or the recipient wallet address, and also the number of tokens that you wish to send.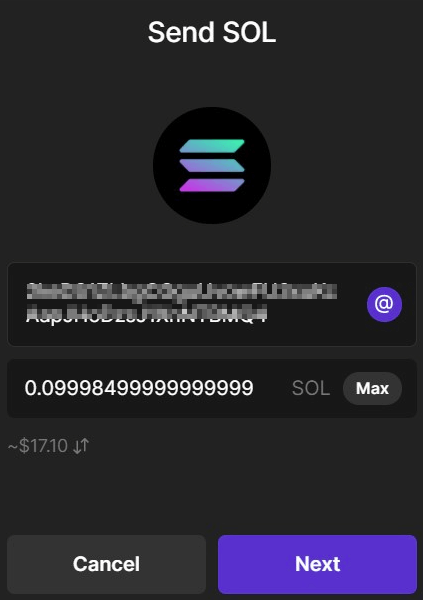 Click next and on the next screen verify all the details. Upon sending tokens; on the confirmation page Phantom wallet will display the address you are sending tokens to, how much you are sending and the fees (transaction cost). Verify it fully before you click confirm to send the transaction.
If you are sending tokens using ledger then you'll be asked to approve transaction on your Ledger Nano device.
Tip: While doing all this if your wallet gets locked then you can unlock it using the password which you set during the setup process.
Inbuilt DEX – Token swap
Phantom also has an inbuilt DEX (Decentralized Exchange) or token swap that lets you to swap two supported tokens.
To swap tokens that is for example if you wish to swap some of your SOL in your wallet to USDT instantly then here is how you do it.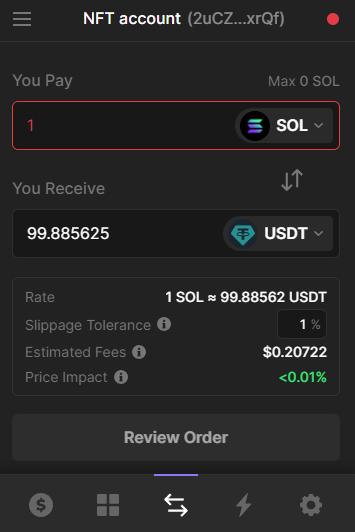 Next to the NFT collectibles menu you have the swap menu. Open swap menu and select the tokens that you wish to trade. Then enter the amount of token that you like to swap. The wallet will display the token rate and how much you'll receive after swapping. Its just like how you use Uniswap, Pancake swap and other DEXs. Set the slippage tolerance, verify the estimated fees, price impact and click review order.
On the next page review your order and then finally confirm the swap. After the swap is successful you'll see the tokens in your wallet.
Using the phantom wallet's swap function you can basically swap any Solana based tokens in your wallet.
Viewing transaction history
On your Phantom wallet next to swap menu you'll find a lightning icon. Click on it to view all your recent activity. It will display all of your transaction history.
That's it! We've covered all the features of the Phantom wallet. Let's now see how you can connect your Phantom wallet to a Dapp site so that you can start trading and interact with the Solana ecosystem.
Connect to DApp
You can now connect your phantom to Solana applications and explore the DeFi and NFT marketplaces. For example here we'll show you how you can connect your Phantom to Raydium DEX, allow the site to connect and allow it to approve transactions.
Visit the DAPP site: https://raydium.io/ and launch the app.
On every decentralized application at the top right corner you'll find an option to connect your wallet. Click connect wallet and choose Phantom from the list.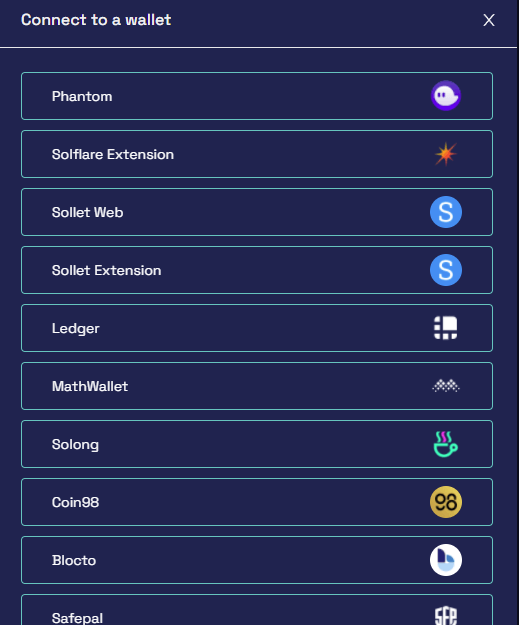 After you click connect you need to approve the connection.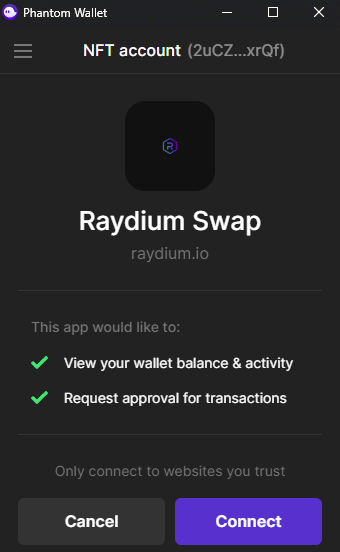 Note: Only connect to websites that you trust. After connecting; the app can view your wallet balance and activity. And it can also request approval for transactions.
Verify the details and click connect to connect your Phantom wallet to the Dapp site.
After connecting you'll see your wallet address at the top of the Dapp site. You can now start interacting with the app and start exploring its features.
Note: When you make a transaction on any DApp site using your Phantom wallet you'll be asked to approve for the transaction. Always manually approve each transactions.
To disconnect wallet from the app click on the wallet address at the top and click disconnect. You can also view and manage all the apps that you've connected to from your wallet.
Wallet Settings
To access wallet settings click on the gear icon at the bottom right corner of your Phantom wallet. Here you'll find all the basic settings.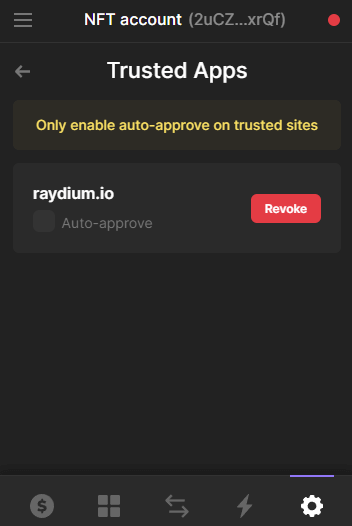 Click on Trusted apps to configure your trusted applications. It will display all the sites that your wallet is connected to, you've interacted so far using your Phantom wallet and gave permission to access your wallet. You can either revoke (remove) site or leave it as it is (keep it). But never enable auto-approve transactions and give permission even to a trusted site.
From security perspective we recommend you to not select auto-approve transactions when connecting to a Dapp. A malicious Dapp site could potentially drain your wallet.
Alright! Now on the same settings page you'll also find option to change your wallet's display language, manage address book, change wallet password, set auto-lock timer and even change the network.
Currently Phantom only supports Solana mainnet, testnet and devnet. Soon you should be able to connect your Phantom to Ethereum and other blockchains.
On the settings page you can also export private keys or if you want to verify your backup again then you can view your secret recovery phrase again.
Make sure to store your Secret Recovery Phrase in multiple places to prevent it from losing. If you lose them, you lose access to your account. Nobody can help you recover your wallet even the Phantom developers.
SOL staking
Solana is a Proof of Stake network; meaning you can stake your SOL tokens. By staking SOL you'll not only earn rewards but you also help secure the Solana network.
One of the reasons where Phantom stands out is; it allows you to stake SOL from your wallet.
Click on Solana token from the token list and just below deposit / send you'll find "start earning SOL". Select it and choose your validator from the list to start staking Solana.
We don't want to over complicate this guide. In a separate article we'll exclusively cover about SOL staking.
For now we are done with the Phantom wallet tutorial. This is how you use the Phantom app on the Solana network. Soon you should be able to use Phantom with Ethereum and other EVM blockchains.
Phantom already has millions of active users. By supporting other blockchains it will soon become the mainstream, user-friendly gateway to Web3.