Wallets
Shiba Inu token wallet – Store, Stake and Mange SHIB, LEASH, BONE
Shiba Inu (SHIB), nicknamed as Dogecoin (DOGE) killer is a competitor to Dogecoin and another popular meme token that runs on the Ethereum blockchain. Here we're making a guide on Shiba Inu wallet similar to our Dogecoin wallet guide.
Storing, managing and staking Shiba Inu 'SHIB' digital asset. How to store and manage your Shiba Inu (SHIB) token? Here let's look at the non custodial SHIBA INU wallet options available for Desktop, Web, Android, and iOS. Let's see which wallet is the best to store Shiba Inu? How to transfer SHIB to and from exchange to your wallet? How to store and manage SHIB token using your hardware wallets such as Ledger and Trezor. Also let's look at Shiba staking and lastly we'll show you how you can connect your SHIB wallet to ShibaSwap.
Before we get into the main topic let's look at what is Shiba Inu? When was Shiba Inu introduced? How many tokens were created? What kind of blockchain does it run on? What is SHIB, LEASH and BONE? And the projects of Shiba INU mainly the ShibaSwap.
Note: The following post is not a financial advise in any way. Its just a beginners guide showing you how to setup Shiba Inu wallet and use the SHIB token. Be cautious in this space. Its all speculative tokens and we highly recommend to do your own research before you invest your time and money into something.
What is Shiba Inu (SHIB)?
Shiba Inu is a project similar to Dogecoin except Dogecoin is a coin whereas Shiba Inu is an Ethereum based ERC-20 token. Understand the difference between a coin and a token. Another unique factor is that the Shiba Inu's token system supports a number of interesting projects including decentralized exchanges, Shiba art incubator (NFT marketplace) etc. Started as just another decentralized meme token has now evolved into a vibrant ecosystem.
When was Shiba Inu launched?
SHIBA INU (SHIB) token was created by an anonymous group and was launched in August of 2020. The Doge-Inspired Meme coin "Shiba Inu" received the nickname "Dogecoin Killer". While there are many meme tokens this one particularly had a massive surge in 2021 pushing it to top 10 of the crypto charts by market cap. Currently Shiba Inu ranks at 13th top crypto project with a market cap of over 6.5 Billion USD. A project with multi billion dollar market cap that continues to attract a large following and is working on bringing significant value to the crypto ecosystem.
Tokenomics: How Many Tokens were Created?
SHIB is the native token of the Shiba Inu project and is being used as an incentive for using the ShibaSwap decentralized exchange. Like Dogecoin Shiba Inu's SHIB token is also abundantly available with a total supply of one quadrillion (1000 trillion). It started with a supply of 1000 trillion SHIB tokens. Out of which 50% were locked in Uniswap and the rest were transferred to Ethereum co-founder Vitalik Buterin of which 90% has been burned permanently which was valued at $6 Billion at the time of the burn.
What kind of blockchain does it run on?
SHIB is an Ethereum based ERC-20 utility token that is created and hosted on the Ethereum blockchain. Not just SHIB but also LEASH and BONE. In addition to SHIB, the Shiba Inu ecosystem also includes two other ERC20 tokens namely LEASH and BONE. Let's see what is SHIB, LEASH and BONE.
What is SHIB, LEASH and BONE?
Shiba Inu is similar to Dogecoin, especially in terms of its intended purpose and tokenomics. However there are few unique factors that significantly differentiates it from DOGE and other meme coins.
The project has a unique three token ecosystem namely SHIB, BONE and LEASH. All three separate tokens of the Shiba Inu ecosystem are interoperable ERC20 tokens built on the Ethereum blockchain. Each grants different use cases like ShibaSwap DEX (A Decentralized Exchange), a non-fungible token (NFT) incubator and a community-wide charitable initiatives.

SHIB – SHIB is the foundational currency and the primary token of the Shiba Inu ecosystem. Having a supply of one quadrillion tokens it allows its users to hold millions, billions, or even trillions of tokens in their wallets. The main use case of SHIB is being used and incentivized on ShibaSwap, a proprietary DEX.

LEASH – LEASH was originally designed to be a rebase token with a flexible supply and marketcap that is pegged to the price of DOGE. But the team later decided to change it to unleash its full potential. Currently LEASH is another ERC-20 token having a fixed supply of 107,647 tokens and is the second token being incentivized on ShibaSwap. LEASH will offer lucrative rewards to its holders for providing liquidity on ShibaSwap.

BONE – BONE serves as Shiba Inu ecosystem's governance token. There are 250,000,000 BONE tokens in supply. Being a governance token it allows the users of #ShibArmy to vote on upcoming proposals especially the Doggy DAO. It grants users the voting power based on the amount of BONE tokens they hold.
Shiba Swap
Lastly a mention on Shiba Swap. Shiba Swap is the main product of Shiba Inu ecosystem. It's a decentralized exchange (DEX) similar to Uniswap and Sushi Swap. It facilitates a safe and user friendly environment to trade crypto tokens in a decentralized manner.
ShibaSwap gives users the ability to stake (BURY), to provide liquidity (DIG), and SWAP tokens. Through Shiba's sophisticated and innovative passive income reward system users can gain WOOF Returns.
Other than these the platform features NFTs and also allows its users to access various tools such as portfolio trackers to make crypto simple.
To know more about the project Shiba Inu check out their official website: https://shibatoken.com/
Shiba Inu (SHIB) wallets
What is a SHIB wallet?
A Shiba Inu wallet is a software that allows its users to store and manage their SHIB. In fact the token SHIB is not actually held on the wallet but on the blockchain. The wallet just holds the keys for you to access the token stored in the blockchain. Shiba wallet lets you keep SHIB, BONE and LEASH. You can send these tokens, receive, exchange the tokens and perform various other operations with the Shiba Inu ecosystem.
So where should I keep my SHIB and what is the best wallet to safely store Shiba Inu tokens? What wallets supports SHIB? Does Shiba Inu have their own wallet? Can I send SHIB to an Ethereum wallet?
Shiba Inu project does not have its own dedicated wallet. There is no specific wallet from the developers of Shiba Inu. However the infrastructure to store and transact SHIB token already exist within most Ethereum wallets. Shiba Inu (SHIB) being a ERC20 token it relies on the Ethereum network. So any Ethereum based wallets that supports Ethereum and ERC20 tokens can also support SHIB. You can use any ERC20 wallet for storing and utilizing SHIB tokens.
Because SHIB is an ERC20 token any Ethereum wallet can be used to store and use your Shiba Inu tokens. However not all Ethereum wallet provides full functionalities and there are some that will not allow you to view your SHIB tokens. Make sure to double check before you pick a wallet and send your SHIB tokens to your wallet address. So what to look for in a SHIB wallet?
Choosing the right Shiba Inu wallet
Two popular wallets that support SHIB, LEASH and BONE are Trust Wallet and MetaMask. Because all three tokens are an ERC20 token you can safely send them to your Metamask or Trust Wallets Ethereum address. Other than this you can also use the hardware wallets such as Ledger and Trezor for safe keeping your SHIB tokens. Whichever wallet you choose make sure that particular wallet gives you full control of your private keys. And never keep tokens on an exchange for a long period of time unless you intend on trading with them.
Ultimately you will want to select a wallet that meets your needs. Some just simply want to hold their SHIB hoping for higher prices in future. Some on the other hand wish to participate in DeFi where they can utilize their SHIB tokens.
If you are looking for just long term storage then look no further than hardware wallets such as Ledger or Trezor. Both the wallets are universally accepted as the most safest and secure wallet to store crypto tokens for longer periods. Also they both work great at interacting with the Ethereum and other Ethereum based networks such as Binance Smart Chain. So you can store your SHIB on any network safely for long periods of time.
If you are person who will be using your SHIB regularly on DeFi protocols such as to trade, stake then choose wallets like Trust Wallet or Metamask. They are the right choice for you. Here are few other wallet mentions that you can use for Shiba Inu. All these wallets provides a safe and convenient way for storing SHIB and Shiva Inu tokens.
Metamask (Web browser extension and Mobile app)
Trust Wallet (Mobile – iOS and Android)
Exodus (Desktop & Mobile iOS and Android)
Atomic Wallet (Desktop & Mobile iOS and Android)
Zen Go Wallet – Another ideal SHIB crypto wallet that lets you store, buy, trade, send and receive SHIB and other tokens.
Except for the hardware wallet all other wallets mentioned here are free Shiba Inu wallets which you can use to send, receive, exchange and secure your Shiba Inu assets. You control your private keys and you can use them to manage 100s of other tokens
All these wallets allows you to send receive SHIB either easily using scannable QR code or with Shiba Inu address. When transferring funds to avoid mistakes make sure you copy paste the address from wallet instead of typing out each individual character of your ETH address. Some wallets even lets you buy / sell SHIB directly from your wallet and allows you to swap / exchange it for other currencies like BTC, ETH etc. You can view your SHIB portfolio, check your SHIB balance in fiat currencies and monitor exchange rates in real time.
Alright! Let's now see how to setup a wallet for storing and managing SHIB. First we'll cover the hardware wallets Ledger and Trezor.
Storing SHIB on Ledger
Can I store SHIB on ledger? Sure, using Ledger hardware wallet you can securely store multiple assets including Shiba Inu. The private keys that gives access to your assets remain safe in a secured chip.
To store Shiba Inu on Ledger device you can either use the Ledger Live software or connect the device to a third party software like Metamask.
Now before you send, transfer or store your Shiba Inu (SHIB) on Ledger device, Trezor or any wallet you first need ETH.
Why ETH for SHIB? Here you can learn why you need ETH for ERC20 token transfers. Shiba Inu (SHIB) is an ERC20 token meaning the token is created and runs on the Ethereum blockchain. On Ethereum blockchain for all the transactions including ETH and ERC20 tokens the fee is paid in ETH. So you need ETH to process token transfers. Before transferring SHIB make sure you have ETH in your wallet. You can send SHIB to your wallet without any problem but to send it out that is to transfer to another address later on you'll need ETH to cover gas fees.
Here we'll not be doing a step by step tutorial on storing Shiba Inu as we've made similar guides previously and so we'll link to that. Here is how you can manage Shiba Inu (SHIB) on your Ledger device directly with Ledger Live. The ledger live process for storing and managing Shiba Inu SHIB is compatible with both Ledger Nano S and Ledger Nano X devices.
First open Ledger Live and connect the Ledger device to your PC. Unlock the device and make sure you have the Ethereum application installed on your Ledger device. If you don't have then choose Ethereum application on Ledger live and click install. Next you need to send some ETH to your Ledger's Ethereum address. Once you have some Ether in your wallet you can send SHIB to the same address. Before you transfer Shiba Inu token to your existing Ethereum address do the following.
On Ledger Live go to accounts >> Ethereum and click add Token. You'll find an additional token button for ERC-20 tokens. Now drop down the token select menu and choose Shiba Inu (SHIB) from the token list.
Once the Shiba Inu (SHIB) token is added copy the address which is the same Ethereum address. Then verify the address on your device. After confirming you can transfer SHIB tokens from exchange to your wallet address. When transferring from exchange make sure you've chosen ERC20 network for transfers. Use Etherscan explorer to track your transfer. Once the transaction is successful the SHIB token will show up under your accounts portfolio section. That's it! You can now securely mange your SHIB using Ledger Live.
Okay. Now how about if I want to transfer Shiba Inu via Binance Smart Chain network?
Storing Shiba Inu on Ledger BNB Smart Chain
Shiba Inu is originally an ERC20 token that relies on Ethereum network. While it is created using Ethereum network the same token can also be transacted on BNB Smart Chain as a pegged BEP20 token. Gas fees on BEP20 network is very low compared to Ethereum network. For this reason users wish to transfer it via BNB Smart Chain network. However Ledger Live does not officially support BEP20 network as of yet.
To store and manage Shiba Inu (SHIB) token on Ledger using Binance Smart Chain you'll have to use Ledger with Metamask.
Shiba Inu Trezor support
Similarly if you own Trezor hardware device then you can use the official Trezor suite app to manage Shiba Inu. Connect your Trezor device to PC. Open Trezor Suite and add Ethereum account if you haven't already. Once added you can use your Trezor's ETH address to transfer Shiba Inu. The token will show up under My Accounts >> Ethereum >> Tokens.
However like Ledger if you wish to manage tokens on the BNB Smart Chain network or if you wish to use the Shiba Inu token on DeFi protocols then we suggest pairing your hardware device with Metamask.
Is MetaMask a SHIB wallet?
Metamask is designed for the Ethereum blockchain and also works with other networks such as BNB Smart Chain. It's a free open source web browser extension available for Chrome, Brave and Firefox. It provides the most simplest and secure way to connect and interact with the Ethereum network and other EVM based networks.
You can use Metamask separately or use it in conjunction with a hardware wallet such as Ledger or Trezor. If you don't already have one then first setup Metamask wallet.
Create MetaMask wallet
Setting up Metamask extension is as simple as setting up any other app. Visit Metamask.io, download and add the extension to your browser. You can setup a MetaMask Wallet either using a desktop computer or mobile device (supports iOS & Android mobile device).
Once downloaded and installed, open Metamask create a new wallet, make sure to write down your seed-phrase and confirm it. That's it! Your wallet is ready. The application will now allow you to buy, sell, send, and receive SHIB, LEASH and BONE.
Check out the following guide for step by step instructions on how to setup and use Metamask.
Now before transferring SHIB to your Metamask address first send ETH to your wallet. You can buy ETH from exchanges like Binance and transfer it to your Metamask address. When transferring make sure to select the ERC20 network. Once you have ETH in your wallet you can then transact SHIB to your MetaMask wallet. Keep in mind, SHIB is an ERC20 token and so make sure you are transacting on the Ethereum Mainnet.
Not only you can transfer ECR20 tokens to this address but you can also use the same address for BEP20. But first you need to conenct your Metamask to Binance Smart Chain. Once the network has been added you can start sending tokens to your Metamask address via the BEP20 network.
After the transfer if the SHIB, LEASH or BONE token doesn't show up in your wallet then don't panic. You just have to add the custom token that is the SHIB token contract address into Metamask.
How to import SHIB into MetaMask?
Note: To add the SHIB token to metamask you first need to find the token contract address which you can find it on Etherscan.To find ERC20 token address use Etherscan.io and to find BEP20 token address using BSCscan.com.
Go to Etherscan and search for SHIB, LEASH or BONE custom token. Copy the token contract address and go back to your Metamask. Now click add token and add the custom token to your Metamask. Just enter the token contract address and Metamask will automatically updates the token symbol and decimal units.
To make things simpler we've listed out the token contract addresses below. Use it accordingly.
ERC20:
SHIB ERC20 token contract address: 0x95aD61b0a150d79219dCF64E1E6Cc01f0B64C4cE
LEASH ERC20 token contract address: 0x27C70Cd1946795B66be9d954418546998b546634
Bone ShibaSwap (BONE) ERC20 token contract address: 0x9813037ee2218799597d83D4a5B6F3b6778218d9
BEP20:
Binance-Peg SHIBA INU Token (BEP 20) contract address: 0x2859e4544C4bB03966803b044A93563Bd2D0DD4D
Learn how to add custom tokens on Metamask. You can add any ERC20 or BEP20 tokens to Metamask pretty easily.
That's it! You have created a Shiba Inu wallet. You can now transfer SHIB from Binance or Coinbase to Metamask.
For hardware wallet owners to manage Shiba Inu using your Ledger or Trezor hardware you only need to connect your device to Metamask. We recommend this guide. Learn how to connect Ledger and Trezor hardware wallet with Metamask.
Also learn how you can store and manage any tokens or NFTs using your hardware wallet.
Like Metamask you can also use Trust Wallet to store and manage SHIB. You can download Trust Wallet for Android or iOS.
Sending SHIB from wallet to exchange
To send SHIB token back to your exchange account from wallet you just have to send the token to your exchange accounts SHIB deposit address. Usually it is the same deposit address as ETH for SHIB so you can send the tokens directly to your ETH deposit address. But first verify it before you make the transfer.
To deposit SHIB token onto an exchange from a wallet first ensure that the exchange you wish to send your SHIB to actually supports SHIB. Once you've verified that hit the SHIB deposit button and copy the address shown. Because SHIB is an ERC20 token you'll need ETH for transferring your tokens. Paste your exchange address on the send tab of your wallet, input the amount to send and take note on the network fee that you'll be paying to send SHIB. Once you are comfortable with the transfer details click send. Once the transaction gets confirmed on-chain your Shiba Inu tokens will be send to your exchange address and it'll reflect under your account. To view the status of your transfer you can check your transaction on block explorer.
Staking Shiba Inu
It doesn't matter which wallet you are using to hold Shiba. Whether it is your hardware wallet, Metamask or Trust wallet you can stake Shiba Inu. In order to stake SHIB the functionality is not available inside your wallet. You need to connect your wallet containing SHIB to Shiba Swap.
Shiba Swap is a DeFi protocol and a DEX (decentralized exchange) that allows users to stake SHIB, SWAP tokens and provide liquidity. You can even buy / sell trade tokens such as LEASH and BONE through ShibaSwap which are not available for trade on CEXs.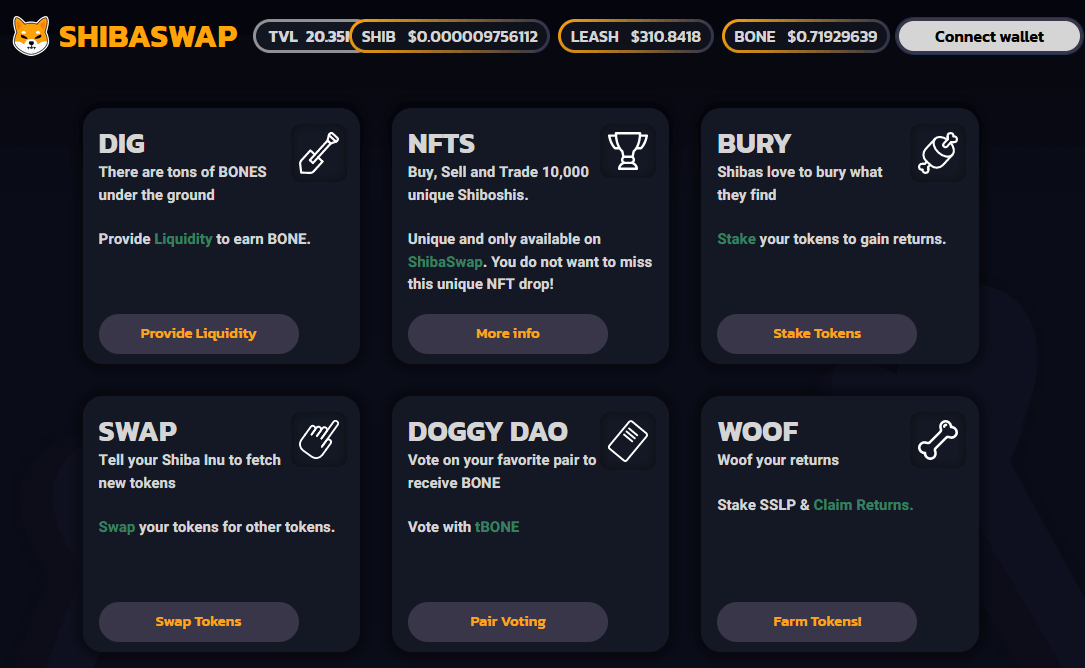 Here is how to connect your wallet to ShibaSwap. Visit https://shibaswap.com/ and click connect to a wallet at the top right corner. Choose Metamask, Wallet Connect or Coinbase Wallet. Once connected your Shiba Inu balance will reflect in the DApp site. You can now start staking to gain rewards, swap ETH for SHIB, LEASH or BONE, buy NFTs, trade and provide liquidity to earn BONE.