Trading
Cryptocurrency portfolio trackers that tracks wallet & exchange portfolio
Crypto portfolio trackers – Track Binance, Bybit & FTX exchange accounts.
Are you looking for the best crypto portfolio tracker that you can use to track the portfolio of both your wallet and exchange accounts? Check out this list of portfolio trackers.
To track your wallet portfolio all you have to do is watch your wallet address. Or you can just import your wallet address into one of the portfolio trackers. But how do you track your exchange accounts portfolio? You can't use your exchange deposit addresses as they are only used temporarily and often the funds are moved to a cold storage. Here let's take a look at tracking Binance, Coinbase, Bybit, FTX, BitMEX and all of your exchange accounts portfolio from one place.
You might have so many coins spread across various exchanges. Even if you are using only one exchange then you might have funds spread across different places like spot exchange, future derivatives platform, options, savings account, staking pool etc. You might even have several open positions. If you are like us who have coins in various places then you know how difficult it is to track them all.
Whether you are keeping your crypto on a hardware wallet, mobile wallet, exchange account, savings account or on a liquidity pool. Opening wallets and logging into each of these platforms manually everytime is going to be time consuming and it can be quite a hassle. This is where crypto portfolio trackers come into play. These portfolio management tools help you to track and manage your diverse crypto investment portfolio.
Note:
The following post is for those who are looking to track their wallet and exchange accounts (Centralized exchanges). However if you're into DeFi space and are looking to monitor / manage your DeFi portfolio held across multiple wallets & multiple networks then check out our DeFi portfolio trackers. To track your DEX and DeFi portfolio all you have to do is connect your web3 wallet. It can be MetaMask, Ledger or WalletConnect. Using those trackers you can keep track of your DeFi investments and trade activity on Ethereum, BSC and various other networks.
Crypto portfolio trackers & portfolio management apps
Most of us crypto users use different wallets and store funds across multiple blockchains for different reasons. Manually keeping track of all those crypto and their net worth can be a hassle. Some technically savvy people use their own Python program to track their portfolio performance and some people still use the traditional spreadsheet way for managing their portfolios. To make things easier there are tools called portfolio trackers that makes the portfolio tracking process more convenient. You no longer have to manually verify addresses or record transactions on a spreadsheet.
What are cryptocurrency portfolio trackers?
A crypto portfolio tracker is a website or a software app that helps you to track the value of your cryptocurrency assets such as (BTC, ETH, BNB, SOL etc.). These portfolio trackers and portfolio management apps allows you to track the total amount and the total value of all of your assets that held across various wallets, exchanges and blockchains in real time. They give you a better idea of how each of your assets are performing in real-time. Not only you can know how the value of your coins are changing but it also helps you in managing your investments.
Portfolio trackers can be linked to both your personal wallets and cryptocurrency exchanges. Once linked and your wallet / exchange account is fully synced the tool simplifies the way you track your assets performance. These applications work by tracking all your incoming and outgoing transactions that occur on the blockchain and that take place internally on the exchange. They track historic transactions, wallet destinations / sources and their net worth.
Other than just providing real-time updates on the value of your holdings, there are trackers that even support trading assets. They allow you to make trades or exchange assets easily that are held on multiple crypto exchange.
Exchange portfolio trackers
Majority of traders both intermediate and advanced cryptocurrency traders use various trading platforms simultaneously for different purposes. If you have coins or tokens on various trading exchanges then it's important that you track your assets performance on all those exchanges.
Most crypto portfolio trackers other than just tracking crypto wallets they also can integrate with actual crypto exchanges. All you have to do is connect your wallet and exchange accounts to these portfolio trackers. After connecting they'll track your entire crypto portfolio, transactions and sync trades from all your preferred exchanges. By monitoring data from exchanges you can keep keep track of your gains in real time and you won't miss out on any investment opportunities.
if you're trading crypto on a regular basis then you need to analyze your trades, follow live prices and track the returns from each coins so that you don't miss out on any potential trading opportunities. Those portfolio trackers that can integrate with exchanges can help you to evaluate your trading performance. You'll be aware of your trades profits and losses and that in turn helps you to position your portfolio better. Not only it helps with your trading or investing strategies but some of the tools listed here also assist you in taxes and reporting.
Features of portfolio tracker
Whether you're an investor or a trader its important that you monitor your crypto portfolio and the so called portfolio trackers can benefit you in many ways. Here are some of the features of cryptocurrency portfolio trackers.
A portfolio tracking tool can connect to multiple wallet and exchange accounts via APIs. This will fetch the balances of all your positions and provides you with more detailed analytics and metrics. You'll see a breakdown of all your assets by category across all crypto exchanges.
Using portfolio tracker you can view your real time wallet balance. It also enables you to view the value of your entire crypto holdings in different fiat currencies such as USD, EUR, JPR, CNY, INR etc. in real-time. It also provides instant price alerts on market movements.
If it is tracking your trade account then you can view the overall PnL in both FIAT & BTC. It enables you to view realized and unrealized gains and full trade history. It also generates real-time reports on profit and loss and displays the performance chart. You'll get to know how much money you've made and its current value. It'll monitor all your exchange deposits, withdrawals and it keeps track of all your crypto balance across all connected exchanges. Some of these trackers also lets you to manage and trade assets (buy and sell) across different exchanges.
You can watch live positions, view in depth trade analysis, visualize balance history and some of the tools even takes care of tax reports. You can generate and download CSV reports of your trades to help with the crypto tax reports.
Crypto portfolio trackers – Tracking exchange & wallet
Crypto portfolio trackers are for those who are looking for a way to keep track of their cryptocurrency gains & losses.
There are many cryptocurrency portfolio trackers out there but some of them do lack support for API entries. Meaning they don't have API integration with exchanges and so you can only track wallets address and not exchange accounts.
We've done some research and made this list of portfolio trackers that you can use to track your entire crypto portfolio including your exchange portfolio. You can manually import the wallet address or you can import the transaction data with API. All these tools support multiple wallets and multiple exchange accounts via the API keys. You can import your desired crypto wallets or an exchange accounts transaction with the API key or through CSV upload.
Sync your portfolio with 100+ exchanges. You can easily import trades directly to these tools from popular exchanges such as Binance, Binance.us, Coinbase, Coinbase Pro, Bybit, BitMEX, FTX, Bitfinex, Bittrex, Poloniex, Gemini, Kraken, Deribit, Crypto.com, OKEx and many others. You can also import wallets such as Ledger, Trezor, Exodus, Electrum, etc.
List of portfolio trackers
The following portfolio tracker offers connectivity with all of the exchanges you're on. It works with data from multiple blockchains, wallets, and exchanges. Connect and track over 100+ wallets and exchanges in one place.
The list contains both open-source (free) and commercial (paid) software. Also some are cross compatible meaning their tools are available for both mobile (Android and iOS) and desktop (Mac, Linux and Windows operating system). Some on the other hand are only available for either mobile or desktop. First try out the basic free version of the tracker. Once you find the tracker to be useful then you can proceed with the pro paid version.
Coin Market Manager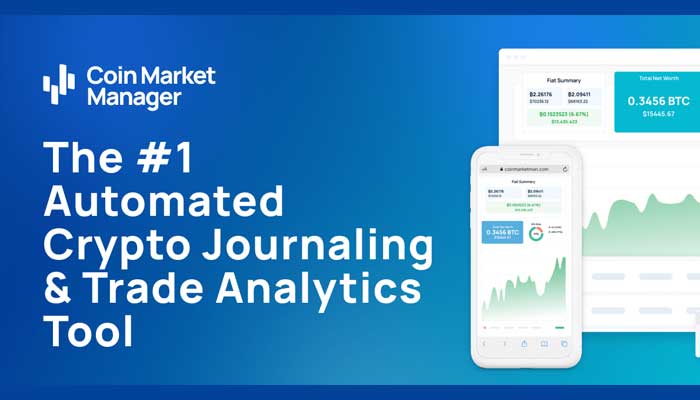 Coin Market Man is one of the first crypto portfolio trackers. Its an automated journaling & analytics tool for crypto traders. This platform facilitates connection with your preferred exchanges so that you can mange all your accounts from one place. Easily connect exchanges through a read-only API. It is compatible with Bybit, Binance, FTX, BitMEX, Deribit and Bittrex. This tool is perfect for intra-day and swing traders to monitor their trading progress and to analyze performance.
Features: Provides in depth portfolio tracking & analytics including performance analytics, trade history breakdown and overall exchange PnL. You can view past trades, monitor profit / loss and track progress of your live trades. All your open trade positions value moves in real-time. Connect to multiple exchange to track all transactions in and out of the exchange. You can view all deposits/withdrawals and monitor all your exchange balances. Monitor your spot assets and also watch your margin balance in both BTC and any FIAT currency of your choice. It also features several trading tools & stats.
Coin Market Man is the most comprehensive trade tracking and analytics tool.
Try Coin Market Manager: https://app.coinmarketman.com/
CoinStats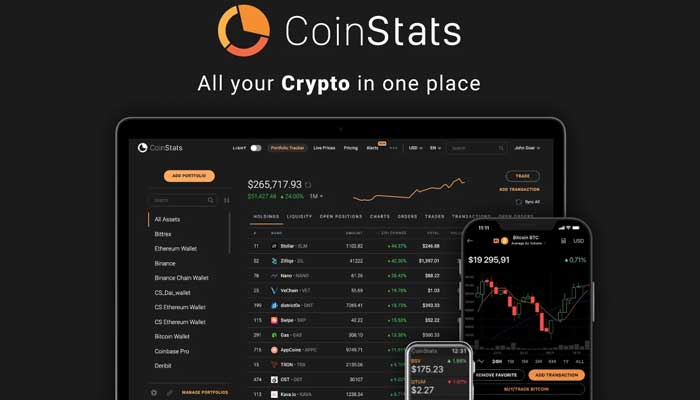 CoinStats is the most trusted and one of the largest portfolio manager platform. Its a crypto prices and portfolio tracker app. An all-In-one platform for managing all your crypto and DeFi assets. One Dashboard for Everything. Provides seamless portfolio management that you can use to manage your crypto and DeFi portfolio from one place. CoinStats supports most of the popular cryptocurrency platforms; including Binance, Bybit, Coinbase, FTX, Kraken, Kucoin, Bitstamp and 500 others. To start tracking securely connect your exchange using API connection. Its quick & secure.
Features: Allows API connection and CSV uploads. Tracks noncustodial wallets. Allows manual adding of wallets from Ledger, Metamask, Ethereum, Binance, Trust Wallet, and 30 other sources. Stores your API Keys securely on an AWS vault service.
CoinStats provides complete web and mobile experience. But is best for mobile users. It supports thousands of assets across over 100 different exchanges. Track and trade across major exchanges from one account.
Try CoinStats: https://coinstats.app/
CoinTracker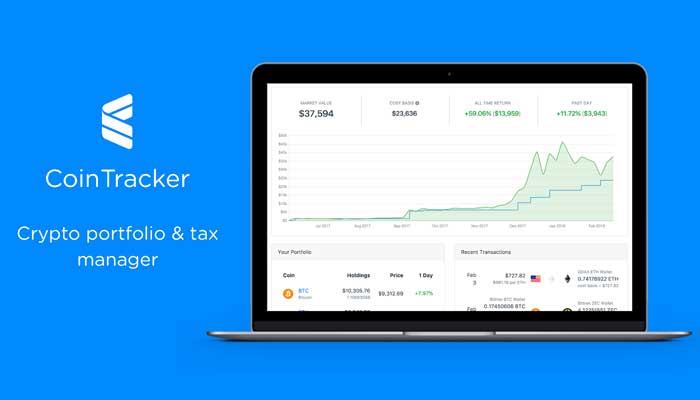 CoinTracker.io is an Bitcoin taxer, crypto portfolio tracker and prices calculator. You can connect your wallets & exchanges, review transactions and get portfolio insights & tax reports. This automated portfolio tracker helps you to view your investment performance, its market value, and portfolio allocation in real time and for tax purposes.
CoinTracker helps you become fully compliant with the cryptocurrency tax rules. Both crypto & NFT taxes are done fast easily by syncing wallets and by generating tax forms. They are the official partner of Coinbase and OpenSea.
Features: Download your tax reports in minutes and file with your own accountant. Full support for US, UK, Canada, and Australia. It also supports 300+ exchanges including popular ones like Coinbase and Binance, and eToro, & 10,000+ cryptocurrencies. You can connect your wallets like Ledger and Trezor and generate real-time data regarding the assets. CoinTracker will start tracking every trade, deposits / withdrawals and other transactions.
Its best for tracking your crypto portfolio and for generating tax reports.
Try CoinTracker.io: https://www.cointracker.io/
CoinTracking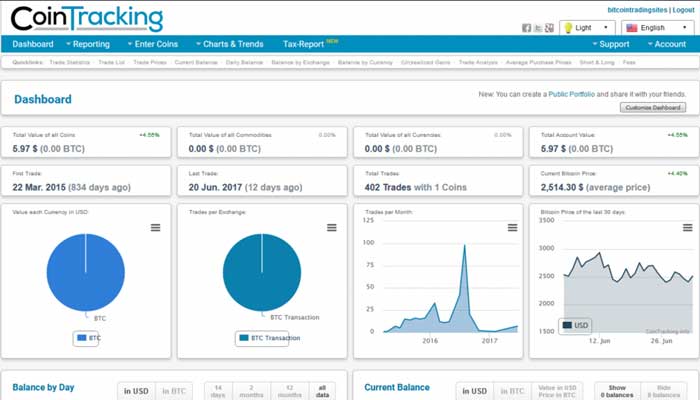 CoinTracking is a Bitcoin and crypto currency portfolio and tax reporting tool. Its one of the leader in cryptocurrency portfolio tracking and tax reporting. It analyzes your trades and generates real-time reports on PnL, realized and unrealized gains, the value of your coins, reports for taxes and much more. With support for over 20000+ assets you'll have a complete overview of your portfolio.
Not only track portfolio but also allows you trade assets held across nearly 50 exchanges. You can either import CSV files or import trades via APIs to directly sync with the exchange. Connect with all major exchange to view balance and to download your trade activity. It also supports importing of data from hardware wallets such as Ledger & Trezor.
With this tool you'll able to see how much value you have in each crypto exchanges and check on how each of your crypto assets are performing in real-time.
Features: Facilitates tax declaration (12 independent tax methods in formats required by different regions). Generates tax report for 100+ countries on capital gains, income tax and mining tax. Customizable crypto reports. Detailed coin charts & trends, displays top coins by trades and by volume. Interactive charts for trades and coins. Shows coin trends, statistics and analysis. Realized and unrealized gains and profit / loss audit reports. Follows highest security & encryption standards.
Try CoinTracking: https://cointracking.info
Shrimpy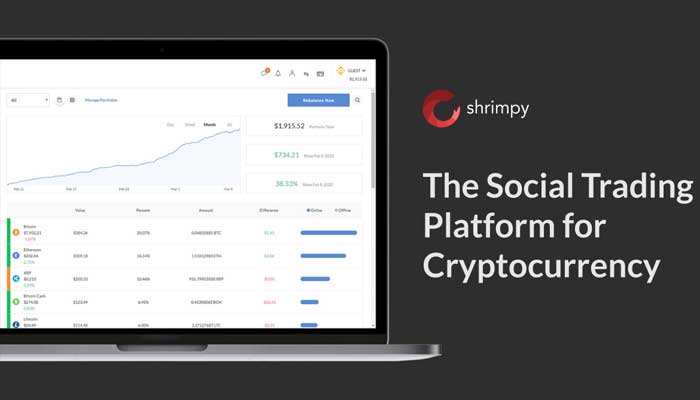 Shrimpy helps you to build a portfolio strategy, track your portfolio performance and monitor the market. It supports over 30+ crypto exchanges. Whether you're an investor or a traders you can easily link all your exchange accounts / wallets with Shrimpy and manage all of your crypto portfolios in one place,
Other than tracking cryptocurrency portfolios it also lets you trade assets that are held on many supported multiple exchanges. Trade with ease, track your performance, and analyze the market. Monitor the market in real-time and manage your entire portfolio through a single portal.
Features: Back-test strategies to study trading strategies with advanced portfolio back testing. Automate trading and set portfolio stop-losses. Copy trading allows you to copy top traders and their strategies from the world's best traders. Or even imitate the portfolios of investment funds like Blockchain Capital, Binance Labs, Coinbase ventures etc. Creates dynamic indexes that tracks both crypto and DeFi market.
Try Shrimpy: https://www.shrimpy.io/
Accointing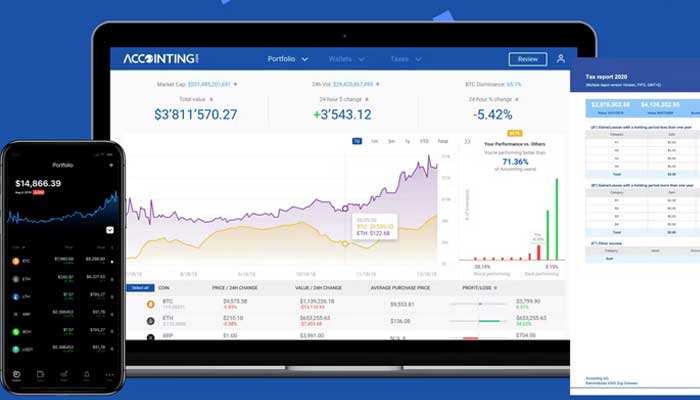 Accointing is a platform for crypto tax needs. Its a Bitcoin and crypto tax software, a crypto portfolio tracking as well as an insights tool. ACCOINTING.com enables you to connect all your wallets and exchanges automatically and helps you track and file your Bitcoin and other cryptocurrencies. It supports over 300 wallets and exchanges. Connect your wallets and exchanges with the help of API. Instantly import all your transactions, import trades, track portfolio, and file your crypto taxes. Accointing helps you review your crypto portfolio and get valuable insights.
Features: ACCOINTING.com is available for both mobile and desktop. You can use the single dashboard for crypto tracker, to analyze your performance and to deep dive on your transactions in real-time. Track your portfolio and file your crypto taxes. Easily report your crypto taxes by yourself using TurboTax or with crypto tax advisors. Easy to file all your crypto taxes as It only takes few clicks to get your crypto tax reports. Tax reports available in FIFO, LIFO and HIFO based on generally accepted tax principles around the world. Review the performance of the overall crypto market, set up alerts and you can also research trending tokens from within the app.
Try Accointing: https://www.accointing.com/
Koinly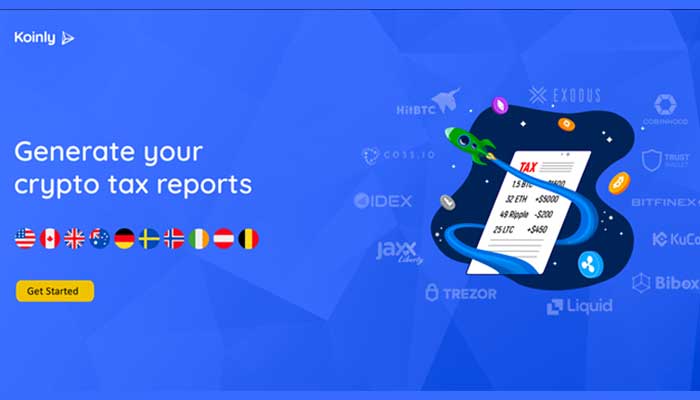 Koinly is another free cryptocurrency portfolio tracking app & tax reporter. With Koinly you can see your total holdings, its ROI, growth over time, profit / loss for any tax year & view realized and unrealized capital gains on a single dashboard.
This tool calculates and generate cryptocurrency tax reports in under 20 minutes. Available in 20+ countries and you can easily import your trades from over 300+ exchanges and wallets.
Features: Form 8949, TurboTax. Adding exchange accounts via API or CSV files. Connect to blockchain wallets using public addresses. Tracking DeFi, margin trades, futures account. Easily track everything and see how much your portfolio is up or down. Generate tax documents and download comprehensive tax reports. Whether you are filing the tax yourself, working with an accountant or using a tax software like TurboTax; Koinly does its job.
Try Koinly: https://koinly.io/
Coinpanda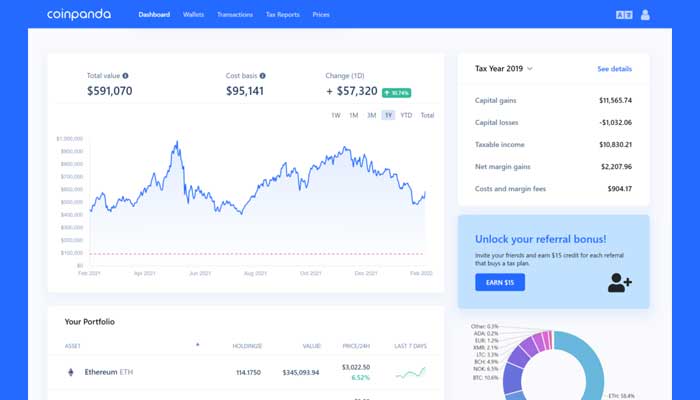 Coinpanda is a free bitcoin and crypto tax software that calculates your Bitcoin and crypto taxes. It is one of the most reliable and easy-to-use tax solution for cryptocurrencies, DeFi, NFTs and Staking. Coinpanda has direct integration with more than 500+ exchanges, wallets, and blockchains. Keep track of all your transactions across all major exchanges and wallets to see how your portfolio performs over time. Track all your futures & margin trades from Binance, Bybit, Deribit, FTX, BitMEX, and other major exchanges. Gain insight into your trading activity and habits. You can import all your historical transactions using API keys or CSV files.
Automatically generate tax reports for capital gains and income and file your tax return in under 20 minutes. The tool also helps you to learn how to reduce your taxes for next year. Features free tax report preview and supports over 65+ countries.
Try Coinpanda: https://coinpanda.io/
Cryptowatch
An exchange portfolio tracker that helps you to manage all your holdings across exchanges with a single login to Crypto watch. Supports all major exchanges such as Coinbase, Coinbase Pro, Bybit, Bitfinex, Bitstamp, Kraken, Poloniex, Binance, Binance.us, Kraken Futures, FTX, Bittrex, Gemini, BitMEX, Deribit, OKEx, Kucoin, Huobi Global, Poloniex, gate.io, crypto.com and many others.
Cryptowatch: https://cryptowat.ch/
Kubera
Kubera is a modern net worth tracker and your own personal balance sheet. Its an automated net worth tracking tool that enables you to track your global net worth. Tracks multiple crypto assets from multiple exchanges. Supports tracking of crypto assets including DeFi and NFTs. Supports 10,000+ crypto assets from multiple wallets and an unlimited number of exchanges. Track stock & crypto portfolios. Supports global banks, brokerages, currencies & more.
Kubera: https://www.kubera.com/
Blockfolio (FTX)
FTX previously known as Blockfolio use to be a cryptocurrency portfolio tracker app. But since FTX acquired it now it also allows you to buy / sell Bitcoin, Ethereum, Dogecoin & more, securely in minutes.
Blockfolio (FTX) is trusted by over 6 million people. You can use this tool to buy, sell, and track your favorite cryptocurrencies. The most complete crypto app, that displays latest prices for over 10,000+ cryptocurrencies.
It also has the functionality to directly connect with the popular crypto exchanges to import your trade activity. Allows users to integrate multiple wallets and nearly 15 cryptocurrency exchanges. Blockfolio currently supports Binance, Bitfinex, Bittrex, Coinbase + Coinbase Pro, OKEx and Poloniex. Available on App Store and Google Play. Start tracking your crypto portfolio from anywhere.
Blockfolio: https://blockfolio.com/
Delta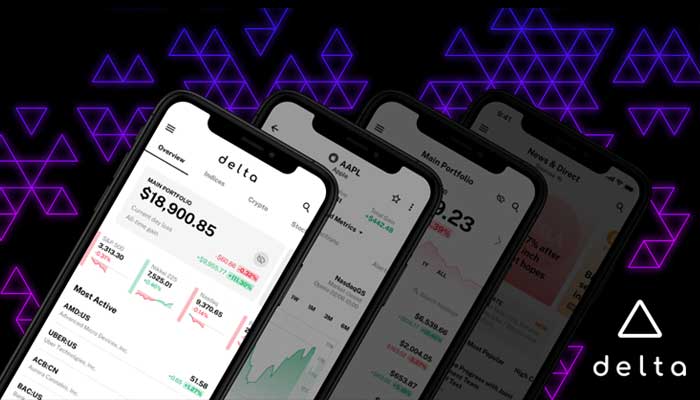 Delta tracker is a tool to track your crypto portfolio and all your other investments. Its a multi asset investment tracking app that allows you to manage various portfolios including stock, crypto, ETF, indices, forex and many more assets. Get a overview of your total portfolio balance, profit & loss and track its live performance.
It features powerful tools and charts and is best for tracking multiple asset classes. Get live access to the price movements of all cryptocurrencies, popular stocks, mutual funds, bonds, ETFs, indices, futures, and options. Has crypto exchange API connectivity. Delta can connect with multiple exchanges to import your balances and trade activity. Set price alerts and get notified whenever there is a significant change in your portfolio. With Delta app, you can easily keep track of your crypto portfolio's value, profit/loss and your current positions. Also stay up to date with the latest crypto price movements and news.
Delta: https://delta.app/
Crypto Pro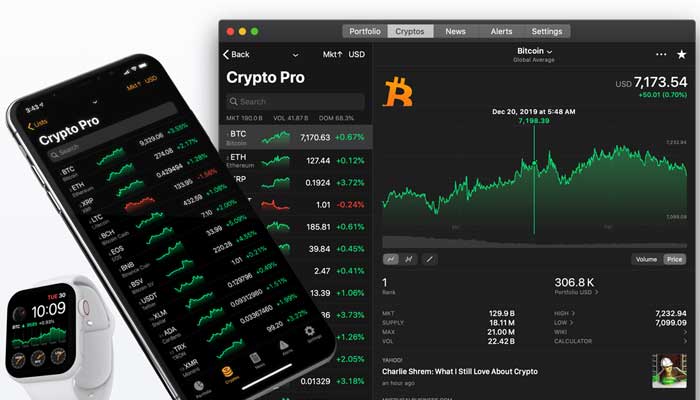 Crypto Pro portfolio tracker is an all-in-one cryptocurrency tracking app. View the latest prices, monitor your portfolio and set price alerts. Supports over 120 exchanges and has exchange API import that automatically imports your portfolios and trades straight from the exchanges you use. Track all your traded crypto assets. View real-time prices with market statistics and interactive charts. Also create a custom watchlist for all your favorite cryptocurrencies, precious metals, as well as fiat.
Get the app on your Mac, iPhone, iPad, and Apple Watch, and seamlessly sync your data across all your devices through iCloud. Features exchange import, wallet import, iOS & macOS Widgets, iCloud Sync, candlestick charts, currency conversion calculator, Siri Shortcuts and many others.
Crypto Pro: https://cryptopro.app/
Bitsnapp
Bitsnapp portfolio tracker also lets you to automatically sync your balances using API integration. Sync your crypto assets across multiple exchanges. Sync all your balances tracking your wallet address, exchanges and mining pools. Visualize your portfolio using beautiful charts. Supports 1,500+ Cryptocurrencies and 25+API Integration.
Bitsnapp: https://www.bitsnapp.com/
Altrady
Altrady is not just a portfolio tracker but an all-in-one cryptocurrency trading software. You can trade on multiple exchanges, track your performance and improve your trading. Its a Bitcoin trading software for beginners and expert traders. Use crypto trading bots, advanced trading orders using Altrady.
Allows users to trade and manage multiple crypto assets across the following exchanges: Binance, Binance US, Binance Futures, BitMEX, Coinbase Pro, Bittrex, KuCoin, Kraken, Huobi, OKEx, Poloniex and HitBTC.
Altrady: https://www.altrady.com/
Lunch Money
Lunch Money is a simple personal finance & budgeting tool. It also is a portfolio tracker that connects to exchanges and several crypto wallets. You can upload transactions via CSV and APIs. Supports all major cryptocurrency exchanges through API integration. Sync with your favorite most popular exchanges, add wallets and start tracking.
Lunch Money: https://lunchmoney.app/
Alright! Now that you have the tools let's see how to track your exchange portfolio?
Tracking exchange portfolio
To track your exchange portfolio using these portfolio trackers all you have to do is sync your exchange accounts. All the portfolio trackers listed here has support for API. You can easily import your trading account either via API or by CSV file upload. Once exchange account is integrated you can start tracking.
Here we'll show how to track your Binance exchange. But the procedure is same for all exchanges.
How can I track my crypto exchange account portfolio performance? To track your cryptocurrency assets across multiple exchanges all you have to do is simply create API keys from the respective exchanges with read-only permissions and add it to the portfolio trackers integration section. Each of these portfolio trackers have provided instructions within the app on how to generate API keys from each exchange, and add them to their tool.
Track Binance portfolio
Here is how to track Binance portfolio using CoinStats. Guide to importing and tracking your crypto transactions from Binance.
First you'll need to create API keys. Login to your Binance account, drop down account settings and click on API management.
Here is the link: https://www.binance.com/en/my/settings/api-management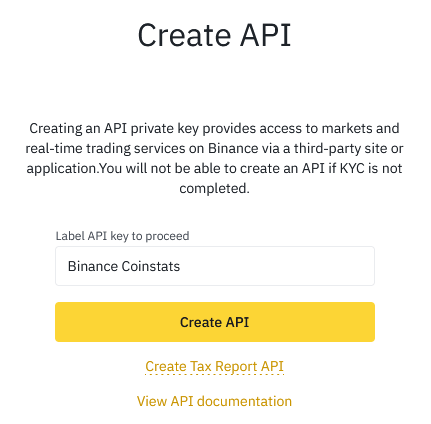 Next label your API and click create API.
Next enter your email verification code, Google authentication code and click submit.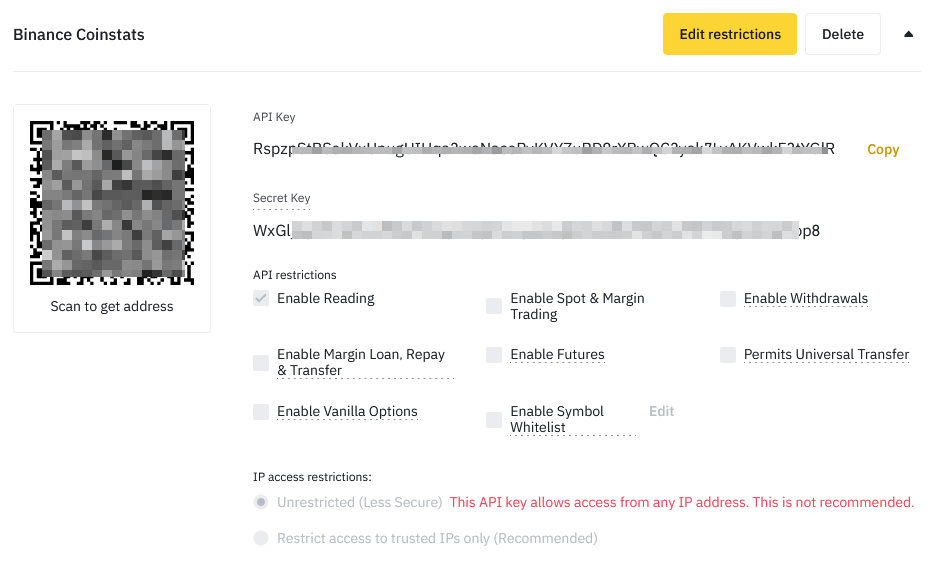 That's it! Binance will now generate API Key and the secret key along with the QR code. It's really important that you secure and keep your keys safe. Also set API restrictions to read only.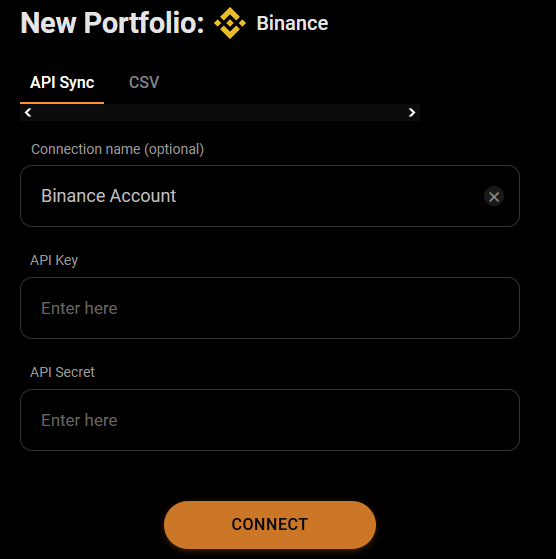 Now go to CoinStats.app, select new portfolio and choose Binance. Next name the connection, enter the API key, secret key and click connect. If you are using mobile version of the tracker then you can scan the QR code.
That's it! The app will import your entire Binance account. Track Your Binance Profit and Loss and start tracking your entire Binance portfolio.
Tracking Bybit, FTX accounts
The same way you can connect your Bybit account, FTX account and other exchange accounts to these portfolio trackers. Using this method you can import and track your Bybit portfolio, track your FTX portfolio, track your BitMEX portfolio and many others.
Some of the exchanges like for example Bybit doesn't have an API connection support, so you will have to import your data manually via CSV file. You need to download and export CSV files from Bybit to these portfolio trackers.
There is a guide on ACCOINTING.com on how to add Bybit transactions via CSV file.
Accointing also has a guide on importing and tracking your crypto transactions from FTX. FTX account can be added via API.
To connect BitMEX via API check out this page: https://www.bitmex.com/app/apiOverview
Import and track all your crypto transactions from Binance, Bybit, FTX, Bitmex and many others.
Blockfolio has a guide on how to fetch API keys and Secret keys from most popular exchanges. Check out this page: https://help.blockfolio.com/hc/en-us/sections/360000429294-Exchange-Connection-Guides
Now Is it safe to connect binance, Bybit and FTX to an app?
It safe to use a Crypto Portfolio Tracker?
All these portfolio trackers listed here follows the highest security standards to protect your data. But then don't trust them to keep your crypto assets and private information safe. You should take personal responsibility for your own safety.
Warning: When integrating you should never share any information regarding to your private keys. Also do not give full API access to the platform. Enabling withdrawals will make your API key unsecure. Make sure to set permission to read only. If API is read only then even if the tracker gets hacked then there would be no risk of losing your crypto.
That's it! We're done with the portfolio tracker list. You can use these tools to track all your assets in one place. Track, monitor, and improve your portfolio & trades through detailed charts and other visuals. With many powerful tools and charts we hope these trackers helps you in managing your portfolio, grow your portfolio, and also stay informed about your crypto holdings.