DeFi
DeFi portfolio trackers – Ethereum, BSC, Solana & Polygon portfolio manager
Looking for DeFi portfolio trackers and portfolio managers? The following post is for you.
Today there are DeFi projects for all of the financial things that you can probably think of:
Investing, borrowing, lending, insurance, derivatives, interest-bearing savings and a whole lot more. Similar to the ICO boom in 2017 this current cycle is all about Decentralized Finance (DeFi) which is evolving so quickly.
DeFi ecosystem continues to grow at an impressive rate. It hit a mass interest in the recent times and a huge number of projects are being created everyday on various platforms. There are 100s of DeFi protocols available on Ethereum, Polygon, BSC (Binance Smart Chain) and Solana where you can choose to borrow, lend, stake, trade, market-make, insure and yield farm.
With DeFi growing at such an accelerating pace many investors are finding it tough to track the performance of their assets that are spread across multiple platforms. Users are looking for a solution to manage all their DeFi assets from one place where they can track their portfolio and positions on multiple blockchains and protocols.
If you are an investor in DeFi then you too might find it difficult to track all of your DeFi holdings. If you are having a tough job trying to keep up with your DeFi investments then all you need is a DeFi net worth tracker or portfolio tracker also known as DeFi aggregator.
Thankfully there are many DeFi portfolio trackers, aggregators where you can effectively manage, monitor and track all your DeFi portfolio from one place. Most of it supports popular networks such as Ethereum, Matic (Polygon), Binance Smart Chain (BSC) and Solana. With these tools you can seamlessly manage and track your entire DeFi portfolio with ease.
Here we'll share the best DeFi portfolio trackers for Ethereum, Binance Smart Chain, Polygon and Solana. Before we take a look at the list let's see what is a portfolio tracker or aggregator and understand the importance of monitoring portfolio.
What is a portfolio tracker?
A portfolio tracker is a website or an app or a platform that simplifies your asset management. It helps you to keep track of your investments. Simply it is a one-stop destination where you can monitor all your DeFi tokens and know how your DeFi portfolio changes in value.
To keep track of the values of the coins and tokens one would simply connect their self-custody DeFi wallet to these portfolio trackers. You can also simply enter your wallet address. Don't need to connect your wallet to see an overview.
The tracker will then pull your data from all of the DeFi platforms you've invested in and displays it in a single interface. Simply eliminating the need to manually check multiple platforms to estimate your net worth and to see your yields.
Using DeFi aggregator and portfolio trackers you can not only valuate your DeFi portfolio. But with the aggregated view of multiple wallets you can see full history and even dive deeper with advanced ROI metrics.
DeFi portfolio tracker is a great reporting tool for investors where one can check balance, have a quick glance at their coins, valuate their decentralized finance holdings, manage Defi transaction, trace LP tokens, view APR performance, trading history and track all of the defi activities from a single dashboard.
Most trackers fetches the real time token prices that's in your wallet, liquidity pools and even stacked tokens. There are even some advanced tools that allows you to harvest the reward from yield farming.
With these tools you are not only tracking your portfolio but you can also explore various new DeFi projects, compare DeFi rates and analyze the DeFi risks. Since it provides information on the wide range of defi services you can keep up to date on all things DeFi.
The importance of monitoring your portfolio
The main reason why we invest is to make profit. So it is necessary that you know how much your DeFi earning is compared to your initial investment. You can only know this if you keep track of your investments and monitor the health of your portfolio. Keeping a track of Crypto / DeFi portfolio is something that every smart investors would consider. It will give an overall financial picture.
DeFi presents a world of new opportunities for you to make your money work harder by earning yield in the form of farming rewards, lending interest and trading fees. There are 100+ DeFi protocols to choose from. On a daily basis there are so many projects getting launched and as of writing this article there are 1000s of DeFi tokens available to trade on.
With the number of distinct yield farming platforms available on Ethereum, Solana, Polygon and Binance smart Chain one would easily get lost in the world of DeFi. With so much going on keeping track of where your money is invested in and how much it is worth will become increasingly difficult. Things will become more complex as the number DeFi apps and websites you interact with increases.
Early on people use to keep a spreadsheet to track on the money invested. But this is going to be a daunting task especially if your investment is spread across various earning platforms and DeFi protocols. Thankfully there are many DeFi portfolio trackers and aggregators which is an essential tool for both the casual and full-time investor.
You can easily keep track of all your investments, loans and trades while you earn some sweet APY. These tools will monitor and keep track of your portfolio and yields across various DeFi platforms, all from one simple-to-use interface. You don't have to worry about the markets moving faster both in terms of price and developments as these tools will keep track of your bags and keeps you updated as well.
How to track DeFi portfolio?
All these aggregators and portfolio trackers listed here function quite similarly.
To get started connect your self custody wallets like MetaMask, Ledger or Trezor to these platforms. Most services supports popular Ethereum and DeFi wallets including Metamask, Ledger, Trezor, Coinbase Wallet, Wallet Connect, Trust wallet, Portis, Torus and various others.
Alternatively you can also just copy paste the wallet address. You have the option to mange multiple addresses and wallets from single dashboard. All you have to do is bundle wallet. This way the service will display your overall net worth of your portfolio.
Then choose language and the currency you'd like to denominate your DeFi portfolio in. You can choose from various fiat currencies such as USD, EUR etc. Few services even includes cryptocurrencies such as BTC / ETH to display your portfolio value.
That's it! Once it is done It recognizes assets that you have on each network and breaks down each platforms and defi protocols individually.
The tool starts tracking your portfolio and all of your asset data will be aggregated on the platform. It not only breaks down your assets that you have in your wallet, but also the ones that are deposited on DEX, defi yield farms, one that is staked, on liquidity pools and debts. Some services even tracks the estimated value of your NFTs (Non Fungible Tokens) using the last sale price according to the NFT marketplace.
So what are you waiting for? Start using these services to automatically track your wallet balances, LP yields and to keep track of the DeFi ecosystem.
DeFi portfolio trackers
To build the best portfolio, you need the best tools. There are a host of websites and apps that lets you to coordinate and track all of your DeFi activity from one place. Its the ultimate DeFi dashboard you need to monitor / track all your digital assets on the Ethereum network, Ethereum L2s like loopring, Polygon sidechain as well as other chains such as BSC and Solana.
You got tools like Dappradar, Yieldwatch, Zerion, Zapper.fi, Ape board Tin.Network and many others. So which one is the best tool to track DeFi portfolio?
Each tools have their pros and cons so what's best is something that really depends on your needs. Not all are equal as they all have specific advantages. You only find the right one that suits your needs as you explore these DeFi products.
Decentralized Finance Trackers & Aggregators
Below you can find the list of popular portfolio trackers currently available for tracking DeFi assets. Some are free and some are paid.
Note: These are not ranked in any particular order. We've just listed the most popular ones. Also note that some only support Ethereum ERC20 tokens and lacks support for other blockchains. Some tracker only support BSC and some are designed specifically for Polygon or Solana blockchain. Then there are also specific kind of trackers that has got support for multiple blockchains and protocols.
Consider each portfolio tracker listed here individually, try it out and decide on which one is the right one for you.
Zerion – Ethereum only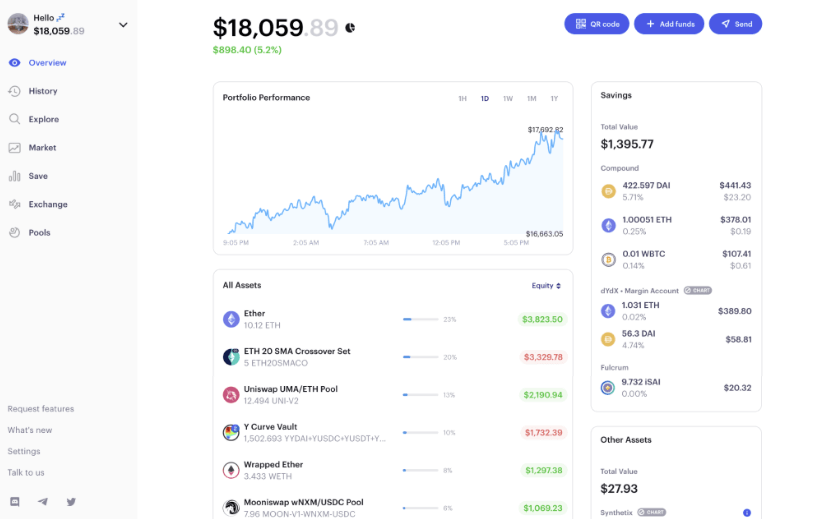 Zerion is an all in one portfolio management dashboard for DeFi investors. It is the most popular and one of the earliest tracking apps designed for DeFi on Ethereum.
It provides an easy way to build and mange your DeFi portfolio from one place. You can access all your assets, investments and track your portfolio with ease. It even allows you to interact with various DeFi platforms and invest in it.
So other than tracking portfolio you can check the net worth, trade assets (buy & sell DeFi assets at best price), borrow lend money, provide liquidity to pools and explore various defi markets all without having to leave the website.
They even have a mobile app (Android & IOS) which makes it easy for one to manage assets even if it is spread across multiple wallets and platforms.
Zerion app is a non custodial Ethereum based DApp that is completely free to use. Currently it only supports DeFi on Ethereum but it supports a lot of protocols. This app can keep track of more than 50+ DeFi protocols including Uniswap, SushiSwap, Curve, Yearn.Finance, Balancer, Aave, Compound, Bancor, 1inch, Badger, KeeperDAO and many others. The only downside is that it lacks support for tracking on other blockchains outside of Ethereum.
https://zerion.io/ – To get start with Zerion just connect your Ethereum DeFi wallet such as Metamask, Ledger, Trezor, Fortmatic, Coinbase Wallet or Trust Wallet.
Zapper.fi – ETH, BSC, Polygon, Fantom, Optimism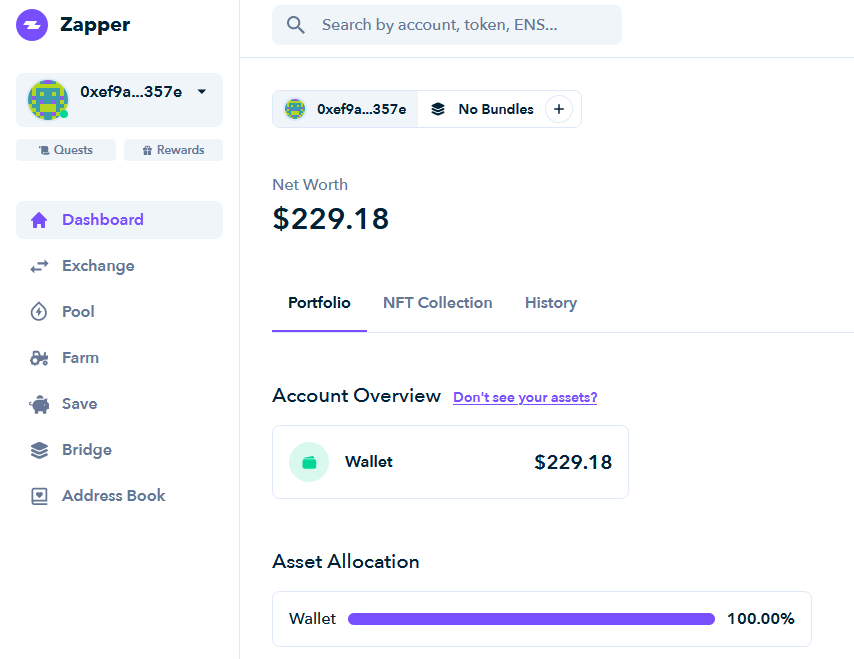 Zapper is another popular DeFi tracking app. It is well designed and offers a simple yet effective dashboard where you can easily track and visualize your DeFi assets and liabilities. It is mostly used to view balance of the DeFi assets that is spread across various platforms.
You can track assets held in your wallet, track your unclaimed LP rewards and even NFTs. Unlike Zerion; Zapper.fi supports multiple blockchains such as Ethereum, Binance Smart Chain, Polygon, Fantom and Optimism with support for over 50+ DeFi platforms.
Ape Board – ETH, BSC, Terra, Solana, Polygon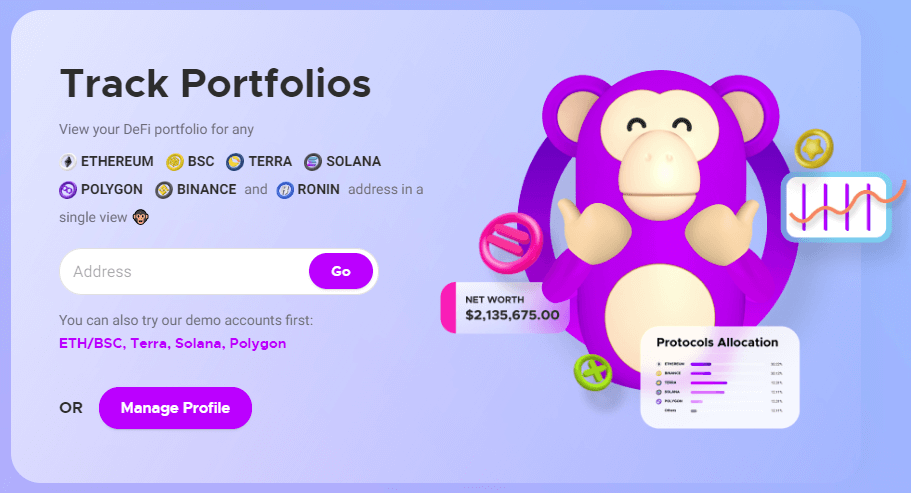 Ape Board finance is a cross chain DeFi dashboard where you can track portfolio and view balances of all your DeFi tokens.
It can track across multiple blockchains such as ETHEREUM, BSC, POLYGON, BINANCE chain, TERRA, SOLANA and RONIN. It displays nice looking charts with simple toggles to track your portfolio value for a certain network.
Currently supports nearly 100 protocols with more coming in the future. Just enter your DeFi wallet address to start tracking. With this service you can even save your configuration settings.
https://apeboard.finance/dashboard
Debank – ETH, BSC, xDAI, Polygon, OkExChain, HECO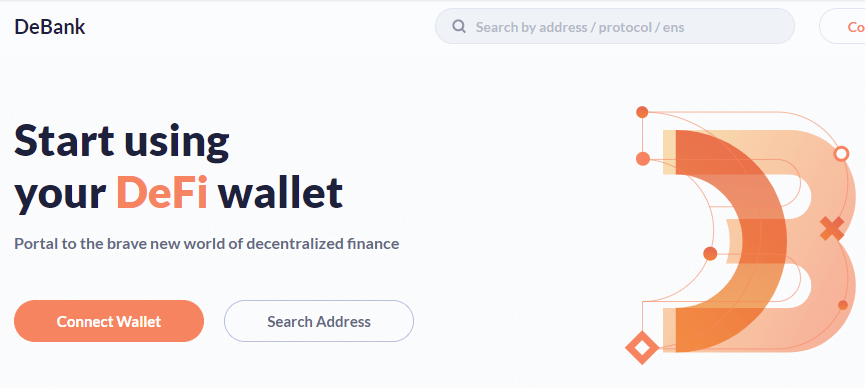 Debank is another popular and one of the earliest portfolio tracker and portfolio management tool with support for multiple blockchains. Just connect your DeFi wallet to track portfolio, explore projects, compare rates and to enter the world of decentralize finance.
It provides comprehensive DeFi tracking across a large variety of protocols and blockchains with rapid updates. You can track your full portfolio through 304 DeFi protocols on 7 chains currently (Ethereum, BSC, xDAI, Polygon, Fantom, OKEx chain, HECO) and 2 more to come (Solana, Arbitrum).
Besides tracking, you can also use Debank to swap tokens and explore protocols with in-depth data. It provides data and analytics for decentralized lending protocols, stablecoins and margin trading platforms. Find the best swap price across 29 leading DEXes and aggregators. Plus explore 523 DeFi protocols with in-depth, real-time data all from one place.
DappRadar – ETH, BSC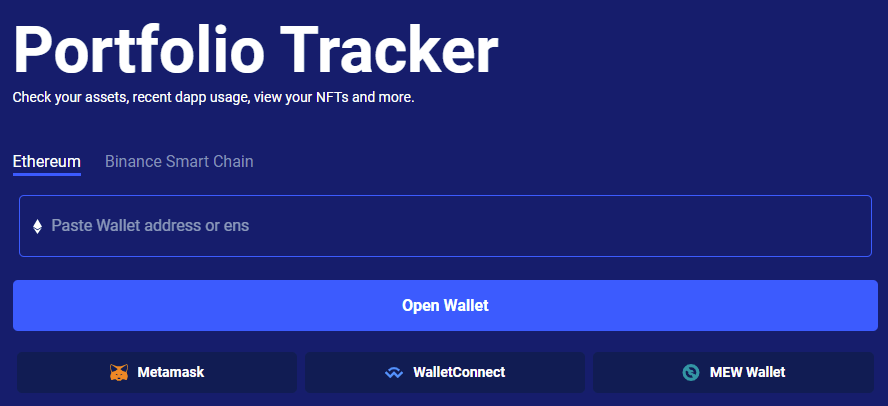 DappRadar is another simple portfolio tracker where you can check your assets, track recent DApp usage, view your NFTs and much more.
With Dapp Radar you can always stay up-to-date with the performance of your holdings and net worth. You can track the historical activity of your ETH and BSC wallets. Plus it displays your NFT Portfolio in a clean interface and estimates the total value by last sale price. You can easily share your portfolio with anybody.
Currently it can track DeFi portfolio in both Ethereum and Binance Smart Chain. More networks will be added in the future.
Paste wallet address or connect your wallet to get started. The default page displays the total worth of your DeFi and NFTs, as well as a graph of your wallet holdings.
https://dappradar.com/hub/wallet/
Growing.fi – Binance Smart Chain

If you are looking for a dashboard to automatically track all your assets on Binance Smart Chain then check out Growing.fi.
It is the ultimate dashboard for BSC DeFi that lets you to easily track / mange your BSC assets.
Growing.fi is also planning to launch a dashboard for Polygon assets which is currently in Beta version.
Sonar Watch – Solana only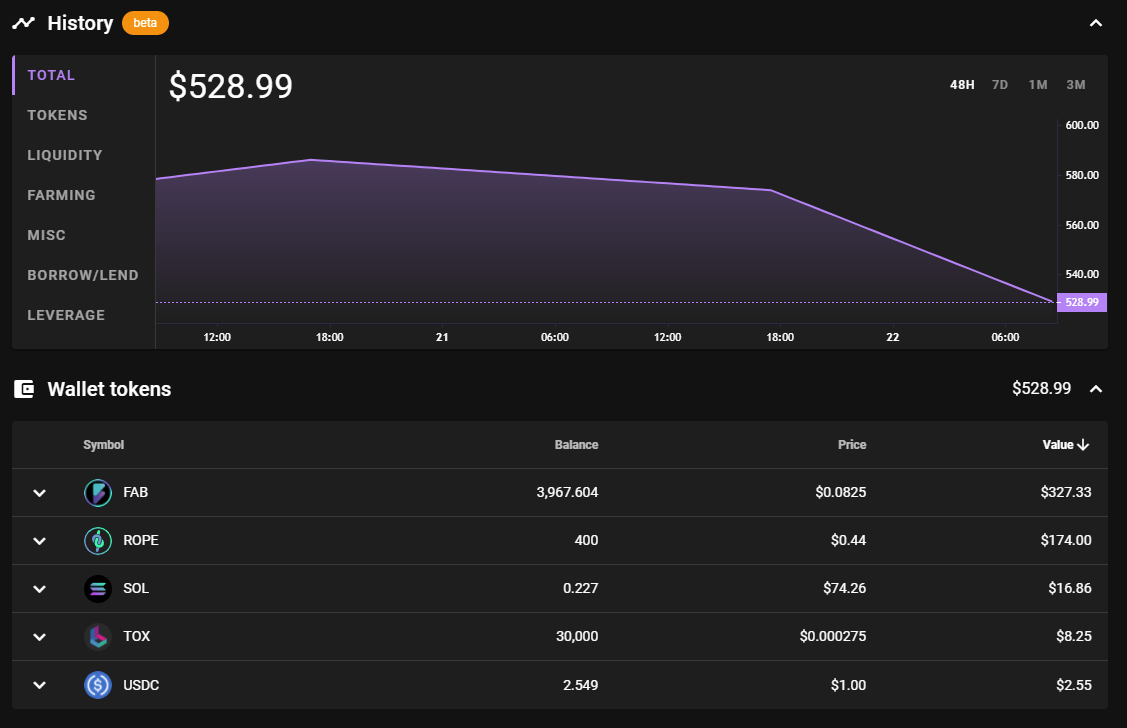 Sonar.Watch is a tracker and a dashboard that is designed specifically for Solana SPL tokens. Sonar Watch helps you to track your yield farming and liquidity pool performance on Solana blockchain via a simple dashboard.
To Track Your Solana DeFi Bags just connect your sollet wallet or input your SOL address.
It is one of the most preferred tool by Solana users to track their DeFi bags.
Farm.Army – BSC, Matic, KCC, Fantom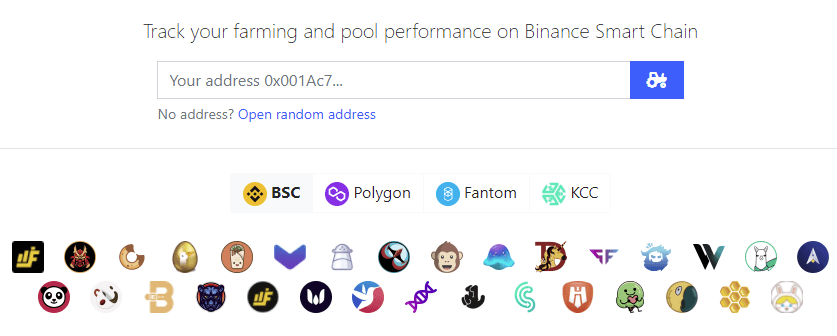 Farm Army is another simple DeFi portfolio tracker tool for BSC, Matic (Polygon), KCC and Fantom. Start tracking your farming and liquidity pool performance on Binance Smart Chain, Polygon, KCC (Kucoin Community Chain) and Fantom.
It displays popular farm & pools on Binance Smart Chain. Also displays top protocols by TVL.
Tin Network – Multiple blockchains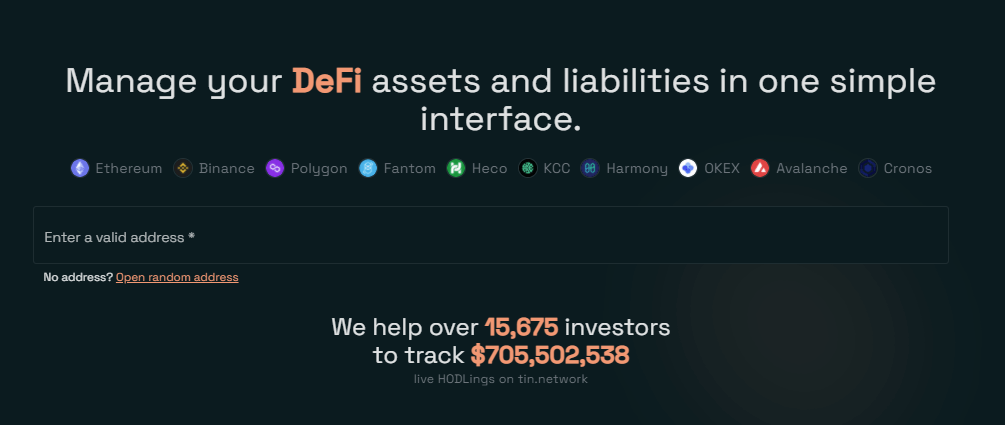 Tin Network allows you to mange your DeFi assets and liabilities in one simple interface. Its a simple dashboard for all your DeFi needs where you can track and visualize your entire assets.
Other than a portfolio tracker It also offers an explorer for Pools and Farms where you can discover various liquidity pools.
This tool shows the balance in your wallet, displays the total value of your staked assets, and the total rewards that you have accrued across the DeFi platforms you invested in.
Even though it is still in beta stage It supports multiple blockchains. You can track your portfolio holdings on Ethereum, Binance Smart Chain, Fantom, Polygon, Heco, KCC, Harmony, OKEX, Avalanche and Cronos.
To start tracking your live holdings you don't need to connect your DeFi wallet. Just enter a valid address on the tin.network. The tool will automatically recognizes assets that you have on these network and displays the stats.
Apy Vision – ETH, MATIC, BSC, FTM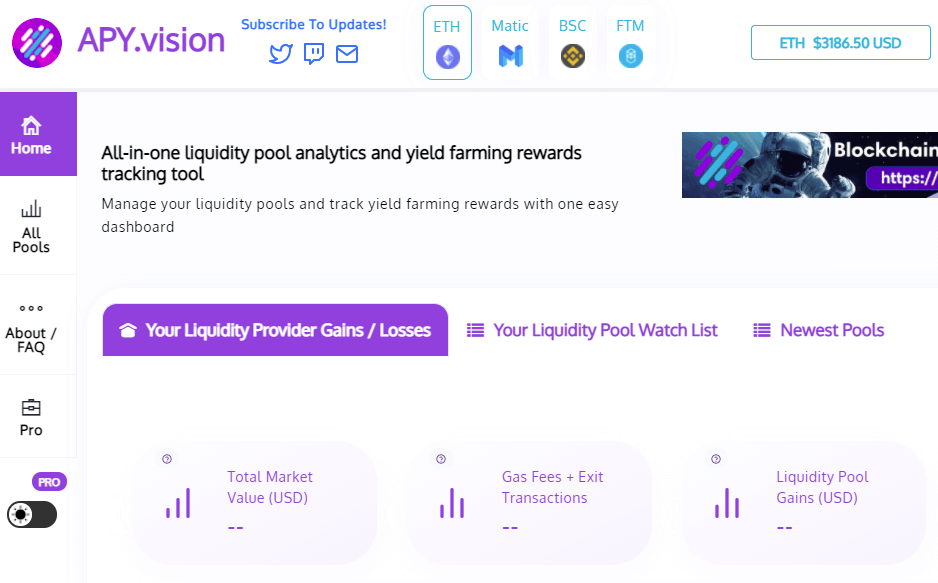 Apy.Vision is an all in one liquidity pool analytics and yield farming rewards tracking tool. Useful if you are looking to manage your liquidity pools and track yield farming rewards from one dashboard.
Currently it supports ETH, MATIC, BSC and Fantom chains with support for multiple protocols such as Uniswap, Balancer, Sushiswap, Value, 1 Inch, Balancer V2, Kyber etc.
DFox – BTC, ETH, BSC, EOS, WAX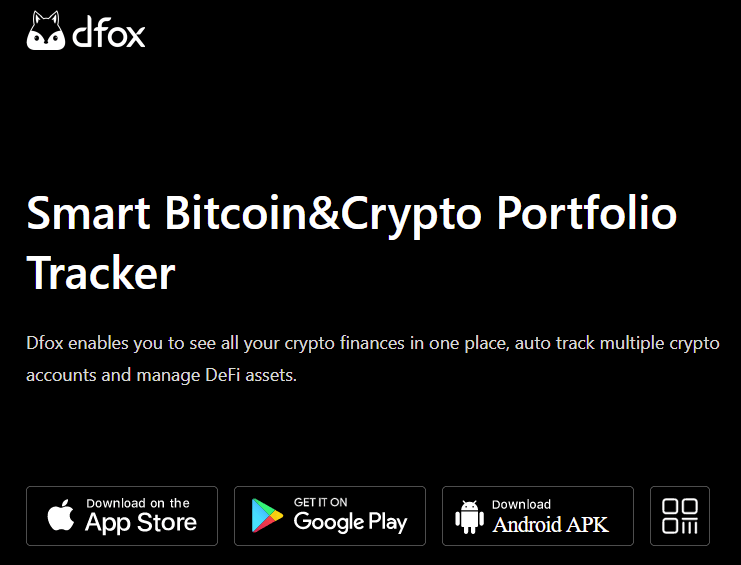 Dfox is a Smart Bitcoin & Crypto Portfolio Tracker where you can track wallets and defi assets in one place.
This tool enables you to see all your crypto finances in one place, auto track multiple crypto accounts and manage DeFi assets.
With this tool all your crypto are effortlessly organized. It automatically syncs account balance, holdings and transactions, so you can get a full view of where your assets are kept and what their current status is.
You can view / manage your DeFi Positions and discover the latest / hottest DeFi projects. Monitor your DeFi assets, view deposits, debt, liquidity pools and yield farming activities all from one app.
Dfox also allows you to track your transactions to organize income and expense all for you to save time and manage transactions conveniently.
Moreover you can also discover popular projects across DeFi and NFT.
Dfox portfolio tracker supports #Ethereum #BSC #MATIC #WAX and #EOS currently.
It supports the following protocol: Compound, Uniswap, Aave, Maker, Sushiswap, 1inch, Curve, Synthetix, dydx, Balancer, Pancake swap, Venus, Autofarm, Ellipsis, Belt.fi, Defibox, Pancake bunny, pizza and many others.
To view your portfolio balance and holdings, to monitor transactions and to track your DeFi positions download dfox app and connect it to your wallet. You can connect multiple wallets via public Bitcoin, Ethereum, BSC, EOS and WAX addresses.
https://dfox.cc/ – Available as app on Android and IOS.
Yield Watch – BSC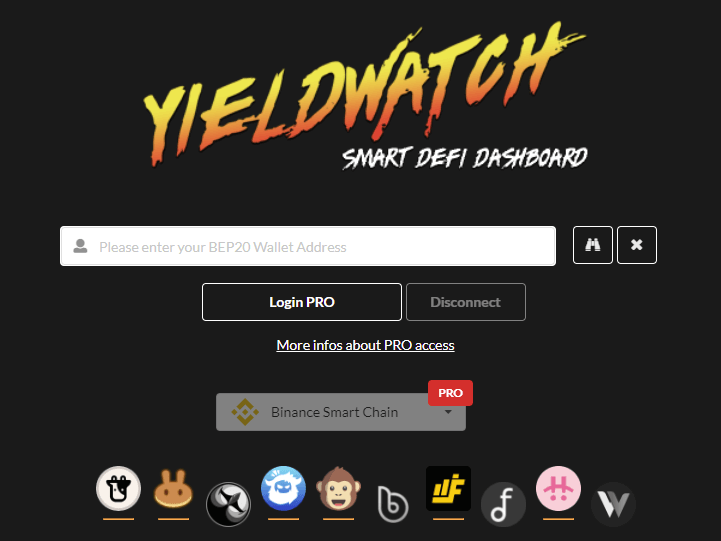 Yield watch is a smart DeFi dashboard for all your Binance Smart Chain assets. Its a portfolio tracking tool that is easy to use and has a simple interface.
With Yield watch you can view your total deposits, impermanent loss, fees earned, net yield of your assets across major BSC protocols plus few other data.
Currently this service supports 10+ protocols including Pancake Swap, Beefy.Finance, Jet Finance, HyperJump, Venus and many others. It is one of the best LP / IL tracker for BSC but the only downside is that it is a paid service.
Farmfol.io – Polygon/Matic & BSC
Farm fol is a beautifully designed and a minimalistic portfolio tracking service for BSC (Binance Smart Chain) and Polygon / Matic users. Its an intelligent dashboard to track the live holdings of your your BSC & Polygon wallet.
It supports all the top protocols that are available on BSC and Polygon such as:
Polycat, QuickSwap, Beefy, MDEX, Autofarm, Venus, Pancake swap and many others.
The only cons of this service is that it require a one time fee of US$9.99 to start tracking. Plus it also lacks protocol support for Ethereum.
Connect your wallet to farmfol to start watching your transactions in the blockchain automatically.
Bonus DeFi portfolio trackers – DeFi managers
portfolio.defiprime.com – DefI prime is soon launching a new portfolio tracker Product
Cointracker.io – Track your crypto portfolio and taxes. Accurately track the investment performance and taxes of your crypto assets.
FTX (previously Blockfolio)
Accointing.com – Another crypto tracking and tax reporting app.
Koinly.io – Useful to analyze portfolio and calculate your cryptocurrency taxes.
defi.instadapp.io/ Instadapp – One-stop-shop for DeFi devs and users.
Kubera, Delta App (IOS, Android app), Coin Stats, Coin Tracking and www.crypkit.com
That's it! As more DeFi portfolio trackers become available, we will update this post! Meanwhile are you using any other portfolio tracker app to track your DeFi performance which is not listed here? Then please drop it in the comments below.