Guides
Sign Message – How to sign a message with a Bitcoin, Litecoin Address
Our main intention is to build Coin Guides as a largest resource site for Bitcoin, Blockchain and Cryptocurrency. Not just for beginners, but we want users of all kind to find reliable resource from this website. Recently we've posted several wallet setup guides for beginners without explaining in depth features of what one can do with a crypto currency wallet address. Here this article is going to explain one cool function that you can do with your wallet address known as sign message. What is sign message? How sign messages work? And how to sign a message with your Bitcoin, Dash, Litecoin, Monero and basically any alt coin addresses.
What is a sign message? Wallet Signing – Digital Signatures
Digital signature is a mathematical way of authenticating documents and digital messages. The signing mechanism is the way of proving that a particular message or a piece of data comes from your end and not from someone else. By signing a message to your Bitcoin or crypto currency address you are demonstrating that you are the owner of the funds that a wallet holds. Also you prove that you control the private keys of the particular address
Why to sign a message?
Sign message is a kind of ID system to prove the ownership of Bitcoin or crypto currency address. There are many scenarios in which signing a message will be beneficial.

Let's say you want to show the amount of Bitcoins to your friends or a third party which you hold in your wallet. You can simply provide them your public address and they can check it in block explorer. It will show your transaction details and the amount of Bitcoins your wallet holds. However it doesn't prove that you are the owner of that address.
Blockchain and crypto currency are transparent so basically using block explorer you can check the balance and transaction details of any wallet address. So your Friends or third party won't believe that the wallet address is yours until unless you prove them.
The only way you can be certain for yourself that you have full control of your own wallet is by owning the private keys. However private keys should never be shared to anyone to prove the ownership. This is when message signing and verification feature helps you. Without revealing your private keys you can prove the ownership by sharing your wallet signature.
Wallet signatures also largely helpful in ICO's. For example Ethereum is well known for smart contracts so to purchase tokens vendors will ask for ETH as a payment. Before sending you the tokens third party needs to verify that you are the actual person that sent ETH. You can prove them by sending your wallet signature along with the a custom message. With this signature third party can verify the ownership. Hence the deal becomes transparent.
How to sign a message?
There are several types of wallet available. 1. A PC version, core wallet which directly access the blockchain (QT wallet), Multibit. 2. A third party online wallet ( Blockchain.info ). 3. Hardware wallet (Trezor / Ledger wallet ). 4. Electrum Wallet. 5. Mobile wallet ( Coinomi ). Whatever the wallet type is you'll find wallet message signing and verifying feature somewhere in the interface.
Basically message signing and verifying feature contains three fields.
A field to enter your wallet address (public address) for which you'd like to create a signature.
A message field where you can enter your custom message.
A signature field which auto generates a encrypted string based on your wallet address, private keys and custom message.
Sign messages can be implemented not just on Bitcoin, Litecoin, Ethereum, Dash and Monero addresses. Basically in all crypto currency you'll find this feature. Here we'll guide you where and how to use this feature in electrum and QT wallet.
Bitcoin Electrum Wallet  – Sign/Verify Message
In your Bitcoin Electrum wallet go to Tools >> Sign/Verify Message which will open a pop up consisting three fields. Enter your public wallet address for which you wish to sign along with your custom message. Once done click on sign which will generate a signature.

Pic Credit: https://bitcointalk.org/index.php?topic=990345.0
To verify the ownership of the wallet address you can share all three info that is your address, message and the signature. The recipient then enters the provided information using his client and verifies the ownership. Simple isn't it.
Signing a message using core QT wallet
In most QT wallets you'll find this wallet signing feature either under file, settings or tools. Here for this example we've used Trezarcoin wallet. In Trezarcoin wallet its under Tools >> Sign message. You'll get the window pop up consisting the three fields.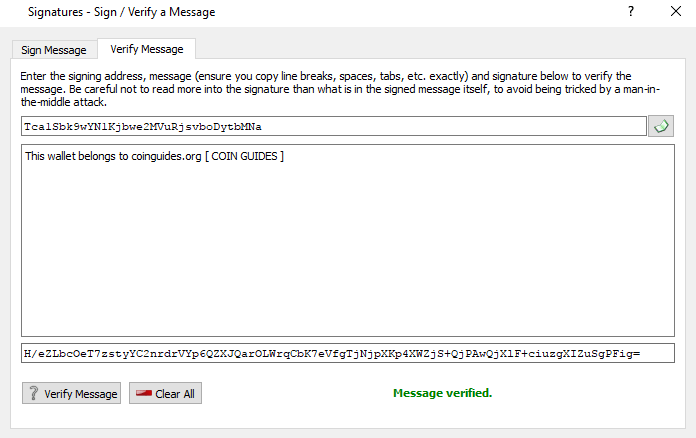 In Bitcoin core wallet its under File > sign message / verify message. Open sign message, choose Bitcoin address from your wallet and enter the message you want to sign. Once done click "sign message" to generate signature.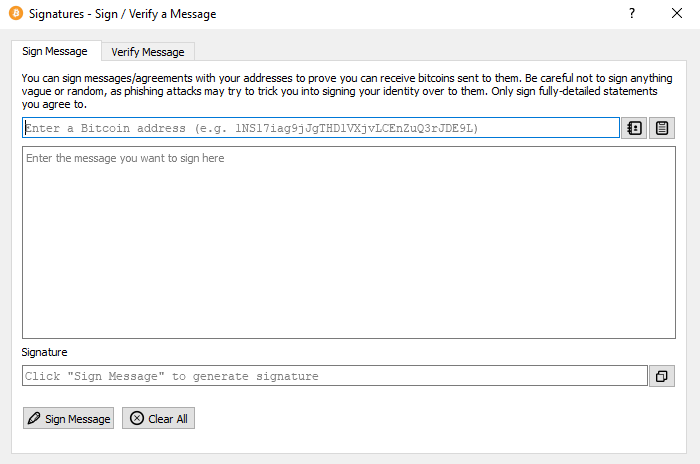 Once the signature is generated you can use the verify message tab to verify it. To verify signature you'll need the address, custom message as well as the signature.
Signing Messages using Trezor wallet
Trezor wallet is the most secure wallet to hold crypto currencies. If you own one and looking to sign or verify a message using Trezor hardware then we suggest you to check their official guide.
Few wallets like JAXX for example don't offer this sign message option. In such case you can import the wallet from JAXX to Electrum and then create a sign message.
Wallet signing is not only used for verification purpose. It can also help you to recover your exchange account in case if your lost your 2FA access. We hope you find this wallet signing feature useful. What do you think? Have you signed your address before? Share your thoughts and ideas in the comments below.