DeFi
List of NFT Marketplaces to buy / sell digital arts, rocks & punks
Do you often hear people buying and selling digital arts, JPEG rocks, punks, apes and cats but have no idea where these NFTs are trading? If you are wondering where you can buy or sell NFTs then you're at the right place. Here we'll list the most popular NFT platforms or NFT marketplaces where you can buy, sell, trade the Non-Fungible Tokens.
Non-Fungible Tokens (NFTs) are the latest internet sensation. The growth of digital arts is the most interesting trend in the recent times with increasingly more number of investors and cryptocurrency holders are looking to own and speculate on unique digital arts. What's insane is the amount that are being paid to own these digital arts.
Can you believe that someone paid 400 ETH (Ethereum) which is about 1.3 Million USD for a picture of JPEG rock. Yes, a clipboard of rock has been sold for more than a million making it the largest sale of EtherRock.
Even Visa; the largest payment processor jumped into the NFT craze, who recently bought a 'CryptoPunk' for $150,000 in ETH.
Visa jumps into the NFT craze, buying a 'CryptoPunk' for $150,000 https://t.co/vj7X8GVidK

— CNBC (@CNBC) August 23, 2021
Also the largest NFT marketplace OpenSea has recently surpassed $1 Billion in monthly trading volume.
So what's up with all the craze surrounding NFTS and why people are going berserk to buy a JPEG when you can right click save the image?
Before we list the NFT marketplaces where you can buy, sell NFTs; let's quickly understand what NFTs are and how they work?
What is an NFT?
The full form of NFT is Non-Fungible Token. NFTs are blockchain based virtual tokens that signifies the ownership of something that is considered distinct and scarce. It can be both a physical asset / document or a digital item such as a soundtrack, artwork, a collectible or an in-game item.
Regular cryptocurrencies like Bitcoin and ETH are fungible; meaning they can be divided into smaller units and can be mutually exchanged for similar assets. For example 1 Bitcoin = 1 Bitcoin and 1 ETH = 1 ETH. Whereas NFTs as the name suggests they are non-fungible meaning they are indivisible, unique and can't be replaced with something else.
In simple Non Fungible Tokens are special type of token, a unit of data stored on the blockchain that are considered unique in value. Each digital assets are unique in its own way. So each NFT has specific value based on its unique attributes and traits, hence it cannot be mutually exchanged for something of equal value.
Other than that NFTs are similar in a way regular cryptocurrencies work. They are volatile and they both operate on a blockchain.
Currently Ethereum blockchain is the most popular and the largest ecosystem for buying / selling and minting NFTs. But there are also other blockchains where NFTs are created and traded such as Binance Smart Chain, Solana, Polkadot, Tezos, Tron, EOS, Algorand, Cosmos, Hedera Hashgraph and few others.
NFTs can be a digital representative of anything but today its largely used to prove the ownership and confirm the scarcity and rarity of a digital intangible assets such as: screenshot of tweets, GIFs, Video Games, Sports Highlights etc.
The most common form of NFTs remains to be digital art. There are human NFTs, rock NFTs, zombie NFTs, cat NFTs, whale NFTs, ape NFTs and many more.
By now you must have heard about CryptoPunks, Pudgy Penguins, EtherRocks, Crypto Kitties, NBA Top Shots, VeeFriends and many others. What are they and why people spend ETH to buy these JPEGs?
EtherRocks, Crypto Punks, NBA Top Shots, Crypto Kitties, Pudgy Penguins
Ether Rocks
Ether rocks are nothing but a picture of a rock. A JPEG vector rock which is built and sold on the Ethereum blockchain. Ether rock project has been around since 2017 making it one of the oldest NFTs on the block.
According to the EtherRock website these rock images serve no purpose except they can be bought and sold. There are only 100 pictures of a rock and each one of them looks different, hence each of them are considered as a unique collectible item.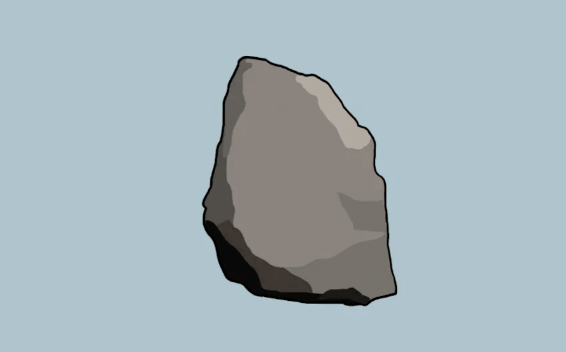 These NFT rocks are pretty much a clipart of rock. There is nothing fancy about it. You can just right click download the image for free. But that's not the point.
Since it is the first NFT collection made available on the Ethereum blockchain and since these NFTs are designed to be scarce they give the owner a strong sense of pride in owning 1 of the only 100 rocks. Its all a status game.
You see there are only 100 unique rocks out there and only 100 of those rocks will ever exist which is considered scarce. With only 100 rocks in circulation and being one of the oldest non fungible tokens on the blockchain is what driving up the demand for digital rock.
The first EtherRock was sold on Dec 2017 for 0.099 ETH and the entire collection of 100 rocks has been already sold out. So if someone has to own any of these rocks they have to buy it from the owner who is willing to resale.
The current EtherRock floor price which indicates the lowest amount a JPG rock can be purchased for is now 800Ξ Ether which is around $3,038,300 based on current ETH price.
Current #EtherRock Price Floor: 800Ξ Ether ($3,038,300)

Rock ID 91 Ξ800 Eth
Rock ID 97 Ξ808.08 Eth
Rock ID 83 Ξ888.88 Eth
Rock ID 93 Ξ993 Eth
Rock ID 40 Ξ1000 Eth
Rock ID 27 Ξ1027 Eth

Recent Sales
Ξ599 Eth 6 hours ago
Ξ888 Eth 5 days ago

ATH
Ξ888 Eth 5 days ago pic.twitter.com/iRf90QKWIh

— EtherRock Price (@etherrockprice) September 2, 2021
Few weeks ago it was selling for Six-Digit Prices and It is believed that as time goes by each rock only gets more and more expensive.
Check out EtherRock website to know more: https://etherrock.com/
CryptoPunks
CryptoPunks remains one of the oldest NFT project and is considered an "OG" project in the NFT space. It was launched in 2017 by Larva Labs on the Ethereum blockchain. It is similar to Ether Rocks except CryptoPunks are character based digital art NFT collections that come in different kinds, forms and colors including, human punks, cyber punks, zombie punks and alien punks.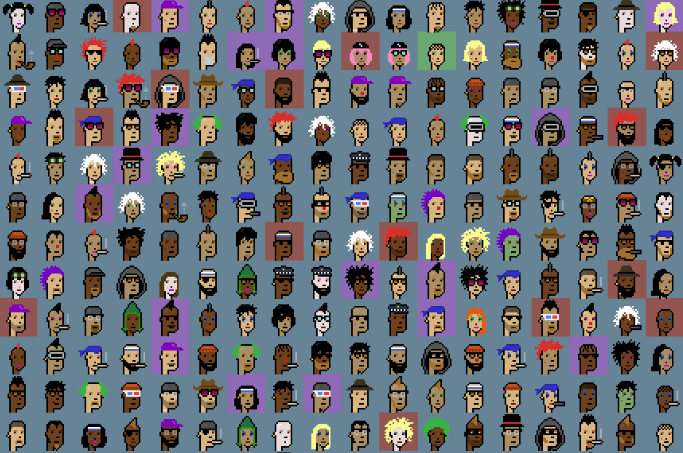 CryptoPunks are 8 bit image and these character based NFT collection consist of 10000 unique digital characters. They serve as a scarce and limited supply collectable items.
They remain as a most popular collectible within the NFT space. You might have seen a lots of influencers and celebrities dipping their toes into the CryptoPunks NFT. Many of them are even proudly displaying their punk as their Twitter and social media profile picture. You see its all a status game.
Visit CryptoPunks site to know more: https://www.larvalabs.com/cryptopunks
The meme culture is what driving this space and it has spread to many other NFT projects as well such as Crypto Kitties – A modern NFT of digital cats where every cat is unique. Pudgy Penguins – A new NFT project that has a collection of 8,888 penguins with a wide range of styles and colors.
PUDGY PENGUINS ARE SOLD OUT! ❄️

This Tweet is a little late, considering we sold out in 19 minutes… 🤯

For those looking to join the iceberg and get pudgy, you can purchase a Pudgy Penguin on OpenSea: https://t.co/Dkye2hjOf3

— Pudgy Penguins (@pudgypenguins) July 28, 2021
We understand its quite difficult to understand all these NFT punk and rock stuff? What's so cool about it and why are people going crazy to buy these? Are NFTs used for money laundering?
In a separate article we'll explain all of that. But for now we don't think general people are spending 6 and 7 figures on these JPEG digital arts. The ones who are spending such huge amount on these digital arts are the ones who can afford to lose such huge amount.
Also on social media you only hear stories about people making money on NFTs, not the ones losing.
Anyways unlike regular cryptocurrencies if you wish to buy NFTs you can't purchase it from centralized or decentralized exchanges (DEXs). NFTs are only listed and available for trade on specific marketplaces known as NFT marketplaces.
NFT Marketplace
What is an NFT Marketplace? NFT Marketplace is a simply a platform for creators and collectors to buy, sell and trade the Non Fungible Tokens. These marketplaces are specifically build for NFTs where all kinds of digital works are stored, displayed, traded and even minted in some cases (created).
NFT marketplace is not only for digital arts but even real life visual artist works are also listed and sold on the NFT marketplace. These digital platforms are to NFTs what eBay and Amazon are to physical goods. Its simply an e-commerce site where NFTs are listed, created and traded.
To access and start using the NFT marketplace all you have to do is: connect your Ethereum wallet such as MetaMask. That is if the NFT platform is build on Ethereum ecosystem. If the NFT is based on Solana platform then you'll need to use Solana wallet services such as Sollet or Solflare.
Once your wallet is connected to the marketplace you need some amount in your wallet to purchase the tokens. Once purchased the NFT belongs to you and it will be linked to your wallet address.
Soon we'll make a beginners guide on NFT marketplace and how to use them. Now Let's explore the top NFT marketplaces.
List of Top NFT marketplaces
There are a huge list of NFT marketplaces where you can mint NFT, buy NFTs and sell your digital artworks at a whopping price.
There are Ethereum based marketplace, Solana based NFT platforms, NFT marketplaces designed specifically for Binance Smart Chain and for several other blockchains. Here are we are not going to list them all. Only the top 30 platforms.
Below are the list of 30 Best NFT Marketplaces where you can buy, sell and trade the Non-Fungible Tokens in 2021. These are the best platforms to buy NFT art pieces and the best place for creators to sell their Non-Fungible Tokens.
Here are the list of popular NFT marketplace.
| # | Marketplace | Platform | Link |
| --- | --- | --- | --- |
| 1. | OpenSea | ETH / Polygon | https://opensea.io/ |
| 2. | Rarible | ETH | https://rarible.com/ |
| 3. | Nifty Gateway | ETH | https://niftygateway.com/ |
| 4. | SuperRare | ETH | https://superrare.com/ |
| 5. | Foundation | ETH | https://foundation.app/ |
| 6. | Atomic Market | WAX | https://wax.atomicmarket.io/ |
| 7. | Myth Market | WAX | https://myth.market/ |
| 8. | Bakery Swap | BSC | https://www.bakeryswap.org/#/ |
| 9. | Known Origin | ETH | https://knownorigin.io/ |
| 10. | Enjin Marketplace | Enjin – ENJ | https://enjin.io/software/marketplace |
| 11. | Portion | ETH | https://portion.io/ |
| 12. | Async Art | ETH | https://async.art/ |
| 13. | Mintable | ETH | https://mintable.app/ |
| 14. | MakersPlace | ETH | https://makersplace.com/ |
| 15. | Known Origin | ETH | https://knownorigin.io/ |
| 16. | Decentraland | ETH | https://decentraland.org/ |
| 17. | Axie Infinity | ETH | https://marketplace.axieinfinity.com/ |
| 18. | NBA Top Shot | FLOW | https://nbatopshot.com/ |
| 19. | Kalamint | Tezos | https://kalamint.io/ |
| 20. | Hic et Nunc | Tezos | https://www.hicetnunc.xyz/ |
| 21. | Aavegotchi | Aave / ETH / Polygon | https://aavegotchi.com/ |
| 22. | NFT ShowRoom | Hive Blockchain | https://nftshowroom.com/ |
| 23. | Zora | ETH | https://zora.co/ |
| 24. | Ghost Market | NEO / Phantasma / BSC / ETH / Polygon | https://ghostmarket.io/ |
| 25. | Arkane Market – Venly | BSC / Polygon | https://venly.market/ |
| 26. | TreasureLand | Binance Smart Chain | https://treasureland.market/ |
| 27. | Viv3 | FLOW | https://viv3.com/ |
| 28. | Valuables | ETH | https://v.cent.co |
| 29. | Mintbase | Arweave | https://www.mintbase.io/ |
| 30. | Terra Virtua | — | https://terravirtua.io/ |
You see NFTs and the values of these digital arts are completely subjective. While demand is the main factor in determining the price of NFT their actual value mainly depends on what people think is valuable and what they are willing to pay.
In our opinion we think this show will only go on until enough people believe these JPEG arts are valuable. It kind of feels like an ICO bubble. Only time will tell.
Anyways kindly note that this article is provided only for informational purposes. It is not offered or intended to be used as financial, legal, tax, investment or any other advice.