Fundamentals
Beware of cryptocurrency (BTC / ETH) giveaway scams on YouTube & Twitter
The number of cryptocurrency giveaway scams are rapidly increasing and in the recent times we saw many people fall victim to these scams. These Bitcoin, Ethereum giveaway scams are not new. It's an old free give away trick that we saw it happen on Twitter in late 2017 and 2018 when cryptocurrency prices were soaring. Now during the worldwide pandemic and economic crisis the scammers are back on form except this time they chose YouTube to host their fake Bitcoin giveaways.
Cryptocurrency giveaway scams on YouTube
Scammers now started hijacking popular YouTube channels to giveaway their bogus BTC / ETH giveaways. The thing is you don't have to search these channels. They will frequently appear on your YouTube feed as an advertisement. Especially if you have subscribed to any crypto related channels. These ads claim famous people giving away Bitcoin.

During the recent SpaceX launch many thought the promotion is legit and got scammed. According to a report by bleeping computer scammers have racked up to $150000 in BTC in just 2 days. To conduct these cryptocurrency giveaways; scammers hacked legitimate YouTube accounts and impersonated Elon Musk's SpaceX channel. They rename the hijacked channel to "SpaceX" or "SpaceX Live" and then perform giveaways promising you double the amount of BTC in return of what you send them.
For years they seem to spot a profitable trend like for example BTC halving and impersonate famous personalities like: Tesla CEO Elon Musk, CZ Binance, Vitalik Buterin, Twitter CEO Jack, Ripple CEO Brad Garlinghouse, Michael Bloomberg and venture capitalist Chamath Palihapitiya. Now it seems like they started impersonating Amazon's CEO Jeff Bezos.

How these Bitcoin giveaway scams work?
Somehow scammers seem to hijack popular YouTube channels first and some of the hijacked channels are reported to have more than 100k to 300k subscribers. Maybe it's because the owner of the channel used week login credentials like flimsy passwords or not using 2FA could be the reason for the hack.
After taking over popular channels; hackers change the branding and rename the channel to something famous such as: SpaceX, Space X live or Jeff Bezos depending on what's currently trending.
They then start live streaming some old recorded footage of Elon Musk or Jeff Bezos being interviewed. The broadcast seems like a live event and they promise you significant returns if you send them a small amount of Bitcoins.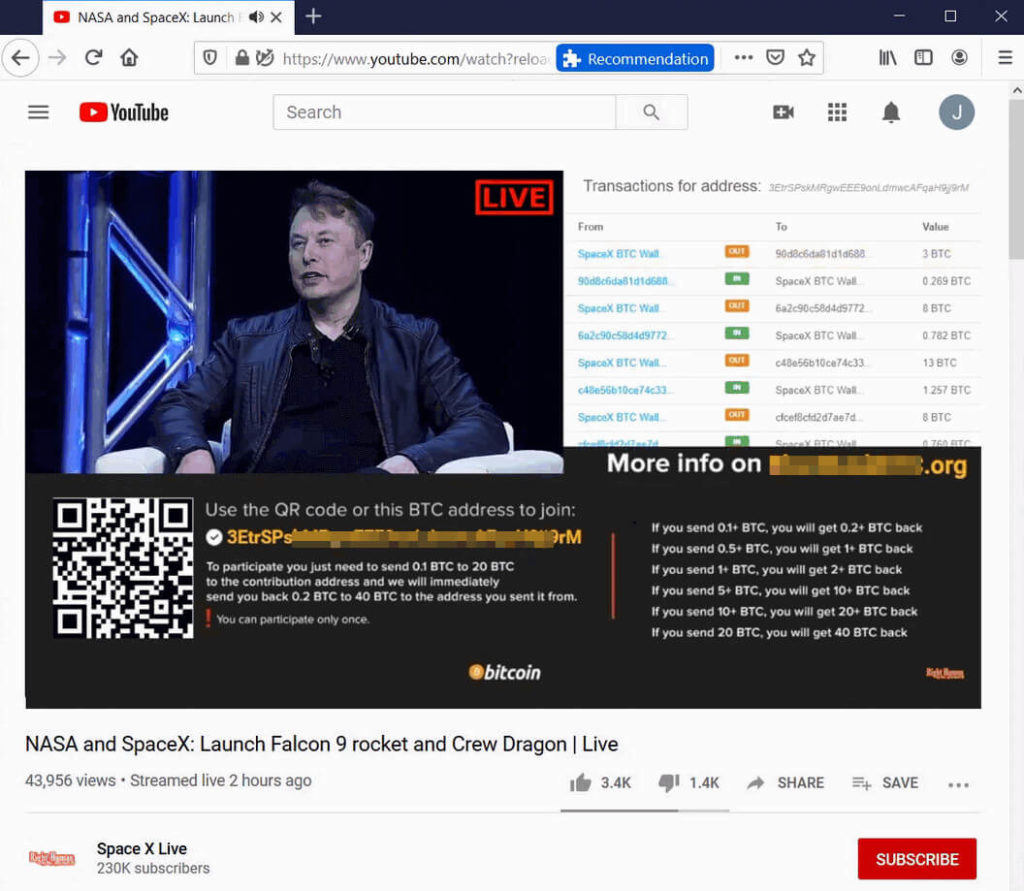 These videos states:
To participate you just need to send 0.1 BTC to 20 BTC to the contribution address and we will immediately send you back 0.2 BTC to 40 BTC to the address you sent it from
Are people still getting scammed to these old technique?
Along with the Elon Musk's recorded video you'll also see live transaction feed to the scammers BTC address which is also fake. It's all randomly generated and the amount of viewers watching the broadcast will make you feel the promotion is legit. It is all mostly bots viewing the live stream and commenting.
Also if you look at the Bitcoin address using block explorer you'll notice the address receiving huge amount of transaction in a short period of time. Most of these transactions are faked by the scammers. They use their own BTC addresses to send and receiving Bitcoin to make it seem the giveaway is legitimate. This is main reason why many users fall to these scams.
Even though it's so obvious many new and innocent people to this space are still losing money.
Here is an user seeking help on Google support forums stating:
I was scammed by a video allegedly from SpaceX. It was a live broadcast titled 5000 BTC giveaway.
The user seem to have sent around 0.3 BTC (around $3,800) to the address without even thinking that it is a scam.
Link: https://support.google.com/youtube/thread/51522822
There are many such cases. If you ever come across such videos or promotion report them and stay away. This is a typical Ponzi scam and never ever send your precious Bitcoins to address calming you to send free Bitcoins. You'll receive nothing in return.
In general avoid any cryptocurrency giveaway scams that is asking you to send your BTC first.
Bitcoin & Ethereum giveaway – Beware of Scam alert
CZ Binance BTC giveaway
Vitalik Buterin ETH giveaway
Jk Rowling Bitcoin promotion
Tesla / SpaceX live BTC giveaway
50 Million XRP airdrop
"To speed up the process of cryptocurrency mass adoption we decided to give away free Bitcoins"
These are all some of the typical scams that you come across on Twitter, YouTube and other social media platforms. Also at times you may see these promotions on website that mimic medium publishing platform.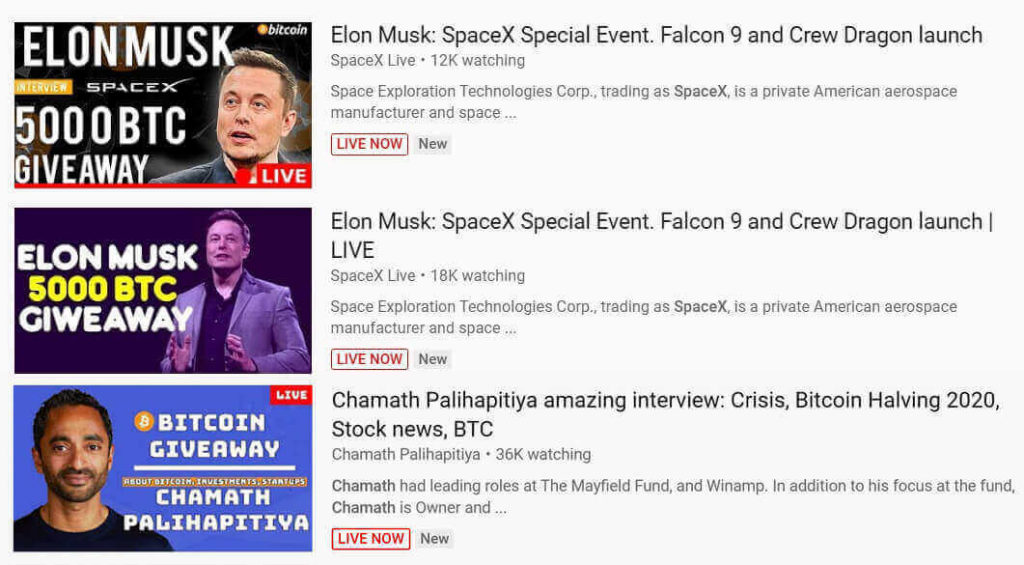 Remember that nobody is giving you free Bitcoin or Ethereum. Beware of such scams and remember that BTC or ETH once sent to such address are lost forever.
These crypto giveaway scams are so popular where the scammers mostly target users of Bitcoin and Ethereum. As they are the two of the most popular cryptocurrencies.
These scams have been around for years and they continue to perform still well. Every popular influential people in this space are aware of this scam.
The crypto scam level on Twitter is reaching new levels. This is not cool.

— Elon Musk (@elonmusk) February 1, 2020
However scammers are coming up with some new ideas and reporting these fake accounts and channel may not be sufficient. Report the address on Bitcoin abuse and stay educated.
Familiarize yourself with most commonly observed Bitcoin scams: https://bitcoin.org/en/scams