Crypto Mining
How to mine Denarius (DRN) – Tribus mining guide (NVIDIA | AMD)
Wait?! Is this guide necessary when this coin is a year old and mining Denarius is not so profitable right now? With tons of coins out there not everyone knows every coin. There are plenty of miners who are discovering coins that are more than a year old and are interested in mining new algorithms. Denarius, being a first coin to introduce Tribus algorithm, it has got more recognition lately as more coins are implementing this PoW algorithm. So current insight on mining Tribus algorithm is very much needed. Here in this guide we'll show you how to mine Denarius using NVIDIA and AMD GPUs. But before that we'll cover a short about Denarius and Tribus proof of work algorithm.
Denarius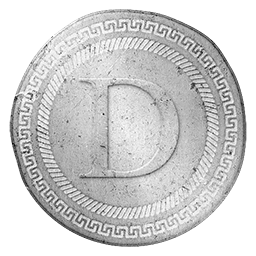 Denarius is a hybrid PoW/PoS cryptocurrency based off original Satoshi core code base. It has brought up this new algorithm called Tribus. It features super fast block times, encrypted messages, stealth address, atomic swapping, ring signatures and much more. The team is active and the community is strong. We've already made a tutorial on Denarius wallet which explains a lot about Denarius. Do check it if you'd like to know more about this coin. Alright! It's time to get into the mining business.
Why to mine Denarius?
If you ask us then we'd say; There are 2 reasons to mine Denarius and 2 reasons not to mine Denarius.
1. Proof of Stake coming shortly – In a year or two Denarius will be switching over to full Proof of Stake at block 3,000,000; after which mining will become obsolete. If you were following us then you know that once we made Solaris mining guide which is obsolete now since they've moved to Proof of Stake completely.
2. Network is strong and the team is productive – With recent attacks on Verge, Monacoin and Bitcoin Gold; coins that have hybrid consensus are getting some attention as they are safer from 51% attacks. Yes, PoW, PoS and Masternodes altogether makes Denarius network safe and secure.
Aside from this Denarius community is strong, the team is active and working towards bringing in more features. Even if this coin is at down-market currently with active development it could naturally gain value in the future.
Why not to mine Tribus (DNR) – FPGA?
1. Not profitable – If you head to What To Mine or any mining calculator none of the Tribus coins shows up in profitability list. Compared to Denarius there are so many Altcoins that are most profitable to mine right now so do your research on that. Anyways if you consider long term then mining Denarius could be worth it.
2. Difficult to Mine – Tribus FPGA? – You must understand that an algorithm could be resistant to ASIC (Application Specific Integrated Circuit) but they can never resist FPGAs. Even at our Ravencoin mining guide we explained this.
What is FPGA? FPGA stands for Field Programmable Gate Array. It is basically just a programmable GPU, CPU, RAM hybrid. A specialized board with a chip that usually has specific software written to hash certain algorithms.
Don't worry; FPGAs are currently not mass produced  and they don't compare to ASICs in terms of performance. However they are faster and much better than GPUs. Due to FPGAs, mining Denarius using GPUs has become slightly difficult and it won't yield much results.
What made you think that there could be FPGAs mining Tribus or Denarius?
This?


Using Enemy miner with a single GTX 1080 TI you can hash around 120 MH/s (max) on Tribus algorithm. 10 of these cards are needed to report 1 Gh/s. To report 100+ GH/s at least 1000+ GTX 1080 TIs are needed (rough estimate and not accurate). According to this pool report it looks like either a handful of miners have pointed large mining farm or it could definitely be FPGAs.
Then this?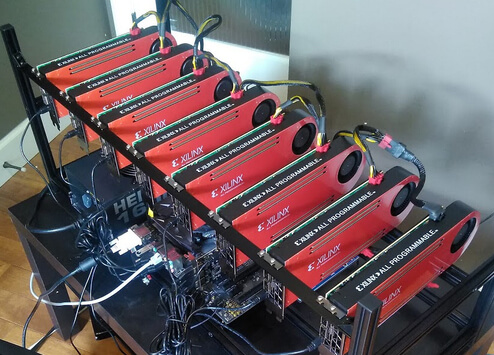 FPGAs are very much probable on any algorithms; to get a insight on this check out this post on Bitcoin Talk which is about DIY FPGA Mining rig for any algorithm with fast ROI.
Anyways; if you'd like to try out mining Tribus algorithm using your GPUs then Denarius is the right coin to choose. Let's now see how to mine Denarius using NVIDIA and AMD GPUs.
How to Mine Denarius (Tribus) – NVIDIA / AMD
When GPU pool mining itself has become difficult; Solo mining Denarius is not feasible at all until unless you have a large mining farm. So we are not going to cover about it which if you need a guide then you can take reference from this solo mining guide.
In order to receive mining income you'll first need an address. Head to Denarius wallet guide, download the latest release, setup wallet and get yourself a DNR address to start mining.
Next in order to achieve optimal mining performance ensure that you have latest graphic card drives installed on your system.
NVIDIA Drivers: https://www.nvidia.in/Download/index.aspx?lang=en-in
AMD Drivers: https://support.amd.com/en-us/download
We hope your wallet address is ready and your drivers are up to date. Now we need to choose a miner or mining software to mine Tribus algorithm.
Tribus Mining Software:
NVIDIA: Currently the best mining software available for NVIDIA on Tribus algorithm is Enemy 1.10. However this miner is closed source and if you are not fine using closed source then alternative best option would be ccminer.
Download: https://github.com/tpruvot/ccminer/releases
AMD – Note: AMD isn't as good as NVIDIA in mining Tribus algorithm. If you own AMD mining rig then we suggest you to mine ethash coins. Anyways if you'd still like to try out mining Denarius using AMD cards then you can download SGminer 5.3.8 / Tribus.
Download: http://ccminer.org/preview/sgminer-x64-5.3.8.zip
Download the miner, unzip it and while doing this your antivirus may block miner. It is nothing to worry about so just add exclusions to your miner and you are ready to go. Now your wallet address is ready, drivers are up to date and mining software is also ready. Since we already said solo mining is not feasible we need to find out a reliable mining pool for Denarius.
Denarius Mining Pools:
Below are the list of all mining pools available for Denarius. There are mixed of PPLNS and PPS pools available and some are non operational as well so research and choose one wisely. Top mining pools where most of the hashrate are at: Hashbag, Yiimp and BSOD.
https://hashbag.cc/
https://yiimp.eu/
https://bsod.pw/
https://umine.org/
https://brutum-pool.com/
https://dnr.acc-pool.pw/
https://pool.chainworksindustries.com/dnr/
https://pool.unimining.net/
https://www.zpool.ca/
https://pool.hashrefinery.com/site/gomining?algo=tribus
https://blockmunch.club/
https://dnr.idcray.com/
https://cryptohub.online/pools/
https://pool.n-engine.com/
https://miner-control.de/
https://dnr.mining4.co.uk/
https://zergpool.com/
https://cryptorushmining.com/
https://dnr.mining4.co.uk/
https://pool.denarius.name/
Once you've chosen a mining pool, configure the miner, connect to a pool and start mining Denarius.
Configuring batch file and mining Denarius:
Setting up your mining software or creating a batch file within your miner is very simple. So without going in depth we'll just share the sample setup for both ccminer and sgminer. All you have to do is copy the config, replace the highlighted wallet address and pool stratum connection details. Once done save the batch file and open it to start mining Denarius.
CCMiner Config:
ccminer-x64.exe -a tribus -o 

stratum+tcp://hashbag.cc:8688

 -u 

DQ2r8p6A1pgcVJ1xgnD86X2NigeDztqbUf

 -p c=DNR
pause
SGMiner Config:
sgminer -a tribus -o 

stratum+tcp://hashbag.cc:8688

 -u 

DQ2r8p6A1pgcVJ1xgnD86X2NigeDztqbUf

 -p x
If you need instructions on configuring ccminer then we suggest you to go through this ccminer beginners guide. It explains everything from what is batch file to, how to create one and configure the miner.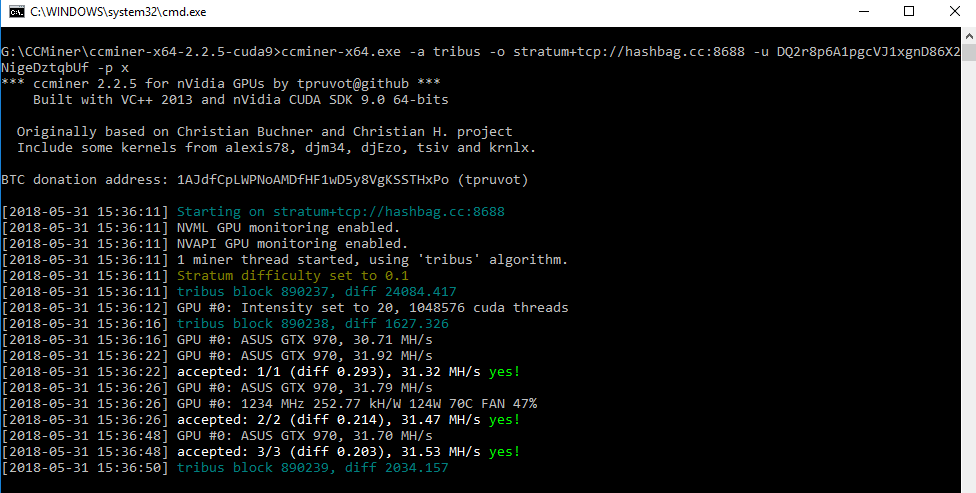 Just double click the .bat file to start running the miner. You'll see command lines  on your screen and if it says Yes then your shares are accepted and you are good with the setup.
Checking mining income, optimizing performance and Denarius mining calculator
To check your mining income and hashrate reports head over to the pool where you've pointed your miners to. In wallet page of the pool input your wallet address to check your mining reports such as overall hashrate, earnings and payouts. You should start receiving payments to your wallet address within few hours of mining. The frequency of payments vary depending on the pools payment settings so do check on what intervals the pool is paying.
Optimizing Performance: Tribus algorithm uses GPU core so in order to get the best performance it is recommended that you lower memory clock, TDP and increase core clock. Do this gradually so you don't crash your miner. Also while mining to be on safer side it is recommended that you check the GPU mining temperatures to ensure if they are optimal and not exceeding its limit.
Mining Calculator: Prior to mining if you prefer to know how much Denarius you'd be mining for your hash power or to check what those mined coins are worth there are several mining calculators. What to mine is the popular one and you can also use crypt0.zone calculator which reports close to accurate.
If you don't have a hardware and would still like to mine Denarius then you can do so by renting mining rigs. At affordable cost several Tribus mining rigs are available for rent at Mining Rig Rentals. Do check them out if you are interested.
Buy / Sell Denarius:
As we said before mining Denarius is not at all profitable and don't expect ROI mining this coin. But still if you are looking to hold some coins or interested in purchasing masternodes then your only option is buying it directly from exchanges by trading BTC or ETH.
You can buy and sell Denarius at the following exchanges:
Coinexchange.io:
https://www.coinexchange.io/market/DNR/BTC
https://www.coinexchange.io/market/DNR/ETH
Cryptopia.co.nz
https://www.cryptopia.co.nz/Exchange/?market=DNR_BTC
Tribus Hashrates:
Below are the list of hashrates that you can expect for the following GPUs. The reports are taken from pool's benchmark which may not be accurate.
1080 TI - 120 Mh/s (Enemy)
1080 TI - 100 Mh/s (ccminer)
1070 - 52 to 60 Mh/s
1060 6 GB - 43 MH/s
1060 3 GB - 34 Mh/s
GTX 970 - 35 to 37 Mh/s
GTX 750 TI - 12 to 13 Mh/s
RX 580 - 35 Mh/s
Conclusion:
The profitability of mining any coin depends if you are considering short or long term. If you are considering long term then you can mine and hold Denarius. But still we don't prefer that because there are currently several Altcoins that are profitable to mine. Even if you are interested in accumulating Denarius then the smart decision should be to mine other profitable coins and exchange it to DNR. That way you can earn even more coins.
However if you are the one that cash out your mining income regularly then Denarius is definitely not the coin for you right now. Especially when FPGAs are around the corner and some are even active on the network it is better to utilize your GPU towards mining some other Altcoins.
We wrote this guide for beginners and we hope it helps anyone who is interested in mining Denarius crypto currency. If you like this article do share it and follow us on Twitter to get all the latest updates. Or you can stick around, browse through and read a few more of our articles.