News
Z-Enemy ver 1.10 (PUBLIC) – CUDA miner for Windows and Linux
Just a day before Enemy released and announced Z-Enemy 1.09b version miner. It was a service release and didn't had support for Linux ( Hive OS & Ubuntu ). We thought of updating the same article with download links when it gets released publicly. Looks like they've released an upgraded version of 1.09b and now it is Z-Enemy 1.10 which is a public release and supports both Windows as well as Linux.
Z-ENEMY 1.10 (zealot/enemy-1.10) – NVIDIA miner for Windows and Linux
Compared to 1.09a; 1.09b had the following upgrades: Kernels speed improvements which improved 2% performance increase on all supported algorithms. Fixing compatibility issues on non Yiimp based pools. Then support for new algorithm called Tribus with increase in performance especially on 1080 TI cards.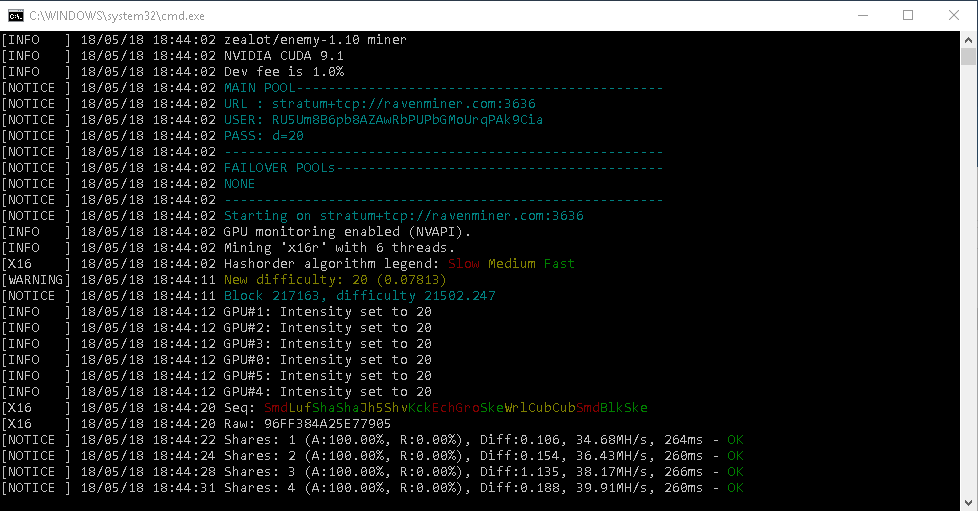 Now the new version Enemy 1.10 has the same upgrades but slight increase in performance compared to previous 1.09b. According to the developer these are the notable features Enemy ver 1.10 has:
1. Kernels speed improvements : (1.09b vs 1.10) +1 to 2% total increase in hashrate on all algorithms and +1 to 2% improvement on x16r (Ravencoin) and x16s (Pigeoncoin). Especially if you are getting better results from Enemy 1.09a then you should see improved performance with this new version 1.10.
2. This version has fixed compatibility issues that resulted in performance degradation with some non Yiimp based mining pools. With this fix now you'll see the actual hashrate being reported on such pools especially Supernova.
3. Previous version has added support for Tribus algorithm. After several tests and optimizations this new version has improved the Tribus algorithm mining performance: You can expect +5% improved performance compared to previous 1.09b service release. Also recommended intensity for Tribus algorithm is 20 – 21.
Sample Config File:
The batch file configuration is similar to 1.09a and 1.09b. Below is a config for Tribus algorithm (Denarius) and you can check all the other algorithm config setup here in this post.
@echo off
:start
z-enemy -a tribus -o stratum+tcp://hashbag.cc:8688 -u DECBV2xuYR7RZukbycSo1D31kL4Kpiq88K -p c=DNR -i 20
goto start
Also remember that in order to get maximum performance make sure you are using latest NVIDIA drivers.
Download Links:
For Windows (Cuda 9.1):
https://mega.nz/#!8bJTVAAL!o6a6CdiqBnQ4jbEQae0yuW4F3JDf24Ny7ieWjKjTXJw
For Linux ( HiveOS & Ubuntu ):
Cuda 8.0: https://mega.nz/#!VDxS2SgC!hwnd38t6xxJbb4v1LHI9uVG3xcgD0MPBlgpHyao-qCM
Cuda 9.0: https://mega.nz/#!1XxBUboD!qFzoheadF9ImMbBjgrZGFUwCGoNvMgRfCbe91cIUrwI
Cuda 9.1: https://mega.nz/#!YKIw3IBJ!iTNaBSmZLVbqpMzrckN5H91ldouKngrAXtS_eJMVVDg
If you are using Enemy miner previously then you should be aware that it is a closed source miner with 1% developer fee. If you are new to this miner then please be informed about that and use it at caution.
Since it is just released we or any of the community members haven't tested it. If you are using Enemy miner previously then do try this one and let us know the hashrate improvements in comments section.