Wallets
Terra LUNA wallet guide – Setup Terra Station to stake $LUNA & earn interest
Terra Money is a finance protocol created in 2018 by a Korean blockchain company called Terraform Labs. It is currently one of the fastest growing ecosystem in the crypto space with more than 100s of projects across DeFi, Web3, and NFTs.
With high yielding staking assets like LUNA and algorithmic stablecoins like UST it is making a huge noise in the DeFi space. And now that it has climbed the top 10 of crypto market cap many people want to jump in on the action and explore the Terra ecosystem. So here it is.
$LUNA Terra wallet beginners guide to help you get started with the Terra Ecosystem.
Terra (LUNA) wallet
$LUNA is Terra Money's native asset and it serves as a foundational asset for the entire Terra ecosystem. Other than LUNA the Terra network also hosts a bunch of different stable coins with UST (TerraUSD) being the biggest. All the decentralized stable coins can be used on various Terra DeFi (Decentralized Finance) platforms to invest and to earn yield.
With Terra there are multiple ways to earn passive income. You can stake LUNA and earn. Additionally you can stake UST on Dapps like anchor protocol and earn some extra passive income.
For all this you need a Terra wallet.
There are wallets like Trust wallet and Math wallet which has Terra (Luna) wallet support. However you can only use them to send, receive, store and exchange LUNA tokens.
To fully explore the Terra LUNA ecosystem and to benefit from the Terra assets you need Terra Station which is the Terra's official and the native wallet.
Terra does not support Metamask but Terra station is similar to Metamask. You can use it to store LUNA, manage Terra assets (CW20 tokens), you can use it for staking and to receive airdrops. Also it allows you to connect to web3.0 apps like Anchor and Mirror Protocol.
Here in this beginners guide we'll show you how to setup and use the Terra LUNA wallet Terra Station. We'll walk you through all the process of wallet creation. Also we'll show you where you can buy LUNA, Terra stablecoins and explain how Terra staking works.
Now before we create a Terra station wallet and get started with the Terra ecosystem here is a little to know about Terra Money.
Terra Money – Programmable Money For The Internet
The Terra protocol is a decentralized and an open source public blockchain for algorithmic stable coins. It hosts a multitude of algorithmic stablecoins on its network with $UST being the industry leading stablecoin.
Other than deploying a suite of algorithmic decentralized stablecoins it is also a leading cross-chain protocol in the industry featuring: vibrant smart contracts platform and a thriving cross-chain DeFi environment that is designed to bring DeFi to the masses.
Terra is built on the Cosmos SDK and Tendermint Consensus that uses a delegated Proof-of-Stake mechanism to secure its network. Users with the most LUNA tokens can choose to secure the network. To participate in the network consensus you can either become a validator or delegate your stake to any of the active validators. These decentralized validators secure the Terra network by settling transactions in exchange for rewards in LUNA.
The Terra protocol consists of two main elements, Terra stablecoins and $Luna. Here is a quick overview of both the stablecoin and the LUNA token.
Terra stablecoins
Terra blockchain protocol uses fiat-pegged stablecoins (each pegged to a countries currency) to power price-stable global payments system. It aims to replace the traditional payment value chains such as banks, payment gateways and credit card networks by providing payment solutions for both merchants and consumers. It also offers fast and affordable payment settlements.
The Terra network offers variety of stablecoins that are pegged to U.S dollar (UST – TerraUSD), South Korean Won (KRT – TerraKRW), Mongolian Tugrik (tögrög) and many others. These stablecoins are named for their fiat counterparts.
To create stablecoins and to consistently track the price of these fiat currencies Terra uses a combination of decentralized oracle voting and an open market arbitrage incentives.
Users can spend, save, trade and exchange these stablecoins on the Terra blockchain. Also they can connect to DApps and protocols that are built on Terra and use these stablecoins to stake and earn APY.
Users can mint a new stablecoin Terra token by burning LUNA.
What is LUNA?
$LUNA is the native crypto asset and is essentially the backbone of the entire Terra network which is an open-source stablecoin network controlled by its stakeholders. There are three use cases for Luna.
Luna stake holders can earn staking rewards in transaction fees by recording and verifying transactions on the Terra blockchain.
Holders of LUNA can use $LUNA to submit and vote on governance proposals.
Burning LUNA helps stabilize the Terra stablecoin ecosystem. It basically absorbs the price volatility of Terra stablecoins. Since burning is involved the more demand for Terra stablecoins = more value for LUNA – The reserve asset of Terra.
The Terra ecosystem is a rapidly growing network with decentralized applications and a multitude of fiat pegged stablecoins.
To know more about Terra / Luna and to learn how Terra money protocol works check out their official docs page: https://docs.terra.money/
Also check out this video about Terra –
It explains what are Terra stablecoins, how Terra stablecoins are used and what is the LUNA token.
Alright! Now that we know enough about Terra and Luna let's setup Terra station and connect to the Terra ecosystem.
Terra Station Tutorial
Terra Station – The official Terra wallet is available in many forms and they are all cross compatible.
The desktop wallet is available for Windows, Mac as well as Linux.
Mobile Terra wallet is available for both Android and IOS and
Terra station is also available as a browser extension for Chrome and Brave browsers (similar to metamask).
Download links:
Desktop wallet: https://github.com/terra-money/station/releases/
(Includes binaries for Windows, Mac and Linux)
Android: https://play.google.com/store/apps/details?id=money.terra.station
IOS: https://apps.apple.com/app/id1548434735
Chrome and Brave extension: https://chrome.google.com/webstore/detail/terra-station/aiifbnbfobpmeekipheeijimdpnlpgpp
Always use the official links for wallet downloads. You can find all these wallet download links at their official website: https://www.terra.money/
Drop down Learn menu and you'll find the download links.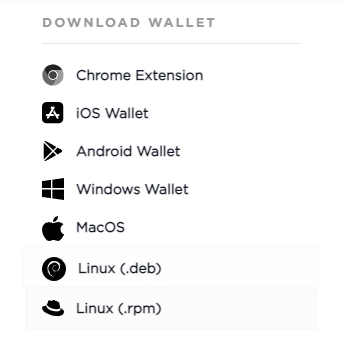 You can also access the web wallet using this link: https://station.terra.money/wallet
Click connect at the top and it will present you with the options.
So which platform to prefer?
If you are more of a PC person then you can install Terra station desktop to your computer. It allows you to send, receive, manage Luna and Terra assets. You can swap coins from within the wallet, you can stake Luna and vote on governance proposals. Additionally this wallet allows you to execute smart contracts and store NFT's. However you cannot use it to connect to web 3 DApps.
To connect and use the dApps available on the Terra ecosystem add the Terra Station browser extension to your Chrome or Brave browser. Its a browser based wallet similar to Metamask that allows you to send, receive tokens and connect to a dApp.
For on-the-go transactions you can use the Mobile wallet which is available for both Android and IOS. With this wallet you can send, receive and manage Luna / Terra stablecoins. Also similar to Desktop it has the option to stake Luna and swap tokens from within the wallet. Moreover you can connect your mobile wallet to any Terra web 3.0 dApp easily.
Depending on your needs setup the wallet to the platform you desire.
How to setup & use Terra LUNA Wallet
Add the Terra station extension to your browser or install the Terra wallet to your desktop or mobile. Once installed here is how to setup a new wallet. The wallet interface and the setup process is same across all platforms.
Click connect and you'll find 4 options: Access with ledger, New Wallet, Restore Existing Wallet, Import Private Key.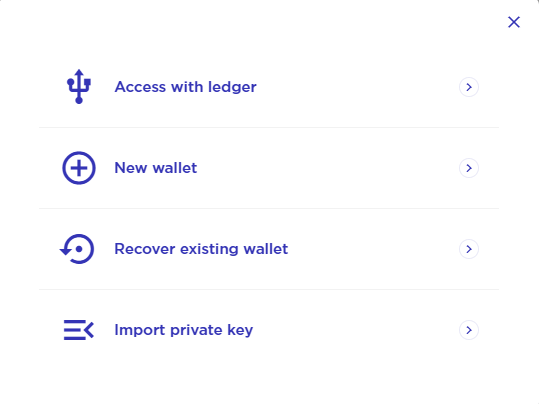 1. Since it is a new wallet click New wallet.
If you have Ledger wallet ready then you can access Terra station with your Ledger hardware wallet. No need to create new wallet. Install Terra app on the Ledger, connect your Ledger device and click access with Ledger. This way you can level up your Terra wallet security. This is similar to connecting Ledger to Metamask.
2. If you don't have Ledger then click create new wallet. On the next screen enter the wallet name and password of your choice. You'll be using this password to access the wallet each time.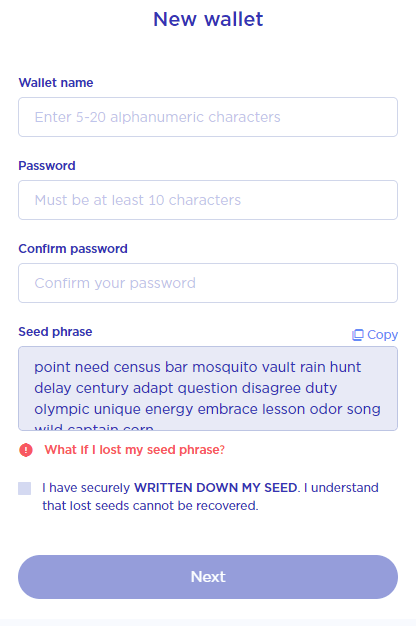 Just below the password field the wallet will display your 24 words seed phrase. Write it down in a piece of paper exactly as it is shown (not the image above) and keep it safe. This is very important for wallet recovery. If you lose them you cannot restore your wallet. Also if someone steels your seed phrase they can access all of your funds. So take proper measures to protect your seed phrase.
Once you have the seed phrase written down select I have written down my seed and click next.
3. On the next screen you'll be asked to confirm the seed word. Confirm your seed phrase by selecting or typing the correct words in each prompt.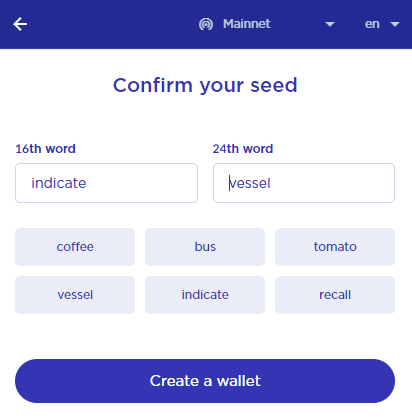 Once you've selected the right words click create a wallet.
That's it! Your Terra Station Luna wallet is ready and this is how it looks.
Desktop: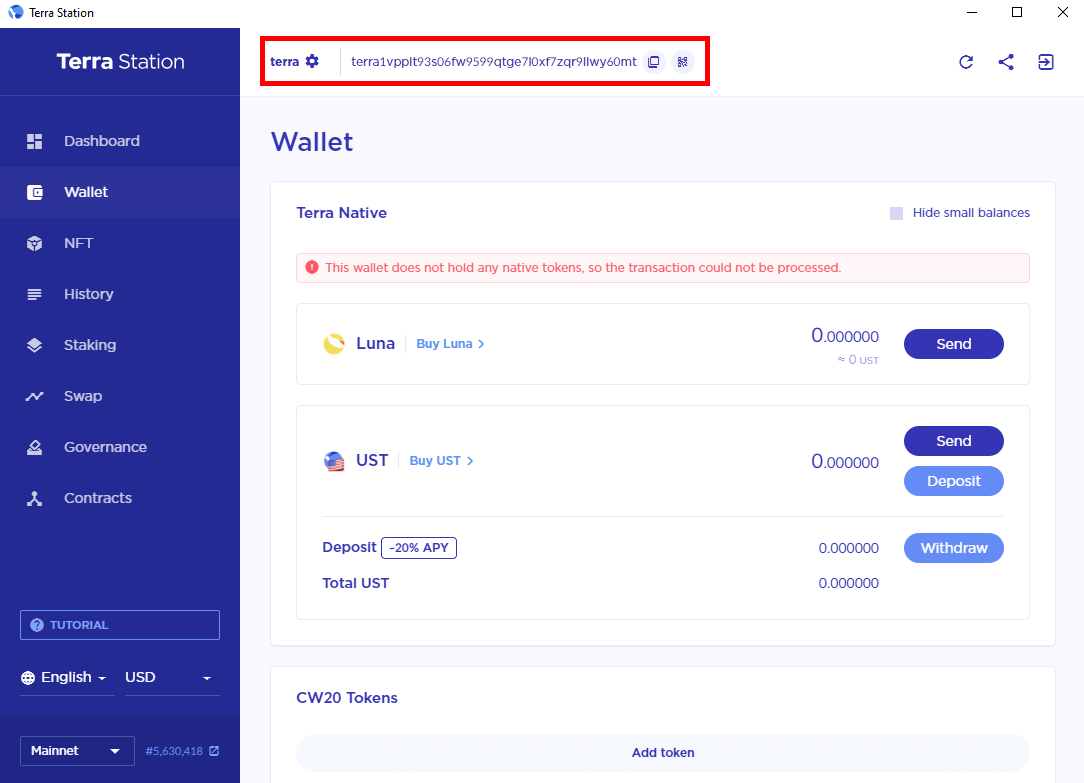 Browser extension: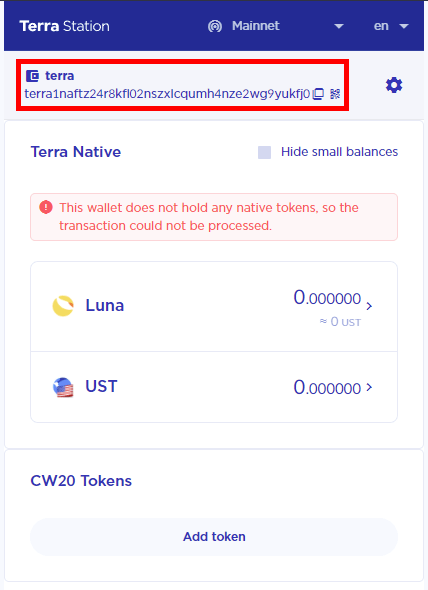 The wallet is self-explanatory. The dashboard displays the Luna price and other statistics of the Terra network. Use the governance tab to vote on various proposals on Terra ecosystem. To vote on proposals you need Luna tokens.
Use the wallet tab to send, receive and mange Luna / Terra assets.
Your wallet is currently empty and you do not have any UST or LUNA coins. At the top you'll find your Terra receiving address. Use that to receive Luna and Terra assets (stablecoins like UST and CW20 tokens) to your wallet.
Funding Terra wallet
To get started with the Terra ecosystem you need to fund your wallet first.
There are two ways to send coins and tokens to your Terra wallet.
1. You can use cross chain bridge to bridge assets from other blockchain to Terra. For this you can use the official bridge https://bridge.terra.money/.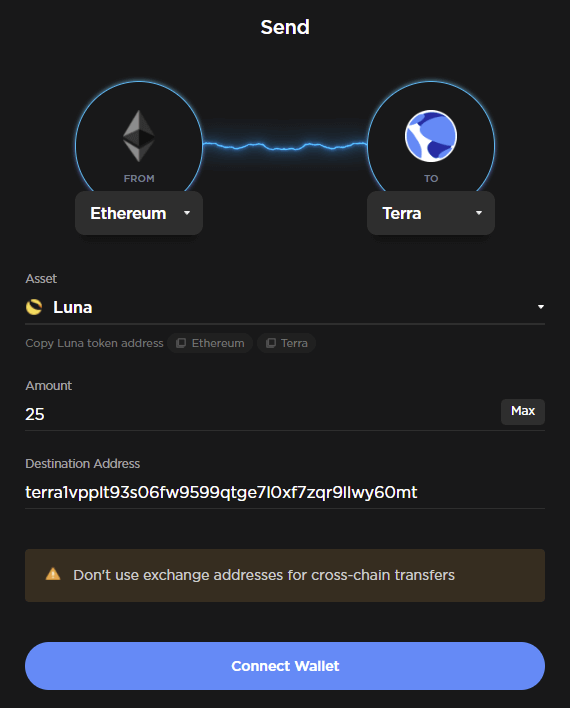 Using the bridge is very easy. For example to transfer from Ethereum network to Terra choose from as Ethereum and to as Terra network. Then choose the asset you wish to transfer, enter the amount and the destination address which should be your Terra wallet receiving address. Next connect your Metamask wallet and follow the onscreen instructions to complete the cross-chain transfer.
You can also use eth.mirror.finance to bridge your ETH to Terra.
Note: Always try with small amount. Once the transfer is successfully you can move large amounts.
2. You can purchase Luna and Terra tokens from exchange and transfer it to your Terra wallet address. To purchase Luna and Terra tokens you need to find the exchange that supports it.
Luna is available on most major exchanges like Binance, Kucoin, Bitfinex, Crypto.com, Bybit, Gate.io etc.
https://coinmarketcap.com/currencies/terra-luna/markets/
But the Terra assets such as TerraUSD and other stablecoins are not available on Binance. They are only available on Kucoin, Bitfinex and few other DEXs.
https://coinmarketcap.com/currencies/terrausd/markets/
Also US customers can use Kucoin to purchase Terra assets.
After purchasing LUNA or TerraUSD you can withdraw it to your Terra wallet address. The withdrawal process is straightforward. Enter your Terra address, select the amount to transfer, choose network as LUNA (Terra) and click withdraw. Double check your wallet address before sending.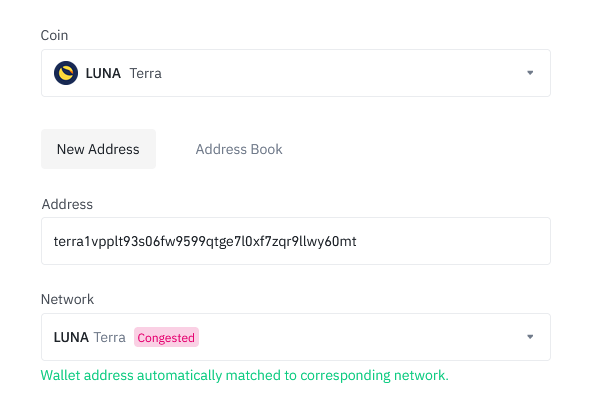 Terra Testnet (Optional)
If you don't want to risk your real coins but still wish to play around with the Terra ecosystem then you can try the Terra testnet. You can use the same Terra wallet and address for both the mainnet and testnet.
To use wallet in Testnet choose Testnet at the bottom left corner of Terra Station. In browser extension and in mobile wallet the option to switch between mainnet and testnet is at the top right corner.
Once you have switched your wallet to testnet, head over to the Terra Faucet https://faucet.terra.money/ and request some Luna or TerraUSD to your address.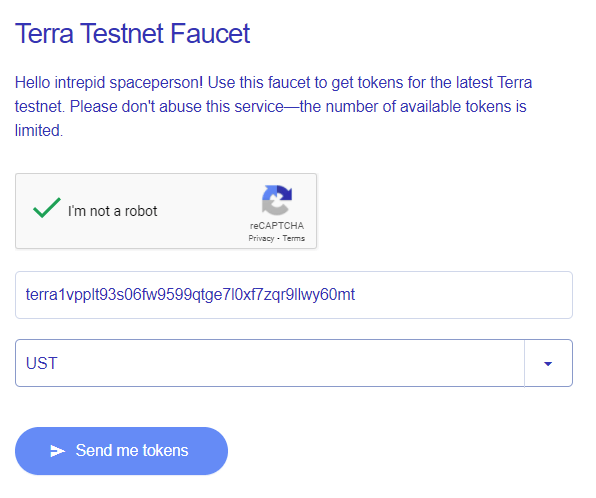 Once you have your wallet funded you can start staking, perform swaps and use the decentralized apps on Terra
Sending Tokens
Sending Luna and Terra assets from your wallet to an external address is as simple as receiving.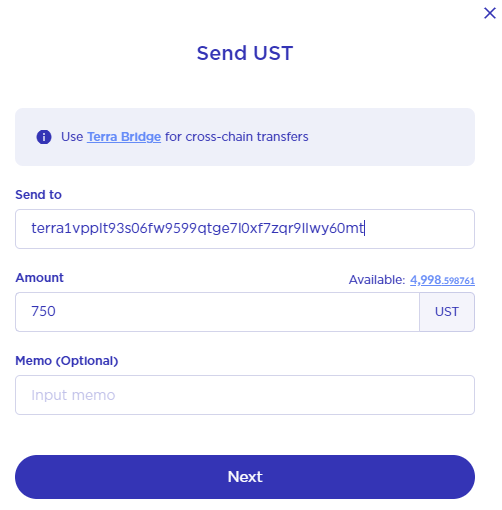 Go to Wallet >> choose the asset to send and click send. Next enter the recipient address and the amount to send and click next. If you are sending it to your exchange deposit address then input the Memo if the exchange requires it.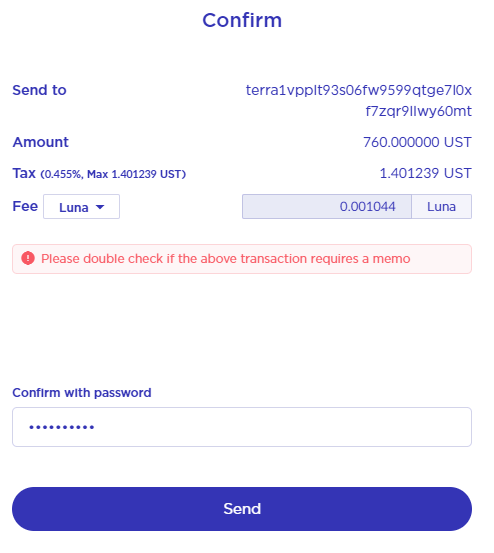 On the next screen verify the sent to address, the amount and the tax. Specify which token you wish to pay the fees in. Finally enter your wallet password and click send to initiate the transfer.
Note: Never spend your entire wallet amount. Always keep some coins to pay fees in the future. Without coins for fees, you can't make any transactions.
Your transaction will be broadcasted. After few moments your tokens will be send to the recipient address.
Use Terra block explorer to track the transaction: https://finder.terra.money/
Swapping Coins – On-Chain Swap
Both Terra Station desktop and mobile wallet features on-chain swap functionality which you can use to swap between Terra assets.
You can use the swap feature to acquire tokens that are not available on the exchanges. For example you can swap LUNA for stablecoins. Or you can use it to even acquire real world stock assets like: AAPL (Apple), AMZN (Amazon), Google, MSFT (Microsoft), Netflix, Tesla, Twitter etc.
Also this feature comes in handy during high market volatility. You can quickly turn your unstable Luna coins to any Terra stablecoins and protect its value.
To use the swap function open Terra Station and click on the Swap menu.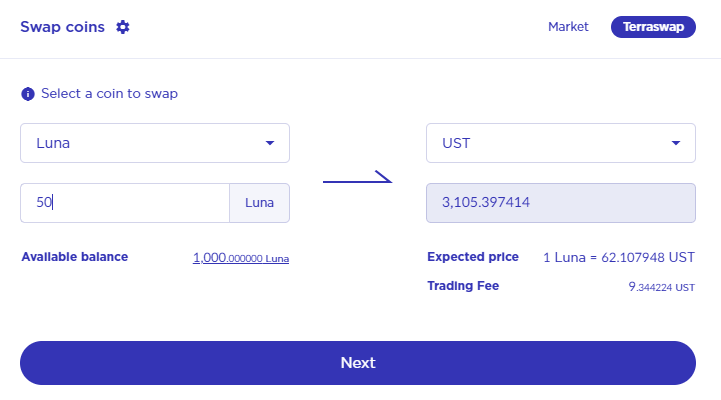 On the swap page select the coins to swap. Enter the amount of coins and it will automatically fill in the other side based on current market value. It'll display the current value of the particular asset and the trading fee required for the swap.
Click next, choose the fee asset, enter your password, confirm the slippage tolerance %, finalize everything and click swap to complete the transaction. The transaction will be broadcasted to the network and the swap will complete shortly.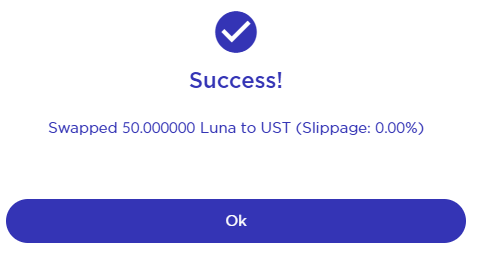 Congratulations, you've just swapped coins!
Visit the history tab to keep track of all your transaction history. Now let's see how to stake Luna.
Staking LUNA
Once you acquire LUNA you should start staking. It is one of the popular token to stake and earn passive income. Luna stakers are currently receiving over 11% APY.
Luna is one of the best staking asset because not only stake rewards but from staking you'll also receive airdrops from future projects launching in the Terra ecosystem.
Additionally staking LUNA in a pool sometimes rewards you with stablecoins like for example KRT (Korean Wan stablecoin). When you are staking LUNA you get rewards in multiple currencies because of the way how LUNA staking works.
Basics of Staking
There are two ways to stake Luna. You can either become a validator or delegate your stake to a validator. Validators are organizations that are running nodes on the Terra blockchain. If you have a node you can self delegate. However since we do not have a node you need to delegate with one of the validators. Once you have Luna to stake you can delegate it directly through the Terra Station interface.
How to stake Luna with Terra Station?
Open Terra Station and head over to the Staking page and you'll see the complete list of validators available on the Terra network. To start staking you need to delegate your LUNA to any of these validator. You can also use multiple validators to delegate your stake. So how to pick a validator?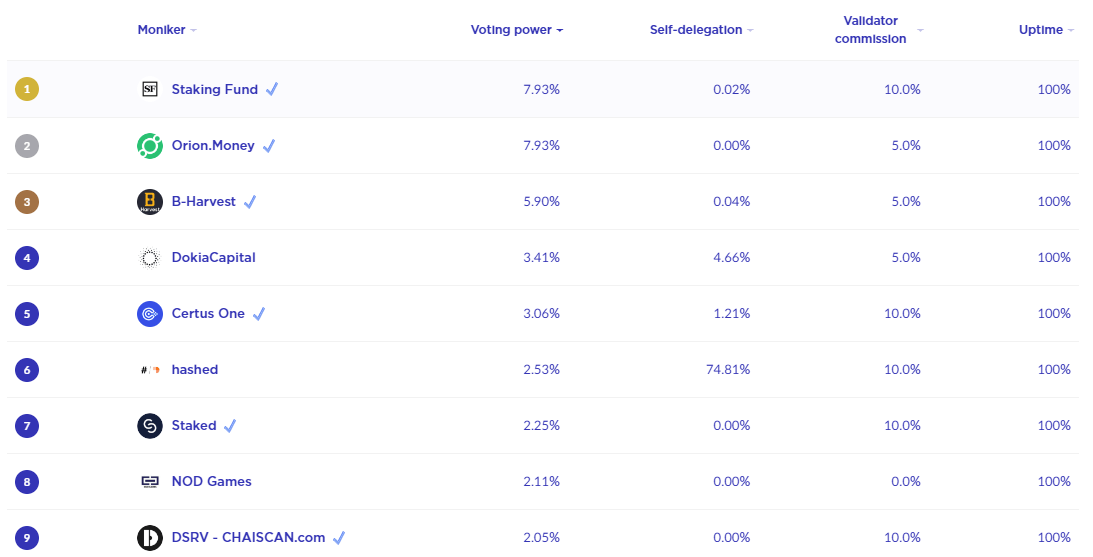 The validators that you see here – Some of them are professional services, some are community members of Terra and some are investors. Each validator comes with its own unique offerings. When choosing a validator the main factors that you need to consider are:
Validators voting power – Voting power is proportional to the validators delegated stake. It indicates how big their voting power is on the network. Higher the voting power the better.
Validator commission – The percentage they'll be taking in fees for using their service.
Uptime of the validator for last 10k blocks and their self delegation that shows how much of their own they are staking.
Also Ticks represents a good validator.
Do your research and pick a validator from the list which will take you to the validator details page.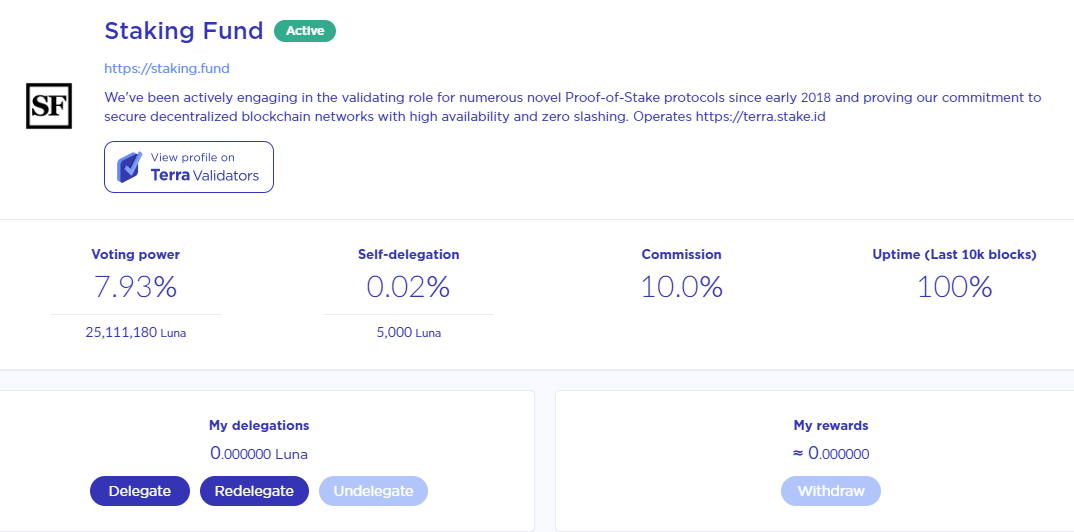 Analyze everything and once you are confident go ahead and delegate your Luna to them.
Under My delegations Click delegate and enter the amount of LUNA you wish to delegate. Confirm the amount, select the coin to pay fees in and click delegate to finalize the transaction. After you delegate the amount of Luna you've entered will be chosen for staking.
Congratulations! You've successfully delegated your LUNA and your LUNA is now staked!
Note: Make sure to choose a good reliable validator or else you'll have your coins slashed in case of node downtime.
Withdrawing Luna staking rewards
After you start staking you'll start accruing rewards. You can view all of your rewards and staking bonuses from the staking menu of Terra station.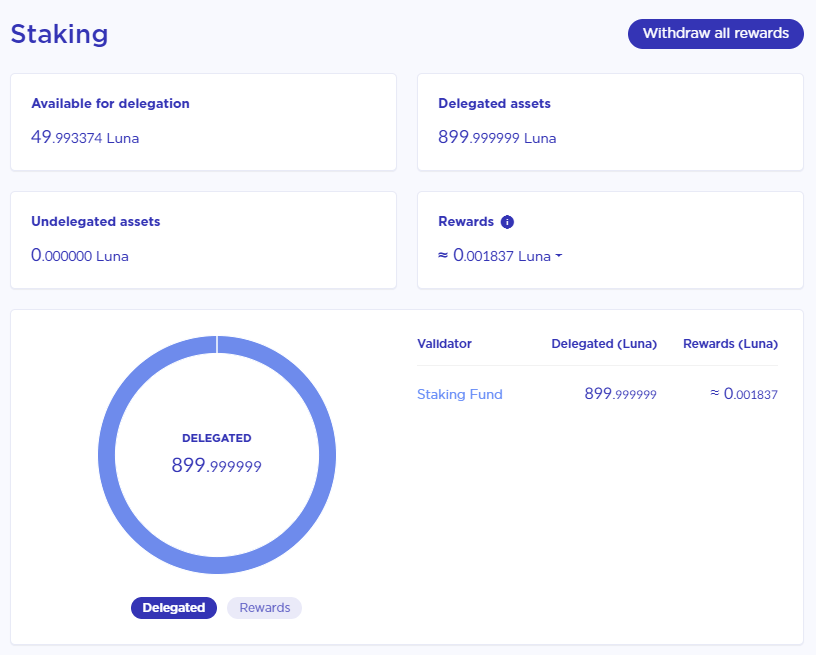 Open staking menu to monitor your Luna staking rewards. Once you have acquired sufficient rewards click on withdraw all rewards at the top.
Next review the amounts, choose the coin to pay fees in, enter your wallet password and click withdraw.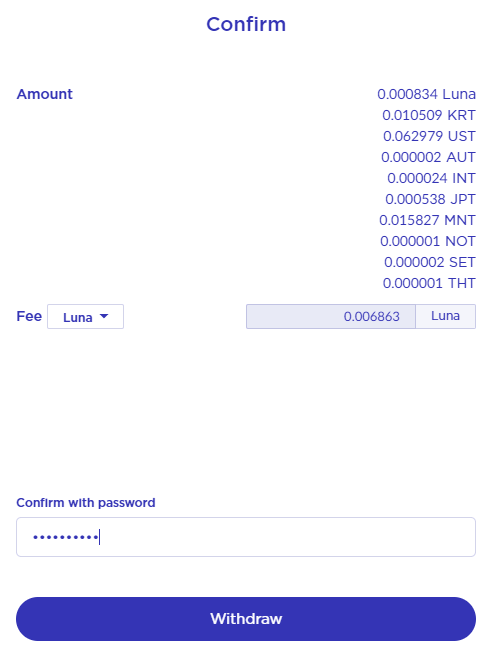 Congratulations! You've just withdrawn your staking rewards! As you can see other than LUNA tokens you've also earned many other stablecoins as a reward.
You can continue staking or you can undelegate your staked Luna.
To undelegate your staked LUNA visit the validator page and under "My Delegations" section click undelegate. Next enter the amount of LUNA you wish to undelegate and finalize the transaction.
Note: If you want to undelegate that is if you want to withdraw your Luna anytime then remember that there is a 21 day lock up period. During that time you won't be earning any rewards. This is for security reasons and to prevent anti dumping.
On the staking page you'll see the coins available for delegation, total amount of delegated assets, undelegated assets and the rewards available for withdrawal.
Claiming Terra airdrops:
After you start stacking you should also check out https://www.terradrops.io/ Connect your wallet to this site to find out whether you are eligible for any airdrop tokens. You can get Anchor & Mirror Protocol Airdrops.
Also check out the Terra analytics page https://terra.smartstake.io/stats for airdrops and snapshots information on the Terra ecosystem. You can claim weekly airdrops (when Snapshot happens).
By staking LUNA you are participating in the network consensus. You're basically helping secure the network that you've invested in.
Other than staking LUNA you can also convert LUNA to high-yielding savings account (UST) to maximize profit. You can currently earn up to 20% APY on UST using Anchor Protocol.
Connecting to dApp
There are many protocols available on the Terra – Luna Ecosystem: https://www.terra.money/ecosystem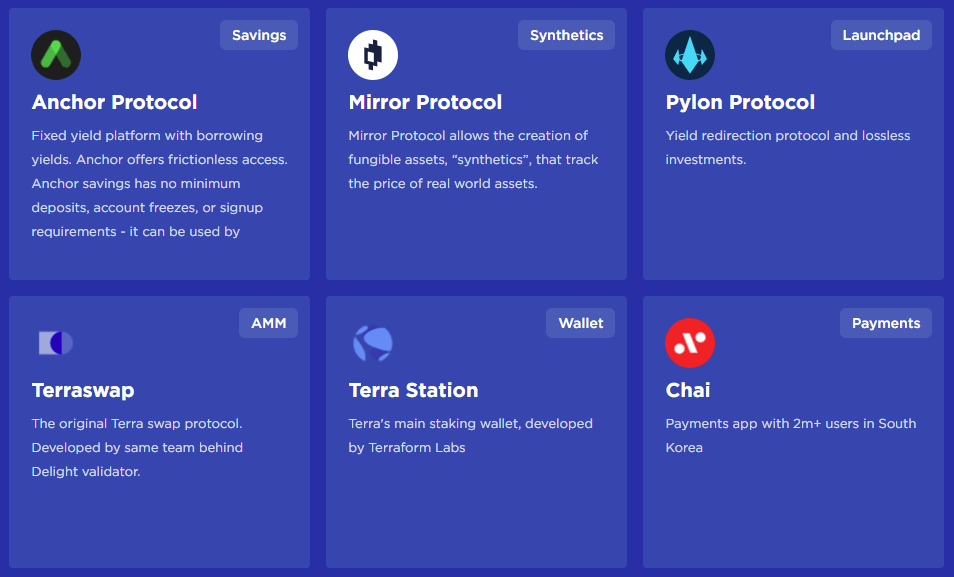 The network has grown significantly and currently UST (TerraUSD) plays a crucial role across these DeFi protocols.
It acts as a savings product in Anchor Protocol – A decentralized application where you can hold money and earn interest. And as an investment tool in Mirror Protocol – A DApp where you can buy stocks, provide liquidity, yield farm tokens and much more.
To make use of these platforms you need UST. You can buy UST from exchanges like Kucoin or you can swap for LUNA in your Terra Station wallet.
Once you have UST you can connect your Terra Station wallet to these DApps. To connect to a DApp you either need to use the browser extension or your mobile wallet. You can't connect Desktop wallet.
First open the dApp of your choice. For example https://app.anchorprotocol.com/earn or https://terra.mirror.finance. The process is same for most dApps.
At the top right corner you should see connect wallet button. Click connect wallet and choose Terra Station.
If you have the browser extension installed then a new pop up window opens. If not then use the wallet connect option and scan the QR code using your mobile Terra wallet.
Next click allow access to wallet and that's it!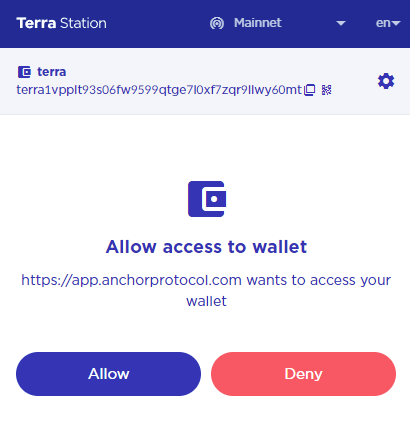 Your Terra wallet is connected to the DApp. You can deposit UST and start earning passive income. Or you can buy stocks and hold.
That's all! We're done! Now before you leave we'd like to let you know that this guide is not an endorsement of Terra ecosystem LUNA or anything. Its just a beginners guide on Terra wallet and staking LUNA.
We hope it is helpful. If you like this then you'll also be interested in Avalanche wallet guide.