Wallets
Sweet Honey – Setting up Honey QT Wallet in Windows
This is just another wallet setup guide. Here we'll be discussing about Honey Cryptocurrency and setting up Honey QT wallet in Windows. If you are looking for POS coin (Proof of Stake) that has a fixed reward stake then Honey is for you. It has a fixed stake reward of 2 Honey per stake which is great. Before getting further into Honey wallet setup guide we'll see its specifications.
[cryptocurrency_widget type="leaderboard" symbol="HONEY~USD" template="color-frame" color="black"]
Honey is a POW/POS hybrid type coin. While writing this post Honey is ranked number 870 among thousands of other crypto currencies. It has a market capitalization of $372,682 USD (34 BTC) and 24 Hr Volume was $2,481 USD (0.23 BTC). Its price was $0.933547 USD (0.00008628 BTC) which is too low considering its circulating supply which is just 399,211 HONEY. Alright, let's get in to its technical specifications.
Honey – Specifications
Coin Type – POW / POS Hybrid
Algorithm – Blake2s (ASIC resistant)
Block Time – 3 Minutes
Difficulty Retarget – Every Block
Proof Of Work Block Reward – 1 Honey
Proof Of Stake Block Reward – 2 Honey
Block Reward Halving – Never
Coinbase Maturity – 5 Blocks
Last Proof Of Work Block – 500000
POS stake start – Block 1
Minimum Confirmation – 50 Blocks
Maximum Coin Supply  – 7000000 HONEY
You can find more details and discussion going on about Honey at BitCoin Talk Forum.
Also here is the link to Honey Block Explorer
Setting up Honey QT Wallet in Windows
Whether you are looking to Mine Honey Coin or stake Honey, you'll first need a Honey Wallet to send, receive and hold currencies. Honey currently offers wallet for both Windows as well as Mac users. Here in this guide we'll be discussing on Installing Honey QT wallet in Windows.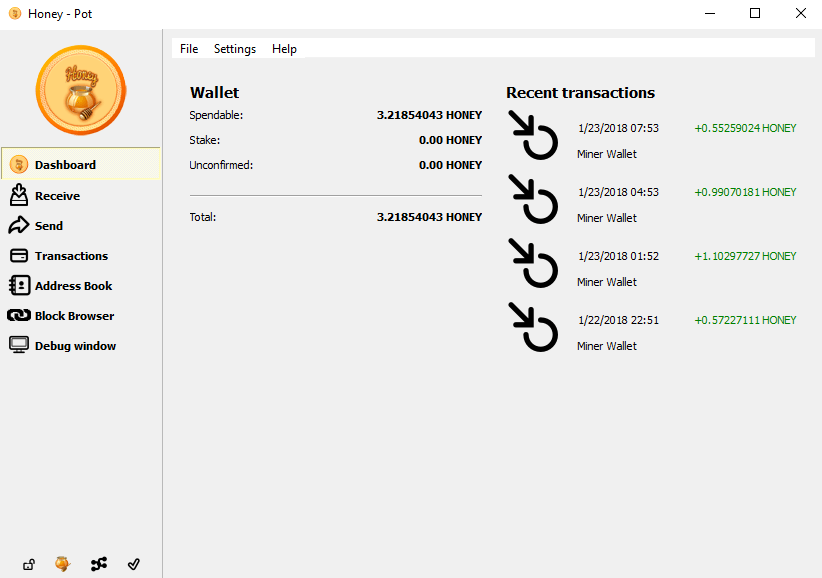 To download Honey Wallet go to Honey GitHub page and download the latest Honey-qt-win.zip. While writing this article it was version 2.1.2.0 which may be updated by the developer so download the whichever latest version you see there. Once done unzip the file in folder where you wish to keep the wallet. Most probably it will just contain only one file which is Honey.exe. Open that, your wallet is now ready and it starts syncing with the blockchain.
This wallet saves the core file such as blockchain data and wallet information in C:\Users\username\AppData\Roaming\Honey. If you are running out of space in C drive then this guide will help in changing the blockchain directory.
To know whether your Honey wallet is fully synchronized with the blockchain make sure the wallet doesn't say out of sync. Also at the bottom left corner you'll see the total number of active connection to Honey Network, staking status and blockchain sync status. To know your wallet address go to Receive tab and you'll find your Honey wallet address there. If not you can create a new one. Alright! Your Honey Wallet is ready and you can use the public address to start receive payments either by mining or staking.

Update: Honey Wallet not synching issue Fixed.
While browsing through Bitcoin forum we found that most users were facing Honey wallet not synching issue and one of the user has suggested to download the latest blockchain directly. Here is the discussion link "My wallet is also out of sync. Ver. 2.1.2.0. Added this node – nothing happens. I have several active connections (2-4-6…) but blockchain doesn't sync. Deleted it from Roaming folder – no change. Now it is stuck on block 2.". If you are facing blockchain not synching issue in Honey wallet then download the blockchain to C:\Users\username\AppData\Roaming\Honey. Please click here to download the Honey Latest Chain and replace it in roaming folder. Before doing make sure your wallet is closed. Once done open your wallet and it should start synching with the blockchain.
Buying Honey Coins from exchange
You can use your Bitcoin, Ethereum, Litecoin or Doge Coin to purchase Honey coins. Honey is current listed in coinexchange.io.
Hope this guide helped you in setting up Honey QT wallet in Windows. If you have any further questions or concerns regarding this post please make a comment. We'll help you out.
Happy Mining and Staking!