Tokens
BEP2, BEP20, ERC20, OMNI & TRC20 networks – What's the difference?
This is a quick topic on BEP2, BEP20, ERC20, OMNI & TRC20 transfer network option that you find on Binance deposit & withdrawal section.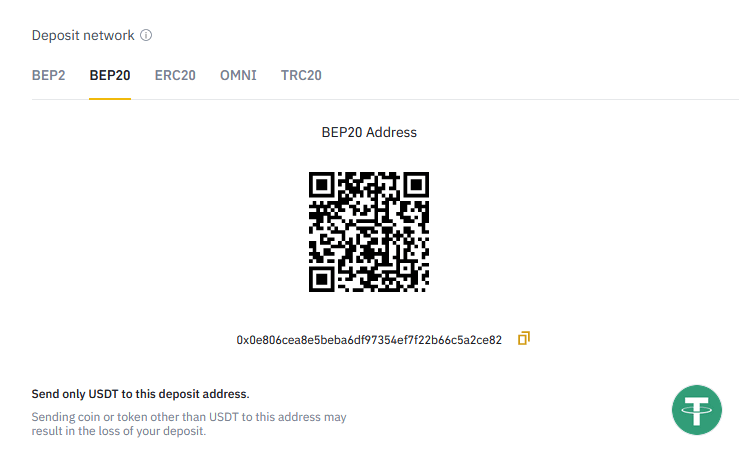 BEP-2 | ERC-20 |TRC-20 | OMNI
A year ago when Binance launched Binance chain they also announced a feature that allows interoperable deposits and withdrawals. Meaning you can deposit an ERC-20 Token to your Binance account and withdraw as BEP-2 Token and vice versa.
For example you can deposit Chain Link or Matic which is an ERC20 token (from Ethereum Chain) to your Binance account and withdraw them as BEP2 token (to Binance Chain).
However the address for both the network is different.
BEP2 – Token on Binance chain starts with bnb136ns6lfw4zs5hg4n85vdthaad7hq5m4gtkgf23
ERC20 – Token on Ethereum chain starts with 0x0e806cea8e5beba6df97354ef7f22b66c5a2ce82
Likewise the address for OMNI and TRC20 is also different.
OMNI – Token on Omni layer network starts with 1JKhrVV9EsgSS5crXLBo9BRVXyuHjf2Tcp
TRC20 is a token standard on TRON network and their address starts with TWsVAb9EWAgKdumTD7XoEdkvs7AoyvkgN7
Also BEP-2 address requires the use of MEMO which is not needed for OMNI, TRC20 or ERC-20 deposits and withdrawals. So there shouldn't much confusion when depositing or withdrawing your tokens.
Even when you input the wrong address the exchange will warn you with the following message.
"The address does not match the currently selected network, it is recommended that you switch to another network."
Likewise when you are sending coins / tokens from your wallet you'll get "Recipient address is invalid" error message if you input an incorrect address.
But now things got little confusing for many newbies after Binance launched BSC (Binance Smart Chain) and opened deposit and withdrawal option for BEP20 tokens.
BEP 20 Token
BEP 20 option is now available for major assets like BTC, ETH, USDT, LINK, DOT, DAI, EOS, LTC, XRP, XTZ, BCH, BAND, ADA, ONT etc.
So now when you are depositing or withdrawing any of these coins you'll be asked to choose the network type.

Once you input your wallet address or the recipients address for withdrawal the exchange will automatically select the network based on the address entered.
But what's more confusing is that both BEP 20 and ERC 20 share the same address format. Also they've listed ETH as ERC20. Hope Binance changes this soon to avoid confusion.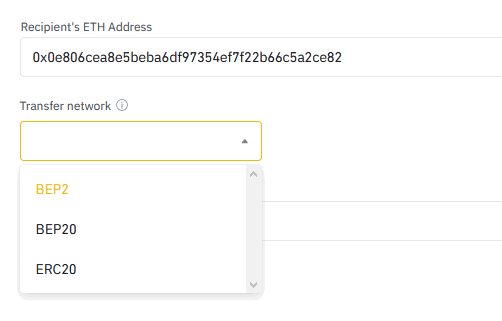 (ETH is neither ERC20, BEP2 or BEP20. ETH is a native coin on its own chain. ERC 20 is a token on ETH chain and BEP 2, BEP 20 is a token on Binance chain and Binance smart chain respectively)
So what is the difference between these two networks, why BEP 20 uses same address as ERC 20 and which one should I choose when transferring ETH or other coins?
Here we'll not get into the technical specifications of the token standard. Instead we'll just explain the basics of these network types and give a quick introduction to pegged tokens.
BEP20 Network – Binance smart chain
Binance smart chain is a parallel Binance chain designed to enable smart contracts and it comes with an Ethereum Virtual Machine-compatible environment.
It is never meant to compete with Ethereum or replace ETH. BSC is just an ETH-compatible chain and is designed to give users more options such as fast block times, cheap transaction costs etc.
Users will now be able to transfer the same asset (ERC20 token) in shorter time and at surprisingly low cost (low gas price) on Binance smart chain (BEP20 token). These are called pegged tokens.
Pegged tokens?
Pegged tokens are a type of token that will have its value tied to the original crypto.
For example Chain Link (ERC-20) token will be pegged at 1:1 ratio with Chain Link (BEP-20) token. Not only ERC 20 tokens, but even tokenized versions of Bitcoin, Ethereum, Litecoin, Tether (USDT)  are available on Binance smart chain.
The purpose of these tokens is to allow trading assets on DEXs and benefit from the speed and transactional efficiency of the new blockchain.
These coins and tokens are wrapped and pegged by Binance on 1:1 ratio to the corresponding native cryptocurrency.
On Binance scan explorer you can find the full list of Binance pegged tokens (BEP 20) and their contract address.
Bsc Scan: https://bscscan.com/tokens/label/binance-pegged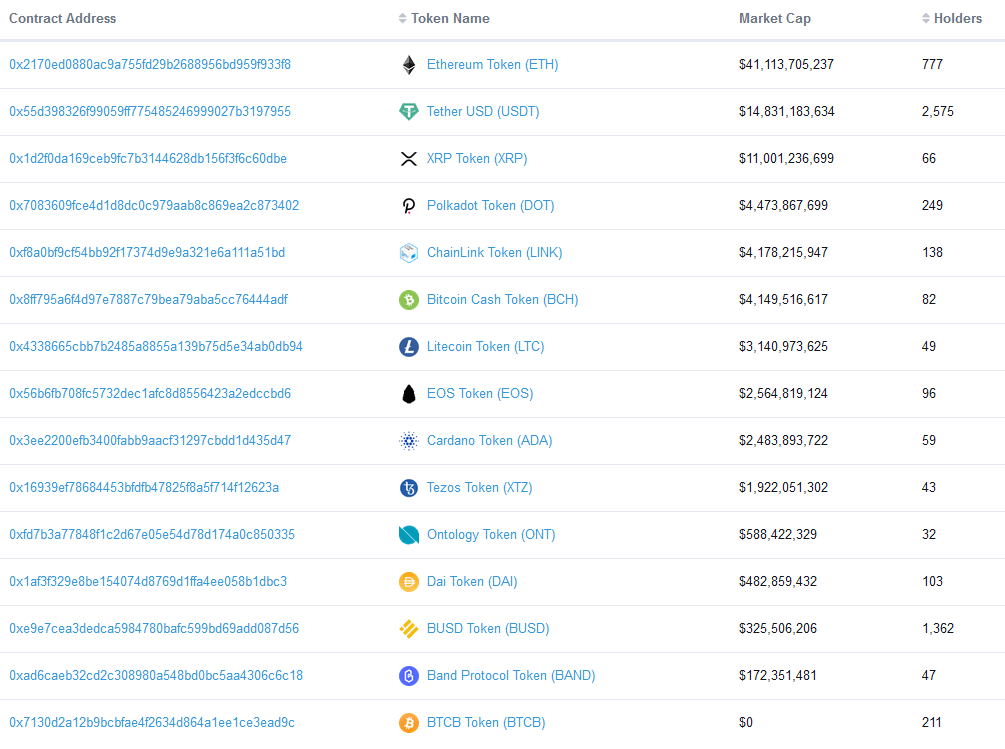 These tokens are currently traded on Binance and  Binance DEX. You can transfer to and from Binance.com and can swap it for their native assets anytime.
Also Trust wallet is the only wallet that currently supports BEP20 token standards. Other than that you can enable Binance smart chain on your Metamask wallet which we'll explain in another guide.
What is the difference between BEP-2, BEP-20 and ERC-20?
Most of the popular tokens today are ERC 20 tokens that are build on Ethereum. If you are quite confused then visit CoinMarketCap and you should be able to figure out whether a token is built on Ethereum blockchain or Binance chain.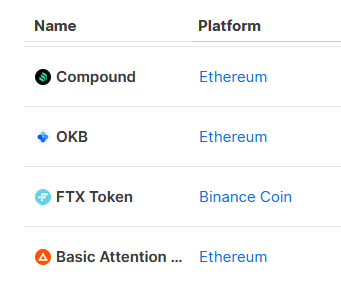 ERC-20 is a technical standard for smart contracts on the Ethereum blockchain for tokens.
BEP-2 is a technical standard for implementing and launching tokens on the Binance blockchain.
BEP 20 represents a token standard on Binance smart chain.
This is all you need to understand:
ERC20 – Ethereum chain
BEP 2 – Binance chain.
BEP 20 – Binance smart chain
For example if you choose BEP 20 as network and withdraw your ERC 20 token then the tx will be visible on Bsc scan and not Etherscan. It's because you withdrew it to Binance chain and not Ethereum chain.
So when depositing or withdrawing make sure to choose the right intended network. Ensure that you use the correct chain that the platform supports.
If you require assistance or quite confused then we recommend you to contact Binance support.
Hope it helps.
Learn More:
What happens if you send Bitcoin to Bitcoin Cash address?
Are Bitcoin address and private keys case sensitive?