Tokens
How to claim $ROPE airdrop? Quick guide | Rope – SOL based token
Who doesn't love free coins, right? To be honest crypto industry have provided more freedom and financial support to people more than any government or organization could possibly do.
The crypto bull market keeps on giving. Remember Uniswap's UNI token which was airdropped to early adopters. The 400 UNI tokens are now worth more than $11000. Congratulations if you've claimed it and HODLed all the way through.
Similar to UNI there are many airdrop events going on. One that occurred recently is COPE airdrop. If you've missed COPE airdrop then do not worry. You've now got Rope $ROPE airdrop. The event is currently going on and it ends on April 4th (4/4/2021). Each person gets 200 ROPE.
So what are you waiting for. Setup a wallet, copy your ROPE address and claim your ROPE tokens. Its that simple.
This quick guide explains how to claim your FREE ROPE airdrop tokens. But before that here are few information about ROPE.
Rope – SOl based token | Solana SPL token
First of all this token is new. Other than the official Discord page there is no website or white paper. You won't even find this token on CoinMarketCap or Coingecko as they are not listed yet.
The ROPE token that is trading for $60 is an Ethereum (ERC20) based NFT. Whereas this ROPE token runs on Solana (SOL) ecosystem.
ROPE is a SPL token which is the token standard of the Solana blockchain. This is similar to ERC20 for Ethereum network. Most of the SPL tokens are designed for DeFi applications and ROPE is one such token.
Here is how to claim your free ROPE tokens
How to claim ROPE airdrop?
Airdrop info:
Drop ends 4/4/2021 (April 4th)
200 Rope per person
Only one address allowed / person.
Claiming ROPE airdrop is simple but you need some patience. All you have to do is copy your ROPE address and post it in #airdrop-address section on the ROPE discord https://discord.gg/EMBde3WKhM server.
Grab your ROPE address
ROPE being a Solana based token you need a SOL wallet.
Go to https://www.sollet.io/and create a new wallet.
Remember to copy the seed word and store it in a safe place.
Setup password for your wallet and click create wallet.
The wallet will be generated and you'll see your SOL deposit address. That is not your ROPE address.
To add ROPE token to your wallet you'll first need a small amount of SOL in your wallet.
You can buy Solana from Binance or FTX. Once you bought the SOL fund your Solana wallet with a small amount of SOL. Make sure to send atleast 0.01 SOL.
Adding tokens to your wallet will cost you SOL. This is similar to GAS in Ethereum.
Once you have some SOL in your wallet add the ROPE token manually.
Token details:
On your Solana SPL token wallet click the + icon at the top right corner to add token and click manual input. Next input the following information and click add.
Mint address: 8PMHT4swUMtBzgHnh5U564N5sjPSiUz2cjEQzFnnP1Fo
Token Name: ROPE
Token Symbol: ROPE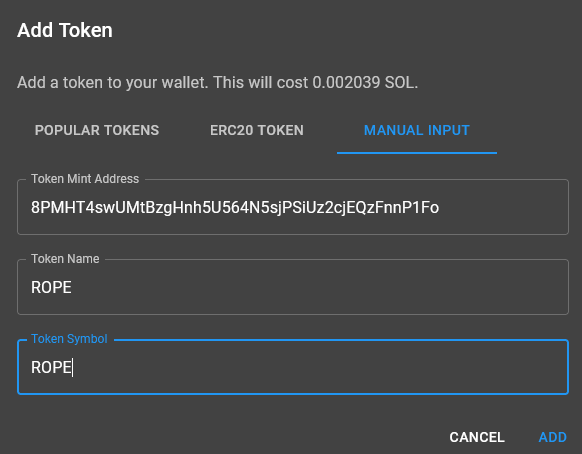 After clicking add your ROPE deposit address will be added to your main account.
Copy your ROPE address and post it in #airdrop-address section on ROPE discord https://discord.gg/EMBde3WKhM server.
Posting ROPE address
To claim ROPE join the ROPE discord https://discord.gg/EMBde3WKhM server and You must be @OG or higher to post your address.
If you are a new user then getting OG role can get quite tricky. Due to high traffic moderators have disabled the Discord bot and they are manually updating the roles. So to get OG role you need to have some patience.
Once you get the OG role you'll see the airdrop-address section below Airdrop category. Enter your ROPE address that you copied from your SOL wallet and you're done.
Note: Airdrops are sent in batches so be patience. Also do not spam the server or ask the moderators when you'll receive your airdrop. They might ban you.
Also do not worry if you don't have your OG role yet. The airdrop will keep going on until April 4th and 40,000 users will be eligible for this airdrop. Sure, you'll receive your Airdrop. All you need is patience.
Video Guide to claim Rope airdrop:
ROPE specifications / FAQ
What is $ROPE?
ROPE is a token project that enables traders to rank their performance and view other traders' performance inversely in an index based on their Rope score. The ranking creates signal for other traders looking to avoid entering new positions
How do I get $ROPE?
Airdrop only. Fair launch distribution through social media and form.
Can I buy $ROPE?
$ROPE will have no presale. Only airdropped.
What are the token economics of $ROPE?
Total supply 10,000,000
Airdrop 9,000,000 (90%)
Development 1,000,000 (10%)
$ROPE use case:
DAO governance to vote on everything happening in the $ROPE ecosystem.
Earning double yield through staking your L/P tokens in certain pools, and Launchpad program for only $ROPE holders.
Where can I trade ROPE?
ROPE being a SPL token it is currently being traded on Serum, a Solana based DEX (Decentralization Exchange): https://dex.projectserum.com/.
All of this information is available on their Discord page.
Other than Discord they also have plans to give out ROPE over social media. So be active on Discord to find out what's going on.