Exchanges
Binance service restricted, withdrawal suspended, account locked & disabled
Not Your Keys, Not Your Coins: No matter how big the exchange is; you should never keep all your digital assets in an exchange wallet. It has some risks; especially leaving your coins on exchange for a long period of time is not a good idea. Only keep your coins on the exchanges if you are an active trader. Else move them and store your cryptocurrencies in your personal wallet where you control the private keys.
Its not uncommon for cryptocurrency exchanges to have a downtime during hot market activity. In some extreme conditions there are some exchanges that will freeze your withdrawals or even restrict service completely during any day of the week for any reason.
Recently Binance the worlds largest cryptocurrency exchange have frozen many accounts of users around the globe for unconventional reasons.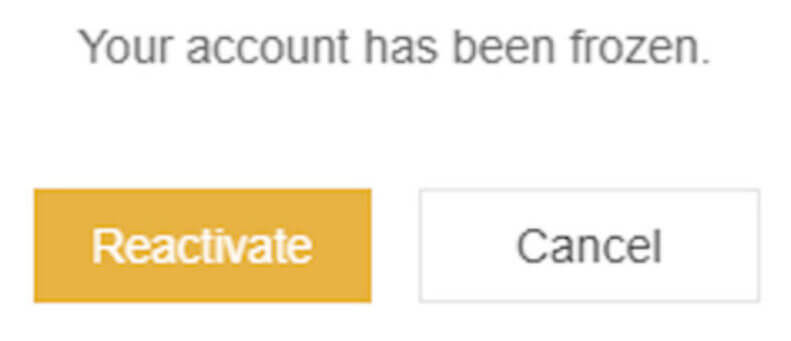 We've been receiving a lot of queries from Binance users regarding this. Before we see how to tackle the issue let's first understand why Binance is blocking users.
There are two scenarios in which users accounts are getting locked out by Binance.
1. Binance Withdrawal suspended
If there is some kind of abnormal activities in your account then the withdrawal function will be disabled temporarily. Abnormal activities can imply anything such as: Logging in using different computers, mobile apps or accessing your account from different IPs in the same day etc.
The withdrawal function will be disabled for your account if the Binance system detects any kind of abnormal activities in your account.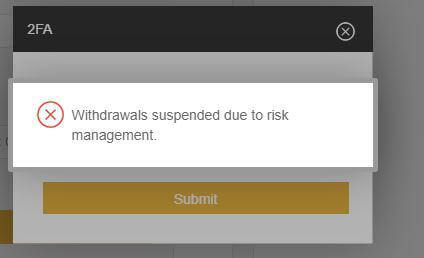 When you try to withdraw funds from your account you'll receive an email similar to this.
Withdrawal Failed:
Hello,
Your account may be at risk. In order to protect your assets, withdrawals have been temporarily suspended for your account(s). Please click the link below to submit a withdrawal appeal to remove the withdrawal ban on your account(s):
https://www.binance.com/en/my/risk/withdrawal-reject-appeal
If you did not initiate this operation, please contact Binance Customer Support immediately. https://www.binance.com/en/support.
Binance Team
This is an automated message, please do not reply.
This is nothing to worry about. Its just a temporary withdrawal ban on your account and you need to submit withdrawal reject appeal form to unlock the withdrawal feature.
Basically you'll be asked to verify your identity that is complete KYC / AML verification in order to resume your account withdrawal function. There is no time limit for this. You can do it any time any day but you can only withdraw coins if you complete the account verification successfully. So after the KYC procedures you'll have to wait for the review.
After successfully completing the account verification your account withdrawal function will be resumed and you can use your account as normal.
You can read more on how to resume Binance withdrawal function here: https://www.binance.com/en-IN/support/faq/360038583951
2. Service suspended for restricted countries (Binance)
Binance have strict risk controls in place, this is to secure user funds and to adhere to the local regulatory requirements.
Last year they made it clear that Binance would strictly enforce regulations to keep U.S. users off the international exchange (Binance.com). Instead encourage US users to sign up on Binance.US exchange.
Due to regulatory compliance Binance has stricter measures for blocking US customers from accessing its platform. If the exchange identifies any user as U.S resident then it will block that person from accessing its platform.
Binance tracks user location based on their IP address. So if you are an U.S resident or if you accidentally accessed Binance using a VPN then it will raise flags to the exchange's compliance software.
The exchange will block all users those who have identified as an US person and it will ask them to withdraw their funds with a 14 day deadline.
Recently a lots of users are receiving an email from the exchange with a 14-day notice to withdraw funds. If this is the case then you should have received an email similar to this.
We recognize that you are trying to access Binance from a US IP Address, please note that per our Terms of Use we are unable to to server any users from a US IP.
Service Suspended for users from restricted countries. Now you have 06 D 23 H 56 M 17 S to withdraw your funds. Please withdraw as soon, failing which your account will be locked and can't withdraw anymore.
Previously it was a 90 day notice to withdraw funds and now Binance is only giving 7 days to withdraw funds.
You have 7 days to close all your active positions (both futures and spot) on your account and withdraw all your funds. Your account will be locked if you fail to do so. Once your account is locked, you will have to raise a customer service ticket with Binance to assist you further.
So what should you do in this case?
Solution:
If you are truly an U.S resident then register for an account over at Binance US and transfer all your funds from Binance.com to Binance.us. There are certain cases where the user is not allowed to withdraw funds to an external wallet. Users are only allowed to transfer their funds over to Binance.US account. From there you can withdraw to your personal wallet.
In case if you are not an US resident but if you are still got locked out then try contacting Binance support immediately and transfer the funds to your external wallet.
You'll be asked to submit a valid ID to prove that you are not an US resident.
Your current account will be locked indefinitely and offboarded.
Once you have retrieved the coins you need to create a new Binance account with a different email ID. But this time make sure you are not using any VPN when accessing Binance. This way your account won't get flagged for suspicious activity.
Use our referral links to get fee discount on Binance:
Hope it helps.