Buy / Sell
Exclusive Bybit Bonus – Claim up to $1610 in bonus + 15% APY
Other than informative articles from time to time we also share exclusive deals and offers which is beneficial for our users. Mostly it will beneficial for both regular users as well as traders. But this one is particularly for the traders. If you are a trader then here is another Bybit special promotion exclusive for Coin Guides users.
For those who are new to this space Bybit is a fastest growing cryptocurrency exchange which started mainly as a derivatives trade platform offering only inverse perpetual contracts with 100x leverage similar to BitMEX. But now they also have USDT perpetual and inverse futures where you can trade various cryptocurrencies with leverage. Other than leverage trading they've also introduced spot exchange recently where one can buy / sell crypto instantly. Plus they have exclusive portal for cloud mining and DeFi mining similar to Binance.
Before you check out if you haven't signed up to Bybit yet then use our bonus link to get the following benefits.
Currently Bybit is running a massive bonus campaign which is only valid till 18th August. You got a chance to earn up to $1610 in Bonus as this is applicable only for new users who registers using our link.
Here is the bonus details and how to claim the deal:
Bybit bonus campaign:
Sign up link: Join Bybit
Max Benefit : $1610 + 15% APY
Claim up to $1000 Bonus from Bonus Bash Campaign
Guaranteed $610 from Rewards hub (once you hit deposit requirements and complete certain tasks)
(+ ~15%) APY from DeFi Mining
How to claim the limited offer?
Bybit bonus Promotional link ($1610 BONUS + 15% APY): Bybit Sign up
***Note*** This campaign is valid only till August 18th and is only applicable for the new users.
1. $610 from Rewards hub – To claim this deal Register to Bybit using our promotional link. After signing up visit Bybit rewards hub to claim amazing rewards. In Rewards hub page you'll get guaranteed $610. For this you need to complete some special tasks that is assigned to you.
2. $1000 Bonus from Bonus Bash Campaign – In addition to $610 rewards you can also claim up to $1000 in bonus from Bonus Bash Campaign.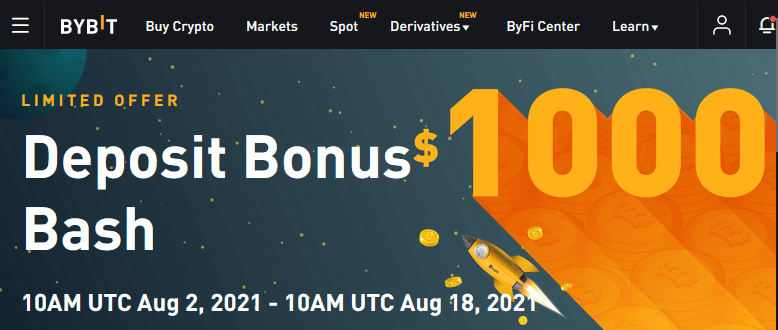 To claim this bonus you must sign up to Bybit using our link. Once registered go to limited offer Bybit deposit bonus bash page and register for the campaign. Next meet the deposit requirements.
Join Bybit deposit bonus bash: https://www.bybit.com/en-US/bonusbash/
Traders who make a first deposit during the event period (till August 18th) will receive a $10 coupon in the deposited coin. Additional bonuses can be claimed the more you deposit which is only valid during the campaign period. Refer to the table below.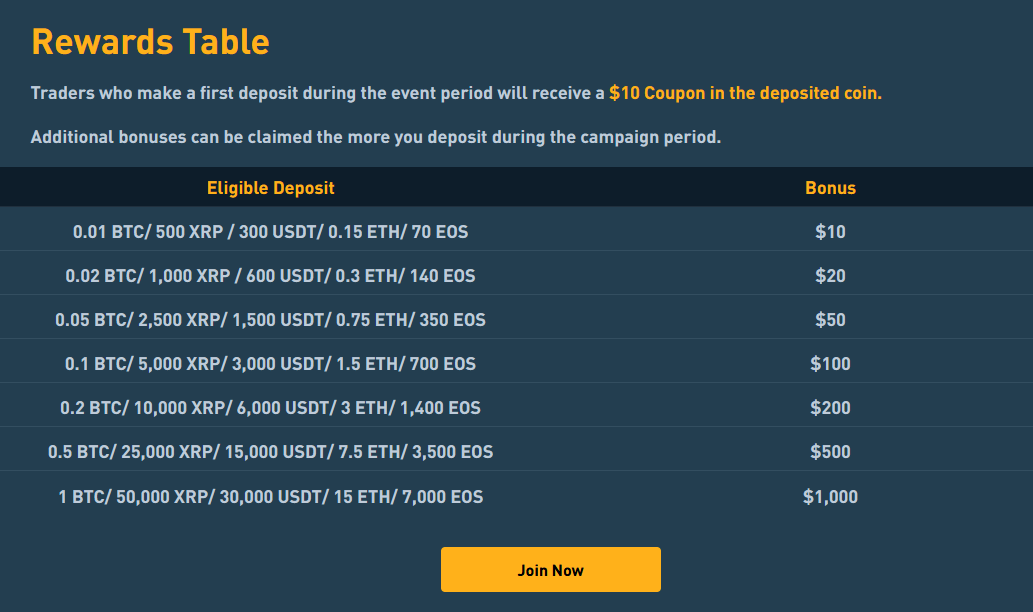 Note: Only new depositors are eligible to join this event. If you already have a Bybit account then you need to open a new account using this link.
Know more about +15% APY from DeFi mining: https://www.bybit.com/en-US/earn
Bonus bash campaign rules & terms
Only new traders who haven't made their first deposit on Bybit will be eligible to participate in this event. Also you only have 14 days (till August 18th) to make an eligible deposit.
The Bybit bonuses and coupons which you receive from this deal cannot be withdrawn. You can only use it as fees on perpetual and futures contracts. It cannot be used on spot exchange.
Hope you avail this deal before it expires and benefit from the bonus.