Buy / Sell
Top Robinhood alternatives for trading Cryptocurrencies – BTC, ETH, DOGE
We are seeing a large number of people are buying Bitcoin, Ethereum and more specifically Dogecoin (DOGE) on Robinhood. To all the new folks getting into crypto we highly suggest you to not to use Robinhood for crypto trading. There are much better alternatives to Robinhood where you can buy, sell and trade cryptocurrencies like BTC, ETH and DOGE without any limits.
In this article we'll help you with the best Robinhood alternatives that you can try for trading crypto. Before we get there here is something to note about trading and cryptocurrencies in general.
Risks involved in cryptocurrency trading
Cryptocurrency trading can be extremely risky. Before you invest in cryptocurrencies understand the risks and always do your own research.
Whether you are looking to invest / trade Bitcoin, Dogecoin or any other major altcoins, remember that you are playing with a volatile asset class. Other than volatile market price swings, market manipulation, flash crashes and cyber-security risks are something that you need to consider before purchasing cryptocurrencies.
Also remember that the cryptocurrency market is largely unregulated and their price can decline in value any time. So we advice you to invest with caution. Use crypto but remember to never invest more money in it that you can't afford to lose.
The following guide will not help you with your investment. But will assist you in choosing the right platform for buying / trading cryptocurrencies. Do not consider this post as a professional financial advice. It is simply meant for informational purpose only.
Now before we look at the Robinhood crypto exchange alternatives let's first understand why you should not be using Robinhood for crypto.
Robinhood Crypto
Robinhood Crypto is a cryptocurrency trade platform from Robinhood – An American app-based stock brokerage that offers commission-free trading. It is a zero-fee cryptocurrency exchange where you can buy / sell Bitcoin (BTC), Ethereum (ETH) and Dogecoin (DOGE) at no cost.
Other than BTC, ETH and DOGE here are few other cryptocurrencies that Robinhood currently supports.
Available Cryptocurrencies:
Bitcoin (BTC)
B Cash (BCH)
Bitcoin SV (BSV)
Dogecoin (DOGE)
Ethereum (ETH)
Ethereum Classic (ETC)
Litecoin (LTC)
Robinhood Crypto also supports real-time market data for the following cryptocurrencies:
Bitcoin Gold (BTG)
Dash (DASH)
Lisk (LSK)
Monero (XMR)
NEO (NEO)
OmiseGO (OMG)
Qtum (QTUM)
Ripple (XRP)
Stellar (XLM)
Zcash (ZEC)
Soon it has plans to provide support for buying and selling large number of cryptocurrencies through Robinhood Crypto.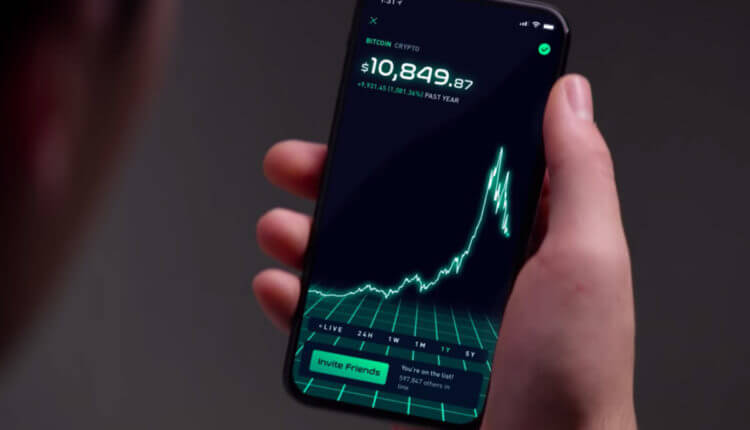 Even though Robinhood lacks full service trading platform it has proven itself to be a powerful platform in the investing sphere. It has become notable for its easy-to-understand, aesthetically pleasing mobile / desktop app along with the commission free cryptocurrency investing.
When it comes to stocks trading Robinhood platform changed the face of investing. It was one of the pioneers to introduce commission-free trading. Not only that but its desktop platform and mobile apps are insanely ease to use and access.
Robinhood is the most beginner friendly trade exchange where beginners can trade stocks / crypto quickly without knowing the ins and outs. Immediately after you deposit you can start trading and this platform has stripped away a lot of complicated things to make trading experience more enjoyable for beginners. Plus it allows you to buy fractional shares, shows live streams quote prices 24/7 and displays your gains / losses in elegant looking graphs.
Even with all those features we do not recommend Robinhood for purchasing or trading cryptocurrencies, here's why?
Robinhood controversy
You all know that the popular investing app Robinhood has become the center of the controversy after it froze trades for GameStop (GME stock) on Jan 28. The company has been scrutinized by the regulators and lawmakers due to its part in the trading frenzy.
Robinhood played a critical role when a large group of retail investors saw an opportunity to make money on stocks based on hype created by the Reddit community. However retail investors missed out largely as Robinhood made the surprising move to restrict users from buying GME.
Not only Robinhood restricted trading on GME (GameStop). But it also redistricted dozens of other stocks and cryptos like AMC, Blackberry, Dogecoin etc citing issues with volatility and regulations. This event made many traders to force sell their positions. Not only retail investors missed out on profit making opportunity but Robinhood's restrictions and outages has cost a lot of people money.
This move against the WallStreetBets movement made millions of users to delete the app. A lot of folks switched to other platforms like Webull. But even Webull is no good as they too have restricted trades for a short period of time.
For stocks trading there are better alternative to Robinhood like TD Ameritrade, Fidelity, Webull, SoFi, E-Trade, Charles Schwab, M1 Finance and Public.
For crypto there are even much better platforms compared to Robinhood which we'll look into it shortly.
Other that the whole GameStop controversy here are 4 solid reasons to not use Robinhood for crypto trading.
Reasons to avoid Robinhood for Crypto
Here's why you should not be using Robinhood for buying crypto currencies like Bitcoin, Ethereum and Dogecoin.
1. No ownership over your coin – Not your keys not your crypto. Buying crypto on Robinhood defeats the whole purpose of cryptocurrency. When you are buying BTC or DOGE on Robinhood you are not actually buying those coins. What they are giving you is just an IOU of what the coins are actually worth. You don't actually own or control the coins you buy which defeats the whole decentralized point of cryptocurrency.
2. No crypto transfers to other exchange accounts – With Robinhood it is easy to sign up, transfer money and start trading crypto. It has zero fees on trades and that's all it's good for. What you need to note is that Robinhood does not allow you to transfer your coins to another exchange or to your own wallet.
With RH you don't actually own any crypto and you don't control those coins. So if you wish to transfer then you just have to sell your BTC, DOGE on RH, transfer it to your bank account and the use the cash elsewhere. This way you'll take the tax hit.
3. Restricting trades – RH has zero fees for trades so you can day trade cryptos all day long until they freeze your account funds or trading as a whole.
On Robinhood trading can be halted anytime especially during volatile times. In such cases you won't be able to buy or sell any coins. When a massive crash in market occurs due to any news events or the underlying cryptocurrency system you may incur a huge loss even though if you have a stop loss in place.
4. Difference in prices – There is often a price difference in Robinhood compared to other crypto exchanges. Also there is a large gap between sell price and buy price even for coins with a hefty volume.
Anyways as of right now, after playing games with its customers money; trading platforms like Robinhood, Webull has fallen from grace. They do not fit in for users who want to legitimately invest in cryptocurrency.
If you are looking for the best alternative platform to buy crypto besides Robinhood then the following list is for you.
Robinhood alternatives for Cryptocurrency
Here we've compiled a list of Robinhood alternatives where you can buy / sell / trade Bitcoin, Ethereum, Dogecoin and other cryptocurrencies with ease and without any restrictions.
While the below exchanges does not offer commission free trading they are transparent and are trustworthy. They do not restrict trades and limit your from purchasing / selling a particular crypto. Moreover they allow you to withdraw your coins / tokens anytime to another exchange or to your own wallet.
These are at present the best crypto alternative to Robinhood platform.
The best Robinhood alternative currently is Coinbase and Binance / Binance.us. Coinbase app is currently the #1 on App Store. Other than these two there are many other exchanges like Gemini, Kraken, crypto.com, uphold.com, Cash App etc.
All these are user friendly exchanges that allows you to buy BTC, ETH, DOGE and many other major cryptocurrencies.
To get started all you need to do is sign up, get verified, deposit and start trading. If you've already bought crypto on RH then you cannot transfer them directly to these exchanges. You'll have to sell them, cash out of position and then buy back on any of these platforms. This is the only way.
Alright! Here goes the list of Robinhood alternatives for buying crypto.
1. Coinbase
Coinbase is one of the best cryptocurrency exchange and a perfect alternative to Robinhood which only focuses on buying and selling cryptocurrency. The entire process of using CB is seamless. You can start buying Bitcoin and other cryptocurrencies in minutes. All you need to do is sign up, link your bank account or use your credit card to start buying.
Coinbase has superior cryptocurrency selection and has a very good app which is better than most cryptocurrency trading apps. Plus it has almost 10-year history as a company.
Also with Coinbase you can earn interest by holding your crypto. The CB app will automatically yield interest on your crypto holding. Other than this you have Coinbase Earn (a service that rewards you crypto assets) and Coinbase Pro (an advanced trading platform for experts).
Sign up using our link and get free $10 worth of Bitcoin.
2. Binance / Binance.us
Binance.US is the US version of Binance exchange. Formed in 2019 it offers low cost crypto trading for US customers. It has support for more than 50 + crypto currencies and offers investment options for both individuals and institutions.
Binance is the one of the most fully featured cryptocurrency exchange. Other than buy / sell and trade they offer you mobile apps, cryptocurrency storage solution, ability to earn staking rewards (earn rewards from holding crypto assets) and over-the-counter trading for institutions.
To get started with Binance.us you need to verify your identity using your personal information. Once verified you can easily purchase crypto using your debit / credit card in minutes. It has the highest wallet security and it allows 24/7 deposit and withdrawals.
Fees on Binance are quite low. Also you'll get 50% additional discount on trade fee if you hold BNB in your account.
3. Uphold.com
Uphold is another popular alternative to Robinhood where you can quickly purchase BTC, ETH and other altcoins.
The fees are quite low and on some popular altcoins like BAT and XRP they've removed the fees completely. Other than Bitcoin and cryptocurrencies it is one of the few sites that allows you to hold / trade virtual Gold and stocks.
It will provide you several virtual cards like BTC, XAU, EUR, BAT etc. They are like prepaid card which you can use them to make internet payments, exchange it for other cards or transfer it to your wallet.
Moreover uphold has one major advantage where you can install brave browser and earn BAT rewards by browsing. Every month the browser sends rewards directly to your uphold account.
All you need to do is sign up, verify your account and link it to your brave browser.
4. Kraken
Kraken is a popular United States based cryptocurrency exchange founded in 2011. It is one of the trusted cryptocurrency exchange on the market that provides crypto to crypto as well as crypto to fiat money trading.
Similar to Coinbase Kraken also has its own Desktop and Mobile app for trading. What's unique about Kraken is that other than spot trading it also offers margin and futures trading which allows you to borrow money using leverage.
With support for more than 60+ cryptocurrencies and with fees ranging from 0% to 0.25% it is one of the greatest option for retail and institutional investors looking for Robinhood alternative.
5. Bittrex
Bittrex is an exchange for United States citizens and US residents. For non-US based customers there is a separate exchange (Bittrex Global).
It is another popular and most trusted exchange that is known for its security. This exchange features mobile app that allows you to easily buy / sell crypto instantly.
Sign up and verify your account to get started with Bittrex.
6. Gemini
Gemini.com (Gemini Trust Company, LLC) is a digital currency exchange, wallet provider and custodian that allows US customers to buy / sell and store cryptocurrencies.
This exchange was founded in 2014 by Winklevoss twins. It is a New York trust company that is regulated by the NYS department of financial services.
It provides a simple and secure option to buy bitcoin, ether, and other cryptocurrencies. They even added support for Dogecoin recently.
Other than these exchanges you have CEX.io, Cash App, Bitstamp, Crypto.com app, FTX etc where you can buy / sell Dogecoin, Bitcoin, Ethereum, Ripple, and several other popular assets.
Among all these exchanges Coinbase is probably the easiest to use for beginners. Anyways all of these are credible crypto exchange and they've been in this industry for years. So you can trade with confidence. They do not restrict trades and they offer tons of coins for you to trade. Moreover unlike Robinhood they allow you to transfer your Bitcoin / crypto to your wallet after you purchase.
Now before you sign up and start trading on these Robinhood alternatives here is a quick security tip.
Use wallet for holding crypto
Coinbase, Binance, Kraken, Gemini, and all other exchanges listed here have excellent custodial records. But just because they have a good security track record you should not be leaving your life savings on these exchanges. It is not the best idea to leave your crypto on exchange as they are big targets for large scale theft.
If you are a long term investor, say if you wish to hold it for months or years then after purchasing crypto move it to your wallet ASAP. All these services lets you to withdraw your crypto coins to your personal wallet. It will give you better security for your investment. Plus you'll have the ability to send coins around with low fees than what the exchange might charge.
For best security and control of your coins always use wallet where you control your own private keys.
Here is how you can quickly setup a Dogecoin wallet. Here is a list of light weight Bitcoin wallets. For Ethereum use MetaMask and for securely storing multiple crypto in same wallet use hardware devices like Ledger or Trezor.
Lastly if you are new to crypto please be careful out there as most of the coins are pump and dump. This is very common in crypto. We are not saying you can't make money out of those coins. But investing in coins that has already went several hundred percent up is not a good take.
Before you buy a coin always do your own research. Don't ever listen to peoples advise on the Internet on what to buy. Most of them are bag hodlers shilling their bags.
Hope this clears out and hope you found out the best crypto exchange alternative to Robinhood.