Buy / Sell
Exclusive Bybit Promo – $620 Bonus & 30% fee discount on USDT contracts
Bybit recently came up with another attractive promotion where you can save more on fees and additionally get bonus upon deposits.
You can grab up to $620 Bonus on BTC deposits during this promo period.
Also Bybit have recently listed 5 new USDT perpetual pairs: BTC / USDT, ETH / USDT, LINK / USDT, LTC / USDT and XTZ / USDT.
On all these USDT contracts you can get 30% fee discount.
The offer is valid only for the month of November and most of you currently trading on Bybit know about this special promotion. Anyways we just thought of bringing this to your attention.
Below we've shared the code to participate and explained how to claim the bonus. All new and existing users can claim this bonus. If you don't have a Bybit account then please consider using our link to Sign up on Bybit. The use of our link is highly appreciated.
Now before you deposit, grab the deal and start trading here is something to know about trading on Bybit. Particularly for those who are new to trading Bitcoin using leverage.
Trading on Bybit:
Bybit is a popular cryptocurrency derivatives trading exchange established in 2018. In a short period of time it has attracted many traders from all over the world and is currently the number 1 BitMEX alternative.
It aims to serve every users from individual retail to professional derivatives traders. Similar to BitMEX; Bybit also has the following products: BTC, ETH, XRP and EOS perpetual contracts. These are coin margined inverse perpetual contracts. Other than that Bybit also offers USDT margined USDT perpetual contracts for the following coins: BTC, ETH, LINK, LTC and XTZ.
Now Bybit is a leverage trading platform and not a spot exchange. Meaning you are not actually buying Bitcoin or altcoins with fiat currency. Here you can only go long or short with your crypto. That is you can deposit and trade with Bitcoin, ETH, XRP, EOS, LINK, LTC and XTZ with up to 100x leverage.
During this volatile crypto market you sure can earn some extra bucks. However do note that trading using leverage is a skill and is only recommended for experienced traders. If you are not sure how to trade then we suggest you to read guides before using Bybit.
If you are an experienced trader then Bybit is the best platform where you can trade crypto. You can register using your email or mobile number. Also there is no KYC procedures. You can simply trade anonymously.
Also read: No KYC cryptocurrency derivatives exchange
Bybit Promo – Get up to $620 Bonus
Bybit have decided to give away all new and existing users a bonus of up to $500 and here is how you can claim them.
Login to your Bybit Account >> Go to Rewards Hub page (https://www.bybit.com/prize_page) and enter this code:
Voucher code for $500: WIN$500
Valid: From 2nd Nov to 10th Dec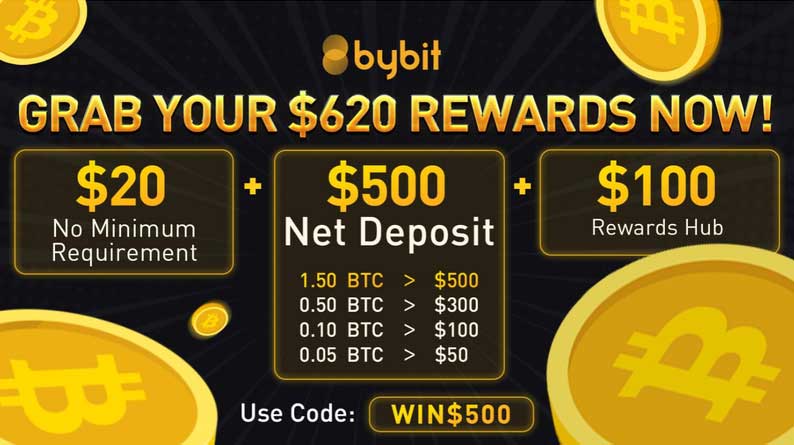 Here is how it works. After you enter the voucher code you'll have to deposit Bitcoin to grab the bonus. If you deposit ≥ 0.05 BTC you'll get $50. If you deposit ≥ 0.1 BTC you'll get $100 and to get $500 you need to deposit ≥ 1.5 BTC. Refer to the table below.
| | Net Deposit* | Bonus (in BTC) |
| --- | --- | --- |
| Tier 1 | ≥ 0.05 BTC | $50 |
| Tier 2 | ≥ 0.1 BTC | $100 |
| Tier 3 | ≥ 0.5 BTC | $300 |
| Tier 4 | ≥ 1.5 BTC | $500 |
You can only receive any one of the following bonuses and you should hold the deposit during the event period.
Event period: Nov. 2, 2020, 10AM (UTC) to Dec. 10, 2020, 10AM (UTC)
In addition to that you'll get a guaranteed $20 coupon with or without any deposits. Also if you've not claimed previously then there is an additional $100 bonus / coupons to claim from the rewards hub.
Note: All bonuses / coupons will be sent in BTC and these bonuses cannot be withdrawn. You can only use them towards your trading.
Read more about the event rules here.
Applying 30% fee discount
Another attractive promotion is 30% fee discount on all USDT trading pairs.
To redeem this 30% off on trading fees use the following code.
Code: USDT30%OFF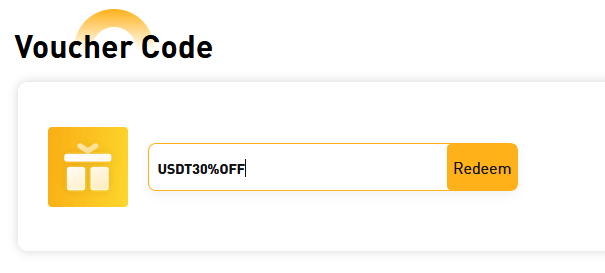 Go to rewards hub and enter this code. You'll get 30% discount on all USDT contacts which is only valid till 25th of Nov.
After redeeming the code you should get a notification pop up stating that the offer is redeemed.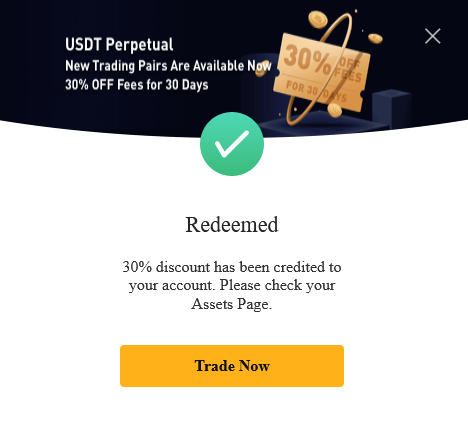 This offer is Limited! Make sure you don't miss out. Register on Bybit using our link, redeem the code and start trading.
We hope you enjoy the promotion and win big in Bybit's Bonus Giveaway! Also we hope you save more from the fee discount!