Guides
How to move the wallet blockchain files to another directory – Bitcoin QT wallet
With so many Altcoins and innovative crypto projects out there it's obvious that most of us are showing interest or involvement in more than one crypto currency. It can be by investing directly in the project or by mining the coin. Either way to get started with any crypto currency project the very first thing you might need is a wallet to store your funds.
Not all projects supports hardware wallets and not all crypto currencies come up with online wallets and paper wallets. During the initial stage you can only expect a core wallet or QT wallet client which needs to be installed on your PC. Previously we've explained everything about Bitcoin core wallet for beginners. That particular guide applies to almost any Cryptocurrency QT wallet so we suggest you to go through that if you are new to this.
QT wallet default data directory
While Qt wallet comes with so many features there is one big drawback which is its demand for huge storage space and bandwidth consumption. Your wallet needs to download and store the whole copy of Blockchain data to your local computer. So before installing the wallet you must ensure that you have enough hard disk space and internet bandwidth.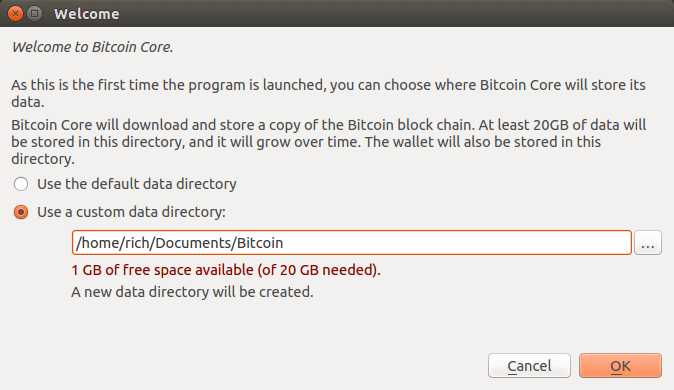 For any given QT wallet the minimum requirements to store the blockchain data is 1 GB. This data directory space grows overtime as the blockchain evolves. For larger and well known projects like Bitcoin, Ethereum, Litecoin, Dash, Monero, Zcash, Dogecoin etc. needs at least 20 GB of dedicated space.
Most of the wallet gives an option to choose the data directory during installation but few don't. They simply put the wallet core and block chain files in default directory where your OS (Windows, Mac, Linux) is installed. Imagine with just 2 wallet files you might end up running out of space.
We've made so many wallet tutorials recently and most users were stating that "my C:/ drive is too small (SSD) and the wallet takes up all the space". Is there a way to move these blockchain files from SSD to HDD or to an external hard disk?
Yes, there is! Here we'll show you how to move the wallet blockchain files to another directory in Windows, Mac and Linux. That is moving the core files such as blockchain and wallet.dat files from default C:/ drive or SSD to HDD, to external drive or to a pen drive. It's very simple to change the blockchain file location if you follow the steps carefully.
Move wallet blockchain files to another directory
Note: To move the blockchain data directory we are going to use the command line parameter.  Also this works with almost any crypto currency QT wallets (Bitcoin, Litecoin, Zcash4Win, Monero, Dash, Doge, Verge, etc)
Finding the wallet files and taking a backup
Step 1: First thing first; Before doing anything we recommend you to backup your wallet first and put the wallet.dat file somewhere safe.
Step 2: Once backup is done its time to find the default data location.
Windows: In Windows the wallet puts the files at C:\Users\username\AppData\Roaming\walletname.
This AppData folder is usually hidden so to view that click on view tab and select "show hidden items" in Windows 10.

In Windows 7 go to Organize >> Folder and search options menu, view tab and click on show hidden files and folder.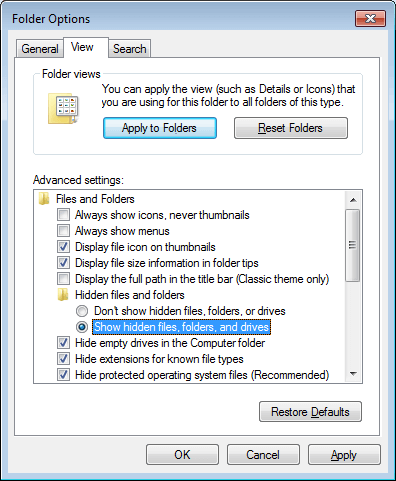 Once it is done open AppData navigate to Roaming folder and choose the wallet that you wish to move to another location or directory.
Mac: In Mac OS the default wallet files can be found at ~/Library >> Application support.
Ubuntu: On Ubuntu go to Home and select the View >> show hidden files option which should display your wallet folder.
Alright, now as we've located the core files of your wallet it's time to move it to desired location. For this guide we'll be using Zcash4Win wallet as an example. But the method to change the data directory is similar to all wallets.
Moving the wallet data directory
Before following the next step make sure to close your wallet.
Step 3: Copy the wallet folder or the entire files in the folder and move it to a drive where there is enough space. Not just hard drive, you can also copy the files to an external hard disk or a pen drive.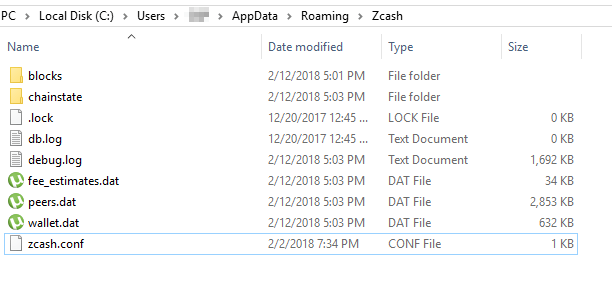 Step 4: Once done come back to default directory location and in there you'll find walletname.conf file. In Zcash4win case its zcash.conf. Most wallets will create this config file and in case if you don't find such file that then just create a new text document and save it as walletname.conf.
Step 5: Now right click on the .conf file and click on edit. Next paste the following line in it and replace the directory location with the one where you moved your wallet files to.
datadir=E:\wallets\Zcash\Core
Step 6: Once done come back to default directory and delete all files except the config file.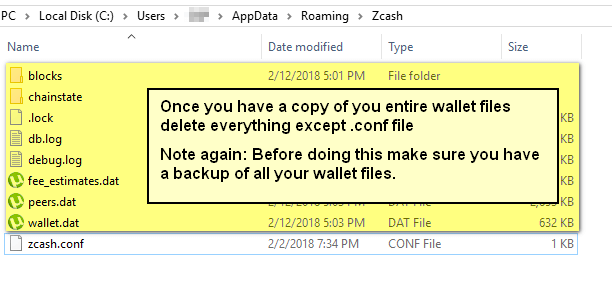 Note: Before doing step 6 ensure you have the wallet.dat file backup.
Step 7: That's it! You've moved the wallet files to desired location. Now open your wallet and everything should be fine. In addition to this you've also cleared out some space in your main directory.
We hope you find this guide helpful. Soon we'll be covering a lots of beginner level topics so to get more updates follow us on Twitter.