Guides
How to automatically run miner on Windows startup? Nicehash, ETHMiner, CCMiner
At Coin Guides our intention is to cover all topics that helps cryptocurrency community in one way or another. Initially we used to share general information, tutorials, tips and tricks relating to Blockchain and Cryptocurrency. You can find all such tutorials and tips in our archives. However recently the topics became narrow where we covered only about coin mining and coin wallet guide. So we decided to change the routine and post something useful for newbie's. Here in this article we'll show you how to auto start miner on Windows boot up.
That is you can configure to auto run any miners such as Nicehash, Claymore, Ethereum miner, CCMiner, T-Rex, NBMiner, GMiner, XMRig or XMR STAK. It will automatically start running on Windows startup. You don't have to manually start the miner anymore.
Windows? We know most of you are on EthOS, Hive OS and SMOS in which you can control the miner remotely from anywhere. Also it does restart the rig automatically when GPU hangs or miner freezes. However majority of users are still using Windows to run their miner. So this article should really help them; especially who run Windows updates and or facing power outage problem more frequently. This is a quick tip for crypto currency miners who uses Windows computer/ rig to mine and this applies to almost any mining software. Alright! Let's get started.
General Tips:
1. System Auto Start
In Windows there is an option to schedule automatic task and that way it is simple to get your mining application(exe/batch files) start on boot up. But you must first figure out how to boot your computer or mining rig automatically after a power outage or when connected to the mains power.
It is basically a BIOS setting that makes motherboard to boot automatically and all the latest motherboards has this option. We are not going to cover about it here, however we found two external sources which you will find useful:
https://www.technewsworld.com/story/78930.html
https://www.cnx-software.com/2013/04/05/how-to-autostart-a-pc-automatically-when-connecting-it-to-the-mains-power/
Both the above links should give you an insight on making your PC or mining rig restart automatically without having to press the power button manually. Hope that helps!
2. GPU Tweak
Next is GPU overclock and stability settings: To achieve optimal mining performance you used to tweak your GPU. You don't have to overclock or underclock GPU setting every time when you have applications like MSI Afterburner or ASUS GPU Tweak.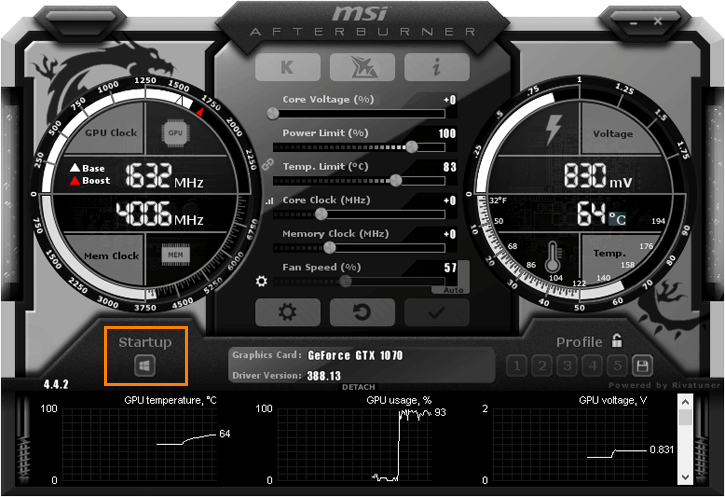 In MSI Afterburner you'll find settings that says startup afterburner when Windows starts. Check that and also ensure to check "apply overclocking at system startup" setting. By doing this when your PC or mining rig starts it will open MSI Afterburner along with the clock settings which you configured.  But before doing this first make sure your miner runs stable for a long period of time for the settings that you've configured.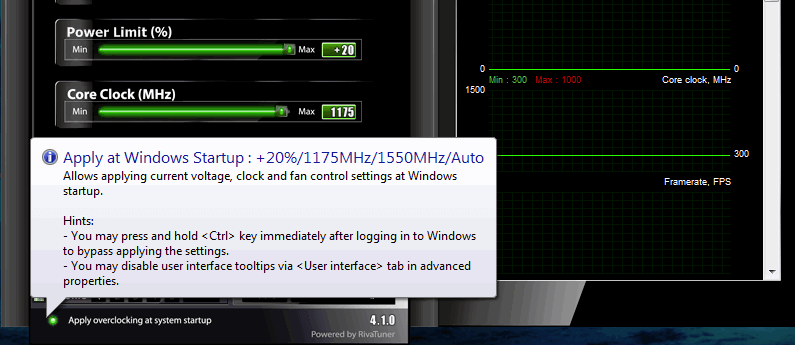 3. Delay the Miner startup time
You've now configured your rig to startup automatically and upon Windows startup your MSI Afterburner settings will also load without any issues. At the same time making your miner run or making it run before the overclock setting loads up is a bad idea. Which if you do so it may definitely end up crashing your PC or rig.
You don't necessarily want the CPU being hammered right after the bootup. The best practice would be to delay start the miner once all the Windows startup programs are loaded. This way there won't be much memory usage or CPU resource taken when it ideally fires up the mining software. The process to achieve this is simple with a timeout command and it works in Windows 7, 8 and Windows 10.
Most of your mining programs are configured in a simple .bat file (Windows Batch File). Right click the file, click on edit and add the following command at the beginning.
TIMEOUT 60

The above command tells the miner to wait for 60 seconds before it loads the batch file and starts mining. You can increase or reduce the miner delay time as you wish. But it's better to delay for atleast a minute so that Windows could load all the needed clients and process. Fine! Now lets see how to auto start the miner on Windows bootup which is quite simple.
Auto start miner on Windows bootup – Nicehash, ETH Miner, CCMiner, XMR STAK
Whether it is a Nicehash miner, Claymore Dual Miner, CCMiner, XMR STAK, XMRig or basically any mining program. There will be an .exe or .bat file (that you created); which when opened it will start mining automatically. To run the miner automatically on Windows bootup all you need to do is put your mining file in the startup folder.
C:\Users\ %USERNAME%\AppData\Roaming\Microsoft\Windows\Start Menu\Programs\Startup
First decide on the mining application that you'd like to load on startup.
Next right click the .exe or .bat (batch file) and click on create shortcut
Next cut the shortcut file and put it in the startup folder. To access startup folder type run on Windows search or use keyboard shortcut WIN + R. Then type the following and click OK.
shell:startup
Now in the Windows startup folder paste the .exe or .bat file. That's it! From now on the program which you added in startup folder will start automatically on Windows bootup.
Nicehash:
if you are running Nicehash miner then there is one extra step you need to carry out. After putting the nicehash.exe shortcut file to Windows startup folder open Nicehash application. Once it is open head to mining configuration and check "AutoStart Mining". Your mining will start only when this option is checked.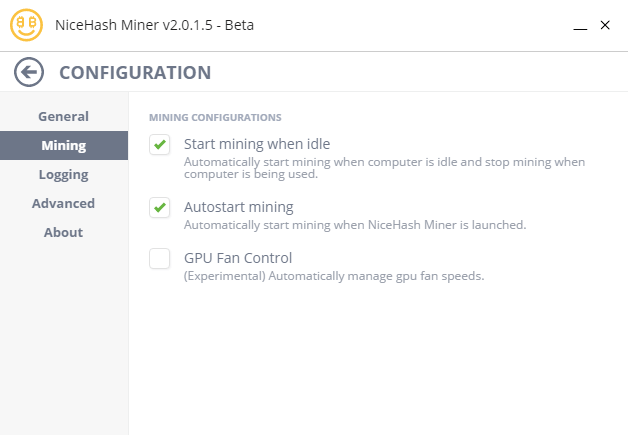 My PC is password protected – How will the miner startup without me logging in?
If it is your mining rig then just disable login screen considering that you don't have wallets or any secure information. To do so type netplwiz in run window and click OK. It will open user account settings. Just uncheck "User must enter a user name and password to use this computer"
But what if it is your Personal computer where you have wallets and other confidential information. If your PC is password protected then your miner won't start until you manually enter the password and unlock it. It's really not a good idea to disable login, instead there is another workaround using Windows task scheduler.
1. In windows run command type task scheduler and open it.
2. Next click on "create task" from the right hand side or you can open from Action >> Create Task.
3. Now in General settings set a name of the task and choose "Run whether user is logged in or not". Also check "Run with highest privileges"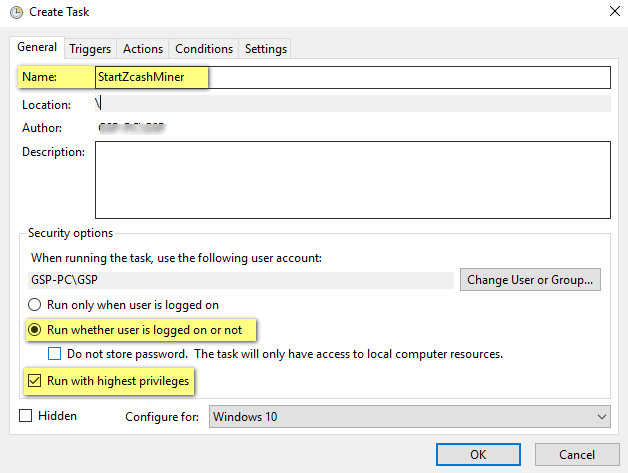 4. Next move on to triggers tab, create a new trigger to begin the task at startup .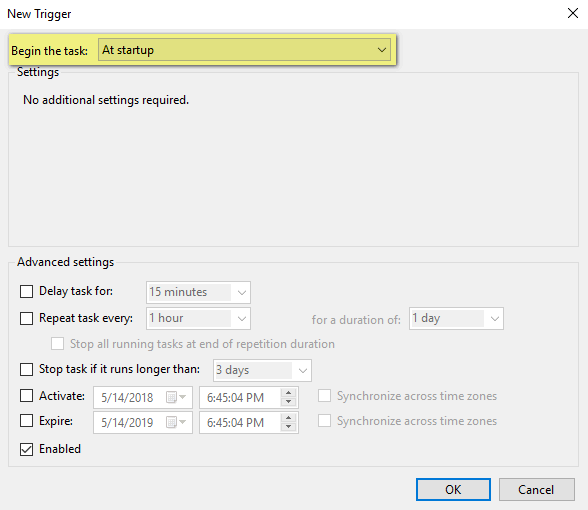 5. Next in Actions tab, create new action and choose the mining application that is .exe or .bat file and click on Ok.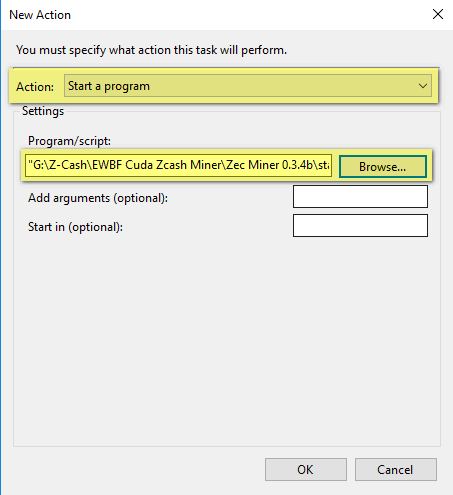 6. Then in Conditions tab "choose start the task only if the computer is on AC power". Then in settings tab choose "Allow task to be run on demand" and uncheck every other settings.
Click OK and enter your system username and password. That's it! To check this now go ahead and restart your computer. Whether you are logged in or not; the mining program that you added in the task scheduler will start running in the background. Hope that works!
Conclusion:
Whether you are a part time miner or have a dedicated mining rig? Power outage and Windows updates is one of the common issue that will frustrate you mostly. You can turn off Windows updates and get rid of random restarts but to continue security updates most users prefer having it on which is nice. But what about power outage which goes off and comes back on; especially when you're asleep or at work? With the help of this guide we hope you don't lose out on your mining time.
This tip is also useful when your mining rig is not connected to a monitor. Without you initiating; your miner automatically starts when power comes back or if Windows restarts without your knowledge.
If you'd like us to cover any topic particularly then please let us know in comments section. We'll be happy to make one for you. Also if you found this guide useful then you may also like the following topics.
Related Articles:
Find out memory manufacturer of your Graphic Cards
WiFi disconnection problem in Mining rig
Know safe GPU temperature for mining
Mining software getting blocked by Windows defender