Guides
Is your Wi-Fi disconnecting frequently while mining? Here is a fix
So this is what happened to one of our RTX 3060ti mining rig. Every time we boot the rig Wi-Fi signal shows up but once we start the miner Wi-Fi disconnects all of a sudden. When building a mining rig for the first time we all will face some issues. Faulty risers not powering the GPU, Molex cable melting, Miner crashing due to insufficient power supply, Windows freezing due to insufficient RAM and so on. All these issues can be fixed during the initial stages. However there are few new issues that may occur on the go. One such issue which we faced is internet connection stops once the miner starts. Here we'll see what causes Wi-Fi to disconnect while mining and how to fix this.
What happens if Internet gets disconnected while mining
Few miners notify "stratum connection failed or interrupted" message when there is no connection and then stops the mining process. Few miners; even if the internet gets disconnected it will continue mining consuming all your resources. However since the miner will not be able to communicate with the network it cannot submit your proof of work. Hence nobody except you knows that you have worked for that particular block and so you won't earn the reward.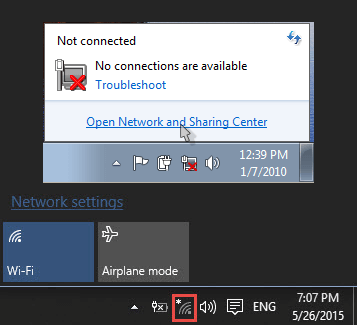 This won't usually occur as most miner programs (CCminer, CGminer, EWBF Miner, Claymore, XMR-STAK, Nicehash) stops the mining process once Wi-Fi or internet connection disconnects. As long as the miner program is open it tries to re connect to the network until the signal comes back. Once it connects, it starts the mining process and start submitting your shares. However due to random internet disconnects you may lose your hashrate and mining rewards. Therefore make sure that your Wi-Fi signal is healthy and there is no drop in Internet connection
Wi-Fi disconnecting frequently – Fixed
After going through several Reddit post and discussion boards we found a fix for this Wi-Fi disconnection. This fix may or may not work for you as each and every rigs are configured differently. We'll share all the fix that we found online and the one which worked for us. If you are facing this problem then try each and every solution.
This particular rig has mined several algorithms however the problem occurred while mining a Cryptonight coin.
Fix 1: The very first suggestion we found is to try to connect the miners through LAN cables instead of Wifi dongle. However this won't work for most of us since the miner stays far away from the modem. Moreover it is not possible to pull the cable for each and every rig.
Fix 2: If your rig is in separate room and your modem is in another room then it is advised to use Wifi repeater/Access Point to get better signal.
Fix 3: Power related issue. If your rig is pushing PSU to its limits then your USB dongle will suffer; hence random Wi-Fi disconnection occurs. If this is your case then try to turn off one or two GPUs from mining to see if that fixes the Wifi problem.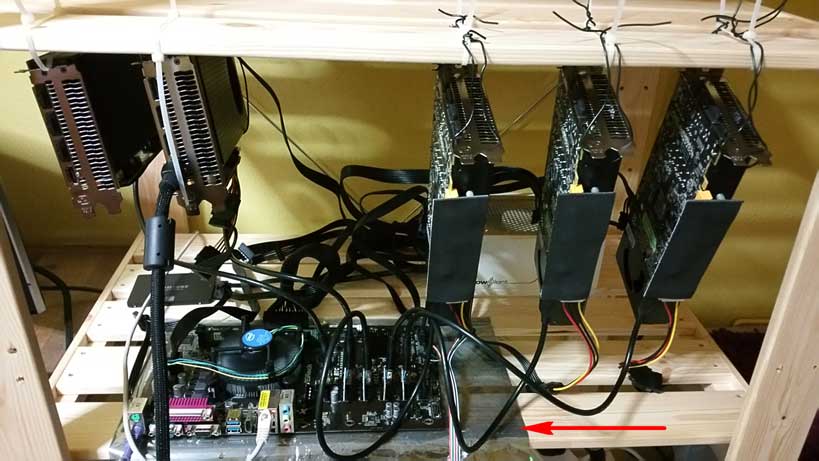 Fix 4: Do not place your motherboard on a static bag which is very bad. Lots of mining rigs use a static bag under the mobo, that can cause unstable signals too because of its shielding properties.
Whether its connected through LAN or WIFI, If your rig is placed on a static bag then this is what causing your network connection to disconnect frequently. Remove the bag and it should fix the random Wifi disconnection problem.
Fix 5: Modem or Router problem: If all your devices that are connected to the network is facing this connectivity problem then its definitely not your miner. It is either your Modem or Router configured incorrectly. Do the factory reset and try different ISP settings.
Fix that worked for us: For us it was never a hardware issue. It was a Windows setting which fixed this Wifi issue. We just disabled USB selective suspend setting in power options and this issue fixed permanently. Here is how to disable it.

Go to Settings >> Power & Sleep >> Additional Power Settings and click on change plan settings for your preferred plans. Now click on change advanced power settings and disable the USB selective suspend setting and apply changes. This setting fixed the Wifi dongle from disconnecting frequently.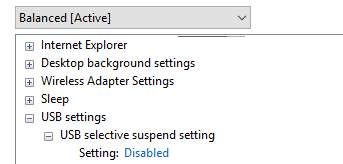 Other settings to consider: Click on Network and Internet settings >> change connection properties and turn on connect automatically when in range option. Also turn off metered connection in the same settings page.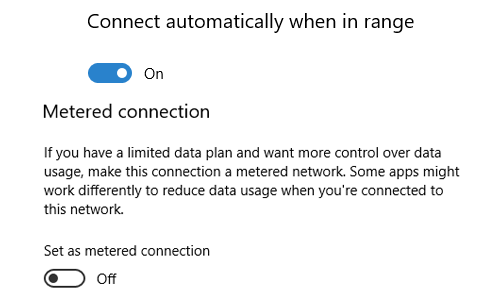 Hope any one of the above solutions will fix your Wifi / Internet connectivity problem. If none of this worked and if you found another fix then please let us know in comments so other users will benefit.
We know it's been long since we published our last post and we promise to publish more often from now on. Follow us and Twitter and Facebook. Stay tuned, we've interesting topics and more coin mining guides coming up next.