Crypto Mining
Ethash Miners (Ethereum Miner) – Best Ethereum mining softwares (2021)
In this article we'll be looking at the best Ethereum miners for NVIDIA and AMD. There are several Reddit posts and forum discussions regarding Ethereum miner where users are testing and listing the best ETH miners for all the old and new generation graphic cards.
Anyways we decided to make this Ethereum mining software guide where you can discover the various mining software options to choose from. If you're someone who is looking for good software for mining Ethereum in 2021 then the following post is for you. We've reviewed and ranked the best Ethereum miners based on its performance, features, reputation and ease of use.
Choose the best performing, most efficient and the fastest miner for maximum profits.
Best Ethereum mining software – 2021
NVIDIA
T-Rex
GMiner
ETHminer
Lol Miner
Phoenix Miner
NBMiner
AMD
Team Red Miner
Phoenix Miner
Lolminer
GMiner
Below we've explained how to choose the right software for your configuration and which one is the best miner.
Now before you grab You virtual pickaxe let us first understand why you should be mining ETH.
Why Ethereum?
First of all why mine Ethereum and why not other top Proof of Work cryptocurrencies like Bitcoin, Litecoin and Dogecoin?
The main reason why people mine cryptocurrency is because of the incentives. Cryptocurrency mining is a profitable business. With right hardware and software anybody can start mining crypto. But the thing is not every individual can acquire the specialized hardware that is required for mining Bitcoin, Litecoin and Dogecoin. Whereas miners for Ethereum are much more accessible to the public.
If you got a consumer graphics card made by NVIDIA or AMD then you can start mining Ether at home.
Ethereum was designed as a coin that can be mined using consumer-grade hardware's like graphic cards (GPUs). Bitcoin on the other hand can only mined effectively using special purpose devices known as ASICs (Application Specific Integrated Circuit machines).
Sure, if you got the right ASIC miner then go ahead and mine coins like BTC, LTC and DOGE. But if you are a GPU miner then ETH is the best coin that you can mine in 2021.
Ethereum being a second largest cryptocurrency and considering it can still be mined using GPUs it presents a great opportunity for home miners and crypto enthusiasts.
The second largest cryptocurrency by market capitalization has hit a record high of $3500 per coin and is only raising. Since a large number of decentralized applications are being built on top of Ethereum blockchain, Eth has rapidly increased in popularity among hodlers. With all that DeFi / NFT boom this ecosystem is growing rapidly. As a result ETH remains the most profitable coin for GPU mining.
Why mine Ethereum?
One of the main reasons to mine Ethereum in 2021 is because it is more profitable compared to other altcoins. Plus mining ETH is very easy. All you need is the right mining software for your GPU which we'll find out later in this article.
The goal of mining Ether is to generate new ETH. It is the main incentive for miners. Even though incentive is the main intention; Ethereum miners mine ETH to keep the network secure and more decentralized. Without miners the Ethereum blockchain won't function.
This is current scenario. Soon ETH has plans to transition to Proof of Stake. Once it switches Ethereum cannot be mined. It can only be obtained from exchanges such as Binance, Coinbase or FTX. This remains a common concern for every ETH miners as they only have limited time to earn the return on their investment.
Other than that here are few other benefits of mining Ethereum.
Benefits of ETH mining
ETH has real world use case. Ethereum blockchain allows users to create DApps (Decentralized Applications) and deploy smart contracts. To use ETH blockchain developers need to use ETH as fuel. Mining provides the fuel to run application on the Ethereum network.
Mining ETH is a great way to profit from one of the top cryptocurrencies. Unlike other GPU mineable altcoins Ethereum is highly liquid. It can be easily converted into Bitcoin or hard cash anytime.
Also despite the terrific gas fees large number of users are still conducting transactions. With all the DeFi boom many are expecting the price of ETH to skyrocket soon. So building a good position now will deliver great interest on your holdings Tomorrow.
Anyways even with all the surge in Ethereum price the mining profitability has not moved one bit for GPU miners. Have you wondered why? Its because of ASIC miners.
Now before we introduce you the best Ethereum mining software's on the market let's look at the hardware options available for mining Ethereum.
Hardware requirements for mining Ethereum
Mining Ethereum is similar to Bitcoin. It is currently based on PoW (Proof-of-Work) that rewards ETH to miners when they find a new block. The main difference lies in its mining algorithm.
Bitcoin uses SHA-256 hashing algorithm. Whereas Ethereum uses Ethash algorithm which was designed to provide ASIC resistance. However today there are ASICs that can mine this algorithm more efficiently than modern GPUs.
So what is the best hardware for mining Ethereum, ASICs or GPUs?
ASIC Miners
ASICs provide significant performance boost compared to graphic cards. Plus they are more power efficient. For example the upcoming Ethash ASIC miner from Bitmain Ant Miner E9 Ethereum Miner is said to be offering 3 GH/s mining hashrate with just 2556 watts of power. This single miner is equivalent to 32 RTX 3080 graphics cards in terms of performance.
Here are few other ASIC miners that are available in the market today.
Innosilicon A11 Pro ETH (2000Mh) – Release Jul 2021 – 2Gh/s – 2500W – 75db – EtHash
Innosilicon A10 Pro+ ETH (750Mh) – Dec 2020 – 750Mh/s – 1350W – 75db – EtHash
A10 Pro ETH Miner (500Mh) – May 2020 – 500Mh/s – 960W – 75db – EtHash
A10 ETHMaster (500Mh) – Sep 2019 – 500Mh/s – 750W – 75db

However you need to note that there are some drawbacks to ASICs. First of all acquiring them is hard and they don't come with any warranty. Plus they can only be used to mine Ethash coins. Once ETH switches to PoS you need to switch it to other coin that uses the same algorithm.
GPU miners
GPUs on the other hand comes with warranty and it can mine any coins / algorithm. Moreover other than mining it has variety of purpose such as gaming, rendering etc. Due to their flexibility GPUs are more sensible choice for mining ETH. Especially if you are hobby miner looking to mine from home.
Before you can start thinking about the mining software you need to look at the best performing mining hardware to maximize your earnings. Hardware is an extremely important factor when it comes to mining.
All the 8 GB NVIDIA GPUs; 10 series, 20 series and 30 series cards are good at mining Ethereum. But in overall the best one is RTX 3060 TI in terms of price and performance .
For AMD you have cards like Radeon 5700, 6700 XT and 6800 XT.
But due to high demand acquiring these GPUs are quite harder.
If you already have a mining rig stacked with GPUs then the only thing left to do is find the best ETH mining software. Let's look at it now.
Finding the best miner
Finding the right mining software is one of the main components of successful mining. To put it simply, mining software is simply a program that uses your computers graphic cards as resources to solve complex mathematical equations. They control the instructions to your GPU to mine Ethereum.
There is a long list of miners available for both NVIDIA and AMG graphic cards. Without putting all of them to test you cannot come to a conclusion on which one is the best. So how do you detect the best?
It doesn't mater which pool you are mining and what reward system the pool uses (PPS or PPLNS). Also it doesn't matter if the miner is closed source with dev fees or open source with no fees.
What matters is that the number of shares being submitted to the pool. More the shares submitted to the pool, the higher the reward you'll get which means more money. So you need to find the mining software that submits more shares to the mining pools compared to its competitors.
We've tested most of the miners available in the market. Also analyzed hundreds of users reviews on forums and here we present you the best Ethereum mining software for NVIDIA and AMD.
Best Ethereum Miners
Back then Claymore was considered as the best and the most reliable software for mining Ethereum. The greatest advantage it had was the dual mining option where you can mine ETH and other coins such as Decred, Lbry, Pascal or Siacoin simultaneously.
Another popular Ethereum mining software back then was CGMiner which is compatible with GPU as well as ASIC and FPGA. Other than these two there use to be few other miners for Ethereum. But all those miners are outdated and they are no longer getting updates.
The trends have changed since 2018. Currently you have miners like T-Rex, GMiner, Lol Miner and Phoenix Miner. All these are are very well optimized and are constantly getting new updates. Moreover they are suitable for both beginners as well as professionals.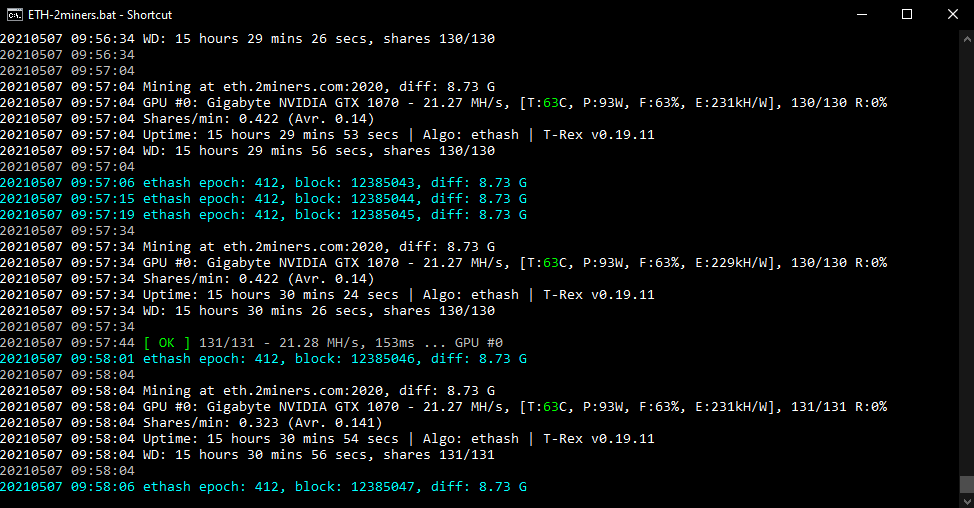 All these are command line software and in terms of usability all of them are very user friendly. Plus they all operate the same way. Users can launch it from Windows command prompt or a Linux console or make shortcuts to preset command lines using batch files / Windows cmd or Linux Bash script.
Here goes the list of best and the fastest mining software for Ethereum.
Best ETH miner – NVIDIA
| # | Miner | Fee | Software Type | OS Support | GPU Support |
| --- | --- | --- | --- | --- | --- |
| 1 | T-Rex | 1% | Closed source | Windows / Linux | NVIDIA only |
| 2 | GMiner | 0.65% | Closed source | Windows / Linux | NVIDIA / AMD |
| 3 | ETH Miner | No fee | Open source | Windows / Linux | NVIDIA / AMD |
| 4 | lolMiner | 0.7% | Closed source | Linux | NVIDIA / AMD |
| 5 | PhoenixMiner | 0.65% | Closed source | Windows / Linux | NVIDIA / AMD |
| 6 | NBMiner | 1% | Closed source | Windows / Linux | NVIDIA / AMD |
ETH miners for AMD
| # | Miner | Fee | Software Type | OS Support | GPU Support |
| --- | --- | --- | --- | --- | --- |
| 1 | Team Red Miner | 0.75% to 1% | Closed source | Win / Linux | AMD only |
| 2 | lolMiner | 0.7% | Closed source | Linux | NVIDIA / AMD |
| 3 | PhoenixMiner | 0.65% | Closed source | Windows / Linux | NVIDIA / AMD |
| 4 | GMiner | 0.65% | Closed source | Windows / Linux | NVIDIA / AMD |
So which one is the best, stable, fastest and the most efficient miner of all?
According to our test we found out that the one that is the most efficient for NVIDIA is T-Rex and for AMD it is PhoenixMiner.
NVIDIA: If you are mining on GTX 2000 / RTX 3000 cards then no doubt T-Rex is the best. (We've tested it with both 2070 and RTX 3060 TI). GMiner is the second best to T-rex. You can also consider open source ETHminer which is designed specifically to mine Ethereum. However there are no updates for this miner since 2019. lolMiner is another popular choice in terms of efficiency.
AMD: For AMD GPUs TeamRedMiner and lolMiner are the best. PhoenixMiner is another fastest Ethereum/Ethash miner with lowest devfee. It supports mixed mining rigs and it run on Windows and Linux. But many users have stated that Phoenix reported hashrate was too high on the miner window compared to pool results.
Note: Mining pools pay you for the shares received from your miner. Most mining softwares reports accurate hashrate but don't be fooled by the one shown on the miner window. Its irrelevant and you should always be looking at your hashrate reported by the mining pool rather than the miner.
All the Ethereum mining softwares listed here are the best. We've handpicked and analyzed them. But the one that is listed here as best many not perform well on your mining rig. You'll get different results depending on your rig configuration and overclock settings. So consider testing and experimenting with each miners to pick the one that best suits your configuration.
Alright! But what about other programs such as NiceHash miner, Awesome Miner and Simple Miner?
Mining OS
MMPOS
SimpleMining OS
Hive OS
Minerstat
Awesome Miner
PiMP OSR
RaveOS
All these are not miners but mining operating systems and management softwares that have built-in support for various miners like the one listed above. While mining software is what controllers your GPU; these specialized mining OS allows you to mine, monitor and control rigs remotely through a web GUI. This is what SMOS, Hive OS and Ethos does.
All these operating systems are just pre packaged distributions of Ubuntu that allows you to mine easily. On all these OS you can select and run different miners like T-Rex, GMiner, ETHminer, Lol Miner and Phoenix Miner.
NiceHash on the other hand is quite different – Its like a mining software suite. The NiceHash application will run through all the benchmark and decides which miner to be running for a particular coin / algorithm. It runs a combination of different miners independently. It has its own web interface, it has its own proxy setup and its a whole different setup which we'll cover in a separate article.
Ethereum price is at its record high. If you are GPU miner then make sure you make the most of your mining hardware. Hope this guide helped you to pick the best Ethereum miner for your mining rig.