While there are simply several CryptoNote forked coins there are few which we can add to exception list and one such coin is IPBC. When we first heard people talking about a decentralized media platform with web media miner we were really excited to know what the project is and how it works. Is it a new kind of YouTube on a Blockchain that rewards its content creators?
Video content management and decentralized media sharing is not a new concept to Blockchain Industry. There is Viuly ($VIU), LBRY Credits ($LBC), Flixxo ($FLIXX) and then there is Steem ($STEEM) – DTube: A popular decentralized multimedia content management platform. However IPBC is the first coin that introduced a unique functional concept where it pays content creators directly through mining while it remains free from advertising. Interesting, isn't it? Here in this article we'll see what is IPBC, How to setup wallet for IPBC and how to mine IPBC coin. Along with that we'll also share all links of this project from pools to exchanges.
What is IPBC? – Interplanetary Broadcast Coin
IPBC is a new revolutionary way of sharing content online. It is a decentralized content discovery and media platform with an integrated cryptocurrency ecosystem. Interplanetary Broadcast Coin – As a decentralized crypto currency it is an asset, fuel and is used to redeem publishers (copyright holders) of IPBC.io ecosystem. IPBC was announced on January 2018 with no ICO raise and no pre-mine. It is a PoW coin based on CryptoNote/CryptoNight technology which can be mined using both CPU and GPU (NVIDIA and AMD).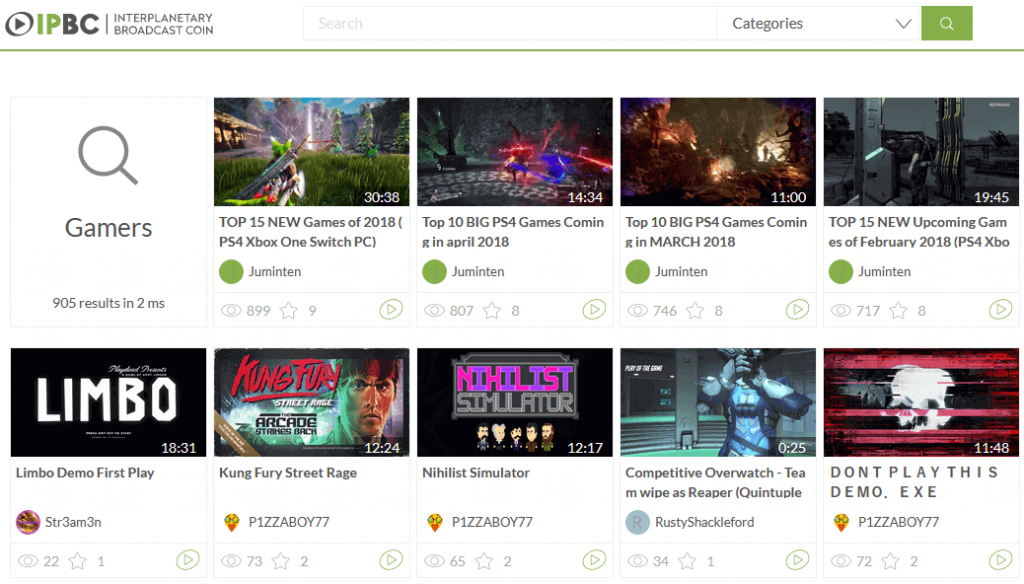 IPBC Technical Specifications and Features:
Ticker: IPBC
Premine: None
ICO: None
Total Supply: 1 Billion IPBC coins
Algorithm: Cryptonight
Block Target Time: 120 Seconds
Bitcointalk Announcement: https://bitcointalk.org/index.php?topic=2856278.0
White Paper: https://ipbc.io/whitepaper.pdf
Block Explorer: https://explorer.ipbc.io/
Key Features: IPBC is Ad Free media platform. Has web media mining to help monetize users content. IPBC uses IPFS (Interplanetary File System) protocol to store all of its data, a peer-to-peer network with no central authority.
This coin is new and it is already listed on Coin Market Cap and several exchanges. It is currently priced at $0.139593 USD (2069 Satoshi). Its current circulating supply is 37,007,956 IPBC with a market cap of $5,166,052 USD (766 BTC).
Interplanetary Broadcast Coin as a product – IPBC.io, how it works?
While IPBC is a coin, IPBC.io is the main platform that provides service for viewers and copyright holders. It's a new revolutionary streaming and data platform similar to YouTube. The difference between IPBC and YouTube is that the way the data is stored and the reward system works. YouTube stores all of your contents in large data centers where they have full control over your data. Whereas IPBC uses IPFS (Interplanetary File System) protocol to store data, a decentralized and distributed peer to peer network. This makes your data independent by simply eliminating large companies and data centers from having control over your data. There is no censorship in IPFS and also once the content is uploaded to the network it cannot be modified or deleted.
IPBC uses fair use reward system for data content in which publishers can monetize their videos right away and they will get compensated by the viewers. How? Through media mining. Users can upload or live stream video content to the IPFS network and it is completely operated via Browser. Content creators and copyright owners can start earning right away from their uploaded videos. The revenue is based on how often the content is accessed. The users who watches the videos will compensate the up-loader.

Whenever a user views a video on IPBC platform it alerts and asks viewer to agree to its terms. "By viewing this content you are helping its creator. While watching, an unused part of your computer power will be used for crypto mining on behalf of the content creator." Viewers don't have to download any dedicated miners to watch the videos, everything is built inside the platform and the mining starts automatically. 90% of the mining power goes to content creator and 10% goes to the company. A platform like this is a great way for video bloggers to earn from their content. If you are good at video creating you should give IPBC a try. Soon they are planning to make the service available for Web / iOS / Android / Windows / Mac / Linux & SmartTV's.
For more information on IPBC we suggest you read the whitepaper.
IPBC working products that are live and in Beta
IPBC.io – The main portal for the whole IPBC service and products
IPBC Broadcast – A Peer-to-Peer network using IPFS protocol to broadcast and stream videos.
IPBC TV – A dedicated streaming channel for TV stations
IPBC Education – A streaming channel dedicated for Universities, Schools and Training
IPBC Upload – A interface to access IPFS network to upload videos
IPBC Blockchain – The main technology that lies behind this system.
IPBC Coin – A cryptocurrency to fuel IPBC.io ecosystem
IPBC GUI wallet – A wallet to store and transact IPBC coins
We'll make a separate guide on how to upload videos to IPFS protocol, how to live stream on IPBC platform and how to use remote control feature. Here in this post we'll show you how to setup IPBC wallet and start mining IPBC.
IPBC wallet setup guide
IPBC offers both paper wallet and a nice looking GUI wallet. Creating paper wallet is simple and is secure aswell. Go to https://ipbc.io/walletgenerator , click on create IPBC wallet and wiggle your mouse around to start generating your IPBC wallet. It's fun and once the progress is complete it creates a PDF file with all your wallet information included. You can download the PDF file. You can later use the restore key to import the paper wallet to GUI wallet. Remember that If you lose your public wallet address, private spend or private view keys you lose access to the wallet. The only advantage of using paper wallet is that it is secure and light weight. However if you want more control to your funds then we recommend using GUI wallet.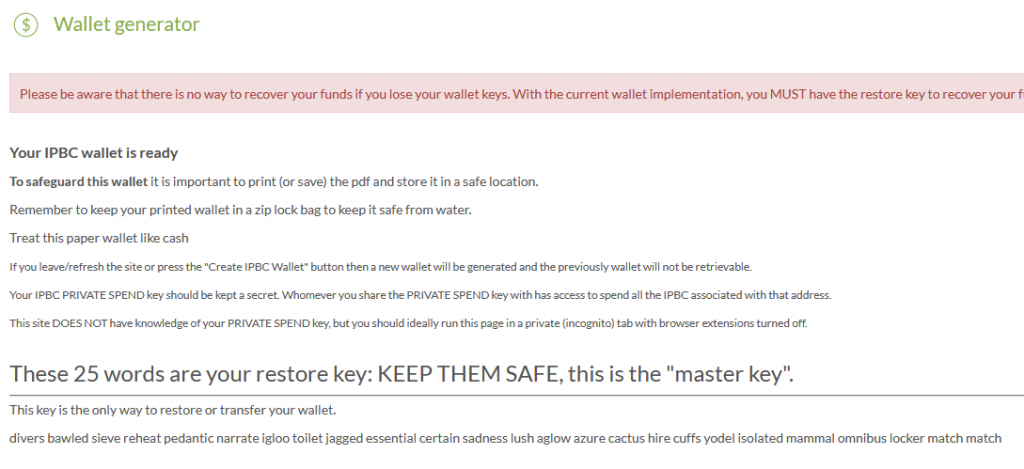 IPBC GUI wallet: IPBC GUI wallet is available for Windows, Mac and Linux. Go to https://github.com/ipbc-dev/ipbc-wallet/releases/ and download the latest and appropriate wallet version to your computer. Once done unzip the wallet and run IPBC-wallet.exe file.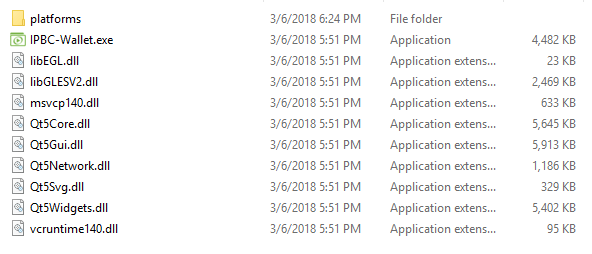 Upon opening your GUI wallet the first thing you'll notice is your wallet mnemonic seed which is very important. In case of hardware failure this helps you to restore your wallet so store your mnemonic seed in a safe place. Once that is done, click ok and now your wallet will start downloading the blockchain. Wait until the sync is complete, if it takes too long to synchronize you can download the blockchain files directly (You can download the chain here: ftp.ipbc.io/chain/ipbc-chain-50551.zip). This wallet is similar to Bitcoin core wallet so you can go through that guide if you want to know how to backup and encrypt your wallet.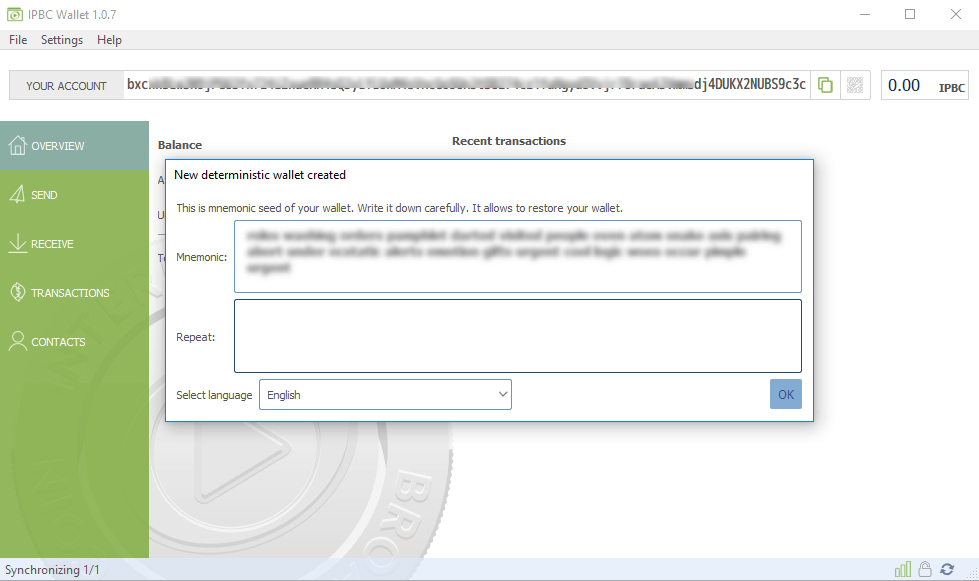 To get started with mining you'll first need a wallet address. Go to receive tab and copy your wallet public address. This is the address where you'll be sending your mining income. Alright! lets start mining IPBC coins.
How to mine IPBC (Interplanetary Broadcast Coin Mining) – CPU / GPU (NVIDIA / AMD)
Before getting into mining we hope that you know there was an ASIC released a while ago for Cryptonight coins. While Monero and other cryptonight coins have already forked IPBC is yet to change its PoW algorithm to combat ASICs. They have setup a public testnet to test their new upcoming fork V3. Currently they are still using cryptonight algorithm so you can use any one of the following miners to mine IPBC. XMrig, Claymore Miner, CryptoNote easy miner or XMR-STAK.  After the fork, we hope the miners will also get updated.
If you are new then we recommend using XMR STAK all in one miner which can utilize both CPU and GPU (NVIDIA and AMD). Also previously we've made a beginners guide to xmr stak so if you don't know where to start then please refer to that article. Its simple, all you need to do is start the miner.exe file, enter your pool details, wallet address and initiate the mining process.
IPBC Mining Pools:
There are a variety of PPS and PPLNS mining pools available for IPBC mining. You can find the complete list of mining pools here. To illustrate here we'll use https://cryptoknight.cc/ipbc/ pool.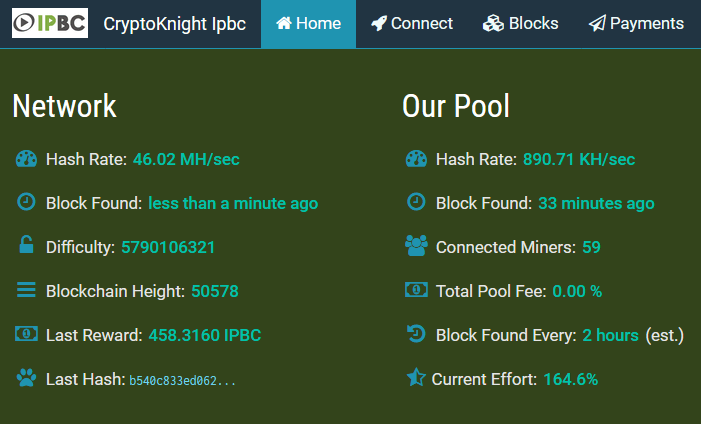 To connect to any specific pool you'll need a mining pool address and a port address which you can find in connection details of the pool. Grab the information, configure it in your miner and start mining. in addition to that you can also check the current estimated mining profits for your rig. Just enter your hashrate in pool and it displays the amount of IPBC that you can mine in a specific day and how profitable it is in comparative to USD.

Where can I buy IPBC coin?
If you don't have the hardware to mine and if you wish to buy IPBC coins then you can buy it directly from exchanges. Currently IPBC is listed and traded on following exchanges.
https://tradeogre.com/exchange/BTC-IPBC
https://crex24.com/exchange/IPBC-BTC
Conclusion:
IPBC is a wonderful opportunity for video creators. It has a innovative idea and a dedicated team, but will it opens wider opportunity in future. In order for the IPBC to succeed it needs to cover the public attention. To attract larger audience the service needs more of an original and creative content. Let's see where and how it goes.
As usual before we conclude we'd like to inform you that this is not a coin advise. This is just a mining guide and wallet tutorial. Before you start mining or looking to invest in a particular coin do your own research first. Read Whitepapers of the project, check website, know their road map, follow the community and always beware of shit and scam coins.
We hope this guide has helped you with IPBC wallet setup and mining. If you have any questions please feel free to post in comments section. If you like this post then please do share it.  Do you thing IPBC has a potential to succeed? Share your thoughts.