Crypto Mining
How to mine Bitcoin Gold – GPU Mining BTG | Zhash algorithm
Another quick guide for mining Bitcoin Gold (BTG) – Zhash algo.
All the top Proof of Work coins like Bitcoin, Litecoin, Bitcoin Cash, Dogecoin are mined on ASICs. Only Ethereum is in favor of small miners which can be currently mined using standard GPUs. Even Ethereum (ETH) will soon switch to PoS (Proof of Stake) and after ETH 2.0 there are not many PoW coins left for GPU miners.
If you are a GPU miner and are looking for coins to mine other than Ethereum then you have Ravencoin, Bitcoin Gold, Firo and few others. Previously we've covered how to mine Firo. Here in this beginners guide let's see how to mine Bitcoin Gold?
Anyways right now it still makes sense to mine ETH as it one of the most profitable coin that you can mine using your NVIDIA and AMD GPUs.
Always mine whichever is most profitable at the moment and use that coin to trade for speculative coins.
Mining Bitcoin Gold
Recently BTG spiked hard putting it at the top of the mining profitability list. Now and then Bitcoin gold tops the profitability list for both NVIDIA and AMD GPUs. So be sure to check What To Mine and other mining calculators routinely. Whenever you find Bitcoin Gold to be most profitable; quickly switch from mining ETH to Bitcoin Gold and then back to ETH.
Its up to you which coin you choose and how long you mine. Just keep the miner configuration ready so that you can switch between coins anytime you wish. Here we'll list the mining software's for Zhash algorithm and the miner configuration for Bitcoin Gold (BTG).
Bitcoin Gold uses Zhash algorithm which is ASIC resistant. To mine Bitcoin Gold you don't actually need a specialized ASIC machine or a dedicated GPU mining rig. A decent graphic card on your desktop computer can mine them.
Now before we see how to mine Bitcoin Gold (Zhash algorithm) here is a quick intro to Bitcoin Gold (BTG).
Bitcoin Gold – BTG
For those who are new to cryptocurrency mining Bitcoin Gold is not a new coin. Bitcoin Gold (BTG) is a hard fork of Bitcoin (BTC) that occurred on October 2017 with main intention to reform the mining process. Its a cryptocurrency with Bitcoin fundamentals except that it can be mined on common GPUs instead of ASICs.
It mainly focused on democratizing Bitcoin mining process by favoring small miners which can be possible only by rendering specialized mining equipment's (ASICs) from the network.
To reduce mining centralization Bitcoin Gold changed its Proof-of-Work algorithm from Bitcoins SHA256 to Equihash algorithm which was originally used by Zcash. This rendered ASICs from the network but later in 2018 ASIC manufacturers cracked Equihash algorithm.
After the appearance of Equihash ASICs Bitcoin Gold again changed its algorithm from Equihash to Equihash-BTG also known as Zhash or Equihash(144,5). This is a modified version of Equihash which uses more memory than the original version. Due to high memory requirements ASICs cannot mine Zhash algorithm. As a result it favors small miners with common technology.
Today anyone can mine BTG with readily available graphics card.
Here is a step by step guide for Bitcoin Gold mining.
How to mine Bitcoin Gold (BTG) – Zhash Algo
We hope you have your GPU ready. It is recommended that you have a GPU with atleast 6 GB of memory to mine Bitcoin Gold.
Now to start mining you need to choose three things.
You need to setup a wallet for your earnings.
Solo mining is not possible so for steady stream of income you need to choose a mining pool.
Get a suitable mining software and setup the software accordingly to mine Bitcoin Gold.
1. BTG Wallet
You can download and install Bitcoin Gold core wallet from https://bitcoingold.org/downloads/. But do note that setting this up takes a lot of time as it downloads the entire blockchain.
You can use light weight wallets such as Trust wallet, Exodus or Coinomi which are available for Desktops as well as mobiles.
Other than wallets you can also mine directly to your exchange account wallet. Bitcoin Gold is available on top exchanges like Binance, Huobi Global, Bitfinex and OKEx.
Grab your wallet address or BTG deposit address and keep it ready.
2. Mining pool for Bitcoin Gold
There are several mining pools available for Bitcoin Gold and you can find the complete list of pools here: https://bitcoingold.org/for-miners/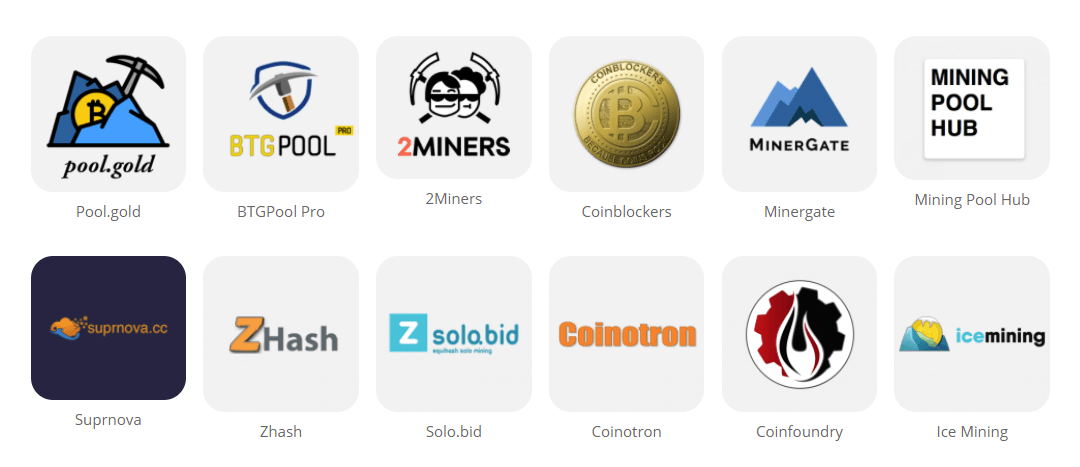 You can choose any pool you wish and the configuration is same for all mining pools. For this tutorial we'll be using 2miners Bitcoin Gold pool.
3. BTG Zhash miners
No CPUs and No ASICs. Zhash is a GPU mineable algorithm. Both AMD and NVIDIA graphic cards can mine this coin.
There are many GPU mining software's available for Zhash algorithm. But we recommend GMiner which supports both NVIDIA and AMD platforms.
GMiner is a popular miner used for mining Bitcoin Gold. Other than Bitcoin Gold it can also be used to mine coins like Beam, Grin and other popular algorithms such as Ethash, KAWPOW, Cuckoo-cycle and ProgPoW.
Download GMiner: https://github.com/develsoftware/GMinerRelease/releases (Available for both Windows and Linux).
Note: Upon downloading; the miner might get blocked by the browser. Just disable safe browsing and download it.
Once downloaded unzip the miner and you'll find the Bitcoin Gold BTG config file ready.
Now all you need to do is setup the miner in such a way that it talks to the pool, does the work and earns your share.
Bitcoin Gold Mining – NVIDIA / AMD
Unzip the miner and open the folder. You'll find mine_btg.bat file. Right click that file and click edit. You'll find the configuration.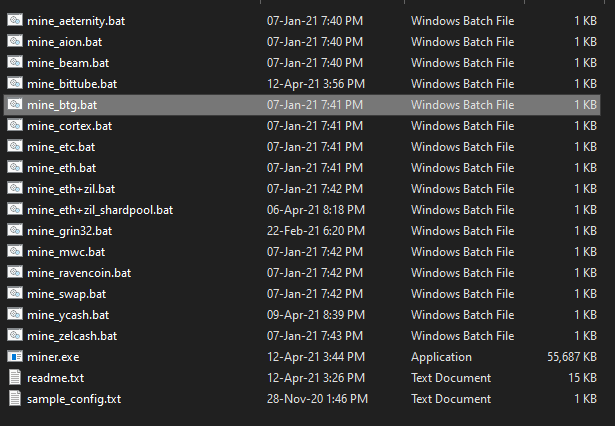 The configuration is same for both NVIDIA and AMD
NVIDIA
miner.exe --algo 144_5 --pers BgoldPoW --server btg.2miners.com:4040 --user Ga78jGUwggUL15D2RndMRUEEtL2HnHf7sP.nvidiarig0 --pass x
pause
AMD
miner.exe --algo 144_5 --pers BgoldPoW --server btg.2miners.com:4040 --user Ga78jGUwggUL15D2RndMRUEEtL2HnHf7sP.amdrig0 --pass x
pause
Just replace the highlighted wallet address to your address. Once done click file >> save and close the notepad.
Now run the mine_btg.bat file to start mining Bitcoin Gold on a pool.
Wait until the shares are getting submitted to the pool. Once you find the miner is submitting shares copy your BTG address and enter it in the mining pool.
The pool will display the complete statistics. On 2miners the minimum payout is 0.1 BTG. Once you've mined the minimum payout the pool will send the miner rewards to your wallet address.
That's it! You are now successfully mining BTG. If you have any queries regarding mining or the coin itself head to the official forum: https://forum.bitcoingold.org/. The community will help you further.