Crypto Mining
WhatToMine Alternatives – Mining calculators to find out what to mine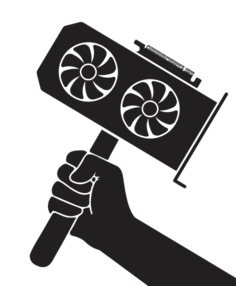 If you are looking for whattomine alternatives then read this post. But if you are trying to figure out what to mine with your equipment then check out the following links:
Are you interested in mining cryptocurrencies but do not know where to start and which coin to pick? It doesn't matter whether you own a single GPU or a mining rig. Even in 2022 Graphic cards are the best options for mining cryptocurrencies. With just a help of one or two GPUs you can easily start mining various types of coins that are highly profitable. But the question is which coins are currently profitable for your hardware and how to find them?
Well, mining calculators are the miner's best friend. To make things simpler and to understand which coins are profitable for your hardware there are certain mining calculators. These calculators will have a complete breakdown on each and every popular altcoins and algorithms. It gives you an information on profitability for different coins based on your hardware and input. These websites not only help you pick the profitable cryptocurrency to mine but also help you discover new coins.
Following are some of the most popular mining calculators (whattomine alternatives) that you must get to know if you are into cryptocurrency mining.
WhatToMine.com
A year ago one of the most popular topic among crypto community is cryptocurrency mining. Bitcoin (BTC) hit all time high and due to drastic increase in overall crypto market cap mining any coins was profitable back then. Even though coins like Zcash, ZClassic, ZenCash, Ethereum, Ethereum classic, Bytecoin, Monacoin, LBRY, Decred, DigiByte was profitable; miners always had a question of "What to Mine?".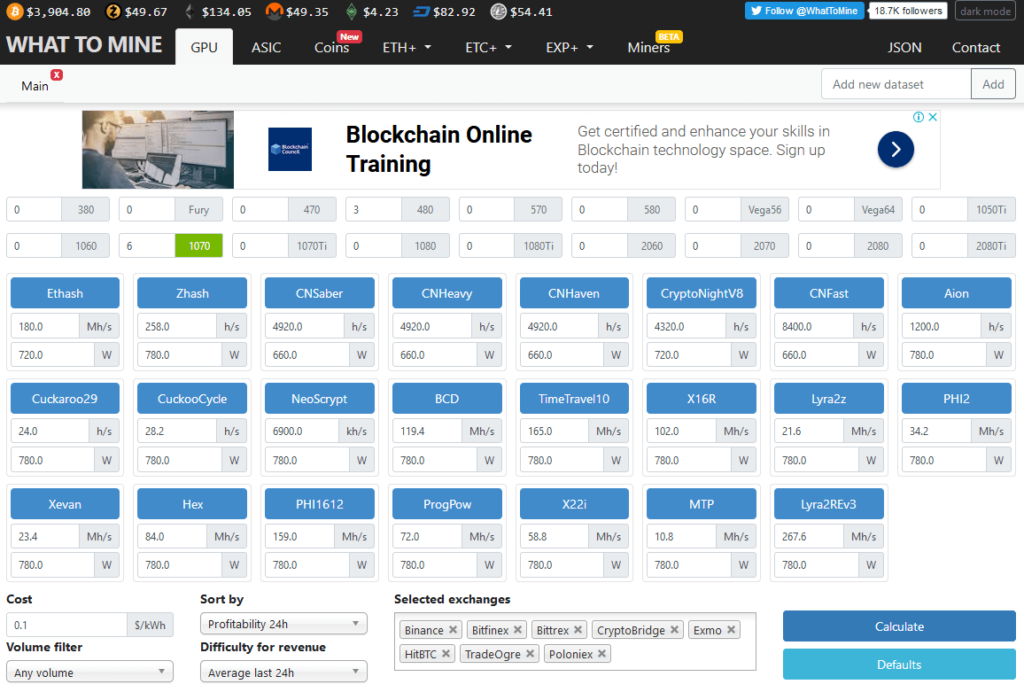 Whether to calculate the mining profitability or to find out the most profitable coin to mine; the first thing users head to is whattomine.com. This calculator is simple, easy to use and it is hands down the most useful website for cryptocurrency miners.
This website has support for number of mining algorithms and in addition to that it keeps adding all the new and popular altcoins. Moreover the hashrates and power draw for various graphic cards and ASICs has already been programmed. All you need to do is choose your graphic card or ASIC model and specify the numbers you own. You'll then see the hashrates automatically filling into each algorithms. Lastly enter your electricity cost and click on calculate. This service combines a lots of data along with your input and lists the most profitable coins for your setup based on current prices. It will tell you how many coins you'll mine in that particular day and how much revenue you'll generate from mining that coin.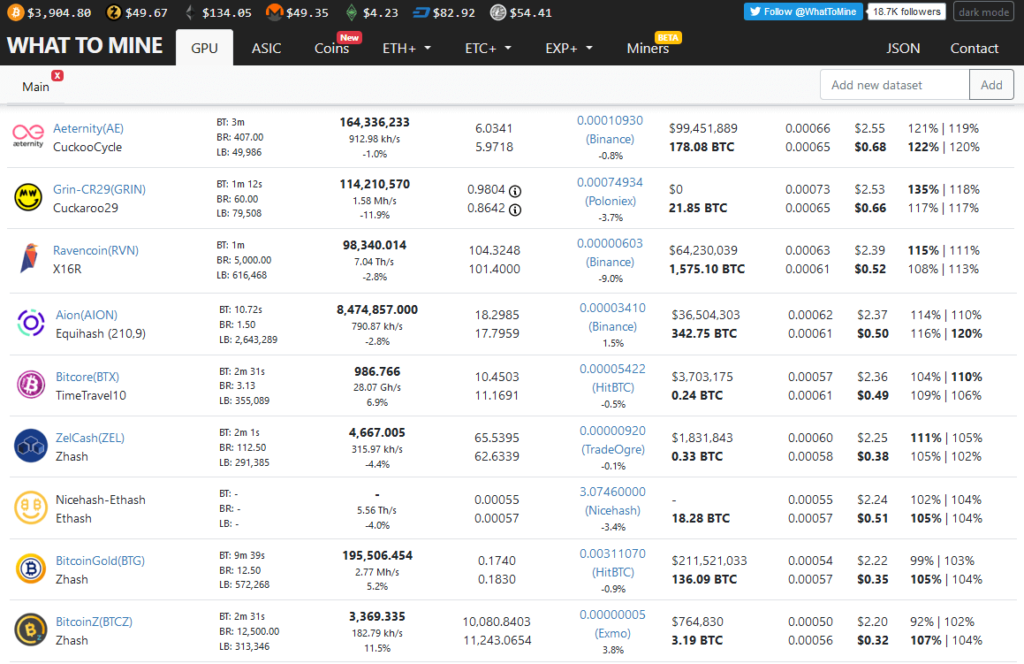 What To Mine website features hundreds of coins including both large and small cap altcoins. However not all coins show up in the front page. In fact a number of new coins and algorithms are not always listed there. Moreover some of the stats may not be up to date. So even though WhatToMine is the best source do not fully rely on this site. To stay ahead of the game and to find out more new coins you might need to dig deeper and keep an eye on other mining calculators as well.
WhatToMine Alternatives
Following are some of the mining calculators that are WhatToMine alternatives. However they are simple, contains up to date stats on a number of altcoins and moreover gives you an accurate calculations.
Note: Some of the calculators mentioned below doesn't have much feature as whattomine.com. For example hashrates for graphic cards might not be available so you need to enter hashrate for each algorithm manually. Anyways! You may find the below list helpful.
Coin Calculators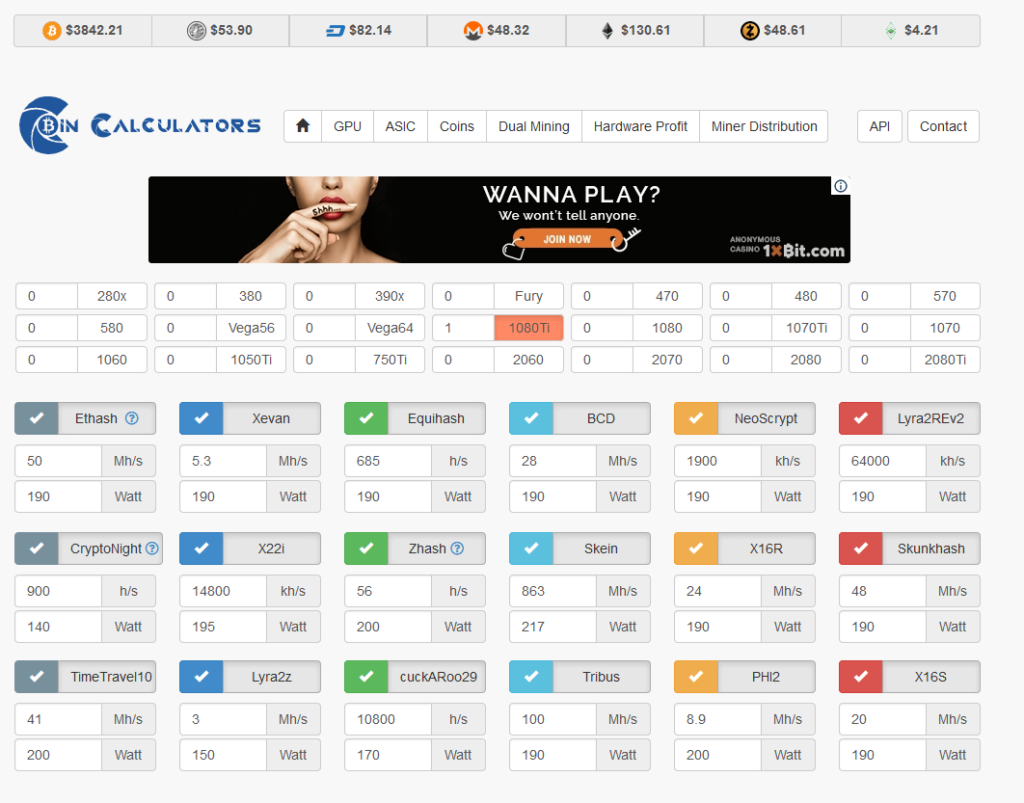 URL: https://www.coincalculators.io/
This website looks and has got features similar to Whattomine.com. The hashrate and power consumption for most popular graphic cards are also included. So all you need to do is specify your GPU model, number and your electricity cost. Once done hit calculate and it will list all the cryptocurrency based on current profitability. In addition to this you can explore specific coin page where you'll find information such as: algorithm, block reward, current network difficulty, overall hashrate, profit table, ROI etc.
Coin To Mine Today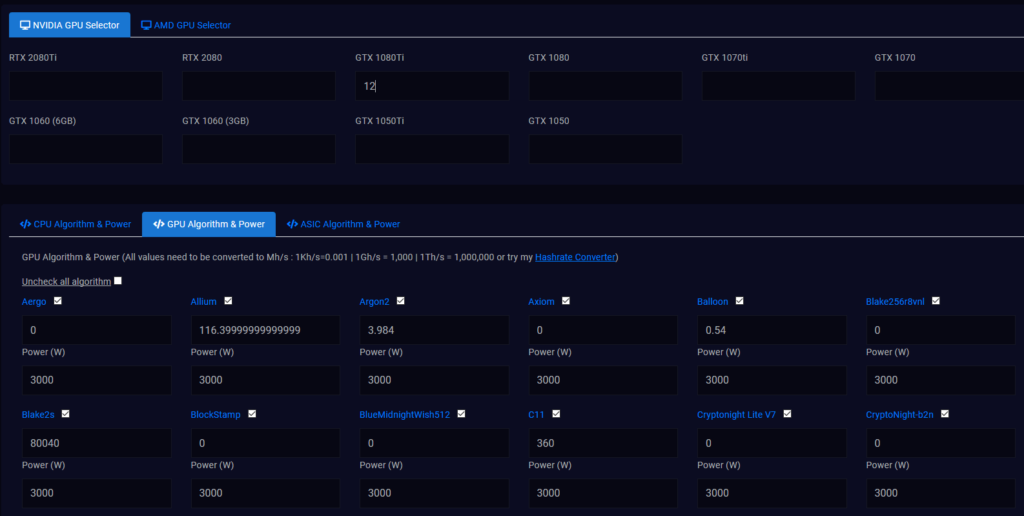 URL: https://cointomine.today/calculator/
Here is another interesting calculator and a better alternative to Whattomine.com. Even though hash rates of most recent GPUs are not available it includes most of the PoW algorithms. So if you just know your hardware hashrate, power consumption and power cost then you can enter the numbers manually and get accurate calculations. One of the useful feature here is that you can either print or save the result as PDF or CSV.
Crypto Zone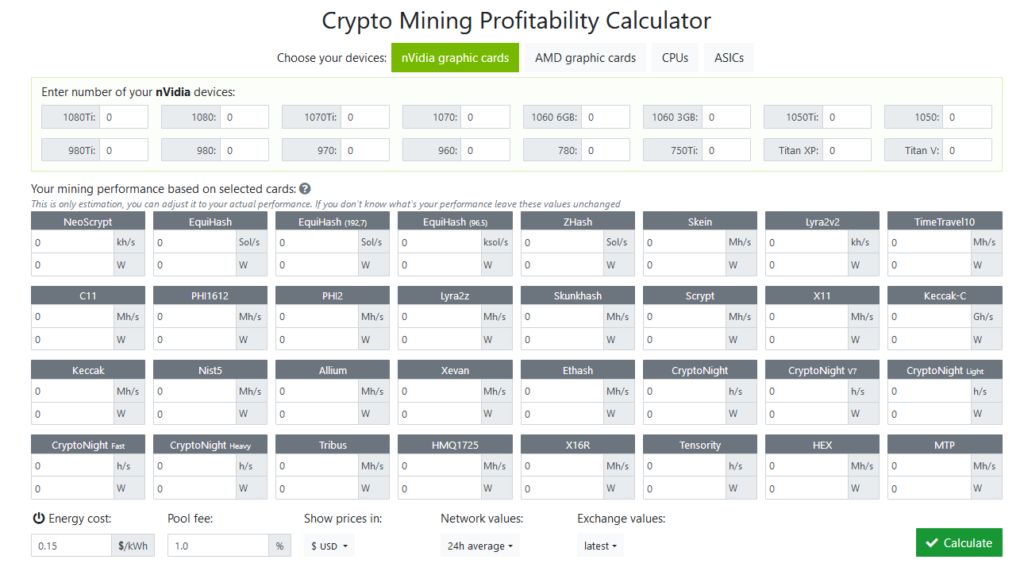 URL: https://crypt0.zone/calculator
Another mining profitability calculator similar to what to mine where all you have to do is choose GPU, CPU or ASIC type and numbers. However do note that this website doesn't feature much algorithms and it seems like some of the information are not up to date. Anyways unlike other calculators this one recommends pools and has a tool to generate .bat file which we found to be helpful for beginners.
Also read:
Crypto Coinz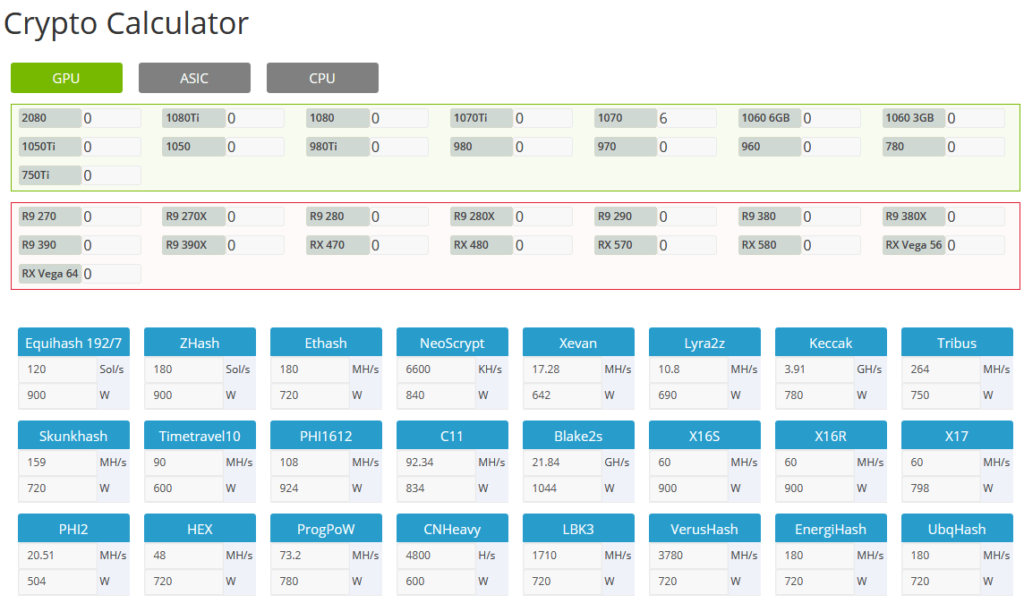 URL: https://www.crypto-coinz.net/crypto-calculator/
Another altcoin mining calculator that looks and has features similar to the above. It has got information on hashrates even for the latest GPUs. But do note that some of the numbers are outdated and many new PoW coins are not available here.
Crypto Compare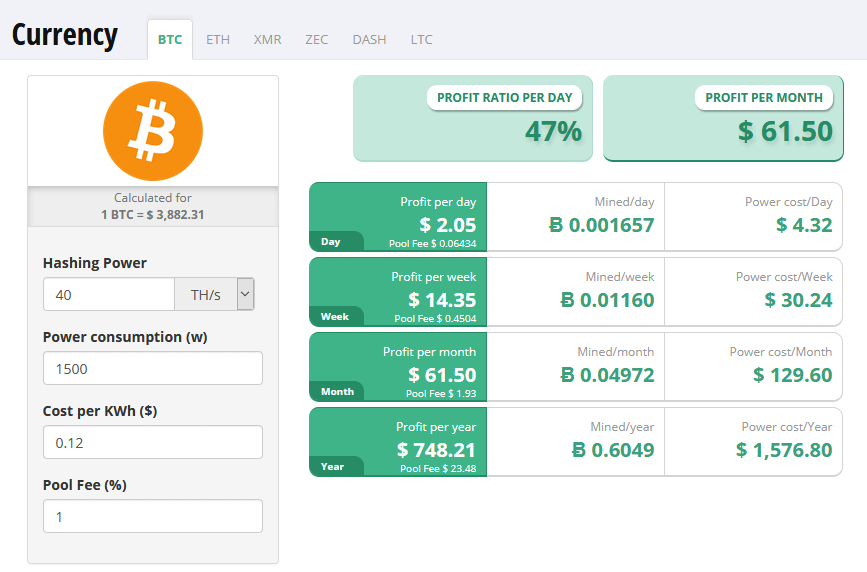 URL: https://www.cryptocompare.com/mining/calculator/
Crypto Compare is one of the most popular calculators out there. But here you'll only find limited coins. Not even an option to choose graphic card as the coins listed here are mostly ASIC. Anyways if you own ASIC and are mining the most popular coins like Bitcoin, Litecoin, Dash, Zcash then this calculator should come in handy.
Coin Warz
URL: https://www.coinwarz.com/cryptocurrency
Coin Warz is another simple, easy to use calculator. But here you won't find any option to choose GPU model. You need to enter the numbers manually to calculate the mining profitability. Moreover the algorithms and coins are limited.
Minerstat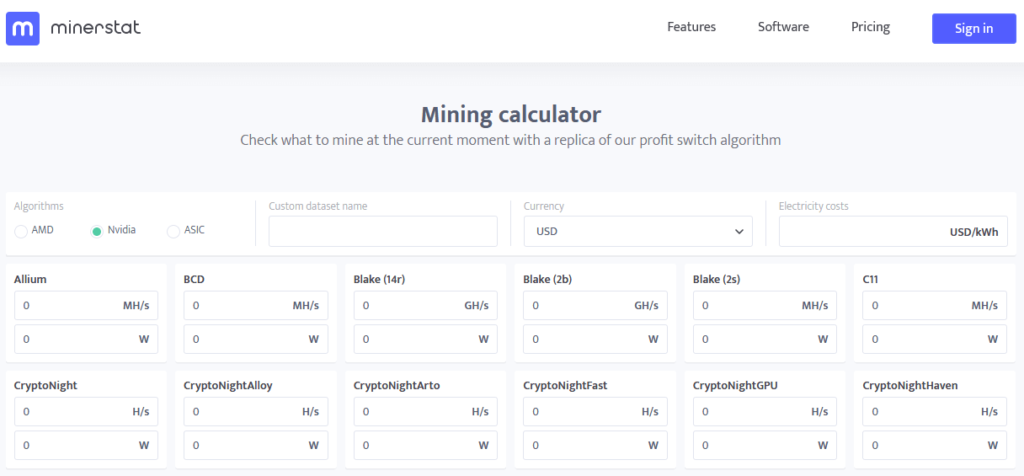 URL: https://minerstat.com/mining-calculator
Minerstat is another simple mining calculator that estimates profitability based on current difficulty, block reward and exchange rate of a particular coin. While the result seems precise there is no option to choose graphic card or ASIC model. You'll have to enter the hashrate and wattage information manually for each and every algorithm.
Crypt Unit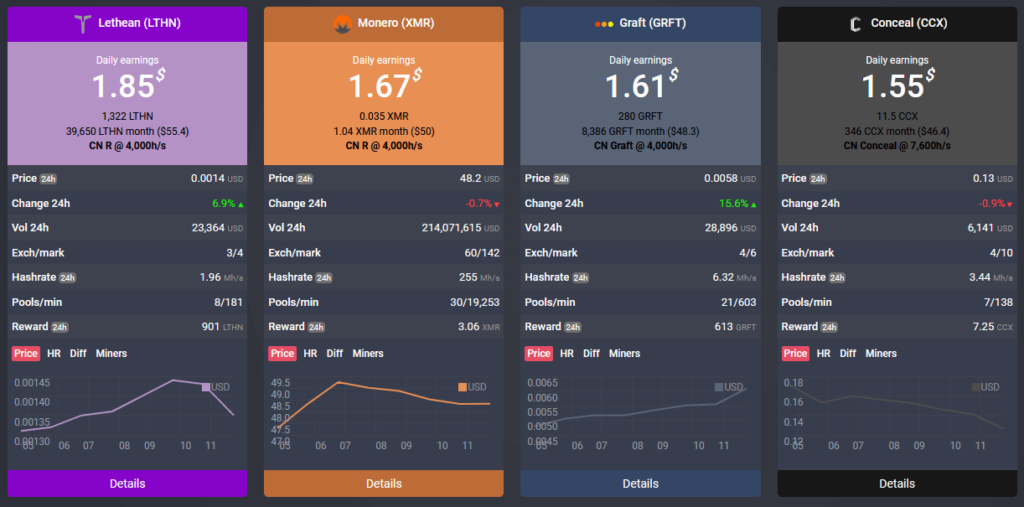 URL: https://www.cryptunit.com/
This calculator has only support for CryptoNight coins and algorithms. If you are mining Monero, Electroneum, Stellite or looking to find out new CryptoNight coins then Crypt unit is the place. Apart from calculator it has detailed information on all sorts of CryptoNote coins. A great place for CryptoNote miners.
Choosing the right cryptocurrency to mine
Now before you go ahead and choose a coin based on the suggestion by above calculators here is what you need to know. The above mining calculators may or may not display accurate results so do not take decisions only based on the results of these calculators.
Also before you pick a coin to mine; decide for what reason you wish to mine. To gain profit or to support the coin or mining a coin hoping its value rises in the future? If you are looking to mine the most profitable currency at the moment then it's okay to go by the results of these mining calculators. But do note that what's profitable today may not be profitable tomorrow. Cryptocurrency prices are highly volatile so it's better that you cash out to BTC or to USD.
If you are looking to mine and hold some coins for future then never take anyone's advise and do not ever depend on mining calculators. Instead do your own research, have a strategy and keep track of what's happening in the crypto space.
Various factors plays a huge role in mining profitability for example, coin price, mining difficulty, network hashrate and even the mining pool you've selected. Also keep in mind that some coins might seem profitable at the beginning. But they do lack features, developers and do not have a strong community. So be very careful and do not to rush to mine a coin just because it is profitable.