Crypto Mining
YiiMP mining pool explained – How to mine and list of Yii Mining Pools
Beginners who are new to mining think that mining is a quite complex process. No, it is not and you don't even need a mining guide for each and every coins. Once you figure out how to mine an alt-coin you can basically mine any coins that you find. All you need is a mining hardware (GPU), right mining software and a mining pool. By solo mining you won't have any chance of making money especially if you are a small scale miner and this is why it is necessary to join a mining pool.
There are a large number of mining pools available. Some pools only list popular reputable coins and some pools list all types of crypto currencies. Whether it is a newly launched altcoin or it is a popular coin that is been here for a while; you'll definitely find them listed on any of the YiiMP based pools.
YiiMP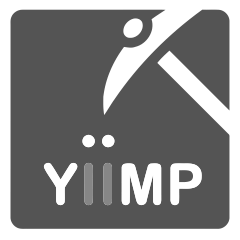 YiiMP (Yii Mining Pool) is an open source pool management solution based on Yii PHP framework and it is a fork based on YAAMP source code. Using this software anyone with a minimal knowledge on Linux and PHP can configure a mining pool. Also there are many YiiMP installation scripts which one can use to easily setup a mining pool. This is why you come across a lots of altcoin mining pools that looks similar as they are all based on same mining pool software. Not only all these mining pools look similar but they also work similarly. All mining pools based on this framework possess the following aspects:
Unlike Suprnova mining pool; YiiMP based pools doesn't require user registration.
Wallet address are used as username and all payouts are made in a currency that you mine.
Your mining balance will not be displayed until the block is found and your balance will not be paid until the blocks are mature.
You don't have to manually withdraw your payments: Payouts on YiiMP pools are made automatically every 1 hour, every 2 hours or every 3 hours depending on the pool's setting.
Once your mining balance reaches minimum threshold you'll be paid automatically. The mining payout limits are defined for each coins and this amount is usually negligible. Also any balance below minimum will be paid on Sunday's.
Alright! Now let's see how to pick a coin and connect to the mining pool.
How to mine coins on YiiMP pools?
Yiimp.eu is the original pool based on YiiMP software which is maintained by tpruvot who is also the developer of ccminer. Other than Yiimp.eu there are many other popular mining pools that are based on YiiMP and we've listed them all below.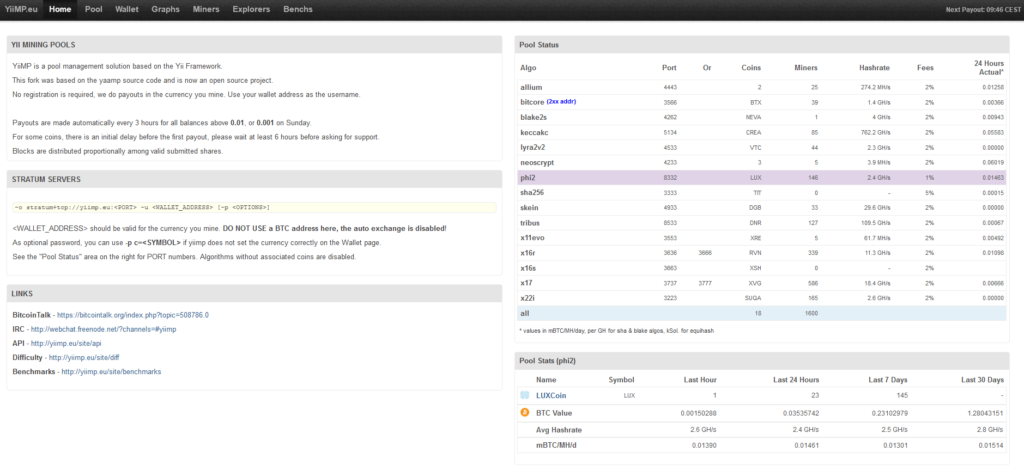 The interface of all these pools are straightforward and they are simple to use. To get you started with mining here now let's see how to use this pool.
Choosing coins and miners
Basically to mine you must first decide the coin. Then know what PoW (Proof of Work) algorithm the coin is based on and then pick the right mining software. If you are not sure about the software part then go through this list where you can find miners for most of the popular GPU algorithms.
Once you have chosen the coin, head to any yiimp pool (listed below) and find if the coin is listed there. As we said all pools based on Yiimp looks and works similar. So in the home page of all these pools, toward the right hand side you'll find the list of algorithms and coins supported. For any given algorithm instead of coin name if you find number then there are more than 1 coin under it. You can click on it to explore all those coins. The same section also has information on Port, number of miners, pool hashrate and pool fees.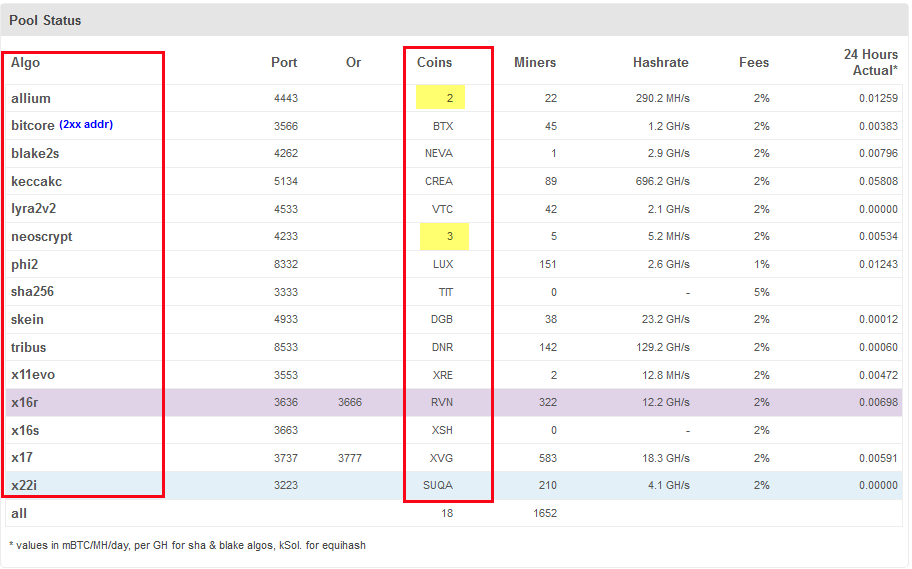 Checking pool status
Now before mining what you must note is whether if the pool has a reasonable amount of miners and hashrate for the coin which you are looking to mine. With less number of miners and with low hashrate the pool will take a long time to find a block. With large amount of miners and with highest hashrate the pool will find blocks quite often. To know how often the pool is finding blocks click on the coin/algorithm from the pool status and it will display the number of blocks found in last 1 hour, last 24 hour and last 7 days. But do not these number varies depending on the mining difficulty, pool hashrate and the overall network hashrate.

To check the pool status in detail navigate to pool menu from the top and click on the coin that you are going to mine. It will show information on blocks such as block reward, difficulty and other information such as pool hashrate and reward estimates.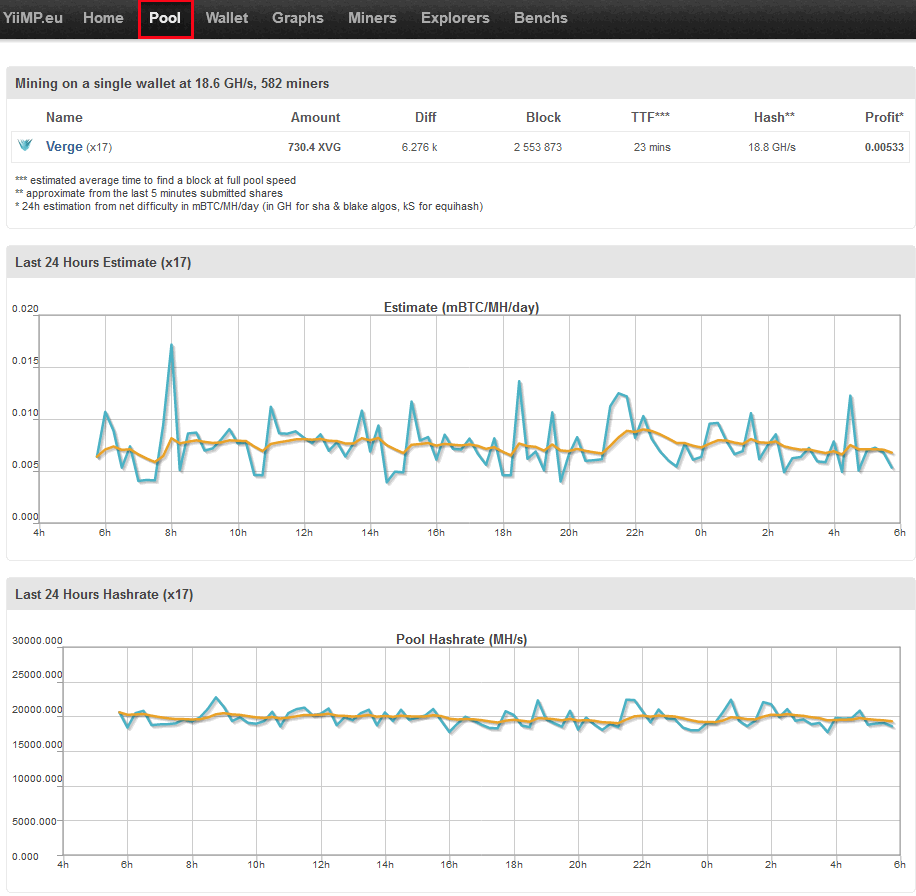 For more detailed report navigate to graphs menu and choose the algorithm. It will display the overall status for that particular algorithm. By analyzing these charts and graphs you can decide on the pool's profitability and efficiency. Now since the pool is good to mine let's configure the miner and start mining.

Configuring miner
To join any mining pool and to start mining any coins you need to first find the pool's stratum connection and port details. In all yiimp based mining pools you'll find this information on the pool's homepage.

-o stratum+tcp://yiimp.eu:<PORT> -u <WALLET_ADDRESS> [-p <OPTIONS>]
Now for you to better understand here we'll show you the sample configuration to mine Ravencoin.
Within your miner folder create a batch file and input the following line. If you need more detailed explanation on configuring miners then we suggest you to go through this ccminer beginners guide.
ccminer-x64.exe -a algorithm -o stratum+tcp://yiimp.eu:<PORT> -u wallet_public_address -p c=coin_symbol

From the above line replace algorithm with the algorithm of the coin you are going to mine. In this case it is x16r.
Replace <PORT> with Port of the coin. In this case it is 3636 and do note that sometimes if the pool gets full then you'll find more than 2 port numbers. You can pick any one where there are less number of miners connected. If you choose port where there are more miners then you'll often get stratum disconnect errors.
Replace wallet_public_address with the wallet address to which you'd like to receive mining rewards.
Lastly replace coin_symbol with the symbol of the coin. For example: RVN. Do note that yiimp pools automatically detect the coin that you are mining based on your wallet address. But sometimes it won't work as expected especially if there are multiple coins under one algorithm. So consider entering this optional parameter (ex: -p c=RVN).
Once you've replaced all with correct values the final configuration should look something like this.
ccminer-x64.exe -a x16r -o stratum+tcp://yiimp.eu:3636 -u RN9BZSqqVpZ8Zw4gpecPLt1uFfJRc89Vuu -p c=RVN
Now save it as .bat file and run the file. That's it! You are now mining the coin which you've chosen to.
Checking mining reports on pool
The mining software which you are using will display enough information such as: Your mining hashrate, number of shares submitted and the difficulty. But for more detailed reports and to check your earnings and balance head to the mining pool, navigate to wallet menu and enter the wallet address that you are using to mine. The pool will display all the necessary information regarding your mining.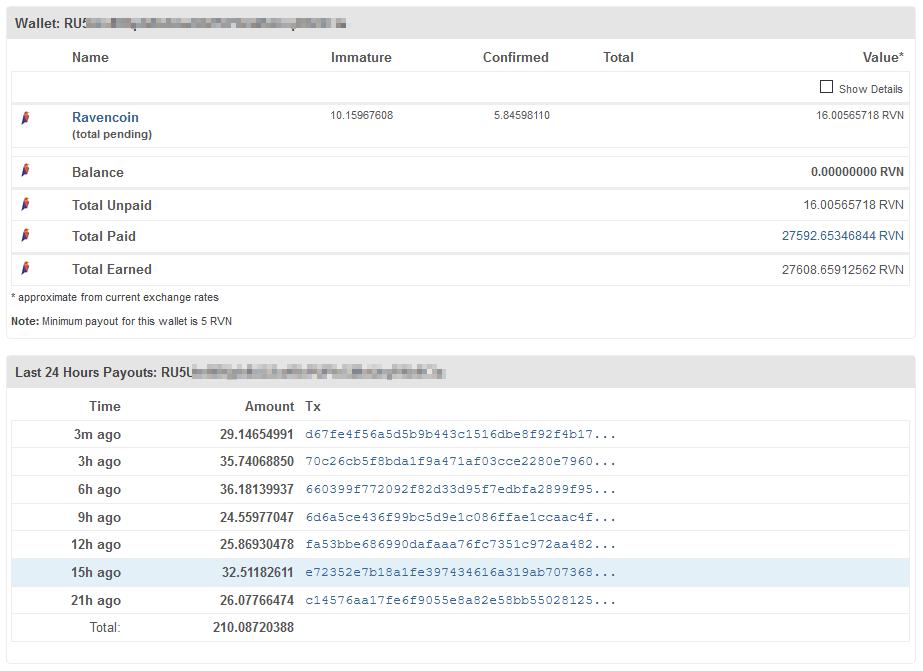 It will display your last 50 earnings, last 24 hours payouts, balance, hashrate and the percentage of shares that you are submitting to the pool. What you must note is if you are mining on big pools you'll get smaller shares with more blocks found. Whereas in smaller pools you'll get larger shares with less blocks found. Whichever pool it is eventually the payouts will average out.
That's all! Additionally you can visit miners tab on pool to know what mining software people are using and you can head over to bench's menu to check the hashrates reported by the users. We hope we've covered everything related yiimp pool mining.
Yiimp mining pool list:
There are many factors you must consider when choosing a mining pool such as: Payment threshold, number of miners, pool hashrate, pool fees, pool payment system, pool's reputation, transparency, support, up-time etc. Soon we'll make an article explaining how to pick the best mining pool. For now do your own research when choosing a mining pool.
Following are the list of yiimp mining pools that supports multiple crypto currencies.
| Pool Name | Pool URL | Pool Fees |
| --- | --- | --- |
| Yiimp | http://yiimp.eu | 2% |
| ZPool | https://zpool.ca/ | 1.75% |
| BSOD | https://bsod.pw/ | 0.9% |
| A Hash Pool | https://www.ahashpool.com/ | 1% |
| Ant Mine Pool | http://antminepool.com/ | 0.9% |
| Zerg Pool | http://zergpool.com/ | 0.5% |
| UniMining | https://www.unimining.net/ | 0.9% |
| Hash Refinery | https://pool.hashrefinery.com/ | 0.5% |
| Pick Axe | https://www.pickaxe.pro/ | 1% |
| NL Pool | https://www.nlpool.nl/ | 0.25% |
| Ice Mining | https://icemining.ca/ | 1% |
| U Mine | https://umine.org/ | 0.5% |
| Gos.cx | https://www.gos.cx/ | 0.9% |
| Fair Mine | https://fairmine.pro/ | 0.7% |
| Hash 4 Live | https://hash4.life/ | 1% |
| Hash Faster | https://hashfaster.com/ | 1% |
| Arc Pool | https://arcpool.com/ | 0.9% |
| Angry Pool | http://angrypool.com/ | 0.5% |
| Coin Miners | https://pool.coin-miners.info/ | 1% |
| Poolovich | http://poolovich.pro/ | 0.9% |
| Rush Hour Mining | http://rushhourmining.com/ | 0.1% |
If your favorite mining pool is not in this list or if you own a pool that is based on Yiimp then please drop it in the comments below so that other users can notice it.
Found this guide helpful? You might also like this: how to mine on Suprnova.