Software
T-Rex 0.10.2 – New Algorithm: MTP and support for Tesla p100
For some reason T-Rex and Enemy; two popular NVIDIA GPU miners have not released any updates for the past few months. It's not only with these two miners but most of the developers have not updated their software's in the recent times. Even though both Enemy and T-Rex haven't been updated in a while they seem to be performing at its best. Moreover majority of Raven miners are still using the previous release without any issues. Anyways, now as the market is up; enemy have started working on a new version and they said it will be released soon. On the other hand T-Rex have just come up with a new release. If you are using T-Rex 0.9.2 then here is a new version 0.10.2. It brings in new algorithm, has got support for new GPU plus some minor tweaks and bug fixes.
T-Rex 0.10.2
T-Rex is multi-currency NVIDIA GPU miner supporting multiple mining algorithms. It is fast, stable and optimized for all modern NVIDIA graphic cards. It supports all GTX, RTX cards and the recent release T-Rex 0.10.2 even got support for NVIDIA Tesla P100 GPU. In addition to that it has added support for new algorithm: MTP (Merkle Tree Proof) which Zcoin uses. So if you are mining Zcoin then this update is for you. In addition to support for new algorithm and new GPU the new release version 0.10.2 has some minor bug fixes and optimizations. You can find all about it in the release notes on the GitHub page.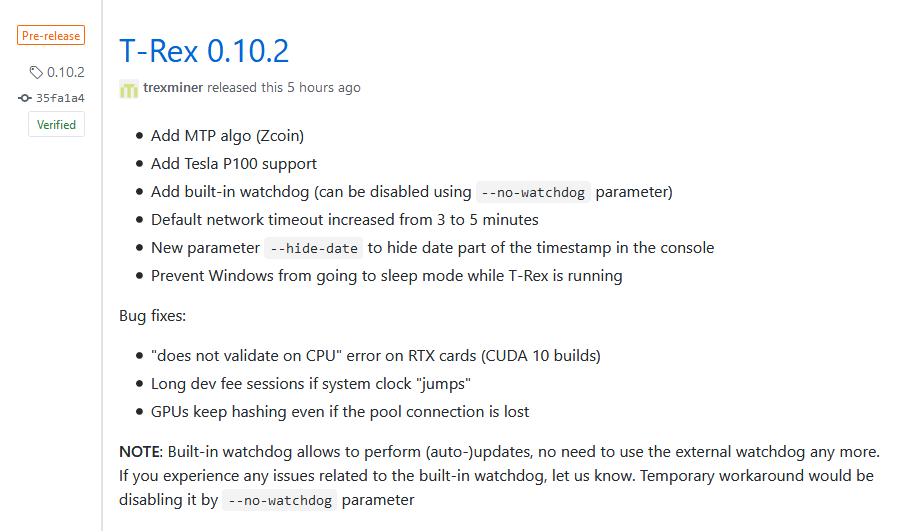 T-Rex supported algorithms: Balloon, BCD (Bitcoin Diamond), Bitcore, C11, Dedal, Geek, HMQ1725, Lyra2Z, MTP, Polytimos, PHI, Renesis, Skunkhash, Sonoa, SHA256t, SHA256q,  TimeTravel, Tribus, X16R, X16S, X17, X22i,X21s and X16rt.
Download T-Rex v0.10.2
T-Rex miner is available for both Windows and Linux. It also supports CUDA 9.1, CUDA 9.2 and CUDA 10.0. But before you download we'd like to remind you that this miner is a closed source software and that contains a dev fee of 1%.
Download link: https://github.com/trexminer/T-Rex/releases
---