Software
Z-Enemy 1.18 – New updated miner with stability & performance improvements
As of version Enemy 1.18 this CUDA accelerated miner supports about 17 algorithms. You can check all of its supported algorithms here. Among them this miner is known to perform better on X16R, X16S, HEX and few others algos. Also from the previous release z-enemy 1.17; this miner no longer uses memory clock which slightly cuts power draw while maintain its performance. Along with this feature the same version also had major performance improvements on all of its supported algorithms except Xevan.
Now this new updated miner Enemy version 1.18 has fixed reduced hashrate issue on Xevan. In addition to this it also has minor improvements on few other algorithms as well.
Z-Enemy 1.18 (zealot/enemy)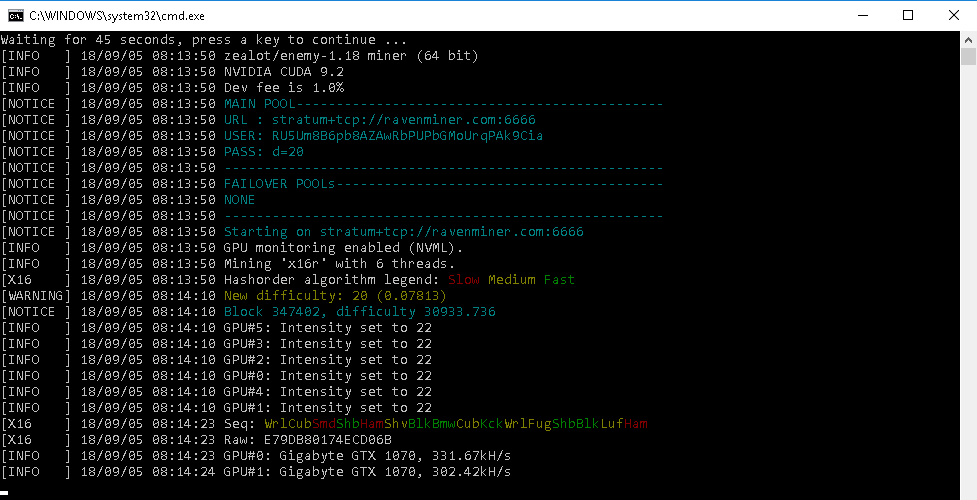 Enemy is an optimized NVIDIA GPU mining software which is available for Windows and Linux. The developers have just released a new updated version of this miner which has some bug fixes and improvements. It features:
Significant performance boost on Xevan algorithm. Compared to previous version you can expect up to 10% to 15% hashrate increase on Xevan. If you are wondering then there are quite a few coins that you can mine using Xevan algorithm.
Minor performance improvements on all other algorithms. Developers have not specifically mentioned the algorithms but looks like there is a small improvements of 1-2% on X16R and X16S.
Stability improvements for HEX (XDNA coin) – HEX is same as X16R and X16R is erratic. But HEX is little more memory sensitive than x16 and it fluctuates extremely fast. Due to this users have experienced stability issues mining this algorithm. Now this new release version enemy 1.18 has fixed that stability issue.
So if you are using previous version of this miner especially for mining XDNA or Ravencoin then give this new version 1.18 a try and see how it compares to previous release. Also for maximum performance it is recommended that you have the latest version NVIDIA drivers which you can download it from here.
Download Enemy v1.18:
Now before downloading keep in mind that this is a closed source miner which has a build in developer fee of 1%.
---
Windows :
---
Linux: (HiveOS, PiMP OS , EthOS & Ubuntu)
---