Software
Z-Enemy 1.23 – Performance optimizations on RTX 2080 & 2080 TI cards
The previous release Enemy miner version 1.22 had got support for the new RTX 2080 and RTX 2080 TI graphic cards. The feature was new and the performance of those cards were not as optimized as 10x cards. Now there is a new update Enemy version 1.23 which just got released. It includes performance optimizations for RTX 2080 and RTX 2080 TI series cards on various supported algorithms. Along with that; developer also stated that there is a minor performance improvements on older cards such as GTX 1080 TI, 1080, 1070 TI, 1070 etc. Additionally this version has some minor bug fixes and parameter changes. If you are using previous release or any other older version then update the software to Z-Enemy 1.23. Since it is CUDA 10.0 optimized it will be definitely worth the upgrade.
Z-Enemy 1.23 NVIDIA miner
Z-Enemy is a CUDA accelerated miner that supports multiple mining algorithms. It is a closed source software which comes with 1% developer fee and the binaries are available for Windows, Linux, Hive OS, Eth OS & Pimp OS.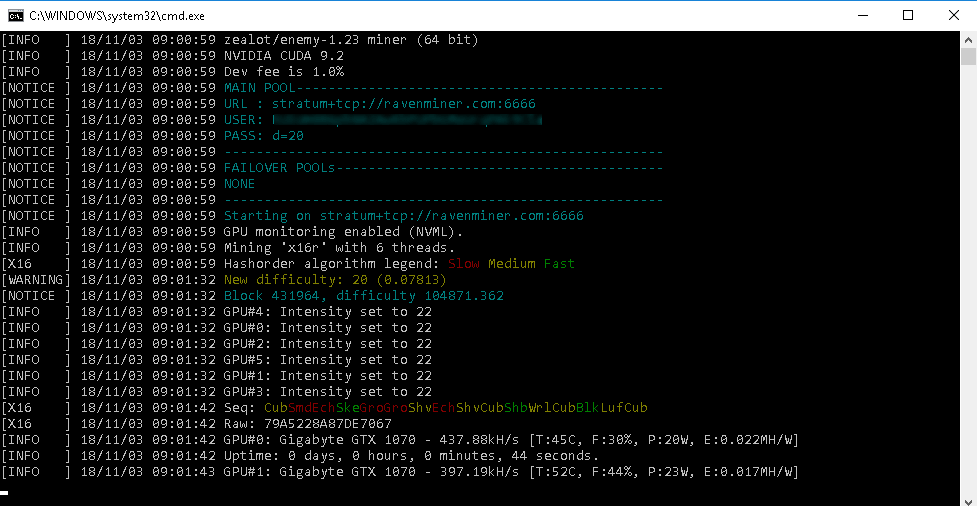 Z-Enemy v1.23 features:
Improvements for CUDA 10.0 – With RTX 2080 and 2080 TI cards you can expect 10% to 20% performance increase on algorithms such as: c11, Bitcore, Hex, x16r, x16s, x17 and Xevan. Few users particularly reported that 2080 is faster than 1080 TI on X16R, X16S and X17.
Slight speed improvements on 10 series graphic cards.
Fixed Tribus algorithm out of memory bug which now allows you to run the miner with higher intensities. But do note that mining Tribus coins using GPU is not worth anymore due to FPGA dominance. More information about it can be found in this Denarius mining guide.
Removed --tlimit --plimit options and added -max-temp --resume-temp parameters.
Download Enemy 1.23
Now before using this miner make sure you have the latest NVIDIA drivers installed which you can download it from here. For maximum performance driver ver. 415+ is recommended. Also again we'd like to let you know that this is a closed source miner which includes 1% build in dev fee.
---
Windows:
---
Linux (Ubuntu, EthOS, Hive OS & Pimp OS)
---