Software
Z-Enemy 1.21 NVIDIA miner with slight optimizations (Windows / Linux)
There is another update on Enemy NVIDIA GPU miner which got released lately. This updated version Enemy 1.21; along with few bug fixes it has got some slight performance and stability enhancements. There is no mention on any specific algorithm or how much the improvement is. But compared to version 1.20 it should give you some extra performance on X16R, X16S and some of the newly introduced algorithms such as BCD, HEX etc. In addition to that it now comes with a new feature called up-time reporting. So if you are using old version then give this latest stable version a try.
Z-Enemy 1.21
This new CUDA accelerated NVIDIA miner Z-Enemy 1.21 supports CUDA 9.0, CUDA 9.1 and CUDA 9.2. No CUDA 10 and if you got those new RTX 2080 and RTX 2080 TI GPUs you can use this miner. But since RTX cards are designed for gaming you won't see any massive gains in mining performance. According to several reports that we found online the performance of RTX 2080 TI seems similar to GTX 1080 TI.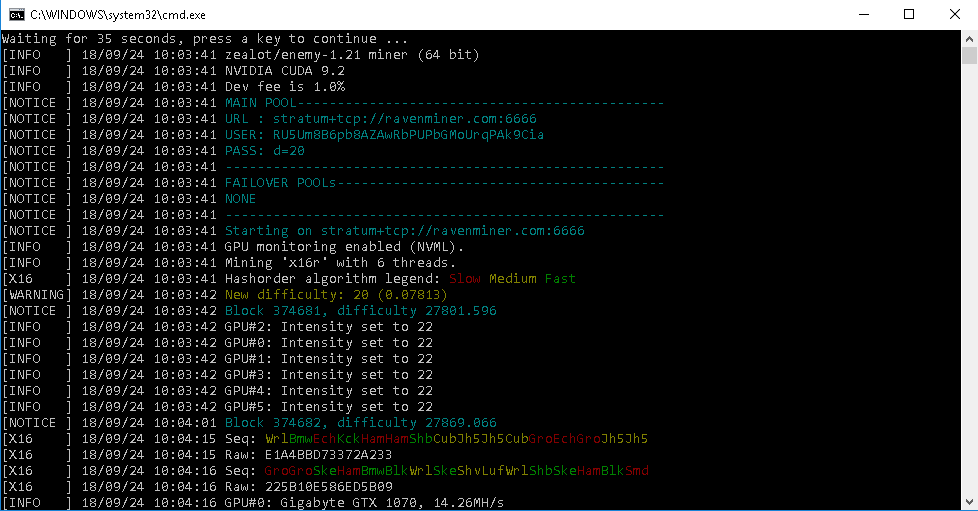 Enemy 1.21 miner is available for Linux and other mining operating systems such as Hive OS, Eth OS and Pimp OS. Also the binaries are available for Windows 64 bit and 32 bit architectures.
Same as previous version the 32 bit version of this miner is said to hash well on some algorithms. Especially it is better on C11 algorithm and it works fine on Xevan as well. Also we'd like to remind you that if you are mining PHI2 then use CryptoDredge which performs way better than Enemy. One more miner that gives a good competition to Enemy is T-Rex miner which is superior on some of its supported algorithms.
Download Enemy version 1.21
Now before downloading do note that Enemy is a closed source miner that is only available as binary release. To further support the software development this miner comes with a 1% developer fee. Also to get maximum performance make sure you have the latest video drivers installed: https://www.nvidia.com/Download/index.aspx
---
Windows:
Linux: (HiveOS, EthOS, PiMP OS & Ubuntu)
---